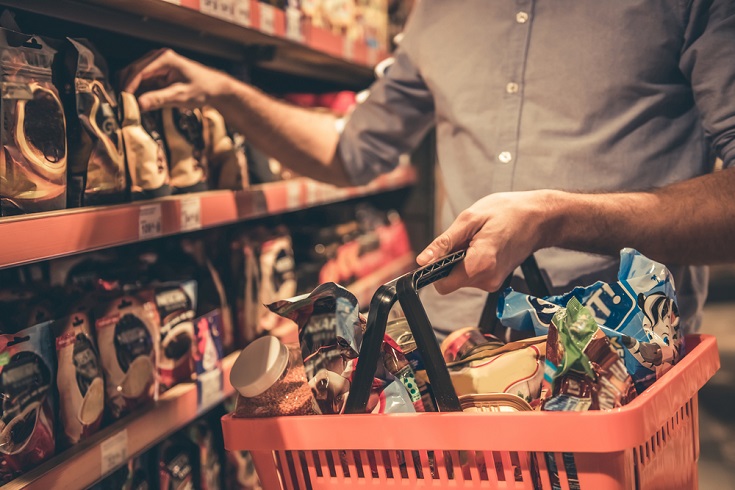 We love Trader Joe's and routinely get lost wandering the aisles, marveling at all the wonderful snacks and goodies they have. Their prices are fair – especially considering the quality you get – and the variety they carry is impressive. Luckily, their coffee selection follows suit. You can regularly find a nice selection of coffee to buy and, every once in a while, a truly outstanding bean.
In this article, we're going to run down what we think are the best coffees you can buy at Trader Joe's. We'll try to put our personal preferences to the side and include something for everyone. If your coffee stock is running low, a trip to Trader Joe's may be in order. Here are the best Trader Joe's coffee beans:

A Quick Tip Before We Start
We strongly encourage you to buy whole bean coffee if you can. Coffee beans stay fresh longer than ground coffee, so buying whole beans will give you a better overall experience. The best option is to grind your coffee right before you brew it, but we realize not everyone has a coffee grinder at home. Thankfully, most Trader Joe's have an in-store grinder you can use if you don't have a grinder at home. It's still better to grind at home, but grinding in the store is better than buying pre-ground coffee.
---
The 6 Best Trader Joe's Coffee Beans:
1. Organic Sumatra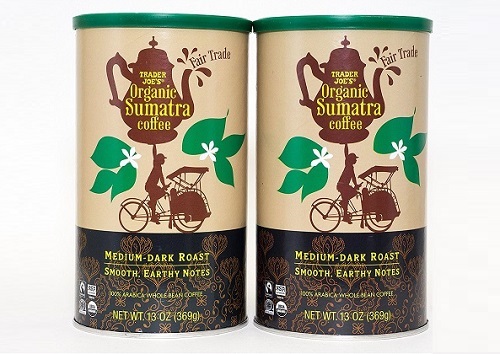 Trader Joe's organic Sumatra is a medium to medium-dark roast with chocolate, earthy tasting notes. It's impressively smooth for a dark roast and excels when prepared in a French press. If you are a fan of dark roasts, you'll love this one, but it isn't so dark that it will turn you away if you prefer medium roasts.
Overall, we think the organic Sumatra is the best Trader Joe's coffee currently on the shelves. Try it and see what you think!
---
2. Shade Grown Ethiopian
Next up, we have a medium roast Ethiopian coffee. This one isn't as dark as the Sumatran coffee in the top spot, so it's a great choice for people who like lighter roasts. Ethiopian coffee is generally fruity, floral, and naturally sweet, and this bean checks all of those boxes. We like to use a pour-over to brew it to accentuate the lighter characteristics and give the light, delicate flavors center stage.
---
3. Barista Espresso Blend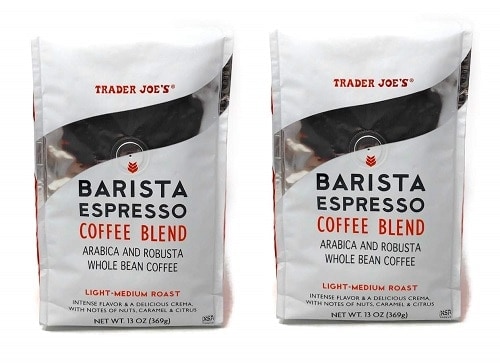 Trader Joe's Barista espresso blend is a light-medium roast made from Arabica and Robusta beans. Don't let the name fool you; this coffee isn't just for espresso, although it does make a nice shot. We had great success brewing it in a Chemex, which helped even out the intense flavor, which was a little too strong for us in a V60.
---
4. Colombia Supremo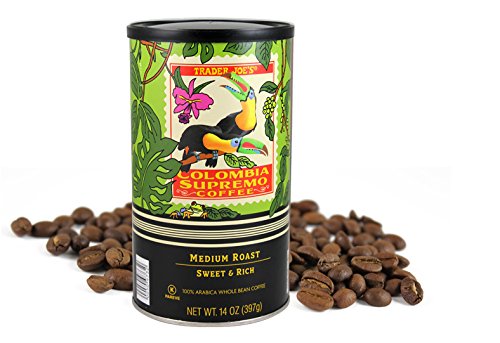 Our local Trader Joe's doesn't always carry this one, but we always pick it up when we see it. It's one of the best "daily driver" coffees we've found due to its flexibility. However you prefer to brew your coffee, chances are this bean will do the job admirably. It's fairly priced for the amount you get and, although it isn't the best coffee we've had, we've certainly had worse.
We recommend the Colombia Supremo to anyone who likes to brew their coffee in different ways or anyone who makes coffee for several people with different tastes. This one is a crowd-pleaser.
---
5. Joe Medium Roast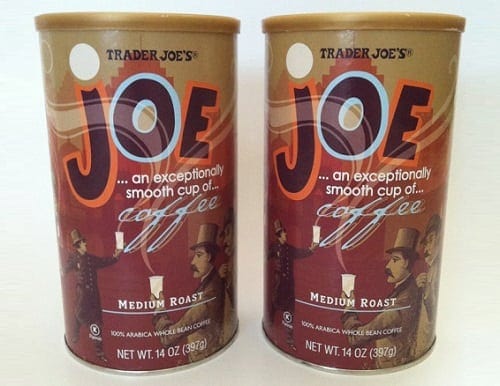 We included this as a pre-ground option for people looking for a bag of coffee they don't have to fiddle with. It's a solid choice, and we like it better than your standard grocery store coffee for use in an automatic drip machine. We still prefer to buy whole bean coffee – especially with the in-store grinder's convenience – but if you like to buy pre-ground, Joe Medium is a great option.
---
6. The Miscellaneous Option
Over the years, we've noticed that occasionally Trader Joe's will stock a new coffee for a few months before it disappears, never to be seen again. Some of our favorite Trader Joe's coffee has followed this pattern, and it's happened enough times to be more than a one-off coincidence.
For this last entry, we decided to give you a heads up and tell you to keep an eye out for short-lived, ultra-specialty coffee that sometimes makes it onto the shelves at Trader Joe's. Two standouts we've had were a Kenya AA and an Ethiopian peaberry that were both an absolute steal for the price. It's a shame that they don't carry these coffees all the time, but it's taught us to enjoy our coffee while we have it and sip in the moment.

Conclusion
Trader Joe's usually has a solid lineup of coffee to choose from, and we've rarely left the store without some kind of coffee in our bag. It's slightly annoying that their stock is inconsistent, but we can look past that since they almost always have something great on their shelves. We hope this list helped you find the best Trader Joe's coffee beans to try!
Next time you venture out to your local store, give some of these coffees a try. If you're feeling adventurous, look for any coffee you haven't seen before since it could be a gem. Coffee is all about trial and error, and Trader Joe's is a great place to hunt for great coffee at a great price.
Also worth reading:
---
Featured Image: George Rudy, Shutterstock