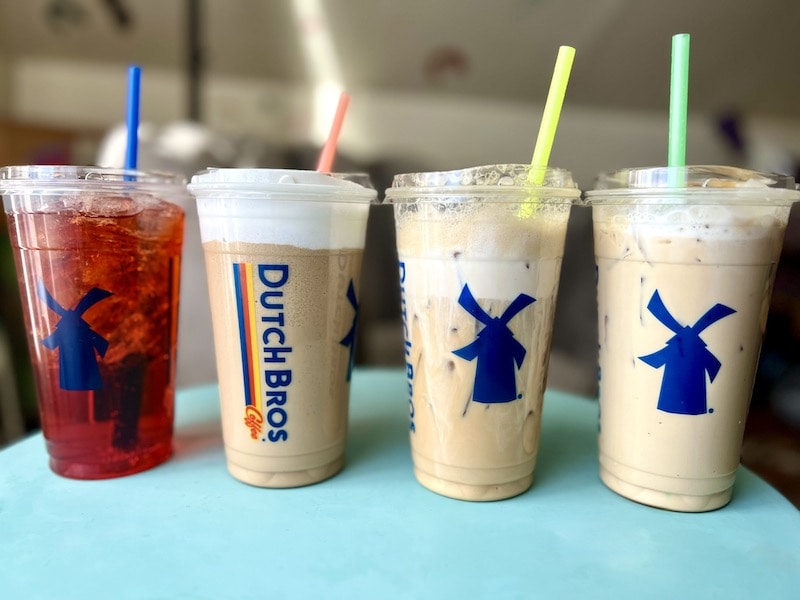 If you're a coffee addict like many of us and live in one of the Western US states where Dutch Bros has a location, then you have probably already tried this trending company's drinks. If not, the next time you're in the area, make sure to hunt down a Dutch Bros and try one. You'll be so glad that you did.
If you're not familiar with Dutch Bros, then know that it's become extremely popular in many states. The employees at Dutch Bros are always nice, they have music, and everyone smiles. The biggest plus about Dutch Bros is they don't just sell your average cup of joe.
They sell coffee, of course, but you can also get smoothies, frosts, lemonades, tea, Italian sodas, and Rebels, which are energy drinks. Whatever you're searching for in the drink department, you can pretty much guarantee they have it at Dutch Bros.
So, with so many drinks to choose from, what's your best option on the Dutch Bros menu if you're new to the area and visiting the coffee shop for the very first time? In this article, you'll find 15 of the best Dutch Bros Drinks to help you make up your mind.

Top 15 Best Dutch Bros Drinks:
1. The White Chocolate Annihilator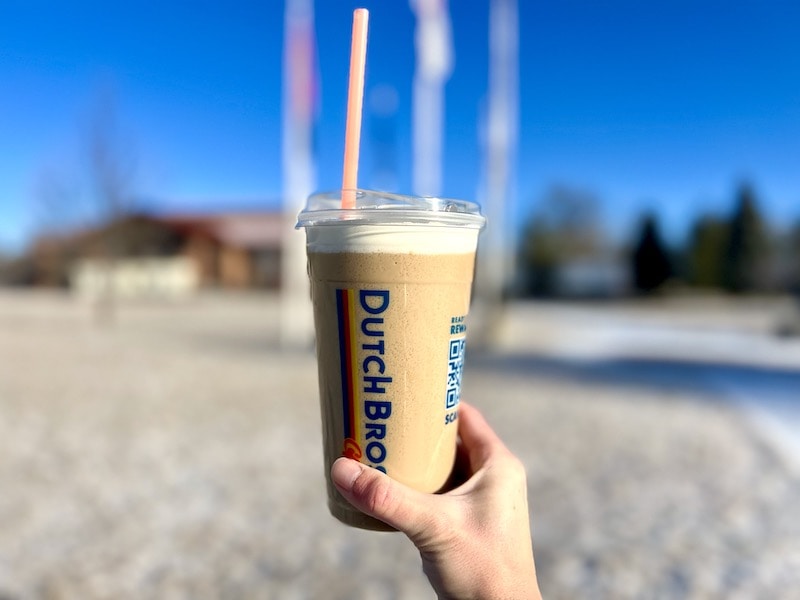 One of the best Dutch Bros drinks is the White Chocolate Annihilator. Made with white chocolate and chocolate macadamia nut, this drink can be ordered hot, iced, or blended, so it's a good choice no matter what season it is. Half and half is used instead of milk, and you can get it sugar-free. What better way to start a morning than with a White Chocolate Annihilator to give you the energy to meet the day.
---
2. Vampire Slayer Rebel
If you're a lover of sweet and sour drinks, then you'll want to taste the Vampire Slayer Rebel. Both sweet and sour at the same time; you can order it cold or mixed. It's the perfect drink to pick up on your way to the pool on a scorching summer afternoon.
---
3. Golden Eagle
The Golden Eagle is a delicious combination of vanilla and caramel. It's a breve, meaning that it's made with equal parts espresso and half-and-half for an extra creamy treat. The perfect pick-me-up in the mornings, this is one of the best drinks at Dutch Bros, so make sure you order one while you're there!
---
4. Flap Jack Breve
https://www.instagram.com/p/CcJj5rKp6oq/
One of the best drinks on the Dutch Bros menu to speak of is the Flap Jack Breve. If you're a fan of caramel, then you're not going to want to miss this one. The flavors in the Flap Jack Breve include salted caramel, vanilla, and white chocolate, mixed with half and half instead of milk. You can get this item as sugar-free as possible if that's the type of drink you're looking for.
---
5. Dino Egg Rebel
Featuring a power drink, the Dino Egg Rebel is filled with blue raspberry and strawberry rebel flavoring, along with two drizzles of white chocolate. A hint of almond is added for a cool, delicious drink to give you the energy you need to face the day.
---
6. Vanilla Cold Brew
If you're a huge fan of vanilla, then make sure to order a Vanilla Cold Brew. It's one of the best drinks at Dutch Bros, and you can get it with sugar-free vanilla if you so choose. The drink is a nitro-infused cold brew that has all the vanilla taste you love. Drink it the way it's served, or add a shot of cream or milk to it to heighten the flavor.
---
7. Dutch Crunch Breve with White Coffee
Strawberry and hazelnut are the featured flavors in this delicious drink. The milk that comes with this drink is half and half, and it's served with white coffee. This drink can also be ordered with regular coffee, blended, iced, or hot; the choice is yours.
---
8. White Zombie Mocha
A White Zombie Mocha will come with chocolate milk and white chocolate, and mocha flavoring. You can order this tasty drink blended, iced, or hot, and it comes with a sugar-free option.
---
9. Snickers Mocha
If you're a Snickers candy bar lover, then you need to hurry and order one of these Dutch Bros drinks. Caramel, hazelnut, and mocha are predominant flavors in this drink, and it couldn't taste more like a Snickers. It is prepared with chocolate milk, and you can get it blended, hot, iced, and sugar-free if you so desire.
---
10. Aquaberry Rebel
If you're sweating on a hot summer day and dreaming of cool flavors, then the Aquaberry Rebel will cool you down and give you a jolt of energy at the same time. The flavor profile of this rebel drink is amazing. It features blue raspberry, watermelon, strawberry, and kiwi. Some of the flavors in the Aquaberry Rebel are sugar-free, but some are not, so be sure to ask when you place your order with the barista.
---
11. Strawberry, Kiwi, Coconut Italian Soda
As the name states, the flavors in this drink are strawberry, kiwi, and coconut. Italian sodas are basically sparkling waters with flavor added in. You can get this drink with cream added or whipped cream on top; the choice is yours. You can also order it iced or blended.
---
12. Christmas Morning Chai
Not only will this tea remind you of Christmas morning, but it also has flavors that will take you back to your childhood to boot. Flavored with white chocolate, this drink comes with half and half instead of milk. You can order it blended, iced, or hot. Don't forget to top it off with nutmeg, cinnamon, and whipped cream for the full Christmas morning experience.
---
13. French Toast Frost
The flavors of brown sugar, cinnamon, and white chocolate make this frost one of the best drinks at Dutch Bros. This French Toast Frost is one of the must-tries on the list of best Dutch Bros drinks. You don't want to miss this one.
---
14. 911 Cold Mixture Breve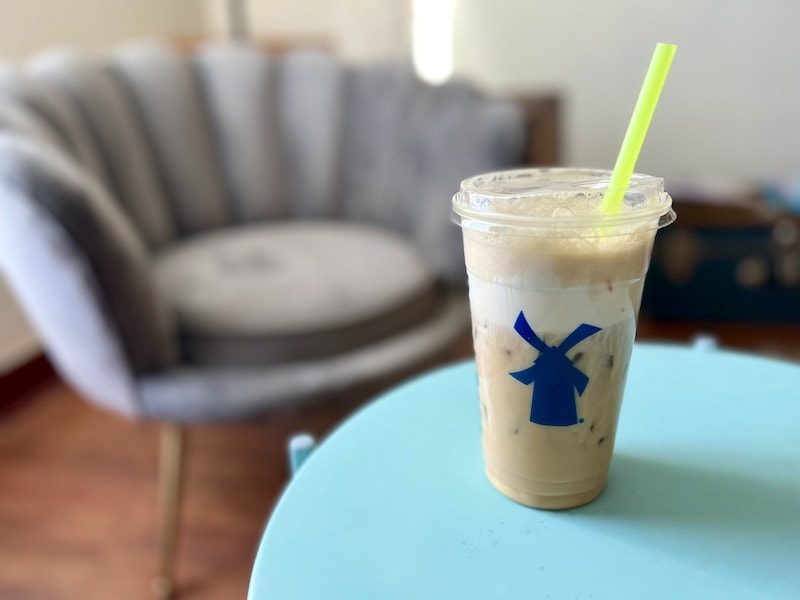 The 911 Cold Mixture Breve is a spin on the classic Breve, and it is delicious. It features the classic and then a shot of the Irish Cream Cold Brew Breve to give it a kick—non-alcoholic, of course.
---
15. Mango Strawberry Smoothie
The Mango Strawberry Smoothie is just as its name suggests, a smoothie with plenty of mango and strawberry in it. For an extra burst of flavor and to treat yourself, make sure to have whipped cream added to the smoothie.

Best Dutch Bros Drinks: Final Thoughts
These are just a few of the best Dutch Bros drinks out there this year. If you've never been to a Dutch Bros and are going to be in the area, make sure to stop by and order one of these drinks. We're sure you'll end up being a fan of Dutch Bros coffee and drinks for many years to come.
SEE ALSO: What are chewable coffee cubes? (and should you try them?)
---
Featured Image Credit: Coffee Affection