Christmas is a time for giving, sharing time with friends and family, and enjoying the holiday spirit with the people around you. Oh, and coffee! Lots and lots of coffee.
We'd be lying if we said that any day of the year wasn't perfect for enjoying a delicious cup of coffee. But there's something about Christmas time, the flavors and spices associated with the season, and the frigid temperatures outside that make December the perfect time to enjoy a special treat! And for that, we give you: delicious and complex Christmas coffee.
Below, we're going to discuss what Christmas coffee is, how to make it, and — perhaps most importantly — how to serve it in a way that will blow your friends and family away.


What is Christmas Coffee?
The answer to this question really depends on who you ask. For some, it's merely a blend of beans that mimics or includes some of the spices and flavors usually associated with Christmas like nutmeg, gingerbread, and cinnamon. For other, less adventurous coffee drinkers, Christmas coffee is just your regular coffee…but consumed on Christmas day. Not the worst thing, but we think we can do better!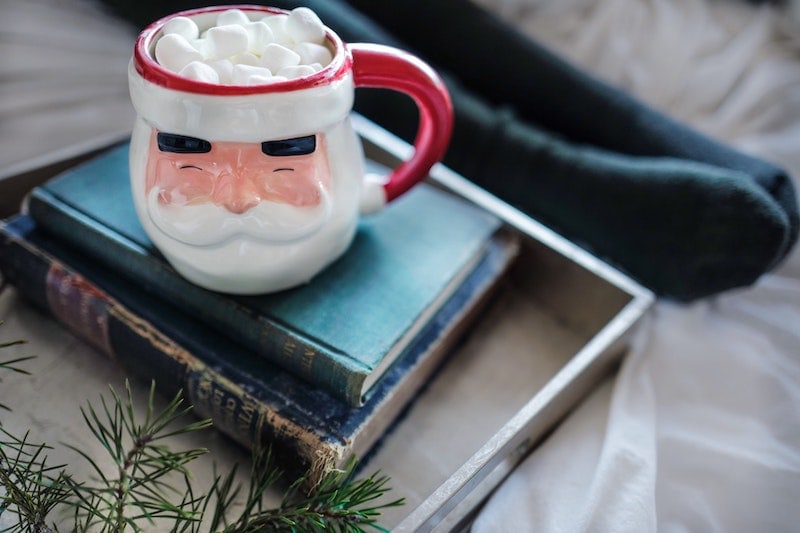 For those looking for a little more inspiration-in-a-cup coffee, our version of Christmas coffee is a mixture of brewed coffee and spices with some homemade, alcoholic whipped cream on top for some added taste and texture. Now we're talking!

How Do You Make Christmas Coffee?
To begin, you may need to make a trip to the grocery store for the below ingredients. You'll also want to make sure you have the equipment mentioned below. If you're missing any of these pieces, you can borrow them from a friend or family member — 'tis the season for sharing, after all!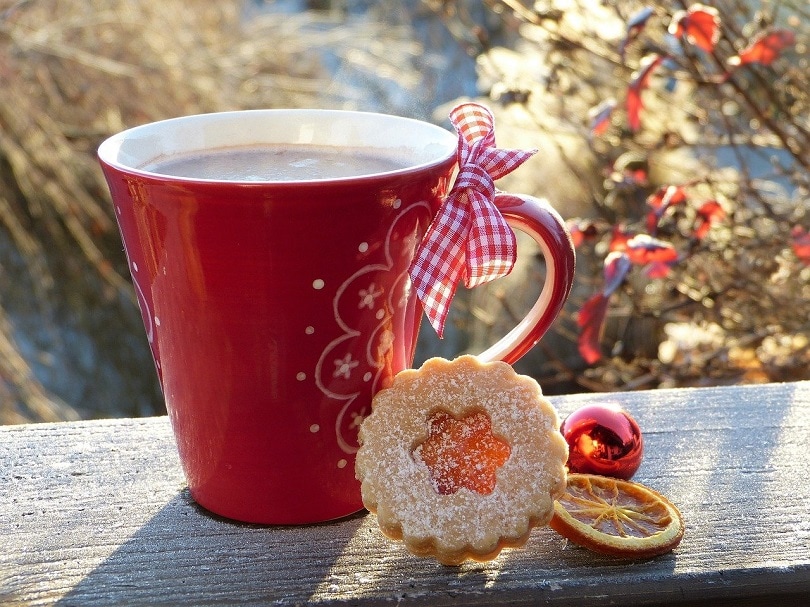 Ingredients
¾ cup of whipping cream (heavy cream can be substituted)
1 cup of your favorite coffee grounds
2 tsp of ground cinnamon
1½ tbsp of powdered sugar
5 tsp of ground cardamom
1 tsp of ground nutmeg
1-2 tbsp of brandy
1 tbsp of sugar
7 cups of water
Cocoa powder, cinnamon, or chocolate syrup (optional)
Equipment
1 small mixing bowl
1 medium mixing bowl
1 electric mixer (or non-electric whisk if you're feeling brave)
1. Whip your cream.
Begin by adding your whipping cream to a medium mixing bowl and beating with an electric mixer until you've formed soft peaks.
2. Add sugar and brandy.
Add your powdered sugar and brandy to the whipping cream and beat with your electric mixer until the peaks have hardened a bit. Set aside.
3. Mix coffee and spices.
Add ground coffee, cardamom, cinnamon, nutmeg, and sugar to a small mixing bowl and mix until uniform.
4. Brew coffee.
Once the coffee is done brewing, pour equal servings into mugs or decorative glasses.
5. Top with whipped cream.
Top each cup of coffee with a dollop of your whipped cream mixture.
6. Add a festive garnish (optional).
Sprinkle cocoa powder, cinnamon, or Christmas sprinkles, or drizzle chocolate syrup on top for a delicious and enticing garnish.

Can I Make Christmas Coffee Without Sugar?
If you want to avoid adding sugar to this cup of holiday cheer, we'd recommend you simply ditch the sugar normally added to the coffee and make your homemade whipped cream without adding sugar or brandy. Instead of whipping the cream to soft peaks and adding the other ingredients, simply whip to moderately stiff peaks and add to the top of your Christmas coffee.
Alternatively, you can use canned whipped cream instead of making your own, although these usually contain sugar as well.
Can I Make It Vegan?
You can easily make Christmas coffee vegan by avoiding the whipped cream entirely. This change requires less work and will still lead to a delicious cup of spiced Christmas coffee, but the presentation will be lacking.
You can still make your whipped cream using vegan ingredients, but it does require that you use coconut cream, which will add a relatively strong coconut flavor to your spiced coffee. If you're interested in a little tropical twist on your Christmas coffee, you can refrigerate a can of coconut cream for 24 hours, open and remove the hardened cream inside from the watery residue, and whip just like you would in the regular recipe. You can even add sugar and brandy to your coconut-based whipped cream!


Conclusion
Christmas is often one of the biggest times of year to entertain and what better way to wow your friends and family than with some delicious Christmas coffee? It's easy to make, it's visually appealing, and, as we hope you'll soon find out, downright delicious!
RELATED RECIPES:
---
Featured image credit: Unsplash