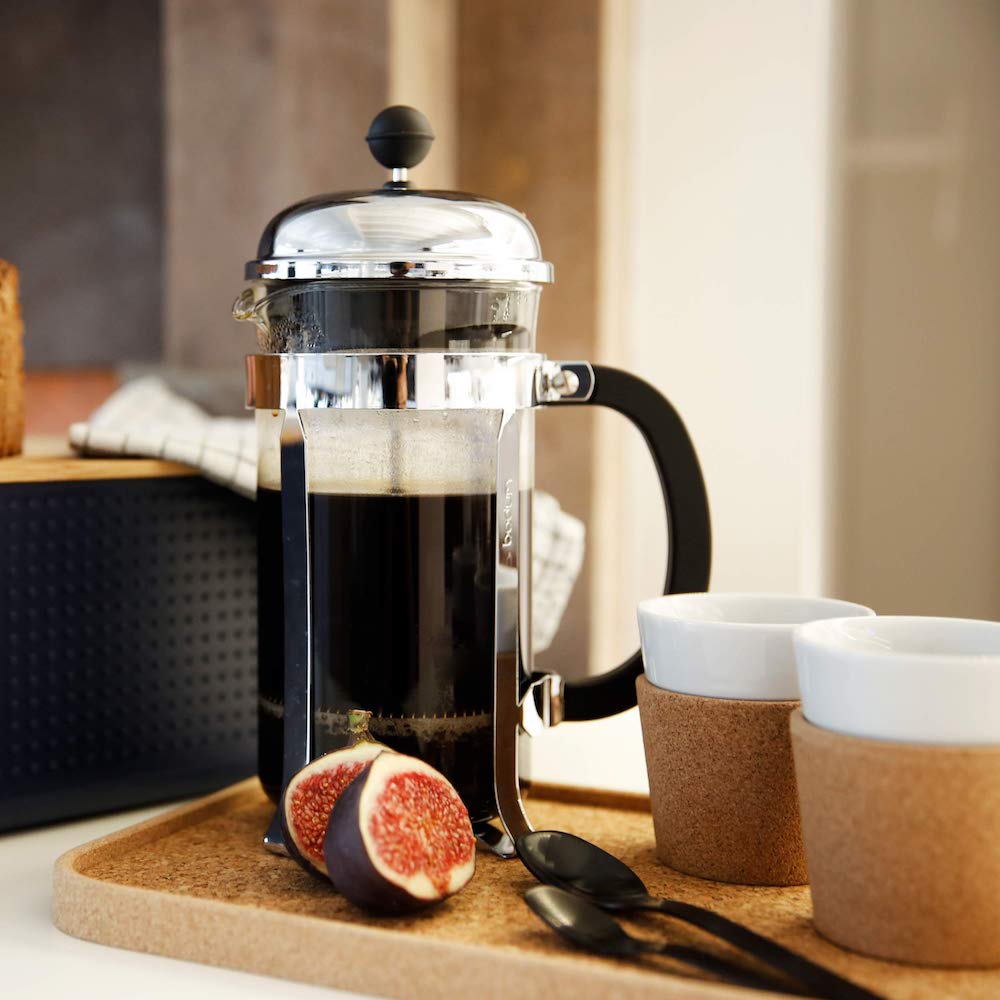 It all starts with the grind when it comes to French press coffee. Too fine, and you'll get little bits of coffee bean slipping through the screen in your press. Too coarse, and you won't unlock the full flavor of your beans. If you're paying top dollar for really good beans, that means wasted money.  Even worse, it means subpar coffee.
If you're looking for the best French press flavor, you'll also want to grind your beans just before brewing. You can grind beans at the store, but if you don't use them pretty quickly, they'll lose the gases and oils that give them their unique flavor. For the best coffee, you need a great bean grinder in your home.
To help you find the best coffee grinder for your french press, we bought and tested quite a few models. The result is this list of the five best French press coffee grinders available this year, complete with detailed reviews looking at price, design, ease of use, and more. We also included a buyer's guide at the end if you're looking for more information. We wish you the best of luck in your purchase.
---
A Quick Glance at our Favorites for 2023
Image
Product
Details

Best Overall

Baratza Encore Conical Burr

Accurate
Long-lasting
Variety of settings

Best Value

JavaPresse Manual Coffee Grinder

Affordable
Consistent grind
Easy to make size adjustments

Khaw-Fee Manual Coffee Grinder

Quiet
Attractive
Precise results

Cuisinart Automatic Burr Mill

Fast
Accurate

Handground Precision Manual Grinder

Comfortable handle
Elegant look
The 5 Best Coffee Grinders for French Press
1. Baratza Encore Conical Burr Coffee Grinder – Best Overall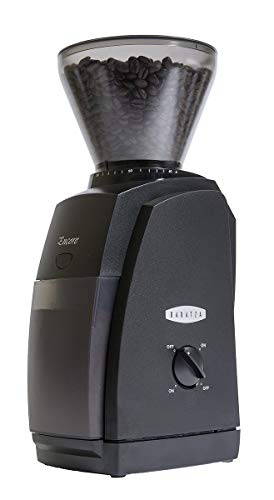 Baratza's Encore Conical is our top pick for the best coffee grinder for a coarse grind, which is the key to great French press coffee. It's electric, so it's a bit louder than manual grinders, but it also delivers fast, consistent power to the burr-covered grinding drum. In fact, it's also our choice as the best burr coffee grinder.
We like the versatility and the fact that burr grinders generally last a long time. It's got a range of settings, so if you bounce between brewing styles, you can still grind fresh beans. It's also stable enough that it's not going to shake off the counter.
The one big mark against it is the price. It's really expensive compared to the competition. You get a lot, but it's also possible to get close results for a lot less money.
All in all, we think this is the best coffee grinder for French press coffee this year.
Pros
Accurate
Long-lasting
Variety of settings
Cons
Expensive
Louder than manual grinders
---
2. JavaPresse Manual Coffee Grinder – Best Value
JavaPresse makes the best manual coffee grinders for french press brewing systems, hands down. Measure out your beans, pop them into the cylinder, turn the crank, and your grounds fall into a handy little cup on the bottom that's perfect for dumping into your French press, or any other brewing system you use. The results are consistent, accurate and delicious.
The cylinder is a bit uncomfortable to hold onto if you're grinding a lot of beans, so it's probably best to not use it for large pots of coffee. Be prepared for a bit of a learning curve in figuring out which setting gives you the right size of grounds. Adjustments are easy with a crank handle on the bottom of the cylinder, but give yourself a little time to find your coffee grounds' sweet spot.
Pros
Affordable
Consistent grind
Easy to make size adjustments
Cons
Little learning curve
Awkward to hold onto
---
3. Khaw-Fee HG1B Manual Coffee Grinder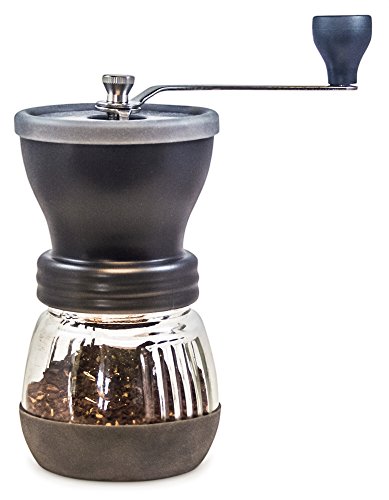 We like the Khaw-Fee HG1B's appearance. It's an attractive little gadget, made of stainless steel and glass. It lets you eyeball the grounds as you make them, and because it's a manual, you can adjust on the fly. It's one of the most accurate coffee grinders on the market because of that. It's quiet to operate, and we also like how it's constructed. It'll last you a long time.
We have a caveat on that last one. The bottom jar is made out of glass. It's good, thick glass, but it's glass nonetheless. If you're prone to pre-coffee klutziness, that might give you some pause. At the price you're paying for it, that's especially true. It'd be aggravating to spend a lot of money on a coffee bean grinder only to break it the day after it arrives because you knocked it over first thing in the morning.
Pros
Quiet
Attractive
Durable
Precise results
Cons
Expensive
Less durable glass jar
---
4. Cuisinart Automatic Burr Coffee Grinder Mill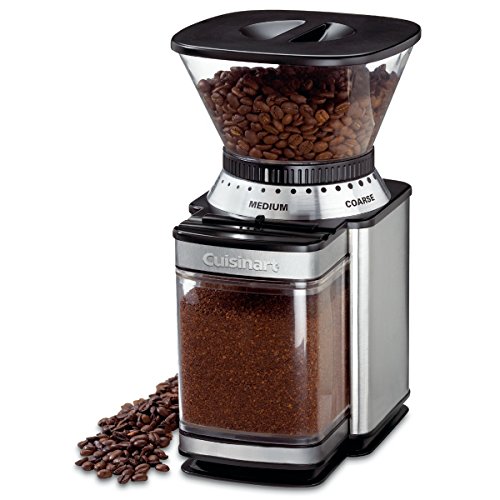 The Cuisinart DBM-8 has quite a few things going for it. It's fast, and because it's a burr grinder, grinds to the accuracy of the setting you have it turned to. It's also not frightfully expensive. In fact, you can get one for less than you'd pay for a high-end manual grinder.
It's also got all the things that drive most people to manual grinders. The results can be inconsistent. It's messy, and leaves a lot of residue internally that will require semi-frequent full-scale cleanings for the sake of longevity. It's also loud, much louder than a manual grinder. If you'd prefer not to hear loud, grating sounds first thing in the morning, this may not be your pick.
Cons
Messy
Loud
Results not always consistent
---
5. Handground Precision Manual Coffee Grinder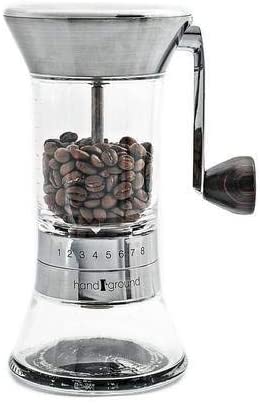 We like the Handground Precision's appearance, as it looks clean, sterile, and light, fitting well in cozy kitchens. We also like the comfortable handle. Manual grinding can take a painfully long time, especially if you're after a fine grind like espresso or Turkish coffee, so a comfortable handle is a plus in a manual grinder.
French press, however, is a coarser grind, so comfort may not be quite as important. This model has fewer grind settings, so you can't quite get the wide range of grind sizes you can with other grinders. It's also difficult to clean and breaks too easily for our liking. All that, and it's the most expensive manual coffee grinder for a French press that we looked at.
Pros
Comfortable handle
Elegant look
Cons
Really expensive
Not as versatile
Hard to clean
Not very durable
---
Buyer's Guide – Finding the

Best Coffee Grinder for a French Press
If you're looking at coffee grinders for French presses, it's because you love a great cup of coffee. If you were okay with less, you'd get a drip coffee maker and settle for a giant can of pre-made grounds.
You're probably spending enough money on beans that it's less an expenditure and more an investment in morning joy. Spending real money on coffee beans is wasted if you get a bad grind. We've written this buyers' guide to help you figure out what kind of grinder you want to buy to complement your French press.
Look for a consistent grind
The most important quality you want in a grinder is consistent results. French presses use a coarse grind that's steeped for a minute or two to unlock the richest, deepest flavor from your beans. If you're buying your own grinder, the most important qualities are consistency and accuracy.
There are two basic kinds of bean grinders: burr grinders and blade grinders. Burr grinders are the better of the two for delivering consistent, excellent results, because you set the difference between the teeth. Blade grinders require that you achieve your basic results based on estimating the time spent grinding. They're serviceable, just not as accurate.
Blade grinders tend to cost a bit less. They also don't last as long because they rely on blades that are long and thin, rather than teeth that are part of hardened drums.
Manual vs electric
Another good criteria is how the grinder operates: manually or with an electric motor. Both have their upsides and downsides, so it's important to know which one is better for you.
Manual grinders are much quieter than electric ones. They operate with hand cranks, so the only sound created is the actual beans being ground up. There is no obnoxious whirr of an electric motor. They're also a lot more portable. If you go camping and want to brew a great cup of French press, a manual grinder doesn't need electricity.
What they are is really, really slow and labor-intensive. You have to load the beans and then crank the handle by hand. If you wake up needing coffee with minimal effort, this isn't the way to go. If you wake up needing coffee quickly, this isn't the way to go. If you wake up needing a cup of coffee where you have complete control over the grind and don't want the annoying sound of a whirring motor, manual is a good option.
Versatility
You're already investing good money in a coffee bean grinder. While buying it to grind beans to a consistency right for a French press might be your primary goal, it's never a bad idea to buy a grinder with a range of settings, so you can grind beans for different makers.
French press coffee makers tend to use some of the coarsest grinds. If you use your French press on the weekends but stick to a traditional drip brewer during the week, you may want a grinder that can handle different grind sizes. Maybe you'll also want to grind beans a little more finely for an everyday drip brewer or make them a bit more coarse if you have a cold brew cylinder. Consider a grinder that allows you to tailor the coarseness of your grind for the kind of coffee you're brewing.
Ease of maintenance
If you're a real coffee snob, your coffee grinder will be an everyday implement. If you drink lots of coffee, it'll be a multiple-times-a-day implement. That means two things. You'll need to clean it and you'll need to replace worn parts.
If the bean grinder is inexpensive enough, you might want to just replace it altogether. If you're a price-comparison shopper, keep this in mind when looking. Some things that cost less upfront require frequent replacement, which might mean higher costs in the long run.
Some bean grinders allow you to swap out worn-out parts. Find out if the bean grinder you're looking at is one of these.
Figure out how easy it'll be to clean when it gets clogged up with coffee grounds. Fresh beans especially tend to stick to things when ground. You'll want to clean those out as quickly and efficiently as possible so as not to allow quality to degrade.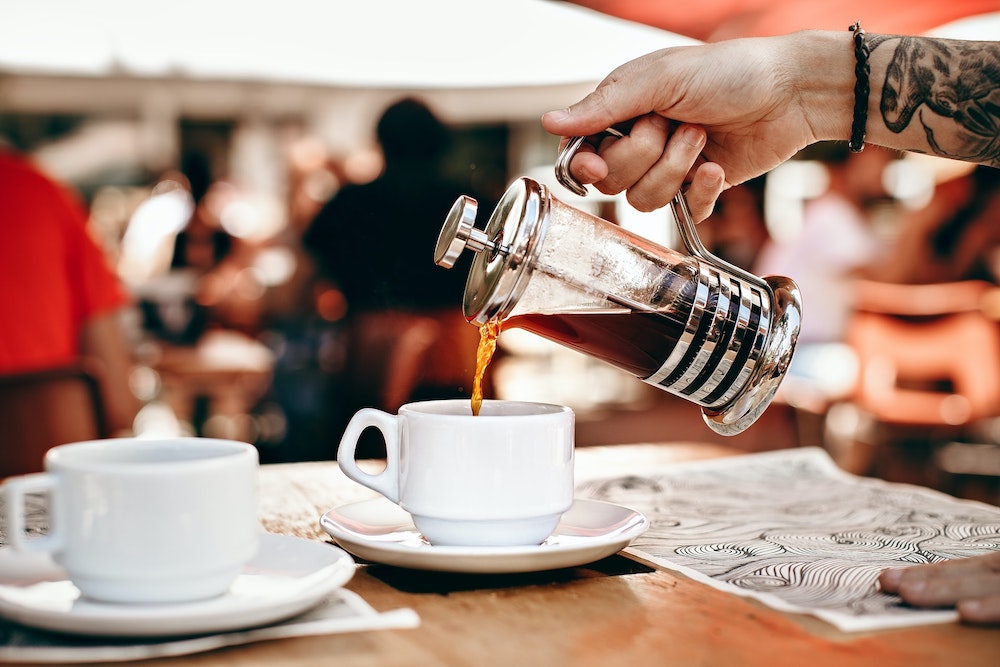 Size
A manual grinder with a top crank is typically quite compact. A powerful electric motor running unstoppable grinding teeth can be significantly larger. Make sure you've got space in your kitchen for your coffee bean grinder. If the grind quality really matters, this is probably a lower-tier factor. However, if you have lots of things competing for counter space, it could be a deal-breaker.
Price
The final consideration is the price. You can get a decent coffee bean grinder without spending a ton of money, but you can also spend a lot on a professional-grade one model that will give you a consistent cup of coffee. You'll be able to taste the difference, so it's a matter of how you want to allocate your dollars.
There's one shopping tip that's consistent across all things, though: if the choice is between two of basically the same thing, go ahead and save yourself a few bucks. Just remember, coffee beans aren't a matter of life or death, even if it feels that way in the morning.
Other specialty grinders we've reviewed:

Final Verdict
We looked at some of the best coffee grinders you can use for a French press and wrote reviews about them. Our favorite was the Baratza Encore Conical Burr Coffee Grinder, which we thought delivered the best kind of grind for a French press. If you're looking for a manual grinder, we'd suggest the JavaPresse Manual Coffee Grinder. If you want to maximize your dollar investment, our recommendation is the Khaw-Fee HG1B Manual Coffee Grinder. We also liked the Cuisinart DBM-8 Supreme Grind Automatic Burr Mill, but it has a couple of drawbacks that make us think you should look at another model. The same goes for our bottom-ranked model, the Handground Precision Manual Coffee Grinder.
We hope you found value in our reviews of coffee grinders meant for French presses. This is a purchase that you'll find rewarding at a time when you'll most appreciate it: in the morning when you need a good cup of coffee. If you were looking for more information, we hope our buyers' guide helped you make a purchase decision. Happy brewing!
RELATED READS: