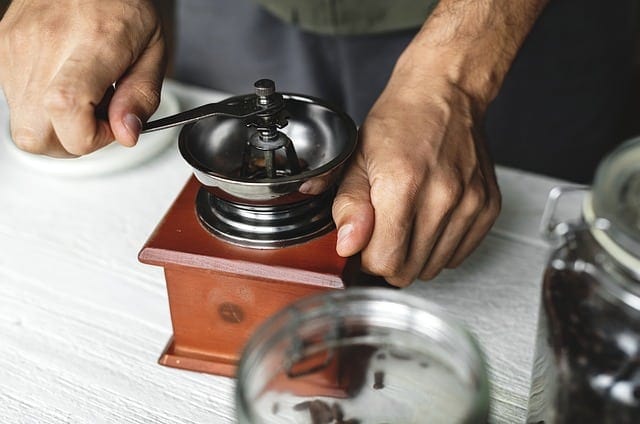 Finding a great manual grinder can be a hassle. There are quite a few models on the market, each with different features and designs. Do you care about consistency? Noise? Portability?
We believe in wide-ranging analysis, and so that's what you're going to get with these reviews. We've looked carefully at each grinder's price, design, consistency, durability, and ease of use so you can be sure you're choosing the best possible model. Are you ready to upgrade your coffee brewing experience?

A Quick Glance at our Favorites (updated in 2023)
Image
Product
Details

Best Overall

Hario Skerton Pro

Consistent
Feels sturdy
3.5 oz. storage capacity

Best Value

JavaPresse

Easy to clean
Durable
Great price

Premium Choice

VSSL JAVA Burr Grinder

Highly consistent
Sturdy, elegant, and portable
Great lifetime warranty

Porlex Mini

Consistent
Portable

Mueller Austria

Portable and quiet
Stainless steel body with ceramic burrs
Window into grounds
The 10 Best Manual Coffee Grinders
1. Hario Skerton Pro Manual Coffee Grinder – Best Overall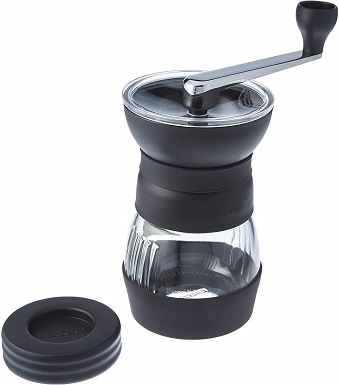 Since it was introduced, Hario's V60 drip system has been a favorite in the specialty coffee world. Turns out, they produce an impressive hand grinder as well.
Our top pick for the best hand coffee grinder is the Hario Ceramic Coffee Mill Skerton Pro grinder, which is the definition of well-built and consistent. Where some hand grinders can feel loose or wobbly, this model uses a stabilization spring to keep your grinding tight. It's really quick, which is unusual in the world of hand grinders, and produces a very consistent grind. The burrs are easy to adjust, so you are totally in control.
The Skerton Pro also boasts a large 3.5-ounce capacity for holding beans, or roughly 99 grams. Aesthetically, it looks like a pepper grinder, so it will fit well in most kitchens. The downside is that cleaning your grinder can be a process. We've also heard of durability issues, which is also to be expected with a hand grinder. But for your money, the Hario Ceramic Mill is the way to go. Burr is better than blade, even if it is a mess to clean up.
Overall, we think this is the best manual coffee grinder money can buy. Read our full review of the Skerton Pro!
Pros
Quick
Consistent
Feels sturdy
3.5 oz. storage capacity
Cons
Hard to clean
Durability issues
---
2. JavaPresse Manual Coffee Grinder – Best Value
The JavaPresse produces very similar results to our first two grinders – at a fraction of the cost. The manufacturer doesn't boast that this grinder is indestructible, but maybe they should. On the other hand, they do boast that this grinder is so quiet that you can use it next to a sleeping loved one. Aesthetically, it looks very similar to the Porlex.
While you can adjust the grind, you can't do so with the precision of the first two on this list. The settings are unmarked and can be difficult to find. This model does offer a window to see your grind size.
Also, if we're being honest, it takes forever to grind enough coffee for one cup of coffee. Other than that, it's great. Easy to clean. Well, easier to clean. Plenty durable.
Cons
Takes forever
Harder to adjust
---
3. VSSL JAVA Burr Grinder – Premium Pick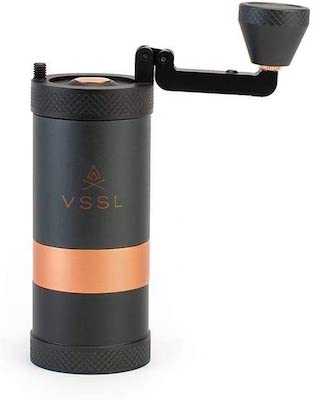 The VSSL JAVA is an excellent option if you have a bit more room in your budget. This thoughtfully designed grinder features a sturdy aluminum body, carabiner handle, and stainless steel burrs. The handle extends for easier grinding and the grind size dial is simple to adjust. Even better, the grind size is highly consistent, even at the very coarse and very fine ends of the spectrum. And did we mention the lifetime warranty?
This model is pretty pricey for a manual grinder, placing it out of many budgets. It's also a little tricky to clean. But if you can swing it, this adventure-friendly grinder could be a great addition to your coffee gear collection.
Read our full review of the VSSL JAVA grinder.
Pros
Highly consistent
Sturdy, elegant, and portable
High-end feel
Great lifetime warranty
Cons
Pricey
Somewhat hard to clean
---
4. Porlex Stainless-Steel Hand Coffee Grinder
A great thing about the stainless steel construction of this grinder is that it's self-contained, keeping coffee grounds from scattering across your counter. Stainless steel eliminates static and is very durable. It's been touted as "indestructible", but we haven't tested that claim.
The Porlex 345-12541 Jp30 shares positive traits with our top pick, like a stabilization spring and a burr grinding design. You can lock in your grind settings, keeping the burrs where they are and producing a consistent grind every time. This model is also portable and lightweight.
The Porlex grinder is sleek and tall, though it doesn't have a window to see your beans or grounds. This machine is mostly suitable for personal use. It has about a third of the storage capacity of the Hario and has durability issues with the burrs. It was neck and neck between our two top picks, but from what we've heard, this one breaks down just a little bit quicker.
Pros
Lockable grind
Lightweight
Sleek body
Sturdy feel
Cons
Durability (burrs, not body)
Small grinding capacity
No window
---
5. Mueller Austria Manual Coffee Grinder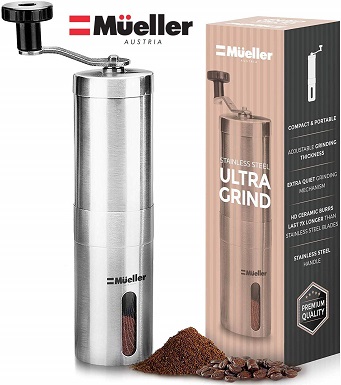 The Mueller Austria grinder produces decent results but costs a bit more. The adjustments are settings-based, so you don't have that much control. This model is quiet and reasonably well-designed, with a window to check on your grind size. The body is made of sturdy stainless steel and the burrs are high-quality ceramic.
Unfortunately, this model doesn't feel especially durable overall. In particular, the handle on this machine is rumored to give out. Though this grinder is functional, you'll end up paying more for lower quality.
Pros
Functional, portable, and quiet
Stainless steel body with ceramic burrs
Window into grounds
Cons
More expensive
Less durable
---
6. Defancy C50 Vintage Hand-Crank Coffee Grinder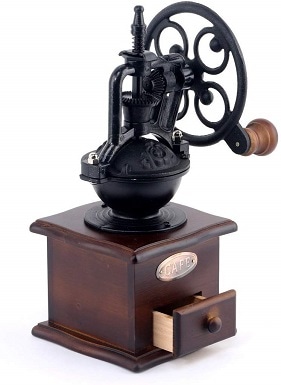 Do you prefer retro designs? The Defancy C50 could be for you. This antique-style grinder features an ornate grinding wheel that looks as if it's made of cast iron, which grinds into a cute little drawer.
Setting aside aesthetics, the Defancy C50 is a fairly functional appliance. It's reasonably quiet, easy to clean, and affordably-priced. This machine is not as consistent as our top picks, nor is it adjustable, but it gets the job done if you're not too concerned about the details. As with most hand grinders, it's quite slow and takes some effort to use.
Pros
Aesthetically-pleasing
Quiet
Cons
Slow
Small
Not adjustable
---
7. Handground Manual Ceramic Burr CoffeeGrinder
The Handground Precision can get the job done if you're in a pinch, but it is less than ideal. Users have reported serious durability issues, and the grind is only partially adjustable.
Because it's the product of a Kickstarter project, as opposed to a huge company, this model has a unique design. It's mostly glass, so you can see what you're grinding. It is bigger and heavier than most hand grinders, making it a bit less portable. It isn't as stable as our top picks, but it feels decent.
The Handground grinder is easy to adjust but only offers eight settings. It does run very quietly. Sadly, this grinder has serious durability issues. On the plus side, it holds more coffee than most of the other hand grinders on this list.
Pros
Gets the job done
Great looks
Decent feel
Cons
Durability
Large capacity
---
8. Khaw-Fee Manually-Operated Coffee Grinder
This grinder is very cute, but functionality is a different story. Because the grind size isn't adjustable, there isn't a whole lot you can do with the Khaw-fee HG1B. If you have a French press, this grinder will work for you, as it produces a coarse grind.
You shouldn't expect too much with the Khaw-Fee grinder. It's cute, compact, and somewhat functional, but it doesn't feel very durable and may not last long. Plus, if the other grinders on this list take a while to grind a bean, this one takes forever.
Cons
Really, really slow
But will break fast
Not adjustable
---
9. Norpro Hand-Crank Coffee Grinding Tool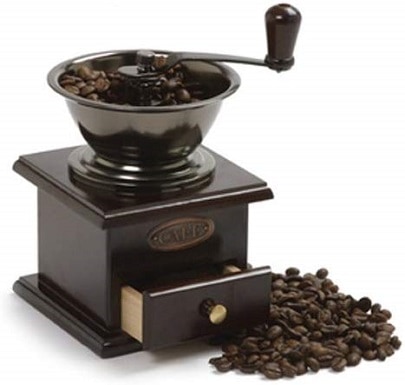 The Norpro is another antique-style grinder, but is less reliable and attractive. In the end, this model works, but it's more decorative than anything. You might as well buy something that looks better and works better.
The old-fashioned grinding process is simple: you put your beans in the top and crank the lever. Your grounds fall into a little drawer. Unfortunately, the grind size is inconsistent, and the grinder as a whole doesn't feel very well-built.
Pros
Old-fashioned design
Simple grinding process
Cons
Less consistent grind size
Doesn't feel very sturdy
---
10. Secura Hand Coffee-Grinder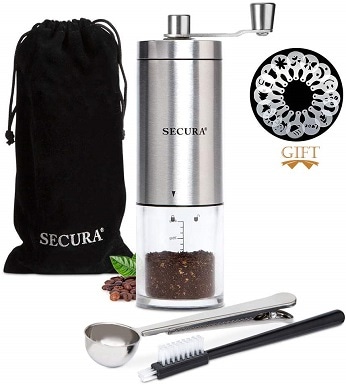 If you expect to get what you pay for, you won't be disappointed with this machine. It's very affordable, but the grind isn't consistent, and the grinder is slow and not very sturdy.
This grinder comes with extra accessories like a cleaning brush, carrying bag, and scoop. The grounds compartment is transparent and has painted-on measurements, so it's easy to see how much you've ground. Unfortunately, the grinder feels cheap and doesn't work well.
Pros
Comes with a cleaning brush, carrying bag, and scoop
Transparent grounds compartment with measurements
Cons
Less attractive and durable
Slow
Hard to clean
---
Buyer's Guide: Finding the Best Hand Coffee Grinder
You probably already know why you need a grinder — though we have some tips if you misplace yours. If you'd like a quiet, compact grinder that will consistently crush a small number of coffee beans, then you're on the hunt for the best hand coffee grinder. But which brand should you choose?
Here are some key things to remember:
There are a lot of good options at the top end.
Any of our top three picks are great for the price. If you really care about your cup of coffee, you're probably going to be fine with spending a little extra on your grinder. The good news with hand grinders is that unless you get them plated in gold and diamonds, they are never going to be that expensive. Which is good because…
These aren't for heavy use.
These are to be used with the understanding that they're time-consuming and will eventually break down. Manual models are better for camping or spending your time meditating over one cup in the morning. We recommend a hand grinder just to slow down every now and then. You might enjoy the feeling of crushing each bean.
Looking for a coffee grinder for heavy use?
You may want to upgrade to an electric model.
If you make a lot of coffee or entertain often, you may want to get an electric grinder that was meant for larger workloads, working faster, and working longer. Though they're typically more expensive and louder, electric grinders can quickly and consistently grind large numbers of beans. If you're strapped for time or don't enjoy a pre-coffee arm workout, you may want to buy a model that will do the work for you.
Here are some of our other grinder blog posts:

Conclusion
The results are in! We think the Hario Skerton Pro Manual Coffee Grinder is the best hand coffee grinder because it offers a large capacity and a consistent grind at a reasonable price. If you're shopping for value, the JavaPresse Manual Coffee Grinder is affordable and effective, with quite a few settings and sturdy ceramic burrs. And if you have a bit more to spend, we recommend the elegant VSSL JAVA, which is sturdy, adventure-ready, and thoughtfully designed.
Hand grinders are effective, portable tools that can be great for camping or really meditating over a cup of coffee. While there are quite a few models on the market, some are much better than others, and we hope that these detailed reviews help you find the best ones. Now it's time to start grinding and brewing!