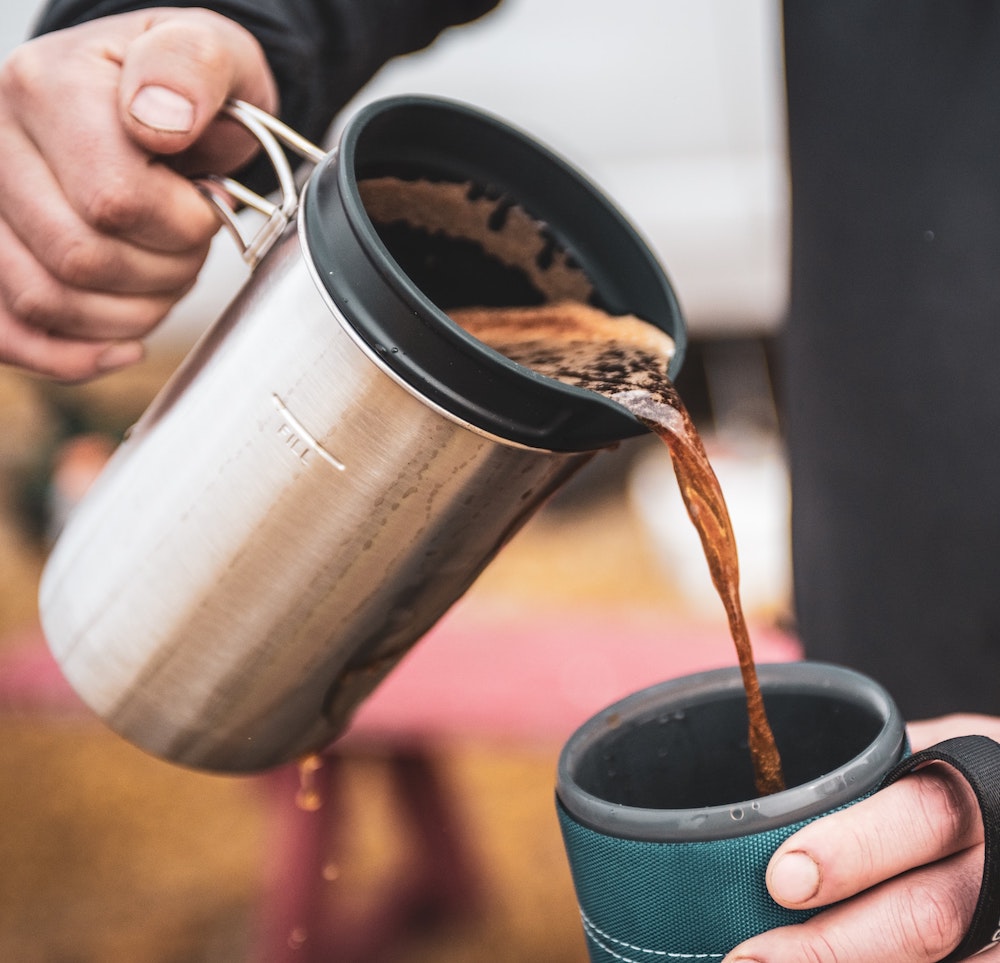 Going camping is an adventure that should be enjoyed to the maximum, so the last thing you want is for your trip to be ruined by dull-tasting coffee. For this reason, it's important to pick a suitable French press. There are countless French presses available on the market, and while some are efficient, others don't provide all the necessary benefits. Setting these apart from the efficient ones may be daunting. Here are our reviews of some top French presses, and a buyer's guide, to give you the confidence to pick the right French press for your needs.
---
Our Favorites of 2023
Image
Product
Details

Top Pick

GSI Outdoors JavaPress

Durable
Aesthetic
Easy to clean

AeroPress

Versatile
Produces fine coffee
Fast

KONA

Attractive
Ergonomic handle
Large capacity

Womice

Large capacity
Durable
Easy to use

Stanley Adventure All-in-One

Versatile
Compact
Decent Brewing Quantity
The 5 Best French Presses for Camping – Reviews
1. GSI Outdoors 30 Fl Oz JavaPress French Press – Top Pick
For those who care about aesthetics as much as efficiency, the GSI Outdoors is the ideal choice. It's capable of brewing four cups of coffee, and the filter design produces ultra-fine, rich-tasting coffee.
The double-insulated lid will keep your coffee hot. The insulating cloth not only makes the device aesthetically appealing but preserves the coffee's temperature. The handle of this French press is foldable, which adds to its compactness.
This French press is easy to use, and the fact that cleaning it is so simple makes it very convenient for camping. The GSI Outdoors is highly durable, so you won't have to worry about breaking it.
This press is efficient, convenient, reliable, and compact; we, therefore, recommend it above any other French press for camping.
Note that it only produces four cups of coffee in one round; this is a rather small capacity.
All in all, we think this is the best camping French press you can buy.
Pros
Durable
Aesthetic
Easy to use
Easy to clean
Keeps coffee hot
Compact
---
2. AeroPress Coffee and Espresso Maker – The Runner-Up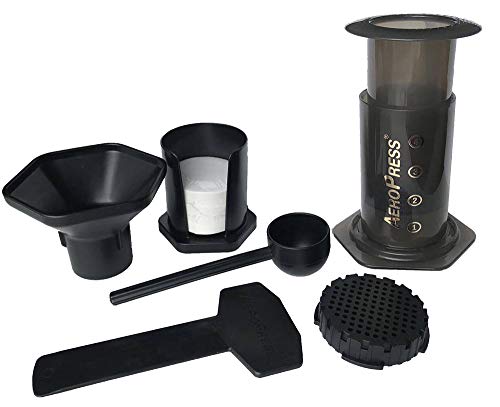 The AeroPress Coffee and Espresso Maker isn't a French press, but because of its efficiency and convenience, we added it to our list of top picks. Making coffee in a camping environment is easy with this device.
It produces three cups of rich-tasting coffee in no time, without sacrificing flavor. The coffee produced isn't bitter, and it can be stored for a few days. There's a micro filter for fine and smooth coffee.
This coffee maker is versatile, with the ability to brew American style and Espresso. You'll be able to enjoy some variety, despite the fact that you're camping. Once you're done brewing your coffee, the cleaning process only takes a few seconds.
This coffee maker will be ideal for single campers. It uses filter paper, a detail many find rather annoying because the filter bags have to be disposed of regularly.
Pros
Versatile
Simple use
Easy to clean
Produces fine coffee
Fast
---
3. KONA French Press Coffee Maker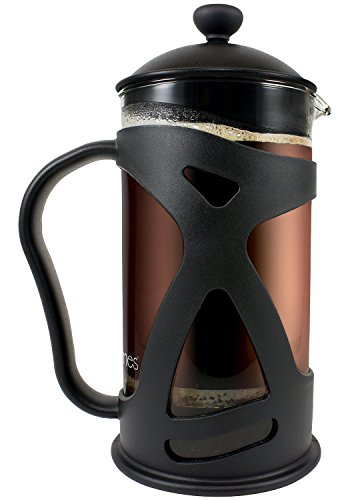 The KONA French Press Coffee Maker is attractively designed and made from glass. Its handle is ergonomic and sturdy. With a capacity of 34 ounces, the KONA French press is large and can produce about six to eight cups of coffee.
Using it is simple, and the same is true of cleaning it. The filtering mechanism allows you to brew a fine and rich-tasting coffee.
On the downside, the glass is vulnerable to breaking and shattering, and the device is not compact, so transporting it would be a hassle.
Pros
Attractive
Ergonomic handle
Large capacity
Cons
Prone to breaking
Not compact
---
4. Womice French Press Coffee Maker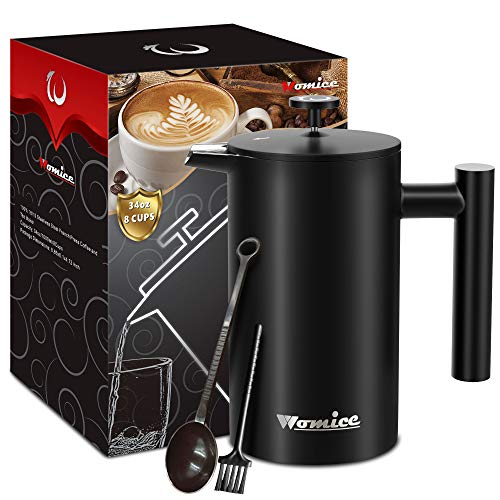 The Womice French Press Coffee Maker is a suitable choice for a group of campers, because of its large capacity of 34 ounces. It's made of stainless steel, making it durable and able to withstand just about anything, such as hot flames and hard surfaces. For clumsy campers, this is definitely a bonus.
The double layer vacuum structure of this French press means your coffee remains hot for a longer period. This press is user-friendly and quite easy to clean. Unfortunately, the handle is not very comfortable to grip, and it protrudes more than the handles on most French presses. This takes away from the device's compactness.
Although it's able to brew a relatively large amount of coffee in one round, it does so very slowly, and the filter does not filter the coffee fully. The top does not seal fully when brewing, so, despite the double layer vacuum, the coffee cools off faster.
Everyone loves a portable coffee maker capable of producing just the right amount of coffee; however, if it's heavy, it defeats the purpose. The Womice French press is quite heavy, so transporting it would be a pain.
Pros
Large capacity
Durable
Easy to use
Cons
Not compact
Handle isn't ergonomic
Lid doesn't seal fully
Heavy
---
5. Stanley Adventure All-in-One Boil + Brew Camping French Press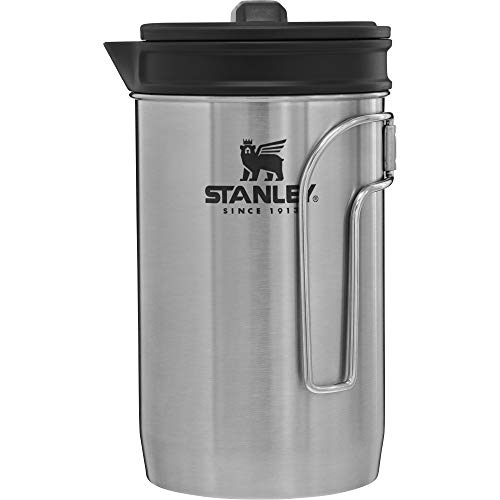 The most attractive aspect of the Stanley Adventure All-in-One French press lies in its versatility, which is important when the need to pack lightly arises. Not only do you get a boiler and a French press in one, but you minimize the number of dishes to be done.
This French press is very compact, due to the folding handle and the nesting design. It allows you to brew 32 ounces of coffee at once, a rather decent quantity.
Although this French press appears to be efficient, the welding on the top near the lid wasn't done properly, so it's only a matter of time before it causes the press to fall apart. The handle, although compact, is not very ergonomic and might cause you to spill water or coffee.
Using this French press requires patience, because it's rather slow. To make matters worse, the coffee produced is not as fine as most people would want it to be, and it's a bit bitter.
This is definitely not a French press that we would recommend to anyone.
Cons
Welding needs more work
Handle isn't ergonomic
Slow
Bitter coffee
Rough coffee
---
Buyer's Guide
The following aspects of a French press should be given some thought before opting to purchase one.
Material
French presses come in different materials, such as steel, glass, and plastic. However, the camping environment isn't as forgiving as your kitchen, so opting for the most durable material is a wise choice.
Capacity
Using resources sustainably is perhaps one of the most important tasks of a camper. For this reason, your French press should have the capacity to produce enough coffee for everyone in just one round. Be aware of a French press's capacity in ounces before purchasing it.
User-friendliness
Camping is a way to reconnect with nature, and doing so requires you to use simple yet effective tools. Your French press should be user-friendly, so you can use it in just a few steps. You should also be able to clean it with little to no effort.
Compactness
If you intend to take your French press on a camping trip, it should be easy to pack. A French press that is lightweight and compact will be beneficial. If you want something super compact, then it's also worth considering french press mugs.
SEE ALSO: our favorite camping coffee equipment (this list also includes percolators, pour overs and more)
Quality
Look at the parts of a French press, such as the handle and lid. They should be sturdy and ergonomic. A rule of thumb is that quality comes with price. Although this isn't always the case, if an item's price seems too good to be true, it's likely inexpensive as a result of its poor quality.

Conclusion
From reading these reviews, you should have deduced that the GSI Outdoors – 30 Fl Oz JavaPress is our most recommended French press. It's relatively small, but its other aspects make up for this minor shortcoming. The small yet versatile AeroPress Coffee and Espresso Maker is also a good choice. The purpose of this article is to help you spend most of your time planning your camping trip and packing, instead of deciding on a suitable French press. Hopefully, we've achieved that.
In case you're looking for a grinder to accommodate your french press, we also have a top 5 list for them here.
Other camping gear guides: A roundup of the 5 best camping percolators