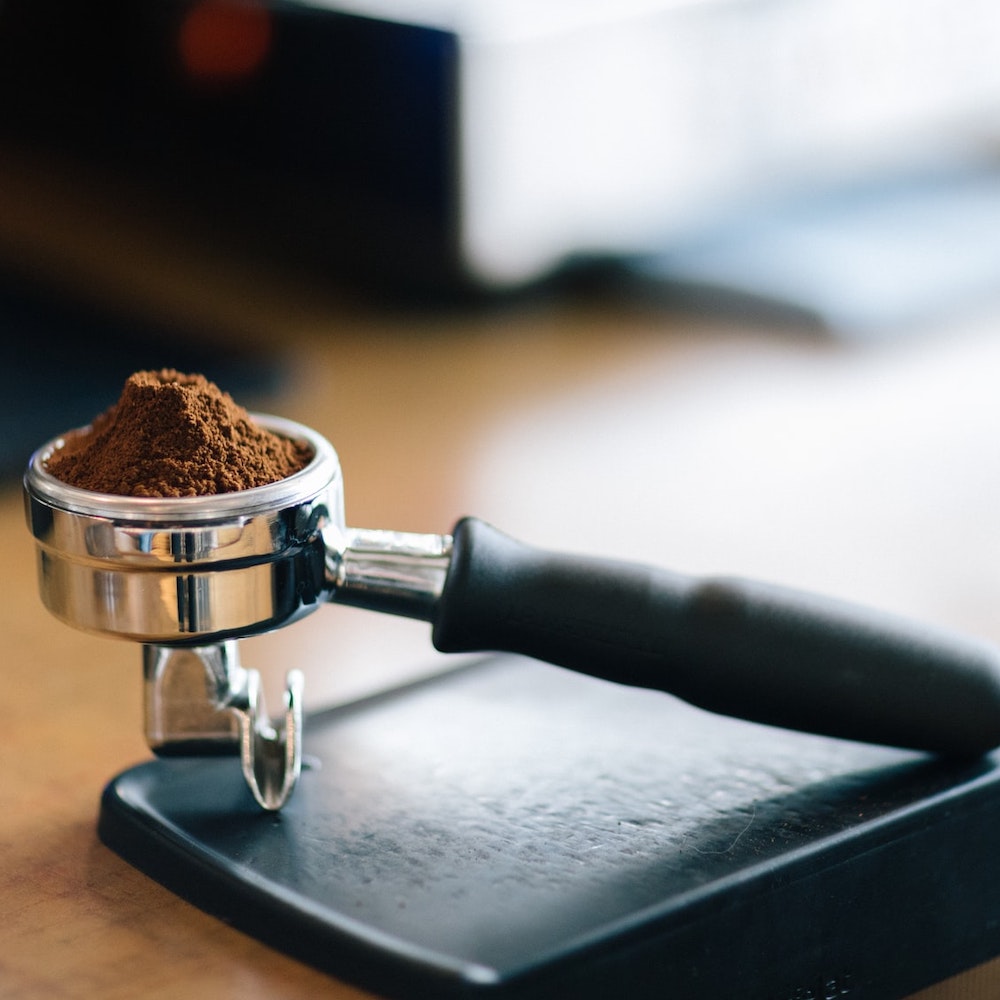 Using a high-quality espresso maker, you can quickly pull a rich, intense shot in the comfort of your home. But to create the best possible espresso, you need one more device: a coffee grinder capable of producing consistently fine grounds. So what's the best coffee grinder for espresso?
To help you find the right model, we have researched and tested quite a few different espresso grinders. Here, you'll find our top five picks, complete with in-depth reviews and buying tips. We believe that it is essential that you know all sides of a product before you purchase it. With that said, let's get right into our favorite grinders for espresso:
---
A Rundown of Our 5 Favorites (updated in 2023)
Image
Product
Details

Best Overall

Breville Coffee & Espresso Grinder

Stainless steel conical burrs
60 grind settings
Precision timer

Best Commercial

Rancilio Rocky Grinder

Commercial grade steel flat burrs
55 grind settings
Large hopper

Best Value

OXO Brew Grinder

Stainless steel conical burrs
15 grind settings
Great value

Aromory Manual Grinder

Ceramic conical burrs
15 grind settings
Highly portable

Cuisinart DBM-8 Supreme Grinder

Electric timer
18 grind settings
Large grind chamber
The 5 Best Coffee Grinders for Espresso
1. Breville Coffee & Espresso Grinder – Best Overall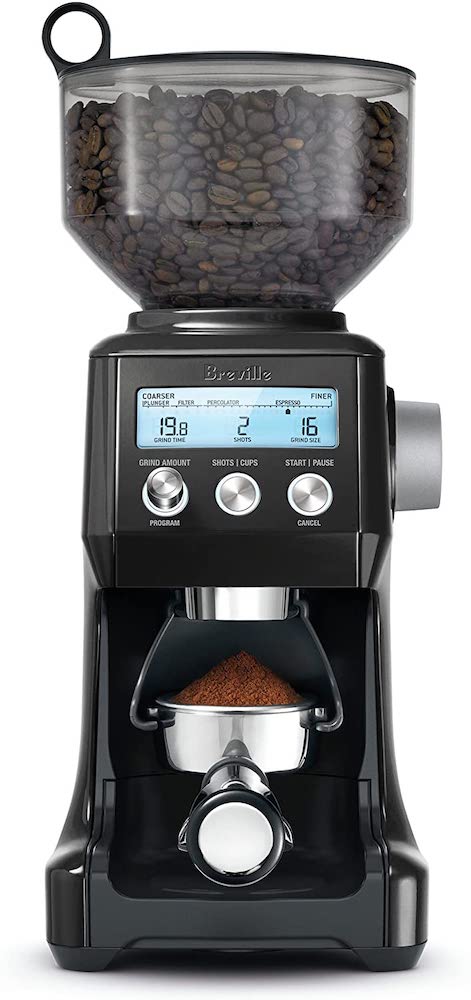 If you want a burr grinder for espresso that is easy to use and grinds your coffee consistently every time, the Breville BCG820BKSXL is the grinder for you.
This Breville model has a 16-ounce bean hopper that dumps your beans into durable stainless steel conical burrs to give you the finest ground coffee beans. There are 60 different grind settings, from ultra coarse to extra fine and everywhere in between.
The precision electric timer remembers how long you ground your beans the last time the machine was used and runs it for the same time unless reset. This is great if your eyes are half-closed in the morning when you go to grind, but there isn't an off switch if you forget to adjust something. You either have to wait for it to run its cycle or unplug it to get it to stop.
It does a great job at grinding, but it's also one of the loudest machines we tested.
All in all, we think this is the best coffee grinder for espresso this year.
Pros
Stainless steel conical burrs
60 grind settings
Precision timer for consistency
16-ounce bean hopper
---
2. Rancilio Rocky Espresso Coffee Grinder – Best Commercial Pick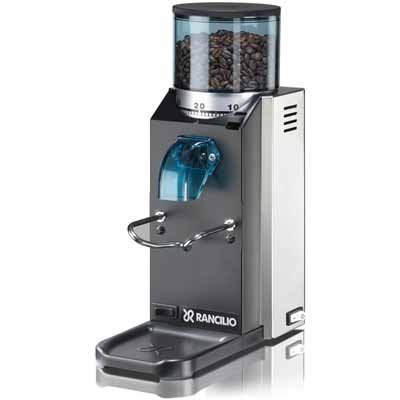 In our opinion, the Rancilio Rocky Espresso is the best commercial-grade espresso grinder on the market today.
This grinder features a hopper that will hold just over half a pound of coffee beans. The beans are transferred into heavy steel flat burrs to grind your coffee. There are 55 different settings, including slow-speed grind, that you can set for the perfect grind for the kind of coffee you want.
This machine is cumbersome, so you won't want to move it around too much. That is difficult because it becomes clogged easily with even slightly oily beans. You have to shake the machine to dislodge them, and that can be difficult due to its weight.
Probably the most frustrating thing about this machine is the placement of the power switch. Its location makes it hard to operate the device and handle the portafilter at the same time. It is possible; it just takes a little juggling and getting used to.
Pros
Commercial grade steel flat burrs
Slow-speed grind
Hopper holds over ½-pound of beans
55 grind settings
Cons
Poorly-placed power switch
Heavy
Clogs when using oily beans
---
3. OXO BREW Conical Burr Grinder – Best Value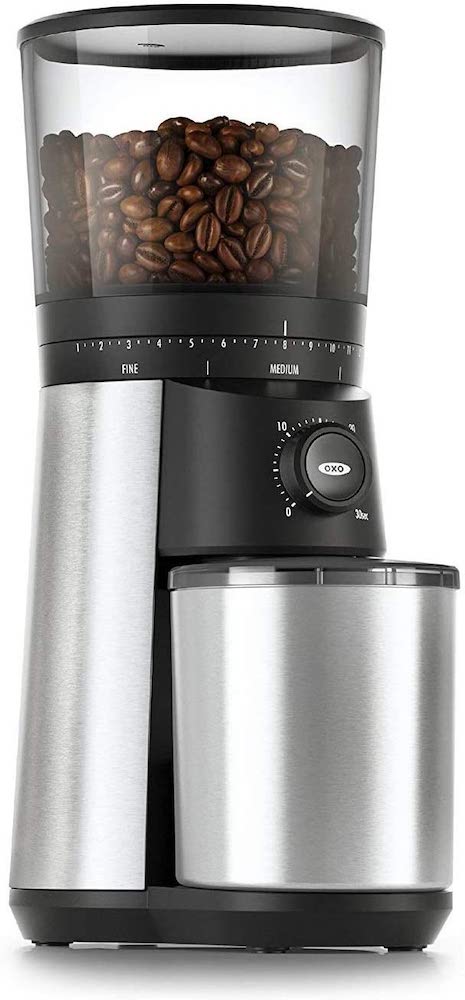 We have voted the OXO Brew Conical Burr Grinder to be the best budget espresso grinder available in stores today. Keep in mind, though, that this is a budget grinder, so it may not grind your beans as finely as you would like for your espresso. The coarser grinds will give you a weaker shot than the fine grinds will.
This grinder's hopper holds up to three-quarters of a pound of coffee beans, and the conical burrs are made of stainless steel. This model has 15 different grind settings and a memory start timer that remembers how long to grind. Just hit the timer button and it will automatically shut off after that amount of time, giving you consistent amounts of coffee grounds every time.
There are a few pretty big issues with this grinder, though. Even though it has a timer for grinding, you can't leave it unattended while grinding because the beans get jammed easily. You'll have to shake or tap the unit on the counter to get them unstuck before it can continue grinding effectively.
It also tends to spit coffee grounds everywhere, making a huge mess to clean up. The most concerning issue is the constant buzzing when the unit is plugged in but not in use, which can be irritating.
Pros
Durable stainless-steel conical burrs
Memory start timer
Hopper holds up to ¾-pound of beans
15 grind settings
Cons
Beans get jammed
Constant buzzing sound
Not fine enough for espresso
Messy – spits grounds
---
4. AROMORY Manual Coffee Grinder – Best Hand Grinder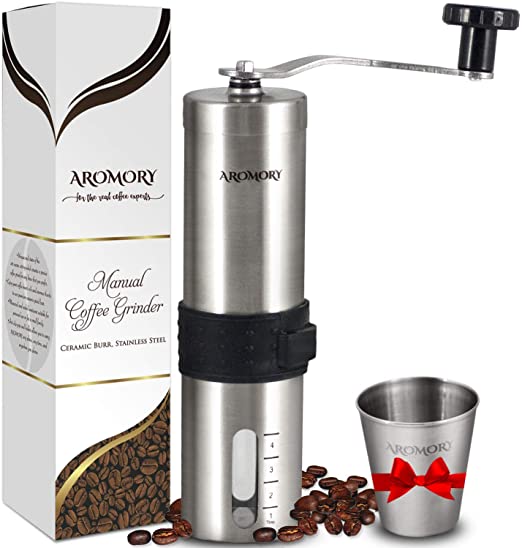 According to our reviews, the Aromory Manual Coffee Bean Grinder is the best hand grinder for espresso. Being a hand grinder makes this the perfect mill to take with you when traveling so that you can still get your freshly ground coffee.
It features 15 different grind settings and a ceramic conical burr mill. You can grind enough for your espresso in 30 seconds to two minutes, depending on how strong you want it to be. It does take a lot of grinding, though, so it isn't the best if you wish to make large pots of coffee.
There are a couple of concerning things about this grinder. It is made out of cheap material, so it can break relatively easily. The markings on the grind dial are hard to see, and it doesn't always grind consistent grounds.
Pros
Ceramic conical burr mill
Grinds in 30 seconds to two minutes
15 grind dial settings
Portable
Cons
Cheap construction
Grind dial markings are hard to read
It's a lot of work
Inconsistent grounds
---
5. Cuisinart DBM-8 Supreme Coffee & Espresso Grind Burr Mill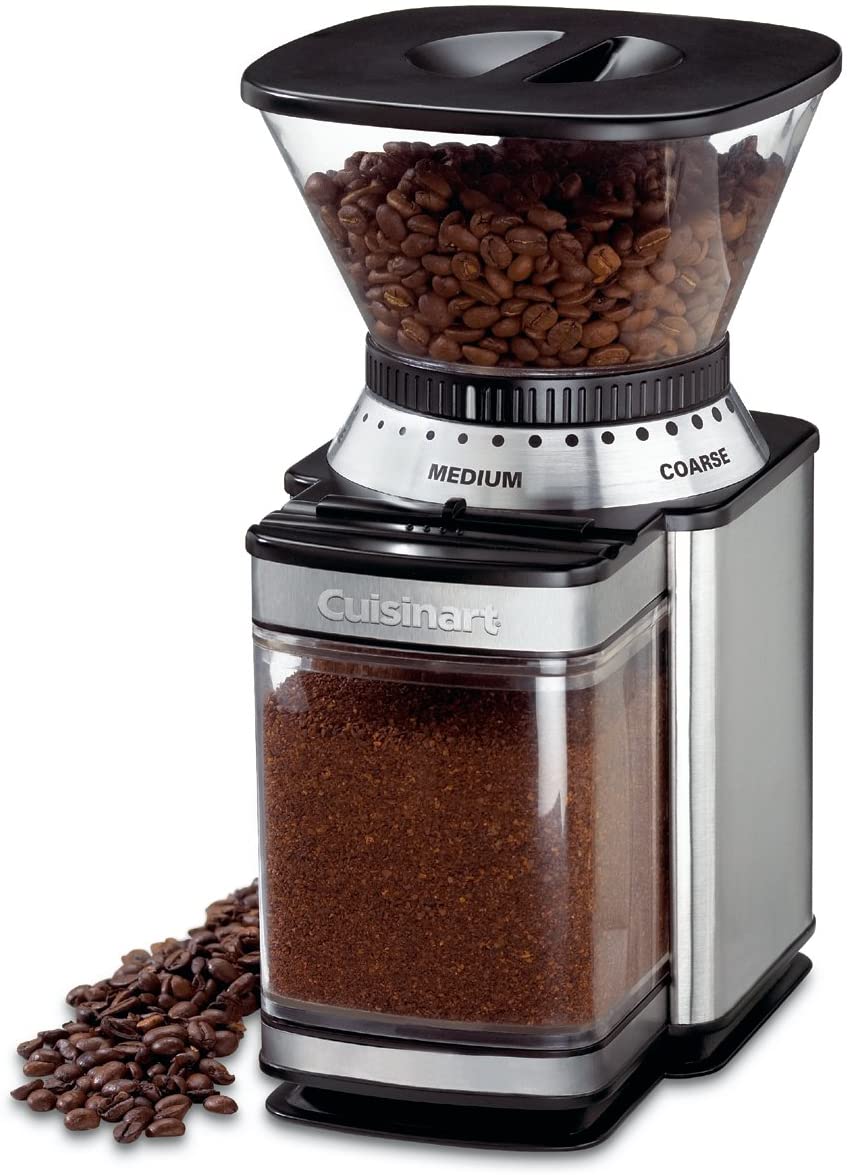 The Cuisinart DBM-8 Supreme Burr Grinder has an eight-ounce bean hopper that deposits the beans into the burrs to grind to one of its 18 different grind settings. There's an electric timer to grind your coffee for the same amount of time every morning, but there's no way to turn it off without canceling your preset selections.
The 32-cup grind chamber produces a ton of static electricity. This causes coffee grounds to stick to the sides, and you have to tap the chamber to get them to fall to the bottom. When you do this, coffee grounds tend to fly all over the place. Another annoying thing about this grinder is that after all the mess, you find that your coffee isn't ground consistently. You need a consistent fine blend to get that perfect shot of espresso.
The bottom lip on this machine is pretty flimsy and chips easily, so handle it with care. It is also very loud.
Pros
Electric grind timer
Eight-ounce bean hopper
32-cup grind chamber
18-position grind selector
Cons
Can't be turned off w/o canceling presets
Grind chamber has too much static electricity
Bottom lip chips easily
Very loud
Doesn't grind consistently
---
Buyer's Guide: How to Find the Best Coffee Grinders for Espresso
It used to be that if you were a coffee drinker, you would buy a pre-ground can from the grocery store and use it until it was gone. These days, many prefer a much smoother and richer taste that you just can't get from a store-bought can. Coffee beans that are ground fresh just before you use them will give you the most flavor.
When you are looking for the best coffee grinder for espresso, there are a couple of things that you should know.
1. Types of Grinders
Blade:
A blade grinder is like a food chopper with a blade that spins at the bottom to chop up your beans. Blade grinders are great because they are inexpensive, but they don't do a very consistent job of grinding your coffee. Some beans will be reduced to a fine powder, while others remain in large chunks. If you run the blade for a long time to grind more of your beans, you risk burning your beans.
Burr:
Burr grinders have two burrs that funnel the beans through a few at a time. One of these burrs is stationary, while the other is attached to the unit's motor. Rather than slicing the beans like a blade, the burr system crushes the beans. You will still get a more substantial piece occasionally, but most of your grind will be reasonably consistent-sized pieces.
Flat Burr:
A flat burr grinder uses centrifugal force to push the coffee beans into the teeth on the inside of the burr. As a bean gets pushed further through the burrs, it is passed through finer teeth to get fine grinds. You can adjust the two burr pieces to be closer together if you want a fine grind, or further apart for a coarser grind.
Conical Burr:
A conical burr has a cylinder-shaped burr that stays stationary, and a cone-shaped burr that turns inside the cylinder to grind your beans. In a conical burr, the beans are placed in the top of the unit and use gravity to work their way down through the blades. The teeth get smaller as the bean moves through it, giving you a finer grind. Conical burrs are very common in the world's best grinders for espresso.
2. Other Things to Consider:
Material
Steel has a higher thermal conductivity, so it will heat up and cool down reasonably quickly. Ceramic has a lower thermal conductivity, so it takes longer to heat up and to cool down. Ceramic burrs tend to last longer than the steel ones do.
Size and consistency of grind
The most critical factor in making great espresso is how it is ground. The rich flavor comes from finely ground fresh coffee beans. The finer grind and the better consistency of ground bits will give you a better shot every time.
The number of grind settings
Make sure the one you are looking at is capable of grinding your beans as coarse or as fine as you could want.
Bean hopper size
The bean hopper must be big enough for your requirements, as you'll want to grind your beans right before you brew. This is especially something to consider if you often have guests or if you're a big family.
Speed of grinding
Faster is not always better. That is true for coffee grinders too. High-speed mills produce quite a bit of heat, which can burn the coffee. If you want to keep one of these units cool, you'll have to start and stop it until it cools down again manually. Both the heat and the constant turning on/off are hard on the grinder and will cause it to wear out faster. Grinders with low-speed motors may cost you a little bit of patience, but in the long haul, you will be better off. When you are shopping, be aware that low-speed grinders are called direct-drive grinders.

Final Verdict
Now that we have gone over the kinds of coffee grinders that are on the market and some things that are important to look for, let's quickly review our five favorite espresso mills. Our "Best Overall Espresso Grinder" pick is the Breville BCG820BKSXL Smart Conical Burr Grinder Pro. If you're looking for a commercial grinder, you may prefer the Rancilio Rocky Espresso Coffee Grinder. Value shoppers may want to consider the OXO BREW Conical Burr Grinder, and if you're looking for the best manual espresso grinder, take a look at the AROMORY Manual Coffee Bean Grinder.
We know that shopping for coffee grinders can be difficult. Hopefully, our reviews and buying tips help you find the best espresso coffee grinder for your needs. Good luck in your search!
---
Don't have an espresso maker? No worries – we recently compared the 10 most popular espresso makers.