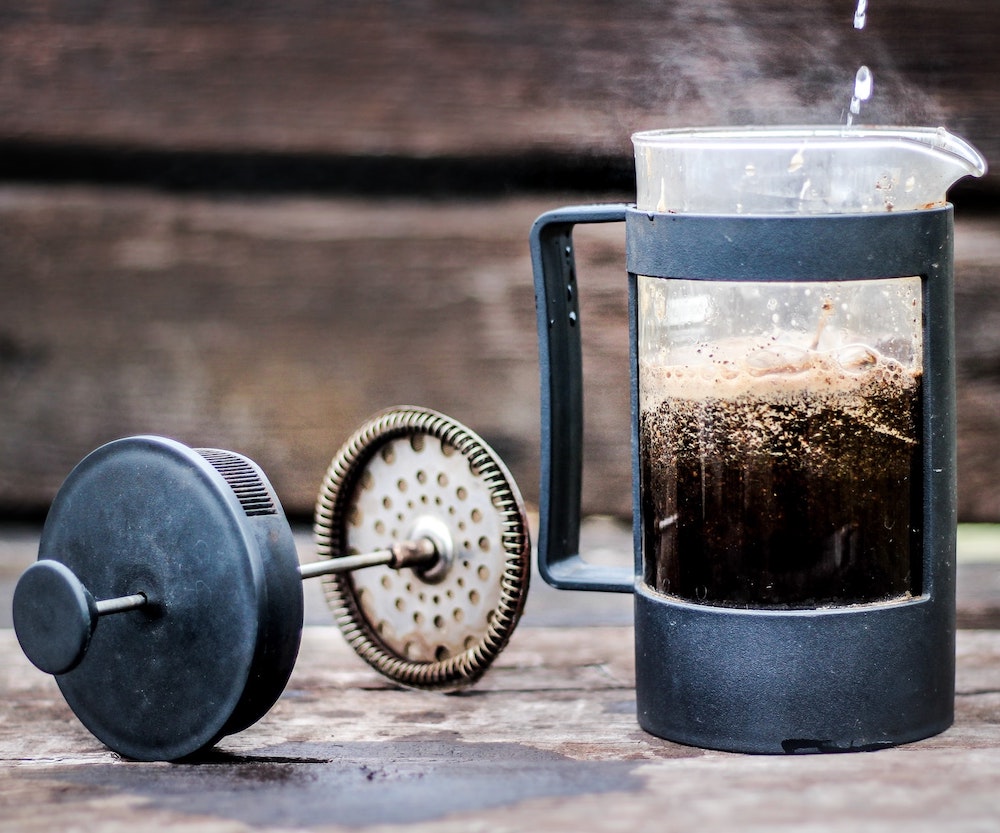 The simple elegance of a French press makes it one of the most popular brewing devices. With minimal requirements of water, coffee, and the French press itself, you'll be able to steep your way to a rich cup of coffee.
But with so many great types of coffee on the market, which will work well with your French press? From beans to pre-ground, we've tested the top brands and put together this list of our top eight picks for the best coffee for a French press. Each brand has a detailed review, looking carefully at price, flavor, quality, freshness, and more so that you can feel confident in your choice. Your next great pot of French press awaits!
---
A Quick Glance at the Winners of 2023
Image
Product
Details

Best Overall

Bean Box Subscription

Convenient service
Choice of roast level, bag and grind size
Interesting, high-quality coffee from all over the world

Best Coarse-Ground

Volcanica Costa Rica Peaberry

Pleasant aroma
Mild, citrusy flavor
Rare peaberry coffee beans

Sleepy Monk Sumatran

Full-bodied
Velvet finish
Organic certified

Best Decaf

Verena Street Swiss Water Process

Sustainably sourced
Smooth profile
Naturally decaffeinated

Peet's Coffee Major Dickason's Blend

Affordable
Full-bodied flavor
Distinguished aroma
The 8 Best Coffees for French Press
1. Bean Box Subscription — Best Overall
If you have multiple coffee drinkers in your house or you're looking for a little luxury, the Bean Box coffee subscription could be a great option. This monthly service brings you unique, freshly-roasted coffee every month. You can choose between small samples or full bags in your favorite roast.
There are a few unique touches with this service. Along with your fresh coffee beans, you'll receive gifts like candy, recipes, and coffee fun facts. The packaging is nice enough to give as a gift, and the coffee comes from all over the world.
RELATED READ: Our In-Depth Review of Bean Box
There are all-around good reviews of the coffee, though be prepared to lighten your piggy bank. This convenience is expensive, but you won't have to worry about running out of coffee. Whether you're attracted to the experimentation or the ideas behind the brand, we believe these are among the best coffee beans for your French press.
Pros
Convenient service
Choice of roast level, bag and grind size
Gifts like candy, recipes, and coffee fun facts
Interesting, high-quality coffee from all over the world
---
2. Volcanica Costa Rica Peaberry — Best Coarse-Ground Coffee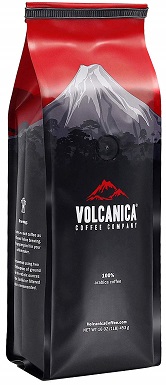 Volcanica's Costa Rica Peaberry is a sweet, bright coffee made from exceptional peaberry beans. Even better? You can buy it pre-ground to a consistency ideal for your French press. Every coffee geek knows that grinding your own beans is best for the freshest flavor in your cup, so while we don't normally recommend buying ground coffee, this is our top choice for best coarse ground coffee.
These gourmet beans are shade-grown and Rainforest Alliance-certified. They're also grown on a single estate at a very high altitude of 5,200 feet.
Although noted as a medium roast, this is more of a sipping coffee for pure pleasure. It has a mild, citrusy profile with a subtle flavor. If you're looking for that robust punch to start your day or kick up the afternoon pace, this is not the coffee for you.
For the convenience of a pre-ground coffee, you'll pay a bit more, as this is an expensive one. Nonetheless, if you enjoy a mild moment in the journey of your day, we believe this is one of the best pre-ground coffees for a French press.
Pros
Pleasant aroma
Mild, citrusy flavor
Rare peaberry coffee beans
Conveniently pre-ground for your French press
Cons
Expensive
Mild for a medium roast
---
3. Sleepy Monk French Roast Sumatran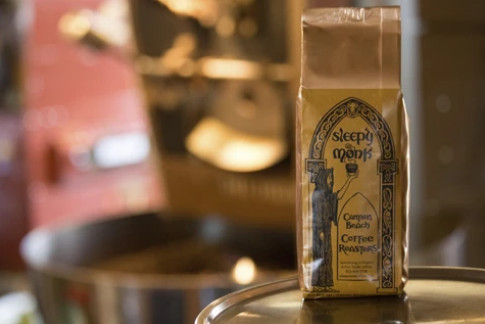 If just thinking about smoky and toasty coffee make your mouth water, Sleepy Monk French Roast Sumatran will not disappoint. A quaint little treasure, Sleepy Monk Coffee Roasters is popular with the locals in Cannon Beach, Oregon, though it's gaining a following outside the state lines. Even with no Wi-Fi, practically unheard of in the coffee shop world, a line of coffee drinkers still wraps around the building whenever it's open.
With a velvety texture and a smooth profile, this coffee has deep tones with a full-body, highlighted when brewed in a French press. It serves up a blackish cup of coffee that is true to a French roast. The beans are roasted just shy of scorched and deliver a very dark and distinctive flavor. If you're not a French roast connoisseur, the flavor may surprise you. If you gravitate to the light or medium roast side, the dark zest of this is not for you.
If you do love the French roast flavor, you may enjoy the deep caramelized flavor of our number–three choice. Although it's a little on the pricey side, it has a taste not easily forgotten.
Pros
Full-bodied
Velvet finish
Deep flavor
Organic certified
Cons
Slightly pricey
Not for mild/medium roast lovers
---
4. Verena Street Swiss Water Process Coffee – Best Decaf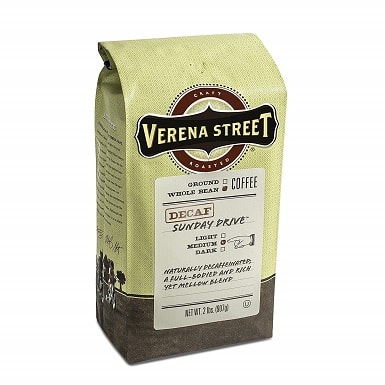 Verena Street's Swiss Water Process Sunday Drive comes to us from a family-owned operation in Iowa. The brand name is a nostalgic reference to the street where the owners grew up. This choice is naturally decaffeinated with the Swiss Water Process and sustainably sourced from Rainforest Alliance–certified coffee farms. These beans are medium roasted and convey a smooth profile without bitterness.
It's noted as being acidic, so if you have a sensitive stomach, this option may not suit you. While on the mild side of a medium roast, this decaf will deliver a mellow comfort at any point during your day.
Even though it's a little pricey, it's our top pick as best decaf.
Pros
Not bitter
Smooth profile
Delicious aroma
Naturally decaffeinated
Sustainably sourced
Cons
Slightly pricey
Acidic
Mild side of medium
---
5. Peet's Coffee Major Dickason's Blend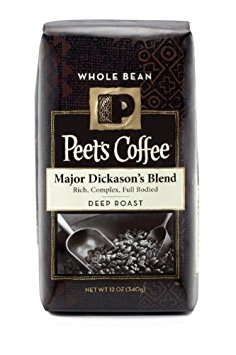 For half a century, Peet's Coffee Major Dickason's Blend has epitomized this brand. With a fresh, luscious aroma, it's a dark roast with a dedicated fan base. For the dark roast lovers on the side of "the stronger, the better," this blend has a full-body flavor and a kick to match.
With its true-to-roast strength, there is nothing mild about this choice. If you need a morning wake-up boost or an afternoon pick-me-up, this rich blend will be the force you need. As a true coffee lover's coffee, the deep, dark flavor retains its intensity with the addition of flavor enhancers.
If you desire a milder roast, the flavor of this dark roast may not be appealing.
Pros
Affordable
Distinguished aroma
Full-bodied flavor
Rich, complex profile
Cons
Too bold for beginners
Slightly acidic
---
6. Koffee Kult Colombian Huila Fresh Coffee Beans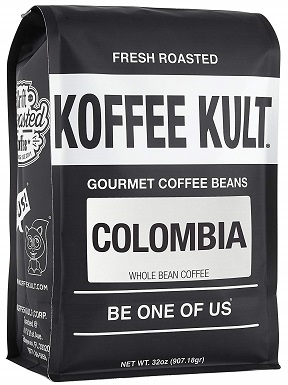 With a captivating aroma as soon as the bag is opened, Koffee Kult Colombian Huila will seduce the Colombian-loving coffee-holic throughout the day. These beans offer strong chocolatey notes with a sweet finish and no bitterness.
Unfortunately, for the coffee drinker who loves a balanced medium brew, this one is noted as imparting a light-roast flavor that is rather weak. As one of our most expensive picks, its price also keeps this one further down on our list. However, this coffee does come with a money-back guarantee, in case it doesn't suit your taste.
Pros
Strong aroma
Smooth flavor
Money-back guarantee
Cons
Expensive
Acidic
Muted flavor
---
7. Stone Street Coffee Reserve Colombian
Another pre-ground choice, Stone Street Coffee Cold Brew Reserve Colombian is coarsely ground and packaged specifically for cold or iced coffee. If you're obsessed with a quenching cold brew coffee, you'll have a company on the bandwagon heading down Stone Street. Fans have noted the rich, roasty–toasty flavor with dark chocolate undertones. With a penetrating aroma and a smooth surrender, this choice may be perfect for that long day when you need a fun drink with whipped cream — and chocolate chips too!
On the flip side, if you don't like a bite to your cup, you may not like this cold brew reserve. If you like accompaniments in your coffee, this choice will hold up with the additions, but if you prefer your coffee straight with a softer delivery, this one may be too bitter for you.
As a roaster straight out of Brooklyn, this brand is dedicated to its consumers. While this pick is slightly pricey, the customer service may make it worth the little extra.
Pros
Smooth profile
Sweet undertones
Aromatic
---
8. Coffee Bean Direct Sulawesi Kalossi Whole Bean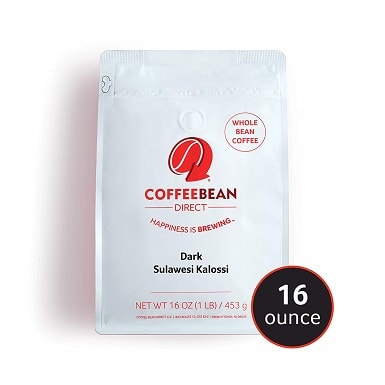 Coffee Bean Direct Sulawesi Kalossi originates in Indonesia and is dark roasted for a bold profile. Sulawesi is one of the islands of Indonesia, and the coffee is named after the city of Kalossi. Interesting fun fact: 90% of the coffee in Indonesia is Robusta, but 95% of the coffee grown in Sulawesi is Arabica.
This choice is a light and bright coffee with a creamy texture and a smooth finish. It also has low acidity with hints of berry. With the low acidity, this coffee may work well for a sensitive stomach. However, with a slightly pricey cost, it is only available in a five-pound package.
Pros
Creamy texture
Smooth finish
Low acidity
Cons
Slightly pricey
Five-pound package only
---
Buyer's Guide: Finding the Best Coffee for French Press
If you're new to the French press game, you may be inclined to reach for a pre-ground coffee. Since you're working on your technique to get it just right, a pre-ground coffee will work for this purpose. Ideally, however, in order to extract the maximum flavor of your coffee, you'll want to experiment with grinding your own beans at some point.
When using a French press, there are a few things that can make or break the experience: grind, beans, and technique.
Grind
When it comes to making a perfect cup of French press, the grind size may be the most important factor. For this method to be successful, the beans need to be a coarse grind. Finely ground coffee can clog the apparatus and make it difficult to use the plunger. If you find that it's difficult to press the plunger down, the grounds are likely too fine. This will ultimately leave you eating your coffee with a spoon, or at a minimum, you'll have a gritty residue in your cup.
If, however, it's far too easy to press the plunger down, the beans are ground too coarse, which will leave you with flavorless coffee. There's a balance to be struck to find what works right. It's similar to learning how to drive a manual shift car: You have to do it on your own a few times to find the balance and nuance of what feels right in the follow-through of the technique.  Ultimately, to get the best flavor from the French press method, you'll want to grind the beans yourself.
Beans
Of course, you'll want to choose a coffee bean that you'll love. As mentioned, pre-ground coffee is an option if that is what works for you. Be sure to choose a coarse pre-ground coffee, such as those we reviewed above. Many will say that you have to use dark roast or French roast, but it's your cup of coffee, so get whatever beans you find appetizing. If you find that pre-ground doesn't give you the flavor you're seeking, get yourself a coffee grinder and start experimenting!

Conclusion
French press coffee can be rich, smooth, and deeply flavorful, as long as you use great coffee beans. What makes a high-quality French press coffee? There are many choices, flavors, roasts, and regions. Coffee choice is a personal pick that coffee aficionados take seriously, and we're here to help.
Our top pick is the Bean Box coffee subscription. It's convenient, a little indulgent, and allows you to try something new, albeit with a high price tag. If you prefer the convenience of a pre-ground coffee, we've chosen Volcanica's bright, citrusy Costa Rica Peaberry as our favorite. Rounding it out with our best decaf selection is the Verena Street Whole Bean Swiss Water Process Sunday Drive. It's a satisfyingly mellow choice as easy as a Sunday drive, because coffee isn't just for mornings.
Go ahead and grab a French press, a delicious bag of beans that you've been wanting to try, and get to experimenting. Have fun and keep on brewing!