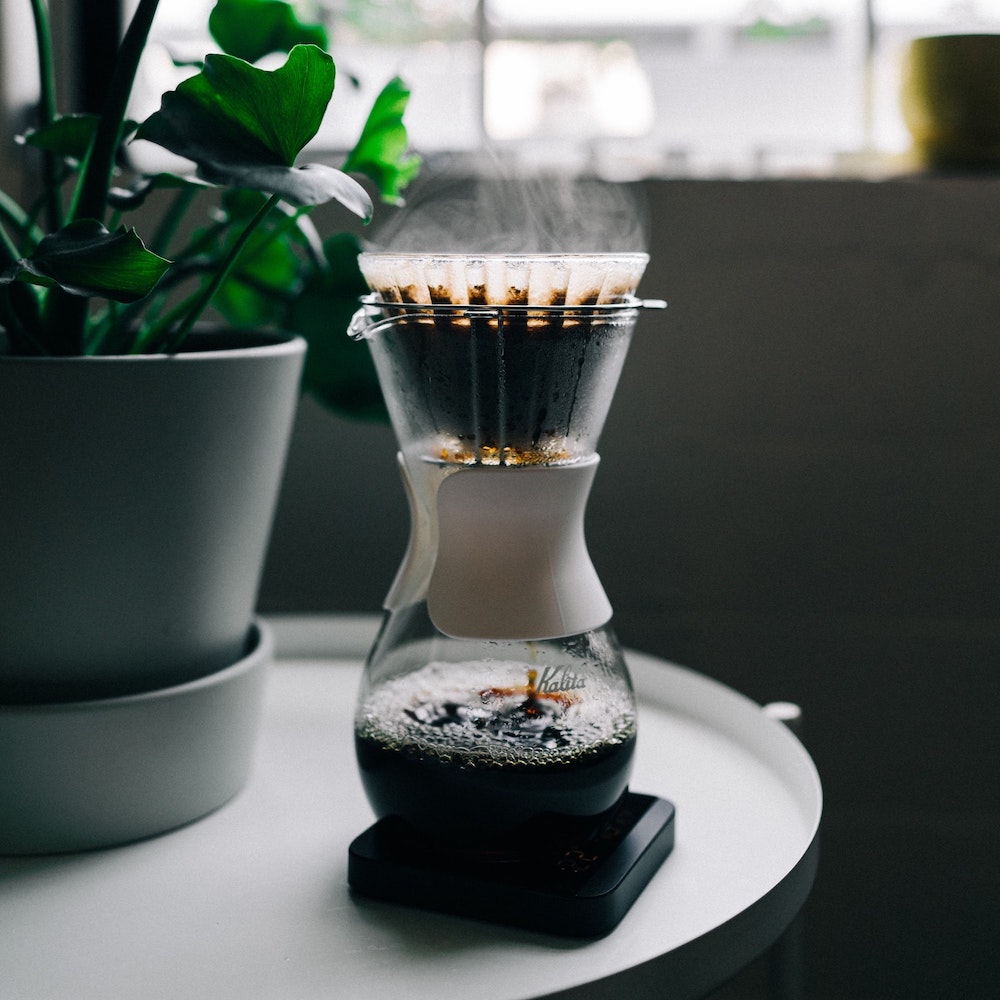 Most pour-over coffee grinders are not as precise as the average amateur barista would prefer, and choosing the right product is no easy task. One needs to account for size, settings, and power, and also the things they don't tell you on the box.
That's why we are here. We know coffee grinders. More importantly, we understand the high standard you have for your morning cup of java. To make sure that those standards are met, we've put together this guide. Read on for our in-depth reviews of the five best pour-over coffee grinders! And stick around for the buyer's guide for more shopping tips!
---
Our Favorite Products of 2023 Compared
Image
Product
Details

Best Overall

Breville Conical Burr Grinder

60 different settings
Grinds directly into filter
LCD screen

Baratza Virtuoso Conical Burr Grinder

40 settings
Timer
Elegant design

Best Value

OXO BREW Conical Burr Grinder

Best for the money
Fifteen speed settings
12-ounce container

Best Manual Grinder

Hario Ceramic Skerton Plus Manual Grinder

Affordable and portable
Ergonomic
Manual

Bellemain Burr Grinder

Affordable
Great entry level grinder
Simple
The 5 Best Grinders for Pour Over Coffee
1. Breville BCG820BSSXL Conical Burr Coffee Grinder – Best Overall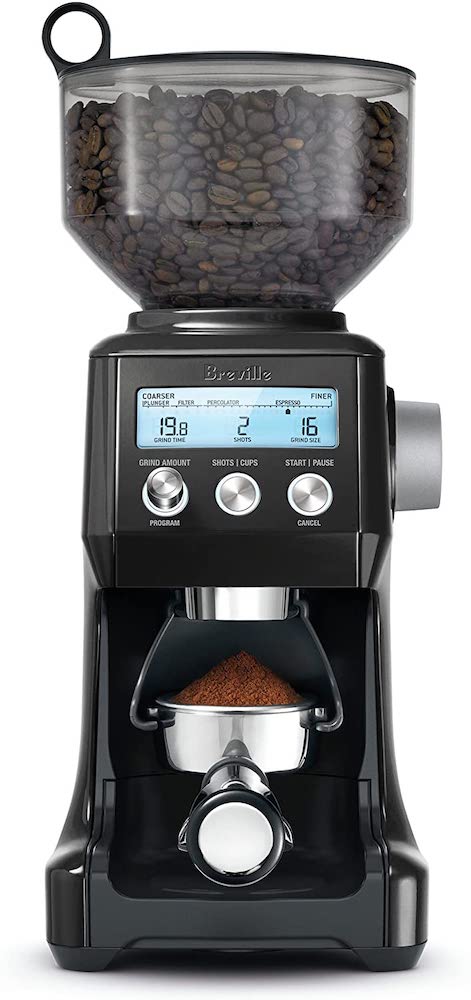 The Breville BCG820BSSXL is a hyper-precise coffee grinder that's great for amateur baristas who want to maximize their control over the process. That is why we've labeled it as the best burr grinder for pour-over coffee.
Sixty different grind settings give you an extreme level of precision. The options range from very fine to extremely coarse, and anything in between.
We also appreciated the grinder's convenience factor. The system allows you to grind directly into a filter, making it easy to take your grind from the Breville to your pour-over system.
The vast range of controls and options is centralized by a convenient LCD screen on the grinder's faceplate, making the product easy to use.
With the Breville you are able to brew up to 18 ounces at a time, making it great for batches both big and small. It does cost substantially more than most people are used to spending on coffee gear, but if you want the best of the best, you need to be willing to pay for it.
Overall, we think this is the best grinder for pour-over coffee of the year. Give it a try and see what you think!
Pros
60 different settings
Grinds directly into filter
LCD screen
18-ounce capacity
---
2. Baratza Virtuoso Conical Burr Coffee Grinder
The Baratza Virtuoso is another grinder with lots of versatility. It has forty different settings to choose from, which can be adjusted via a simple knob on the front of the device.
The sixty-second timer further increases the level of precision you can apply to the grind. The timer allows you to tend to other things while the grinder does its job to perfection.
We also appreciate the fact that Baratza had décor in mind when making this tool. It has an elegant, understated look that will complement the atmosphere of your kitchen.
The Baratza comes in second place for one simple reason: value. It is significantly more expensive than our already pricey top pick but has fewer features and a simpler design concept.
It's still a great grinder, but because of the price, it doesn't hold up so well against our top choice.
Pros
40 settings
Timer
Elegant design
Cons
Value concerns compared to our top pick
---
3. OXO BREW Conical Burr Coffee Grinder – Best Value
The OXO Brew Conical Burr grinder is an affordable option that still performs very well. For the price, you still get all the important performance-oriented features. Fifteen speed settings give you precise control over the process, while the timer makes the grinder more convenient to use.
The container isn't as big as we saw in the last two grinders, but at twelve ounces it's still enough for most people. To put the number in perspective, this is enough to make about twelve cups of coffee.
We did find that the grinder gets clogged up easily, with the beans getting stuck in the chute rather than funneling down to the spurs like they are supposed to.
The OXO Brew grinder also emits a peculiar electric hum when plugged in. At best, it can be irritating, and at worst, a little unnerving.
Still, if you want a good grinding experience for an affordable price, the OXO Brew deserves serious consideration.
Pros
Best for the money
Fifteen speed settings
12-ounce container
Cons
Clogs easily
Peculiar hum when plugged in
---
4. Hario Ceramic Skerton Plus Coffee Grinder – Best Manual Grinder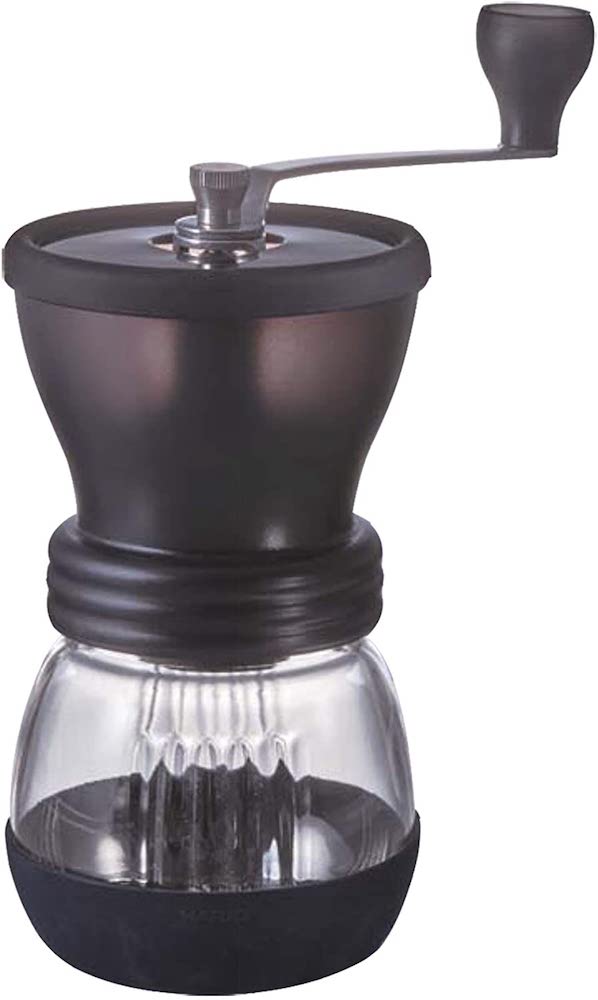 The Hario Ceramic Coffee Mill is different from the previous units because it's a manual tool. The grinder is operated by turning a lever that activates the spurs. As a result, the speed capabilities are limited only by what you are personally capable of doing.
There are obvious disadvantages to this design concept. For one thing, manually grinding beans can be a little exhausting. Your forearms will get a decent workout when you use the Hario.
It's also harder to get the exact grind you're hoping for. Machines are more consistent and accurate than humans. You know exactly what you're getting when you set an automated grinder a certain way. Such is not the case with this unit.
However, there are benefits to the Hario as well. It's one of the most affordable options on our list. It also has an ergonomic handle that makes the tool at least moderately comfortable to use.
If you are looking for a manual grinder, this one may be the way to go.
Cons
Lacks the precision of automated grinders
Exhausting to use over long periods of time
---
5. Bellemain Burr Coffee Grinder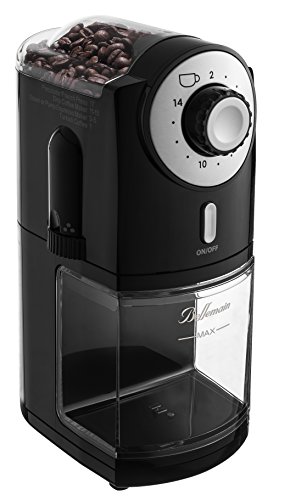 The Bellemain Burr Coffee-Grinder is the most affordable grinder on our list, making it an enticing option for budget buyers.
It's a very simple tool. It doesn't have setting options like the other grinders here, but it does allow you to make anywhere from two to fourteen cups of coffee. It also features a handy shutoff feature when your desired grind has been achieved.
However, some problems come with this grinder. When you remove the container, many of the grounds will spill out, leaving you with a big cleanup job. It's also inconsistent, leaving you with blends that are coarse in some places and very fine in others.
If you're looking for an entry-level product, this will get the job done. However, serious buyers probably won't pay the Bellemain much mind.
Cons
Very simple
Messy
Inconsistent
---
Buyer's Guide: How to Find the Best Grinder for Pour Over Coffee
Below you will find several considerations that might be useful as you try to decide on a pour over coffee grinder.
Settings
The more settings a grinder has, the more control you'll have over the brewing process. This versatility is important because not every grinding session will have the same objective. For example, if you are making espresso, you will want the grinds to be ultra-fine. If you're making a cup of French roast, a coarser grind will serve you better. A ton of settings does mean the grinder will come with a learning curve, but once you overcome that, your homebrewing game will be taken to a whole new level.
Jar Size
The size of the jar will determine how much you can grind. Ideally, the grinder will be able to accommodate even your biggest batches, so you'll never need to worry about emptying and filling it several times.
Manual or Automated?
Manual grinders require users to do everything by hand. However, they are more affordable. Automated grinders are pricier, but they allow an enormous amount of control over the process.

Final Verdict
Our five pour-over coffee grinder reviews have now brought us here: decision time. It can be hard to choose, but if you're on the fence about a couple of products we can be of some assistance. If you are a true coffee nut, you will want the Breville BCG820BSSXL, which we think is the best coffee grinder for pour-over brewing.
If you need to watch what you spend, our best for the money pick, the OXO BREW Conical Burr, will treat you to a high-quality grind at an affordable price.
Choose wisely and enjoy coffee unlike you've ever had it before.
Related posts: