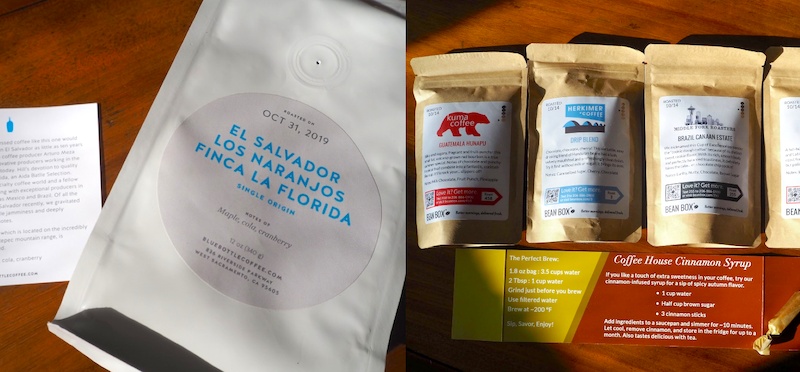 There are dozens of coffee subscriptions on the market, and a lot of them are excellent. But they all offer different things, so it can be hard to find the perfect one for you. Blue Bottle and Bean Box have such similar names, it's understandable if you confuse the two.
Beyond all those Bs, what's the difference between these coffee subscriptions? We're taking a close look at both to help you find your new favorite coffee company! Read on to learn about these delicious coffee subscription companies:

All About Bean Box Coffee Subscription
Bean Box offers an exceptional coffee subscription with a unique twist: you can choose to receive a sampler box containing four different types of coffee — every time! Samplers aren't unique to Bean Box — subscriptions like Driftaway also start with them — but with a Bean Box subscription, you never have to switch to ordering full bags.
When you start a Bean Box subscription, the only decisions you have to make are your favorite coffee roast and whether you'd like your beans ground. Seriously, it's that simple!
We tested the Bean Box subscription, and we loved the sampler setup. Our first box included a great range of coffees: Drip Blend, Brazil Canaan Estate, Guatemala Hunapu, and Roaster's Choice. Our favorite was the "cookie dough" Brazilian bean — a kind of coffee you don't encounter every day! The box also included a "coffee house cinnamon syrup" recipe and caramel candy.
Currently, you can get an amazing 60% off your first Bean Box order — which makes this gourmet coffee subscription very affordable. The only downside? You don't get to choose the coffee you receive or shop for yourself on a marketplace.
Pros
Choice of samplers or 12-ounce bags
Adventurous and fun
Whole bean and pre-ground options
Can try up to 48 kinds of coffee per year
Nice extras like recipes and candy
Currently available for 60% off
Cons
Less stylish
Not very customized
Can't shop for yourself
---
All About Blue Bottle Coffee Subscription
Blue Bottle is a famous coffee company with sleek cafes all over the world. If you've enjoyed a cup of Blue Bottle Coffee in the San Francisco ferry building or any of the dozens of other locations, you know how gourmet the coffee is. But you may not have tried Blue Bottle's coffee subscription service!
Blue Bottle offers a fully curated subscription. You can choose between single-origin beans, blends, and espresso. Start with a welcome kit, which includes Blue Bottle's specially designed pour-over, paper filters, and a tote bag, or opt for a fun gift subscription.
When we gave Blue Bottle a try, we appreciated how streamlined it was. The packaging is simple but elegant, and our bag of unusual El Salvadorean beans came with an informative postcard. There aren't a lot of frills because the focus is on the beans, instead of on the extras. Our coffee had fascinating notes of cola and maple — and it was some of the freshest we've ever tried!
Blue Bottle only offers whole-bean coffee, so this probably isn't the subscription for you if you hate grinding beans. But if you don't already have one, now might be the right time to pick up an affordable burr grinder!
Pros
Delicious, fresh coffee beans
Choice of single-origin, blend, or espresso
Stylish, minimal packaging
Informative postcards
Ships on your schedule
Nice welcome kit and gift options
Cons
Only whole bean
More expensive
No sampler options

Bean Box vs Blue Bottle Coffee Subscriptions: How to Decide
So which subscription should you choose? It depends on what you're looking for. Both of these subscriptions will bring amazing coffee to your door. If you want great beans, simple packaging, and full curation, give Blue Bottle a try. You'll also appreciate the welcome kit and fun gift options. On the other hand, if you want adventure and the option to try up to 48 different kinds of coffee in a year, we'd recommend Bean Box. You can try four kinds of coffee with every shipment, and the company includes thoughtful extras like recipes and coffee-paired candy.
Overall, we lean toward the Bean Box subscription. Getting such delicious beans for 60% off is pretty unusual, and you can't beat the adventurous sampler option. But you really can't go wrong with these excellent subscriptions!
RELATED READS: