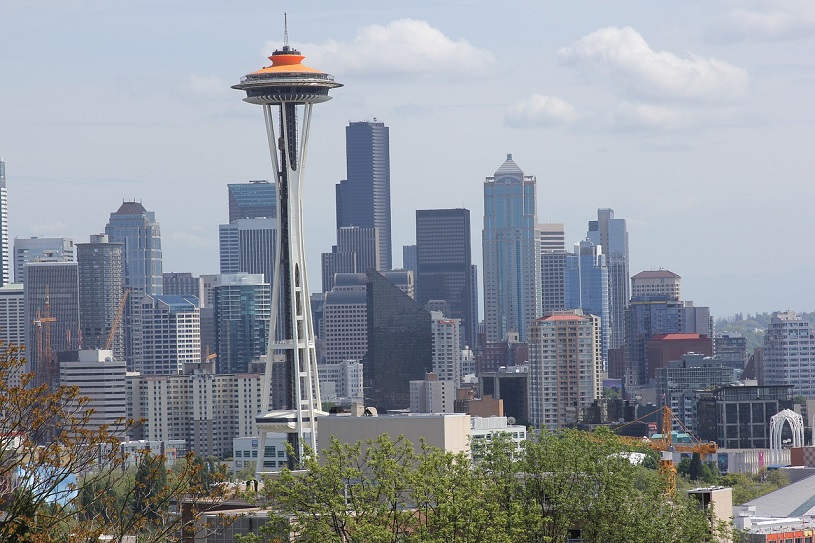 There are plenty of coffee shops in Seattle, and many of them serve great coffee from top-notch baristas. But buying coffee beans is a whole different story. If you're a keen coffee enthusiast, you'll want to do your research and buy beans from the best coffee roasters in town.
We want the best, whether it's a whole bean or even an unroasted green bean. Luckily, Seattle is world-famous for its delicious coffee, and there are a few stores with some of the highest quality beans on the market.
Have a look through our list of the best Seattle coffee roasters and see what you think. You may have been to some of these places or tried their famous coffee sold somewhere else. If not, what are you waiting for? Let's take a closer look at the best coffee in Seattle:

The 6 Best Places to Buy Coffee Beans in Seattle:
Kuma Coffee stands out as one of the highest quality coffee roasters in not only Seattle, but the United States. It's committed to serving the coffee community with the best beans possible. While Kuma doesn't have a physical store, it'll send coffee directly to your door for a low price, if not free, depending on how much you order. It also opens pop-up stores at various times throughout the year. To learn more, take a look at Kuma's Facebook page.
A standout bean is the Kenya Gachatha, which makes a vibrant, juicy cup with a deep blackberry flavor including subtle hints of apricot. It's a sweet but rich coffee that will undoubtedly impress and satisfy your thirsty taste buds.
---
Slate Coffee Roasters has numerous shops in Seattle, but its coffee store on 602 2nd Avenue sells a range of beautiful flavored green and light roasted coffee beans. The company believes the natural taste of each unique bean is most effectively experienced through a light roast, as opposed to the darker beans some people like.
If you prefer a darker roast, Slate Coffee beans may not be for you unless you roast your own and purchase from the green selection. A notable coffee bean is the Mijane Woresa, which is grown in Ethiopia at around 2100 meters above sea level. This bean has a black currant and grape jam-type taste to it. Its rich natural flavor, unique to the Gedeo Zone region, entices many coffee lovers to embrace it time and time again.
---
In South Seattle, on 240 2nd Avenue, there lies the unique Elm Coffee Roasters coffee shop. It's run by a team that's passionate about coffee and providing exceptional service to everyone who enters their store or buys their beans. There's also a store on 230 9th Avenue for convenience if you're far from South Seattle.
Coffee that stands out is the Guatemala Benito Perez, a bean grown almost 2000 meters above sea level in Huehuetenango, Guatemala. It has a touch of nougat in its flavor, with a sweet cherry taste and a unique Sprite-like hint unlike almost any other coffee you could try.
---
Victrola Coffee Roasters, located on the corner of 3rd Avenue and Pine Street in Downtown Seattle, is an innovative coffee roasting shop that excels in finding and supplying some of the world's best whole beans.
It has a reasonable range of different options, and one of the tastiest is the Costa Rica William Murillo, which is honey processed with a clean finish. It's a crisp bean with a surprising apple and raisin aroma, as well as blended ginger and chocolate flavors that are irresistible to your senses.
---
Caffe Ladro has been around for a long time and provides excellent coffee that's celebrated, rewarded, and enjoyed around much of the world. You can find it in numerous locations within the heart of Seattle. It also provides a top-notch delivery service if you're on the run and need coffee in a hurry.
It has an extensive range of different coffee, which it purchases from sustainable companies and roasts to near perfection. A favorite bean is the El Salvador Orange Bourbon, a light roasted dark chocolate and sweet tangerine-flavored coffee.
Caffe Ladro is known for roasting so exceptionally that the depth and complexion of the coffee's natural flavors emerge remarkably, unlike what many other roasters can achieve. If you haven't tried it, it's well worth checking out.
---
Seattle Coffee Works is a company committed to serving the community of downtown Seattle with delicious coffee, and transparency in its values and treatment of workers and the farms it sources beans from. It has a small range of tasty coffees that are well respected by its many regular customers.
It's located on 107 Pike Street, and has other stores around Seattle, including 2060 NW Market Street, 907 East Pike, and 1130 Thomas Street, to ensure you don't lack options depending on where you live.
One of its notable coffees is the award-winning Seattle Space Blend, which is made with direct trade beans from Kenya and has notes of tasty lime, mixed berry, and milk chocolate.

Seattle Coffee: Conclusion
Seattle, one of the great coffee capitals of the world, produces some outstanding blends of coffee, and many of them are readily available at your door with a few simple clicks. Our list of places to buy coffee beans is not exhaustive, but we highly recommend these six companies.
If you haven't tried Kuma Coffee, we recommend you check out its site, and particularly consider the vibrant Kenya Gachatha whole bean for a deep blackberry flavor coupled with hints of apricot.
We also recommend the El Salvador Orange Bourbon from Caffe Ladro if you like dark chocolate-flavored coffee beans. The sweet tangerine brings a delightful mix into the flavor, causing a stunning experience for most coffee lovers.
We hope this guide has given you a few stores to consider on your next hunt for delicious, aromatic whole beans. Enjoy your explorations!
See Also: 11 Best Coffee Shops in Fremont (Seattle) to Try Today!
---
Featured image credit: LukeErickson, Pixabay