Our Final Verdict
We give the Blue Bottle coffee subscription a rating of 4.7 out of 5 stars:
Flavor
Quality
Selection
Resources
Ease of Use
Price
Blue Bottle Coffee Subscription Box Review: At a Glance
Blue Bottle is a simple and fun curated coffee subscription company. You can choose a specific type of coffee to receive or allow the company to select for you, and you have a choice of single-origin, blend, and espresso coffee. Plus, there's a decaf option, and you can set your shipping schedule and coffee bag size.
Blue Bottle only sells whole bean coffee, so you'll have to grind your beans. The company offers great, customizable gift options and a free welcome kit of coffee tools if you sign up for three months of coffee. Keep reading to see the rest of our Blue Bottle coffee subscription review!
Blue Bottle Coffee Subscription Quick Look:
Pros
Attractive, minimal packaging
Well-designed coffee bag with degassing valve, pull-tab, and resealing features
Freshly roasted, strongly flavored coffee with good aromas
Choice of single-origin, blend, or espresso
Range of bag sizes
Decaf option
Ships on your schedule
Free welcome kit if you order three months in advance
Good, customizable gift options
Cons
Whole bean only
Charges shipping fees
The Company
Named after Central Europe's first coffeehouse, Blue Bottle Coffee was started in Oakland, California, in the early 2000s. The science-oriented company, which also runs cafes, has done extensive research on peak flavor windows and promises to sell its coffee only at its freshest, most flavorful level. For this reason, Blue Bottle's coffee is only sold in whole bean, which maintains its freshness.
Blue Bottle also sells a range of coffee tools, including a specifically-designed pour-over coffee dripper and a cold brew bottle.
---
The Ordering Process
Blue Bottle's website is nicely designed and simple to use. To get started, you choose between single-origin, blend, and espresso options. You can choose to receive a half bag (six ounces), a standard bag (12 ounces), a double bag (24 ounces), or a triple bag (36 ounces). You can have your coffee shipped to you every one, two, three or four weeks. There is also a decaf option. All of the coffee sold by Blue Bottle is whole bean, so you'll need a grinder.
Blue Bottle also offers a flavor-matching quiz. You answer 10 questions, including standard questions like how you brew your coffee and whether you drink it with cream or sugar, along with more surprising questions like what spices and types of salad dressings you prefer. At the end of the quiz, you'll be offered two types of coffee that Blue Bottle thinks you might enjoy.
Blue Bottle does charge $5 for shipping on every order.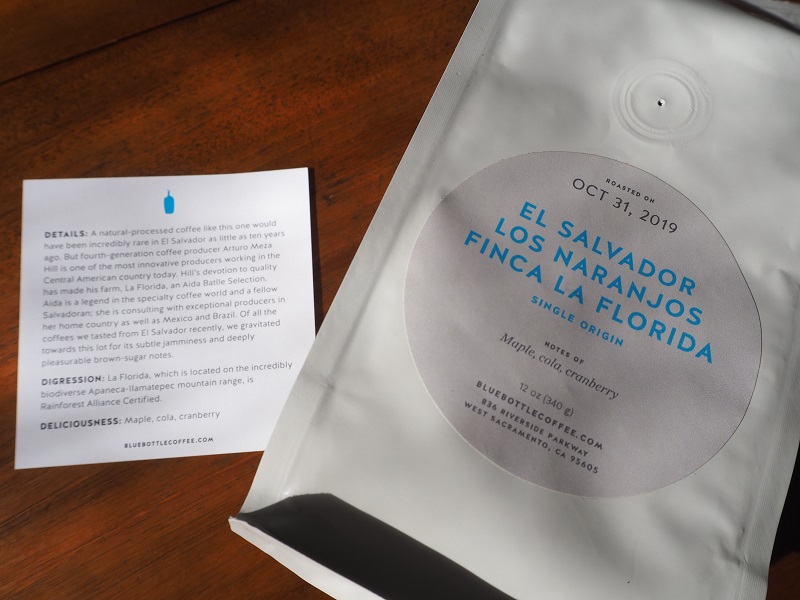 The Coffee
For our test, we ordered the company's most popular option, a single-origin 12-ounce bag of coffee. We received the El Salvador Los Naranjos Finca La Florida, which had interesting, full flavor, with unexpected notes of cola and maple. The freshly-roasted beans produced a strong, aromatic bloom, and the coffee was clear and bright.
---
The Packaging
Blue Bottle had some of the most compact, minimal packaging we'd seen from any coffee subscription company. The light cardboard box included an information card with tasting notes and a detailed description of the coffee producer, Arturo Meza Hill, and the coffee origin, a farm called La Florida in El Salvador.
The coffee bag was minimal and well-designed, printed with the roast date, origin and flavor notes. It had a one-way valve for degassing, a convenient pull-tab opening, and an inner bag that conveniently resealed.
Extras
Blue Bottle offers three-month and six-month gift subscriptions. You can also create a custom gift subscription, personalizing the coffee type, number of shipments, and shipping frequency for your gift recipient. You can choose between having the coffee shipped directly to the coffee lover in your life or printing or emailing a gift certificate. If you choose the gift certificate, your recipient can redeem it online. All of these options could make Blue Bottle a good gifting choice.
Another feature we like is the welcome kit that you'll automatically receive if you order three months (six 12-ounce bags) in advance. This kit includes Blue Bottle's coffee dripper, plus filters, instructions, and a fun, graphic tote bag.

Blue Bottle Coffee Subscription Review: Conclusion
Blue Bottle is a stylish, minimal subscription service offering you a choice of curation or control over the coffee you receive. The packaging is convenient and well-designed, and the coffee is very fresh, aromatic, and flavorful. There's even a decaf coffee option.
With great, personalized gift options, surprising flavors, and plenty of included information on your coffee's origin, this subscription service could be a great choice. The company only sells whole bean coffee, though, so if you prefer not to grind at home, this coffee club may not be for you. We hope that our Blue Bottle coffee subscription review was helpful!
RELATED READ: Blue Bottle vs Trade Coffee Subscriptions: Which to Buy