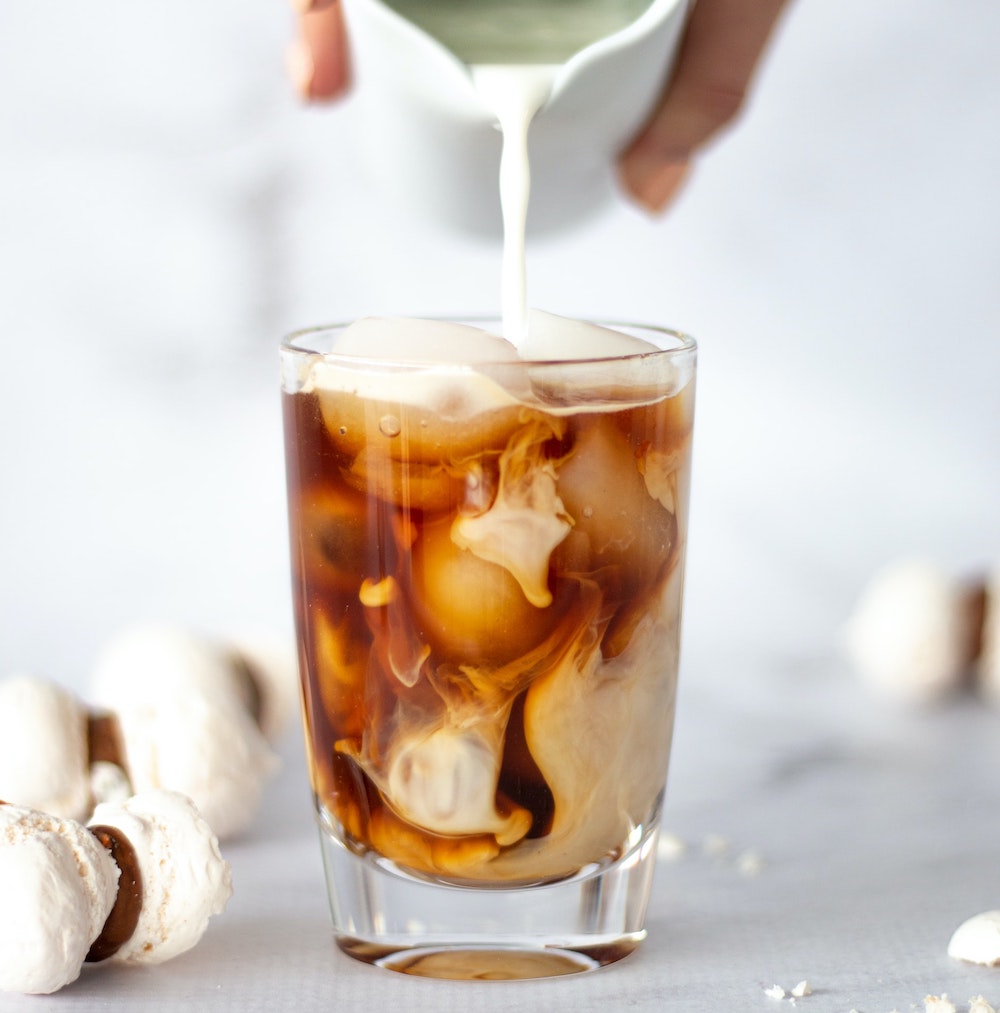 Cold brew coffee is quickly gaining popularity, and it's easy to see why. It's simple to make, has less acidity than regularly brewed coffee, and there are many recipes that you can make with it. Cold brewing coffee also brings out a unique flavor from the beans that hot water extraction doesn't match. For those of us with busy lifestyles, cold brew coffee is great because it has a long shelf life. Once brewed, you can store it in the refrigerator for seven to 10 days.
Even though the process for making it is simple, a good cold brew coffee maker is designed to make it even easier for you. There are so many choices out there, though, that trying to figure out the best one can be hard. Luckily, we've done the hard work for you. We've reviewed the ten best cold brew coffee makers so you can find the right one for you. If you're ready to ditch your Starbucks iced coffee habit and make cold brew at home, read on for our list of the ten best.
---
A Quick Summary of the Winners in 2023:
Image
Product
Details

Top Pick

OXO Good Grips

Compact storage
Easy cleanup
Sleek design

The Runner-Up

Toddy Cold Brew System

More filter area
Reusable filters
With paper filters

Best for the Money

Takeya Patented

Airtight lid
Reusable mesh filter
Easy to clean

Cuisinart Automatic

Brews up to 7 cups
Fast Brewing
3 Strength Option

Hario "Mizudashi"

Easy to use
Permanent filter
Inexpensive
The 10 Best Cold Brew Coffee Makers
1. OXO Good Grips Cold-Brew Coffee Maker – Top Pick
The OXO Good Grips Cold Brew Coffee Maker is our top pick because it has some of the best features to make it easier to brew and store coffee. The perforations when you first pour the water over your coffee grounds ensure it's distributed evenly, which is important for flavor extraction. A switch on the side allows you to easily filter out the concentrate. This means you won't make a mess on your countertop (or yourself) when filtering out the coffee.
The steel mesh filter is both environmentally conscious and allows more of the coffee's natural flavor to come through. We also appreciated how the carafe has clear measurement markings on the side so you know exactly how much water you're adding, and a stopper to keep the coffee concentrate fresh in the fridge. The design looks sleek and modern on your countertop. It's easy to clean, durable, and compact–all wins in our book.
The only downside is that it's a little pricier, but we feel that you get what you pay for with all the superior features of this coffee maker.
All in all, we think this is the best cold brew coffee maker available this year.
Pros
Even water distribution
Switch controls filtration
Steel mesh filter
Measurement markings on carafe
Carafe has stopper for fridge storage
Easy cleanup
Compact storage
Sleek design
---
2. Toddy Cold Brew System – The Runner-Up
The Toddy is a cold brew fan favorite, and it's easy to see why. We love the large glass carafe that the Toddy Cold Brew System filters into, and the fact that it has a wide filter area. This makes better coffee, since it allows the grounds to be thoroughly saturated with water. The felt filters are reusable, which is a plus for those of us who are environmentally conscious. If you're looking for easy cleanup, the Toddy now includes paper filters that you just throw away when it's finished extracting. The glass carafe has a lid for storing the concentrate for up to two weeks in the refrigerator.
However, it's not quite as user-friendly as the OXO, which is why it's number two on our list. The recommended brewing process is more complicated than with the OXO brewer. It also is not as attractive, since it's basically just a white plastic bucket on top of a glass carafe.
Pros
Brews a lot of concentrate
More filter area
Felt filters are reusable
Now comes with paper filters for easy cleanup
Glass carafe with lid for storage
Cons
More complicated
Not very attractive
---
 3. Takeya 10310 Patented Deluxe Cold Brew Coffee Maker – Best for the Money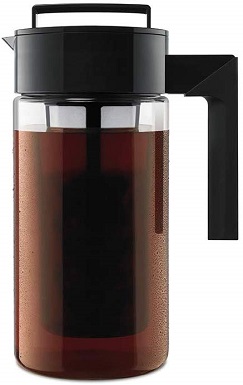 The Takeya Patented Deluxe Cold Brew Coffee Maker is the best choice if you're on a budget. It has a durable pitcher with an airtight lid, and it's compact enough to fit in most refrigerator doors. We appreciated the sleek, slim design, which looks great and doesn't take up much room. The BPA-free plastic is easy to clean, and it comes with a reusable mesh filter.
On the negative side, the carafe doesn't have measurements on the side like other cold brew makers out there, and the whole thing tends to leak. You have to make sure the filter is screwed in properly and the lid is on tight. The spout is also poorly designed and always spills a little.
NOTE: Looking for a BPA-free coffee maker? See our comparison of the most popular models here.
Pros
Durable pitcher with airtight lid
Reusable mesh filter
Compact and easy to clean
Fits in most refrigerator doors
Cons
No measurements on carafe
Tends to leak
Spout on carafe always spills
---
4. Cuisinart DCB-10 Automatic Cold Brew Coffeemaker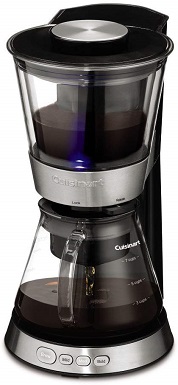 If you're looking for a cold brew coffee maker that actually looks good on your countertop, the Cuisinart Automatic Cold Brew Coffeemaker is one of the best choices. It brews up to seven cups of coffee in as little as 25 minutes, as compared to 12-24 hours for other cold brew coffee makers. It has customized control for three strength options: mild, medium, and bold. It even has three filters to reduce the nasty coffee sludge at the bottom of your cup. If you don't want to have to do much to make your cold brew coffee–like letting the coffee bloom, stirring it, or being particular about your grind size–this is a great option.
All those complicated parts, though, mean it's harder to clean. The coffee brews up faster, but you may be trading quality for speed. The coffee just doesn't have the same bold taste as cold brew coffee that's been allowed to extract for hours. The main filter also tends to rip easily, and it's difficult to find replacement filters.
Pros
Brews up to seven cups of cold brew coffee
Cold brew coffee fast
Three filters reduce sediment
Cons
Difficult to clean
Poor quality of coffee
Main filter rips easily
Difficult to find replacement filters
---
5. Hario "Mizudashi" Cold Brew Coffee Pot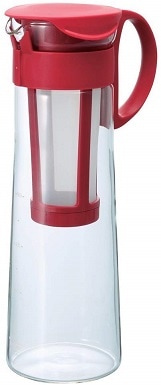 If you're short on space, the Hario Mizudashi is a great option. It's very compact and slim, so it won't take up much room in your fridge. It's also inexpensive and easy to use. The permanent filter makes great coffee while being environmentally conscious.
However, if you were hoping for a large carafe of concentrate you can use all week long, this isn't the cold brew coffee maker for you. It only brews a few cups at a time. With its narrow design, it can also be a pain to clean, and handwashing the pot is recommended. The glass of the carafe is on the thin side, so it's not very durable.
Pros
Easy to use
Permanent filter
Inexpensive
Compact
Cons
Small capacity
Hand wash recommended
Narrow design is hard to clean
Not durable
---
6. Primula Burke Cold Brew Coffee Maker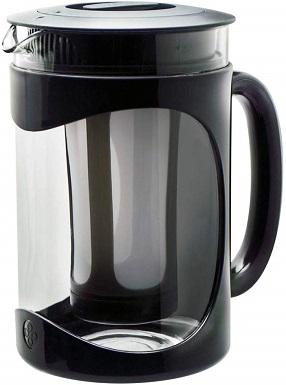 The Primula Burke Cold Brew Coffee Maker comes with a compact (short) pitcher that allows you to both brew and store your coffee. It has a reusable filter, which reduces waste and saves money. A silicone gasket creates a drip-proof pouring spout that also keeps your coffee fresh for up to 14 days. Because it's dishwasher safe, it's easy to clean.
Unfortunately, many of its features are only good in theory. Because of its short design, it's also wide, which makes it too large for many refrigerator doors. The reusable filter is made from plastic and allows coffee grounds to escape into the concentrate. It's supposedly dishwasher safe, but the glass is so thin, it doesn't seem durable enough to handle that. We'd recommend hand washing it instead. The small capacity isn't very helpful if you want to make coffee concentrate for the week.
Pros
Compact pitcher
Reusable filter
Drip-proof pouring spout
Easy to clean
Cons
Not very durable
Grounds in coffee
Small capacity
Filter made of plastic
---
7. Filtron Cold Water Coffee Concentrate Brewer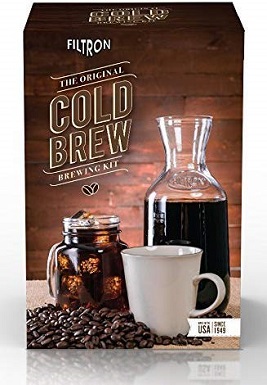 The Filtron Cold Water Coffee Concentrate Brewer is set apart from most of the other cold brewers because of its large coffee bowl (it looks a lot like a bucket). With its wide surface area, the coffee grounds all get evenly saturated. This means the beans are properly extracted, resulting in flavorful, delicious coffee. This is another cold brewer that uses a felt filter, which is great because it's reusable. It also uses paper filters for easy cleanup. The large capacity (32 ounces of concentrate) means you'll have plenty of coffee for the whole week.
However, it's more difficult to use because of its multi-chamber filter. It takes some getting used to before you can make good concentrate. It has a lot of parts, which further complicates it. The felt filter requires special care–you have to keep it damp in a plastic bag in the refrigerator to prevent mold growth. The whole system is very large and bulky, so if you have limited space on your counters and in your refrigerator, this isn't the best choice for you. Because it looks a lot like a big bucket on top of a glass carafe, it's pretty unattractive, especially compared to other sleeker cold brew coffee makers.
Pros
Reusable felt filter
Coffee grounds are evenly saturated
Large capacity
Cons
Requires a lot of work
Lots of parts
Hard to store
Very large and cumbersome
Unattractive
---
8. County Line Kitchen Cold Brew Coffee Maker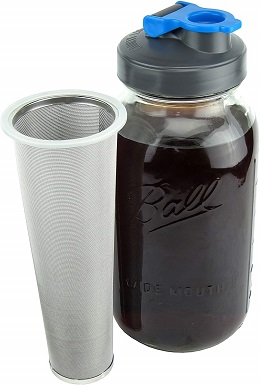 If you like the ease of brewing coffee in a mason jar but wished it had a few extra features, the County Line Kitchen Cold Brew Coffee Maker might be what you're looking for. It's a durable, heavy-duty mason jar, so you don't have to worry about it breaking easily. It comes with a lid that seals, so when you're finished brewing, you can store the concentrate right in the mason jar. It also has a reusable stainless steel mesh filter, which is economical and reduces waste.
However, the filter basket isn't big enough to produce a strong concentrate, and it overflows easily. The mesh filter lets a lot of coffee grounds through, to the point where it might be better to use an additional paper filter or cheesecloth to prevent sediment. The lid has a tight seal, but it's also hard to secure properly. The seal also gets pulled off easily when you remove the filter, and then it's hard to get it back on, which is frustrating. But the biggest issue is that it makes weaker coffee than some of the other cold brew coffee makers out there.
Pros
Durable, heavy-duty mason jar
Reusable stainless steel filter
Easy to use
Cons
Filter basket not large enough
Filter lets a lot of coffee grounds through
Lid is hard to secure properly
Seal falls off easily
Weaker coffee
---
9. Secura Stainless Steel French Press Coffee Maker
Did you know you can make cold brew coffee in a French press? It's easy. You combine your coffee grounds and water in your French press, allow it to extract overnight, and then depress the plunger the next day.
The Secura Stainless Steel French Press Coffee Maker is durable and has double-wall construction to retain heat or keep things cold. It comes in various sizes and even different color choices, so it looks great.
However, as a cold brew maker, it's lacking some features. You'd have to pour the concentrate into another container, as this French press doesn't have a lid to keep it fresh. The filters don't last long, and before they become misshapen, they allow too many coffee grounds through. The cold brew is gritty and tastes much more bitter than the other cold brewers on this list. The handle gets too hot and breaks off easily, so durability is questionable, even though it's made of stainless steel.
Pros
Double-walled stainless steel
Comes in various sizes and colors
Cons
Additional storage container needed
Filters don't last
Coffee is bitter
Gritty with sediment
Handle gets hot and breaks easily
---
10. Soulhand Cold Brew Coffee Maker
The Soulhand Cold Brew Coffee Maker is sort of a combination between the cold brew filtering method and a drip coffee maker. It's similar in style to the OXO Good Grips in that it has the cold water on top, filters in the middle, and a carafe waiting to catch the concentrate. It's elegantly designed and has an adjustable dripper to control water flow, so you can get cold brew faster.
Still, it's at the bottom of the list for a reason. All those parts make it complicated and hard to clean. The adjustable dripper should be a bonus, but it can be hard to determine exactly what to set it on. The dripper's regulator screw is also difficult to adjust. It has a small capacity, and it makes weaker coffee than some of the others on the list. It also doesn't come with a storage container.
Pros
Elegant design
Adjustable dripper to control water flow
Cons
Complicated
Difficult to clean
Drip regulator screw difficult to adjust
Small capacity
No storage container
Weaker coffee
---
Buyer's Guide: Finding the Best Cold Brew Coffee Maker
Cold brew coffee makers should be simple to use, but having some extra features to make life easier while producing a rich, flavorful concentrate is definitely worth the investment. We've given you our list of favorites, but if you'd also like to do your own research, there are certain features to look for.
Size
Cold brew makers come in a variety of sizes, and it's up to you to decide which one works best for your lifestyle, but here are some things to consider:
Do you want to make the concentrate once for the workweek? Then consider one with at least a 32–ounce capacity.
Do you have limited counter and refrigerator space? Then consider one of the more compact options. The slimmer, the better.
Do you prefer your concentrate to be freshly made every couple of days? Then one of the smaller capacity brewers might be right for you.
Filter Type
On our list, there are cold brew makers that have paper filters, stainless steel mesh, both, or something else–like the Toddy's felt filter. There are advantages and disadvantages to each kind, and it mostly depends on your personal preference.
Paper filters will ensure that no coffee grounds find their way into your concentrate, but they're more wasteful. They can also lead to a huge mess if they spill or rip.
Stainless steel mesh filters are easy to clean and minimize waste, but can lead to extra sediment in your cup.
Both paper filters and stainless steel mesh give you the best of both worlds, making clean-up easier.
Felt filters are reusable and environmentally conscious, but they require special care to keep them long-lasting.
Ease of Use
Some cold brew makers require you to have some skills to make the best brew, whether that be allowing the coffee to bloom, stirring the grounds, or a particular grind consistency. Others are extremely forgiving and easy to use. It just depends on how much effort you want to put into it.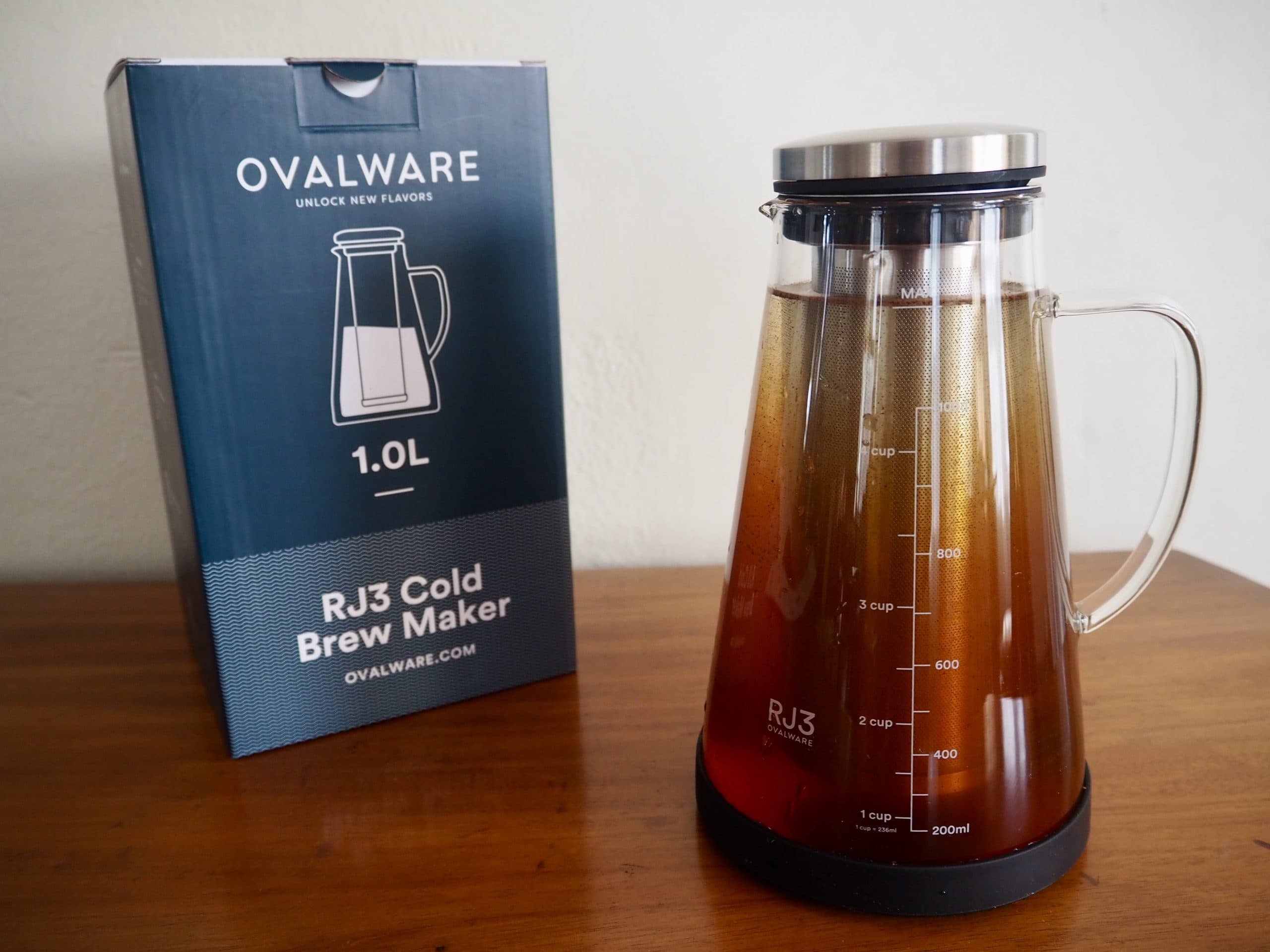 Features
The cold brew makers on this list all have different features, and it's up to you to decide whether you want something extremely simple, or a coffee maker with lots of extras. Some of the features of cold brew makers are:
Type of brewing pitcher/carafe
Storage features (like silicone lids or other ways to keep the concentrate fresh)
Types of filters
Water measurement lines on the carafe
Customized coffee strength control
Types of stoppers or switches to filter the concentrate
Attractiveness
This might seem like a silly concern, but if you're going to be leaving the cold brew coffee maker on your counter for 24 hours, it might be better if it looks good while it's sitting there. Or not. It's up to you.

Conclusion
The OXO Good Grips Cold Brew Coffee Maker made it to the top of our list because of its large capacity, ease of use, and the special features that set it apart from the rest. We especially loved the perforations that allowed for even water distribution and the switch that filtered the concentrate without getting our counter tops messy.
Our best for the money choice is the Takeya 10310 Patented Deluxe Cold Brew Coffee Maker. It's not only affordable, it can also brew and store in the same container. We liked that it's slim and compact enough to fit in most refrigerator doors. The reusable mesh filter means less mess while staying environmentally conscious.
With so many choices out there, we hope our reviews and buying guide have made it easier for you to find the best cold brew coffee maker for you.
It's also worth mentioning that we recently curated a list of the best bean grinders for making cold brew coffee.
SEE ALSO: