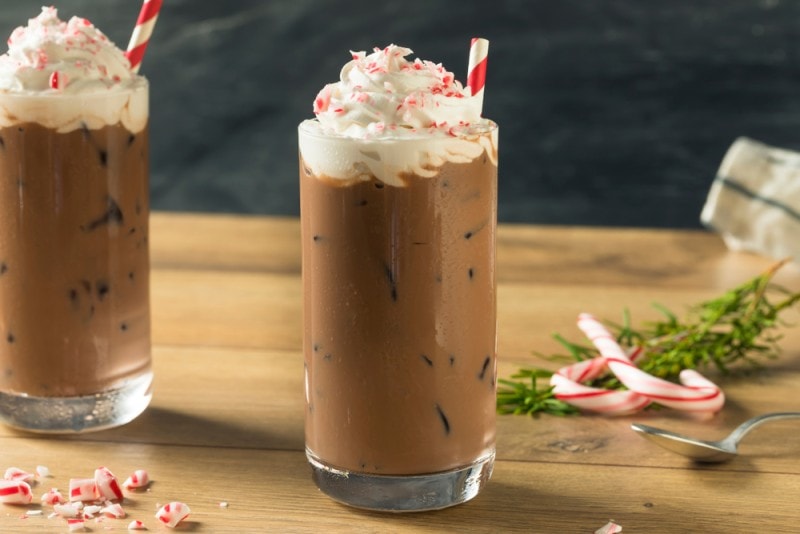 Peppermint mochas aren't just for the holiday season — but the creamer can be hard to find in stores the rest of the year. Luckily, you can make a simple peppermint mocha creamer at home!
Enjoy a cozy cup of chocolatey, creamy, minty coffee whenever you'd like using this easy recipe. It's fast, affordable, and doesn't contain any chemicals or preservatives. Delicious!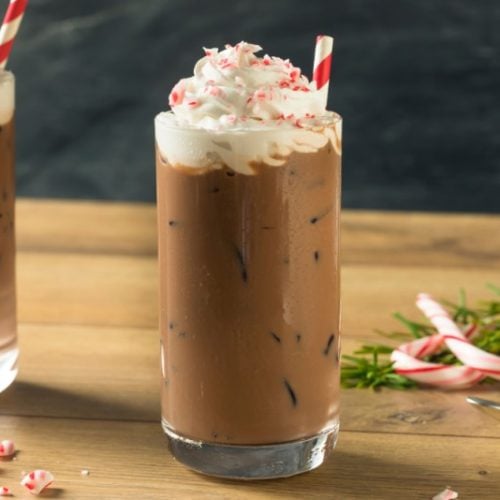 Peppermint Mocha Creamer
Want a cozy cup of holiday coffee? Whip up a batch of this easy peppermint mocha creamer for a no-fuss coffee mixer. You'll get all of the peppermint and chocolate flavors but a lot fewer calories than a full mocha!
Equipment
Saucepan

Stovetop

Spoon

Airtight storage container
Ingredients
½

cup

water

½

cup

sugar

2

tablespoons

cocoa powder

unsweetened

1

teaspoon

peppermint extract

½

teaspoon

vanilla extract

½

cup

milk

any kind

¼

cup

half-and-half

or heavy cream
Instructions
Pour the water and sugar into your saucepan. Heat over medium for about 3 minutes. You want the sugar to dissolve completely.

Remove from the heat and mix in the peppermint extract, vanilla extract, and unsweetened cocoa powder. Let the mixture cool for 3 minutes.

Add the milk and cream. Stir thoroughly and then transfer to your airtight container.

Your peppermint mocha creamer is ready to drink! It will keep for up to 2 weeks in the refrigerator.
Nutrition

Peppermint Mocha Recipe Variations
Now that you've seen the simple recipe, it's time to explore the variations! There are lots of ways you can make this creamer your own, and here are a few ideas to get you started:
Make It a Syrup
One delicious option is to skip the milk entirely. Instead of creamer, you'll have peppermint mocha syrup to mix into your coffee. You'll still get all of that delicious flavor but skip a few calories and the creaminess.
Try a Different Kind of Milk
We generally use 1% or 2% milk for our coffee creamers because it's a good balance of calories and creaminess. But you can substitute skim milk for a lighter creamer, or whole milk for the opposite. Another low-calorie option is to only use milk, skipping the half-and-half or heavy cream, which will give you a thinner texture and a lighter creamer.
Other options? Try an alternative like almond milk, oat milk, or coconut milk! These vegan, non-dairy milk varieties will add an extra flavor dimension and may even be a bit healthier than cow's milk. You can even try making almond milk at home to mix into your creamer.
Experiment With Chocolate
Unsweetened cocoa powder is the easiest form of chocolate to use in a creamer because it mixes in so nicely. But that doesn't mean it's your only option! You can substitute good quality chocolate milk for regular milk, or try melting chocolate chips in with the syrup on the stove. Don't forget to adjust the sugar amount if your chocolate is sweetened!

Final Thoughts
Ready to start whipping up your peppermint mocha creamer? This recipe is fast, easy, and delicious! Even better, you don't have to wait for the holiday season to enjoy it. Keeping homemade coffee creamer in the refrigerator is a convenient way to add mocha flavor to your home-brewed coffee.
RELATED READS:
---
Featured image credit: Brent Hofacker, Shutterstock