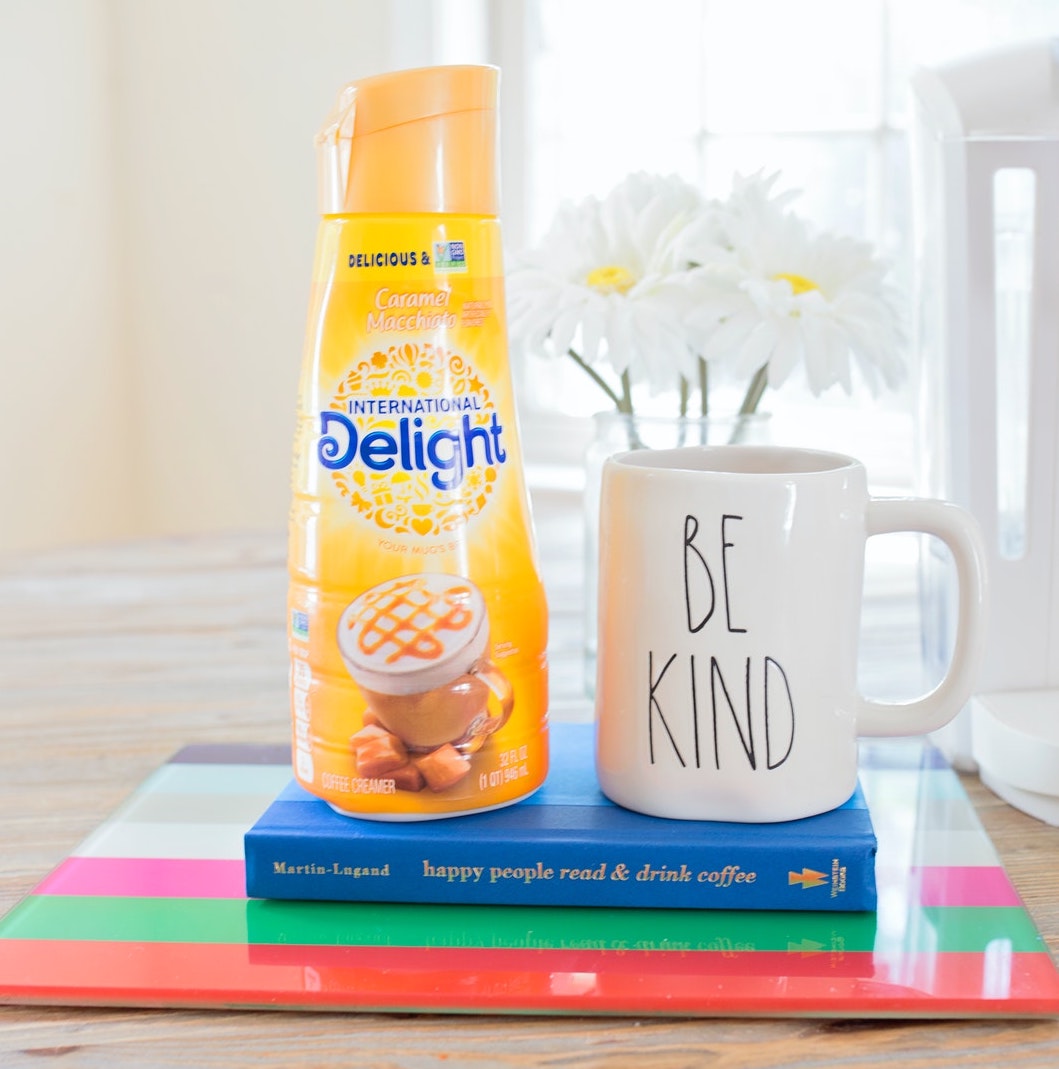 A trip to the gas station is often so much more than that. We fill tires, get snacks, and most importantly, buy coffee. For some of us, though, we want a little something else in that coffee, something to put it over the top. We want smoothness and extra flavors. We need creamers.
Modern-day creamers are more than just ordinary half-and-half. You might use the single-serve types, the ones that are free at most gas stations. Or you might opt to have flavored creamer at home, safely sitting in your refrigerator. Whatever your preference, there's a huge world of coffee creamers out there, so we decided to research the best kinds.
---
A Mini Comparison (updated in 2023):
Image
Product
Details

Best Overall

Nestlé Coffee-Mate French Vanilla

Self-contained package
Lactose free
Kosher

Califia Farms Almond Milk

So pure
Nice, subtle flavor
Doesn't spoil

Best Powdered Coffee Creamer

Coffee-Mate Powder

Cholesterol free
Won't spoil
Non-dairy

nutpods Pumpkin Spice

Eco and healthy living-friendly
Won't expire
Pumpkin spice

Native Joy Zen Focus

Made of superfoods
Helps brain activity
Less coffee crash
The 8 Best Coffee Creamers:
1. Nestlé Coffee-Mate French Vanilla Dairy-free Creamer – Best Overall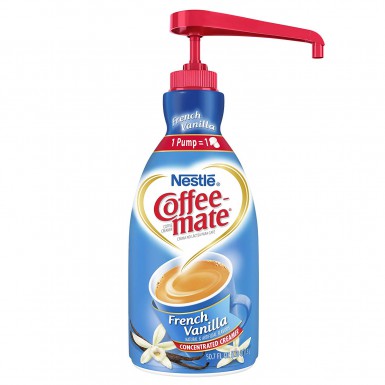 Pumpkin spice might rule the creamer world in the fall, but year-round, vanilla is the best. It tastes good no matter when and no matter what. But which vanilla should you go with?
The answer is simple: Nestlé Coffee-Mate Non-Dairy Coffee Creamer. This product has it all. It's a bottle with syrup in it, with a pump to get that syrup out. It's also lactose-free and kosher. We aren't exaggerating when we say that this is one of the best dairy-free coffee creamers on the market. Nestlé is known for its baking prowess, so of course, they have a creamer with top-notch flavor.
Put this in your office or home, and everyone will be a fan. The downsides? The pump doesn't work very well, and you may not like the concentrated consistency.
To conclude, we think this is the best coffee creamer you can buy this year!
Pros
Self-contained package
Lactose-free
Kosher
Dairy-free
Delicious
Cons
Less effective pump
Overly thick consistency
---
2. Califia Farms Almond Milk Coffee Creamer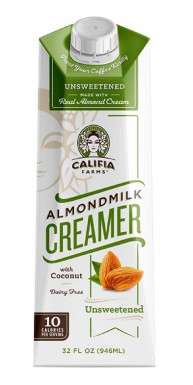 As this is an unsweetened creamer, if you are expecting or prefer something super sweet, this one might not be for you. If not, then there's much to like!
This is a non-dairy creamer, and it's also soy-free, carrageenan-free, GMO-free, vegan, and kosher. Being non-dairy, it stays fresh for a long time. You don't need to refrigerate it, but if you do, it serves wonderfully chilled.
The flavor is a nice, subtle addition to a drink that may not need a spike of sweetness. If you are a coffee drinker who just wants to tone down your coffee a notch, then this is a great find.
SEE ALSO: How to Make Almond Milk Coffee Creamer
Pros
So pure
Nice, subtle flavor
Doesn't spoil
---
3. Coffee-Mate Powder –  Best Powdered Coffee Creamer
Some folks prefer powder over liquid, and Coffee-Mate Powder Original is gluten-free, dairy-free, lactose-free, and kosher. For those of you who have to watch what you put in your coffee, it is also cholesterol-free!
This product has been around for quite some time, and its popularity stems from one important factor: You know what you're getting when you get it. It tastes great but isn't overwhelming, and you'll find yourself wanting it more and more. The world of coffee isn't truly the world of coffee without powdered creamer, so it must have Coffee-Mate Powder Original.
All in all, this is one of the best powdered coffee creamers on the market.
Pros
Cholesterol free
Vegan, kosher
Won't spoil
Non-dairy
---
4. nutpods Pumpkin Spice Coffee Creamer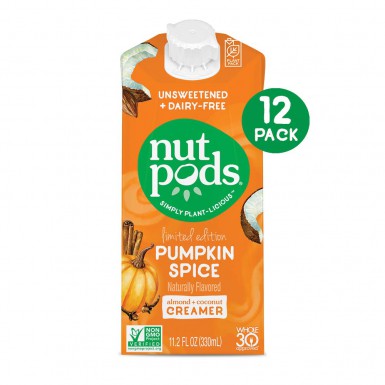 For those of you who love fall and pumpkins, we have a creamer for you.
After you taste it, you'll have a hard time believing it, but this is an unsweetened product. Made from nuts, this creamer suits most diets. It also has an incredibly long shelf life. Once open, though, it should be refrigerated.
It should be noted that this has a wonderful tasting pumpkin spice flavor, but it isn't overpowering with sweetness. So, if you are expecting something similar to a Starbucks or similar drink, you won't find it with this creamer. You will find, however, something that is eco-friendly, health-friendly, and subtly delicious.
Pros
Eco and healthy living-friendly
Won't expire
Pumpkin spice
---
5. Native Joy Zen Focus Coffee Creamer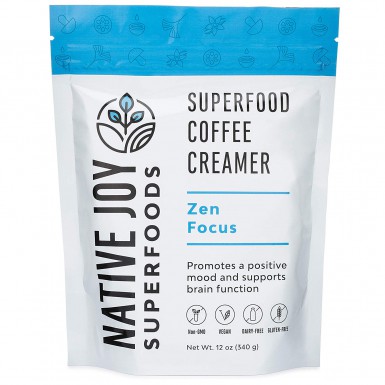 This creamer is called a superfood creamer. It is made from high-quality ingredients, including L-Theanine, which is supposed to boost your brain activity when paired with coffee. Looks like we're about to be geniuses! It is also made with Chaga mushrooms and all four MCTs (medium-chain triglycerides). Because of all the goodness packed into this creamer, it is supposed to mitigate the crash that you get after drinking coffee.
The reason it is so low on our list is that it's a bit more pricey than the rest.
Pros
Made of superfoods
Helps brain activity
Less coffee crash
---
6. Land O'Lakes Mini Moos Coffee Creamer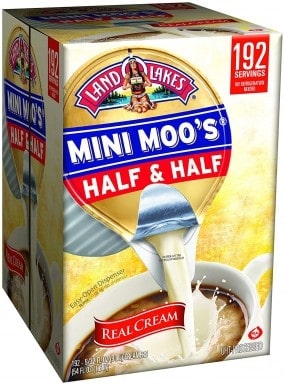 The first single-serve product on this list, this creamer is well known in gas stations and diners all over the place.
There's not much to be said about this classic. It's mini and delicious. When people are asked how much creamer they want, this is the product that the question is based on. It's silky smooth and wonderfully creamy without being too much. Of course, being milk-based, it has a much sooner expiration date.
Pros
Old classic
Creamy and smooth
Cons
Single-use
Expires quickly
---
7. N'Joy Smooth Coffee Creamer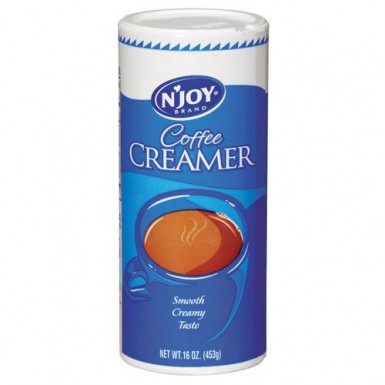 This is a great straightforward product. If you are just looking for something to mute your coffee for a good price, this is the exact product for you. It's not too sweet nor too creamy. It is exactly what it is supposed to be, which is available and affordable.
Maybe nothing sums up this product better than the fact that it has no negative reviews simply because it doesn't have any reviews (but is very popular).
Heads up! If you order this and it doesn't look like the product description, it probably is the right thing, they just switch packaging often.
Cons
Nothing special
Stealthy packaging
---
8. International Delight French Vanilla Coffee Creamer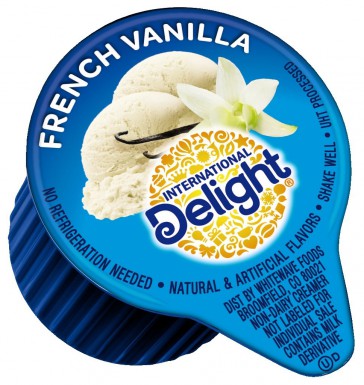 Another gas station favorite, we couldn't leave this one off the list. Not quite as well known as the Mini Moos, this is still a wonderful addition to your drink, whether at home or on the go.
It's creamy, it's good, it's classic. So, why is it at number 8? Well, if you decide to have them delivered, they are a bit … frail. Many people have reported receiving boxes with hundreds of these things dripping everywhere — not good!
Cons
Nightmare shipping stories
---
Buyer's Guide – Choosing the Best Coffee Creamer
As you can see, the world of creamers is diverse, and we only covered eight of them! There are so many reasons you could choose any one of these, but of course, at the end of the day, personal preference is what it is all about. Here are some tips that will help you find the best coffee creamer for your household.
If you prefer health …
With creamers being so popular, companies go out of their way to be sensitive to the dietary needs of their customers. Many of these are vegan, lactose-free, and GMO-free. Certain ones, like the Native Joy Superfoods, apparently even help increase your brain ability!
Maybe it's taste?
Are you looking to explore? Or do you just want an old favorite? Maybe you dream of swimming in a sea of single-serving creamers. That's all up to you! Our only concern is that you enjoy your coffee as much as possible.

Final Verdict
To review, our pick for the Best coffee creamer is the Nestlé Coffee-Mate French Vanilla Non-Dairy Coffee Creamer, a flavorful and sweet concentrated product sold with a convenient pump. If you prefer powdered creamer, we recommend the Original Coffee-Mate Powder.
No matter what you are shopping for, you should be able to find it in the world of creamers. Yes, it's hard to choose which one, but try to narrow your focus to why you want to put something extra into your drink. Maybe you're just trying to add a bit of smoothness to your morning, or maybe you are a broke college kid who relies on creamers with extra caffeine. With that said, we hope these reviews help guide your way, and we wish nothing but the most flavorful cups of coffee.
Good luck with finding the best coffee creamer for your tastebuds. Happy brewing!
RELATED READ: How Long Does Coffee Creamer Last?