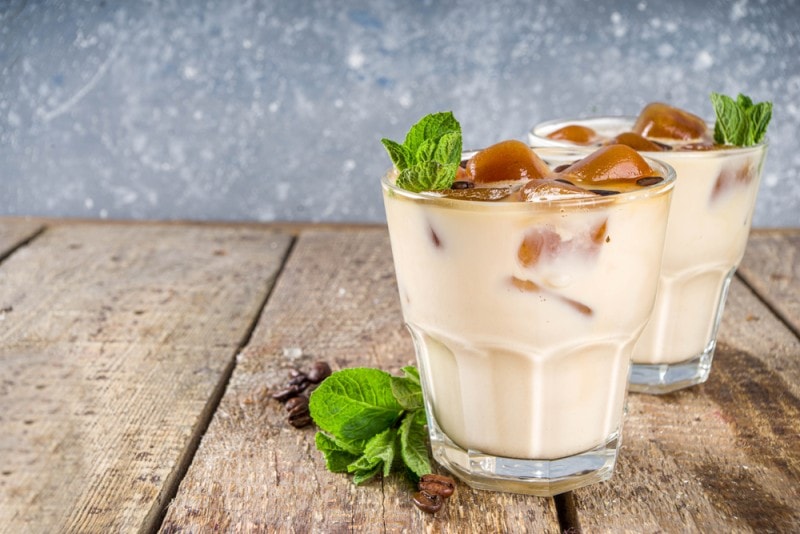 If you've never had a mint mojito coffee drink from California's Philz Coffee, now is a great time to start! This drink is creamy, minty, and a little bit sweet — with plenty of strong coffee flavor, too.
Scroll down to see our simple mint mojito coffee recipe, complete with guided steps and a few handy brewing tips. You'll be enjoying a delicious summer treat in no time!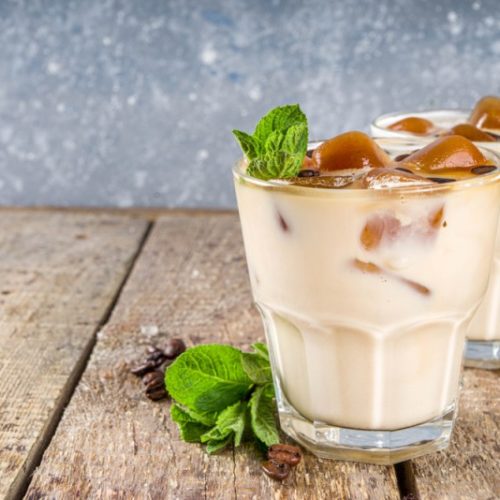 Mint Mojito Coffee
Philz Coffee makes the most famous version of this sweet, minty treat. But you can easily make it at home using a few simple ingredients. Muddle the mint leaves and shake the drink in a cocktail shaker for a frothy, minty delight.
Equipment
Coffee maker

Cocktail shaker (or mason jar)

Tall glass

Spoon
Ingredients
12

ounces

strong brewed coffee

10

fresh mint leaves

plus 1 for garnish

1

tablespoon

brown sugar

or white sugar or honey

1

cup

coffee ice cubes

or regular ice cubes

Splash of half-and-half

to taste
Instructions
Brew your coffee. Make it a little stronger than usual for the best flavor. You can use any brewing method, from drip machines to pour-overs.

Add the brown sugar into your hot coffee and stir until it dissolves. Then let the coffee cool for a few minutes.

Add the mint leaves and half-and-half to your cocktail shaker. Muddle the leaves a little with your spoon, releasing the delicious oils but not reducing the leaves to shreds.

Pour the ice cubes and sweetened coffee into the shaker. We like to use coffee ice cubes (frozen cubes of leftover coffee) for a stronger drink. Shake until the drink is well combined and frothy.

Pour your mint mojito coffee into a tall glass. Top with another mint leaf and enjoy your sweet treat!
Nutrition

Mint Mojito Coffee Brewing Tips & Suggestions
Ready to start brewing? This drink is simple but elegant, like any well-made mocktail. And you can adapt it to your preferences or the contents of your pantry! Here are a few tips to get you started, but feel free to make up your own delicious variations.
Mint
Fresh mint leaves are crucial to this drink, so we don't recommend skipping them. If you have mint growing in your garden, this will be an affordable drink you can make all summer. If not, you can buy fresh mint at the grocery store. In a pinch, you can use mint extract instead of the fresh version, but the flavor won't be quite the same.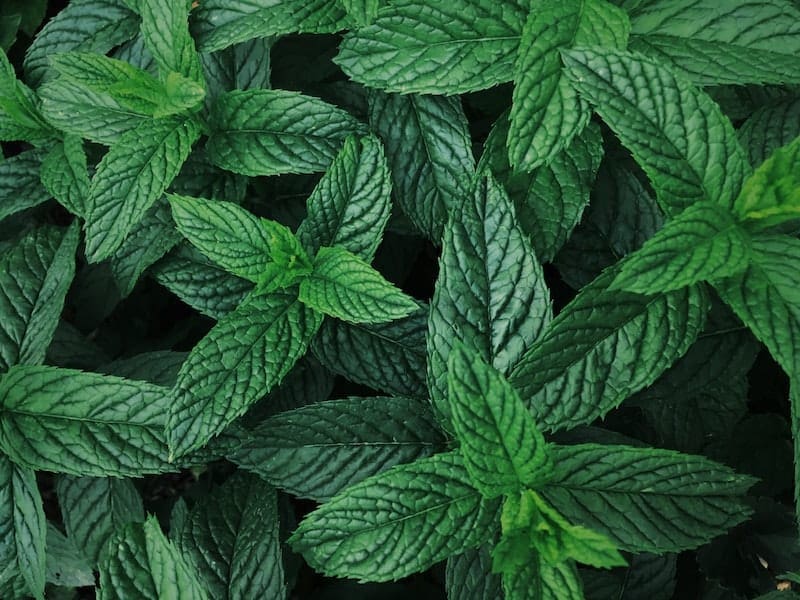 Coffee
This recipe uses strong brewed coffee as its base, and you can use any brewing method. Pull out your French press, Chemex pour-over, or drip machine. Or use an AeroPress or Moka pot for a more concentrated flavor! If you're a big espresso fan, you can pull a shot or two instead.
Sugar
The mojito cocktail combines white sugar with rum, mint, sparkling water, and lime. For the coffee version, we like to use brown sugar, which adds a little extra flavor along with the sweetness. But you can use white sugar, honey, agave, or any other sweetener if you prefer!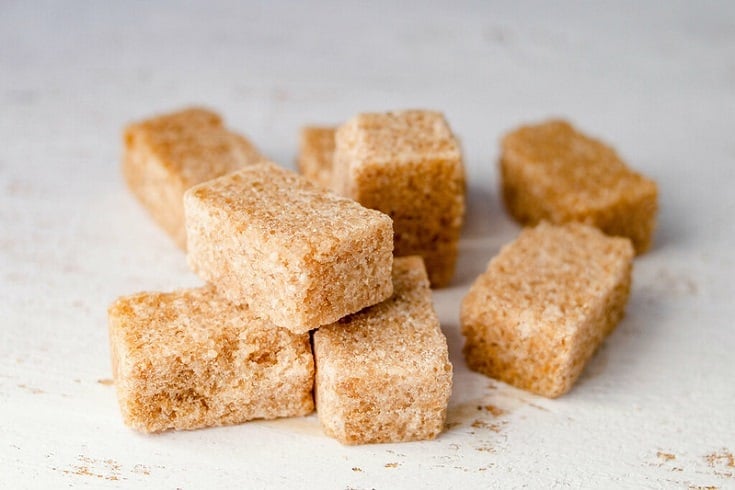 Ice
You can use regular ice cubes from your freezer's ice machine, but if you like truly flavorful coffee drinks, we have a suggestion. Make a batch of coffee ice cubes to keep in the freezer. You can add them to your iced coffee drinks all summer long and never worry about watered-down flavor!
Coffee Ice Cubes
We're going to show you how to make coffee ice cubes, which will cool your perfectly brewed coffee down without ruining the flavor. It's so easy and delicious, we guarantee you'll never look back!
Try this delicious recipe!


Enjoy Your Drink!
There you have it: a mint mojito coffee recipe that will knock your socks off. The fresh mint leaves provide an unusual pop of flavor, and shaking the drink in a cocktail shaker gives it an enjoyable frothy texture. This may just become your new favorite drink!
SEE ALSO:
---
Featured image: Rimma Bondarenko, Shutterstock