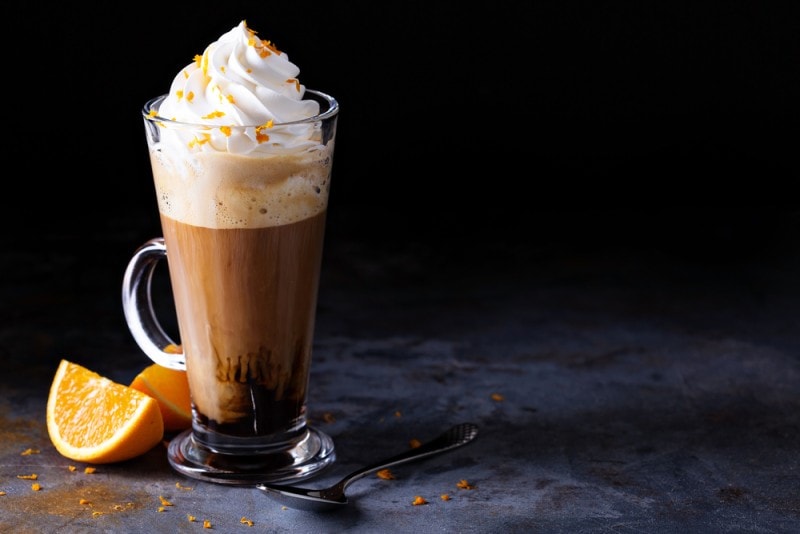 If you're a fan of "Zoolander" but you've never tried the movie's iconic Orange Mocha Frappuccino, it's time to correct that wrong! Sadly, this tasty drink isn't available at Starbucks anymore, but don't worry: it's easy to make at home.
Here's the easy orange mocha frappuccino recipe – deliciously inspired by the hilarious movie! Whether or not you're a fan of Zoolander, we know you'll love this citrusy, chocolatey treat.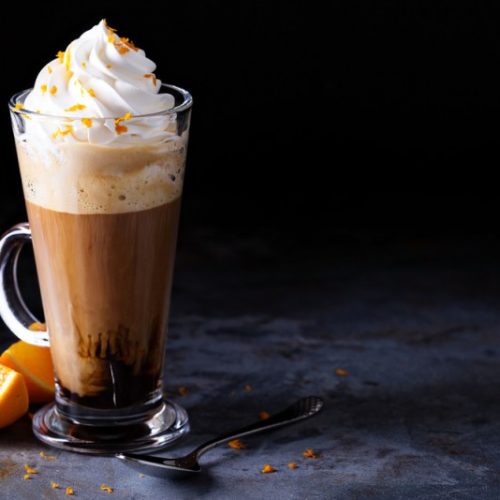 Orange Mocha Frappuccino
Ready for an unusual, unforgettably delicious coffee drink? The Orange Mocha Frappuccino is inspired by the movie Zoolander -- but you don't have to be a fan to love this combination of chocolate, coffee, and citrus!
Equipment
High-speed blender

2 tall glasses
Ingredients
2

cups

coffee ice cubes

½

cup

chocolate chips

½

orange

zested and juiced

1

tablespoon

chocolate syrup

¾

cup

milk

or chocolate milk

¼

cup

half-and-half

Whipped cream

optional
Instructions
If you're using coffee ice cubes, add them to your blender. If not, you can substitute 4 ounces of cooled espresso or 1 1/2 cups of cooled coffee and 1 cup of regular ice.

Add the chocolate chips and blend at high speed until smooth.

Pour in the rest of the ingredients (holding back a little orange zest) and blend until you get your desired consistency. Depending on the strength of your blender, this will take between 1 and 4 minutes.

Divide the mocha between two tall glasses. Top with whipped cream (optional) and a sprinkling of orange zest. Enjoy your beautiful, unusual drink!
Nutrition

Orange Mocha Frappuccino Recipe Variations
The base orange mocha frappuccino recipe is already pretty over-the-top, but you can always adapt it! Here are some delicious ideas:
Toppings
You can't go wrong with whipped cream on top of a frappuccino. It adds a decadent creamy flavor to your frozen coffee, and you can sprinkle your favorite flavorings on top! This might include orange zest, chocolate chips, chocolate sprinkles, chocolate syrup, or white chocolate chips. One topping we highly recommend? A slice or two of a holiday chocolate orange!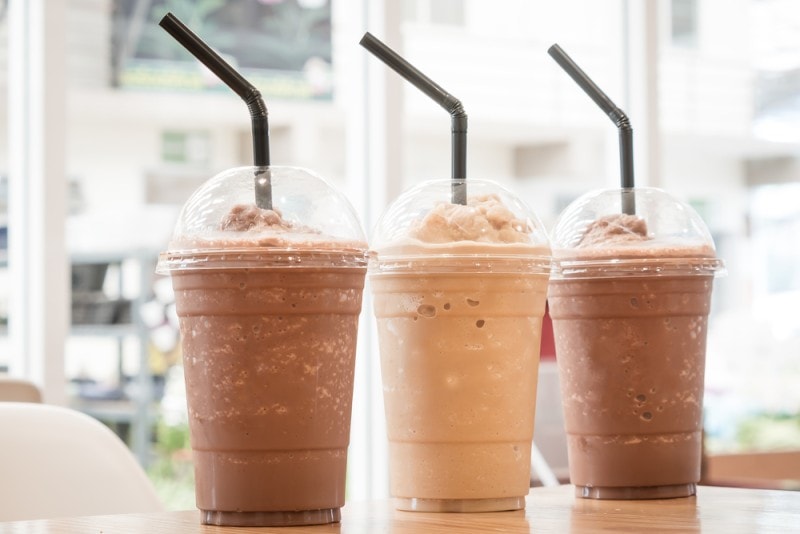 Milk
Any kind of milk will work for this recipe, and you can skip the half-and-half for a lighter drink. Or try using coconut milk, almond milk, or oat milk for a vegan-friendly, non-dairy frappuccino!
Coffee Ice Cubes
We recommend using coffee ice cubes for the best-tasting orange mocha frappuccino. They're easy to make (though you'll have to wait a few hours for them to freeze) and will help you avoid watering down the drink's flavor with regular ice.
Coffee Ice Cubes
We're going to show you how to make coffee ice cubes, which will cool your perfectly brewed coffee down without ruining the flavor. It's so easy and delicious, we guarantee you'll never look back!
Try this delicious recipe!

Of course, there are plenty of other options if you don't want to wait for the ice. Brew regular coffee or pull two shots of espresso and let it cool. Then combine regular ice with the coffee in your blender. Delicious!

Final Thoughts
Ready to start brewing? The Orange Mocha Frappuccino was invented by the movie Zoolander, but that doesn't mean you can't try it at home! We hope you enjoy this easy recipe for a mind-blowing chocolate orange mocha.
RELATED RECIPES:
---
Featured image credit: Elena Veselova, Shutterstock