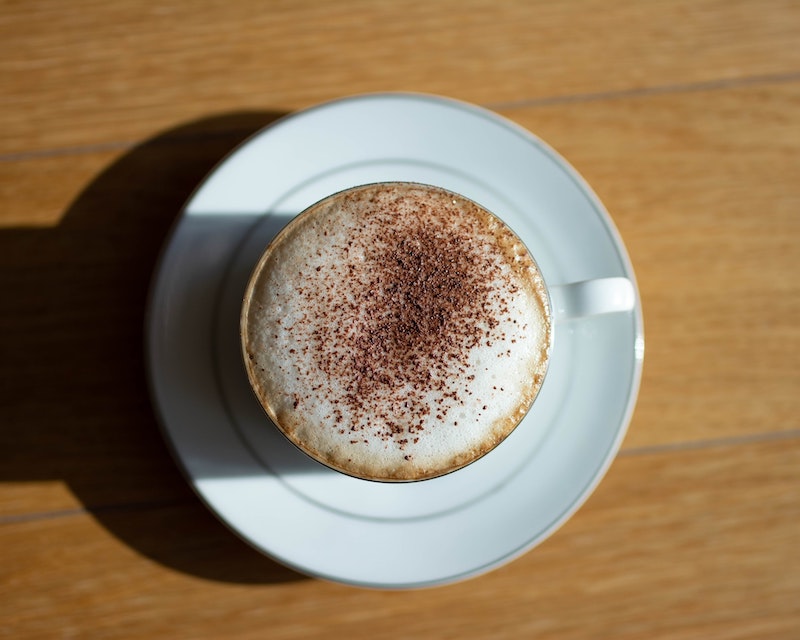 Lattes are velvety and bold, the perfect pick-me-up on a drizzly morning or snowy afternoon. But if you don't drink regular milk, you may have written off this delicious treat. Luckily, there's a lower-calorie, plant-based milk option that you may not have tried: oat milk!
You can easily whip up a creamy, low-calorie latte with frothy oat milk and bold espresso. Try this simple oat milk latte recipe to see what non-dairy milk can do: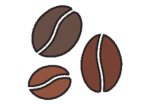 What is oat milk, anyway?
Oat milk is low in fat, high in fiber, and completely dairy-free. Like almond milk, it's a popular choice for vegan, lactose-intolerant, and dieting people.
Oat milk is made by blending rolled oats with water and then straining out the larger pieces. It has fewer nutrients than you'd find in the oats themselves, so store-bought oat milk often has added vitamins, calcium, and iron. If you make it at home, you can add a little maple syrup and vanilla to improve the flavor.
---
Delicious Oat Milk Latte
Oat milk lends dairy-free creaminess to a classic latte -- and luckily, oat milk lattes are truly easy to make! Add a splash of maple syrup or honey for a slightly richer taste.
Equipment
Espresso machine (or stovetop espresso maker)

Stovetop and pan or microwave and bowl

Milk frother or mason jar

Coffee mug
Ingredients
1

ounce

coffee beans

finely-ground

2

ounces

filtered water

1

cup

oat milk

1

teaspoon

maple syrup or honey

optional

Cinnamon or cocoa powder

optional
Instructions
Make two shots of espresso with your espresso machine or stovetop Moka pot. If you don't have an espresso maker, you can substitute ½ cup of strong brewed coffee.

Heat your oat milk in a pan on the stove over medium-low heat, stirring constantly. You can also heat it in a bowl in the microwave, using short 15 to 20-second bursts to avoid burning or boiling it. If you want to use maple syrup or honey for a touch of sweetness, add it in now.

Froth your oat milk using a milk frother, milk steamer, or lidded mason jar. You want the milk to double in size with froth.

Pour the espresso into a coffee mug and add the warm oat milk on top. Spoon the milk froth on last.

Garnish with cinnamon or cocoa powder if you'd like. Your tasty oat milk latte is ready to drink!
Nutrition

Delicious Oat Milk Latte Variations
Now that you know the basic recipe, it's time to experiment! Here are a few ways you can turn a simple oat milk latte into the oat milk latte of your dreams:
About That Oat Milk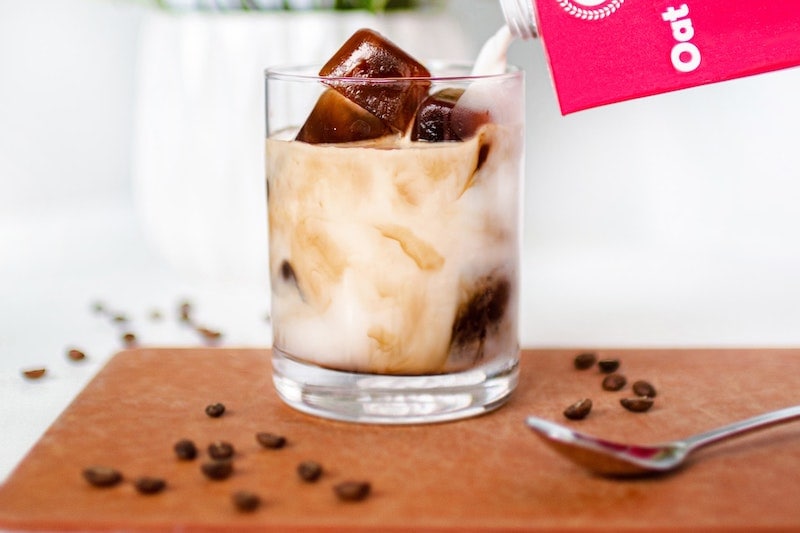 These days, there are several high-quality oat milk brands available in a lot of grocery stores. But you can take your oat milk latte game to the next level by making homemade oat milk! The process is simple, and you can add flavorings like cocoa powder, pumpkin spice, caramel, or mint.
The Coffee
The boldness of a good espresso shot is the centerpiece of a delicious latte, so if there's one place you're going to focus your energy, it should be the coffee. Choose a high-quality dark roast coffee bean (like Lifeboost's gourmet low-acid beans) and grind it just before you start brewing. Using a full espresso machine will get you the best results, but you can also try a portable espresso maker (we like the Wacaco Minipresso), stovetop Moka pot, or even an AeroPress.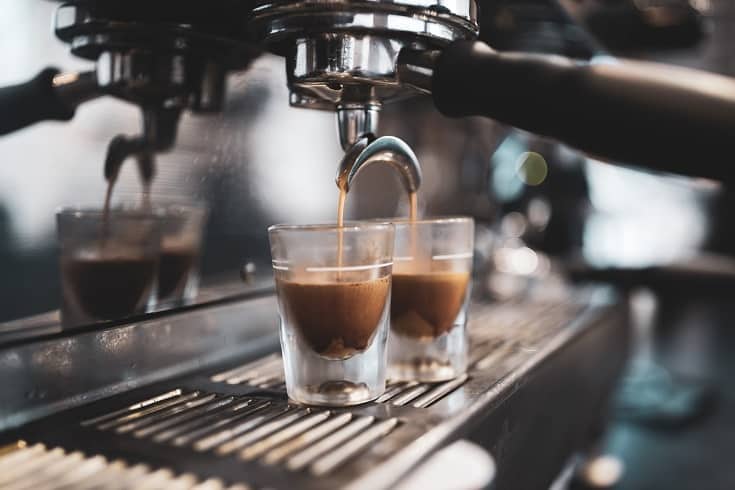 If you don't have an espresso maker, you can use brewed coffee instead. We recommend making your coffee extra-strong — to approximate espresso and balance well with the creamy oat milk — and using about half a cup.
Extra Flavor
Classic oat milk lattes are plenty delicious by themselves, but sometimes you want more than just coffee and milk. This is where you can get creative with fun toppings and mix-ins. Add a little molasses and ground ginger for an oat milk gingerbread latte, or mix in cocoa powder and chocolate syrup for a tasty mocha. A spoonful of pumpkin spice can turn a classic latte into a fall delight, and you can also experiment with other spices like cinnamon, cardamom, or nutmeg. Enjoy your delicious experiments!

Oat Milk Lattes: The Bottom Line
There you have it: a simple, foolproof oat milk latte — and a whole lot of brewing tips and variations! Simple, plant-based ingredients like rolled oats and maple syrup are delicious with rich espresso. This oat milk latte recipe may just become your go-to.
RELATED READS: