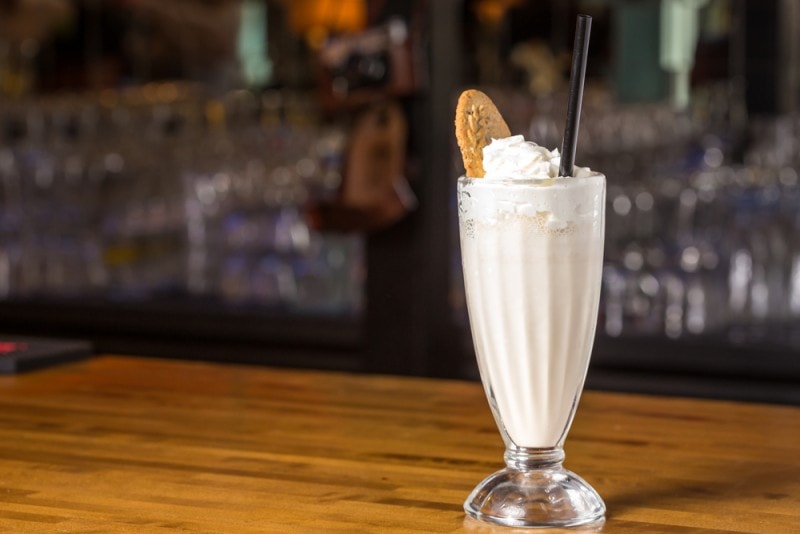 One of the tastiest coffee beverages that is lacking coffee is a vanilla bean frappuccino. These delicious, creamy drinks are a popular favorite, but they typically require a drive to the nearest Starbucks or other location that sells this ice cream wonder.
What if we could make it at home, though? Well, we can! In this article, we have found a great copy-cat recipe for the famous vanilla bean frappuccino. We will share some little-known facts about the drink, plus two great recipes you can make in the comfort of your own home.
If that was not enough, we have also given a few variations on this half frappe that will take it from your favorite specialty drink to your ride or die for life. Keep scrolling to find out the scoop!

What Is a Frappuccino?
Did you notice that we mentioned above that the vanilla bean frappuccino doesn't have any caffeine in it? Many people that are not familiar with the drink are unaware of this fact, and it's probably because it's typically sold in coffee houses.
Another fun fact is that there is no such thing as a frappuccino in Italian coffee circles. The term "frappuccino" actually comes from the New England word "frappe" (pronounced frap) which means milkshake and the word cappuccino.
The original frappuccino was made in a small coffee house in Boston where the term was coined. In 1994, however, Starbucks bought the shop and trademarked the name. This is likely why most people associate the drink with coffee.
Making a Vanilla Bean Frappuccino
There are a lot of variations of this popular drink. We have outlined a good one below that will be easy to make at home with a few simple ingredients and appliances.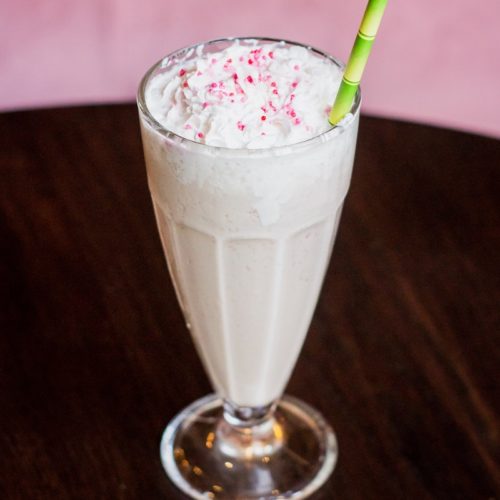 Vanilla Bean Frappuccino Recipe (Starbucks Copy-Cat)
If you want to get as close as possible to the original Starbucks Vanilla Bean Frappuccino, we have found a recipe that will get you extremely close to the real thing. This recipe is made for one, but you can always double, triple or quadruple the ingredients when need be.
Equipment
Blender

Ice cream scoop

Tall glass
Ingredients
1½

scoops

vanilla bean ice cream

1½

cups

milk

or cold coffee

5 to 6

ice cubes

whipped cream

optional
Instructions
Start by adding 1½ healthy scoops of vanilla bean ice cream to your blender. We suggest going with vanilla bean versus golden vanilla or other variations. This will get you closest to the taste you are used to.

Next, add 1½ cups of milk to the ice cream. You can make it a caffeinated frappuccino by using cold coffee instead.

Give that a quick blend on low.

Remove the cap and add 5 to 6 ice cubes, and blend it starting on low and working up to high for about a minute. It can help to stop halfway through and scrape from the sides.

When you are done mixing, pour into a tall glass. Add whipped cream to the top and enjoy!
Nutrition

Other Variations
There are many variations of this recipe, but the one above is the most popular. Of course, you don't have to leave it to just those ingredients, either. Vanilla bean is the perfect complement for many flavors that you can incorporate into your frappuccino. Take a look at our favorites below.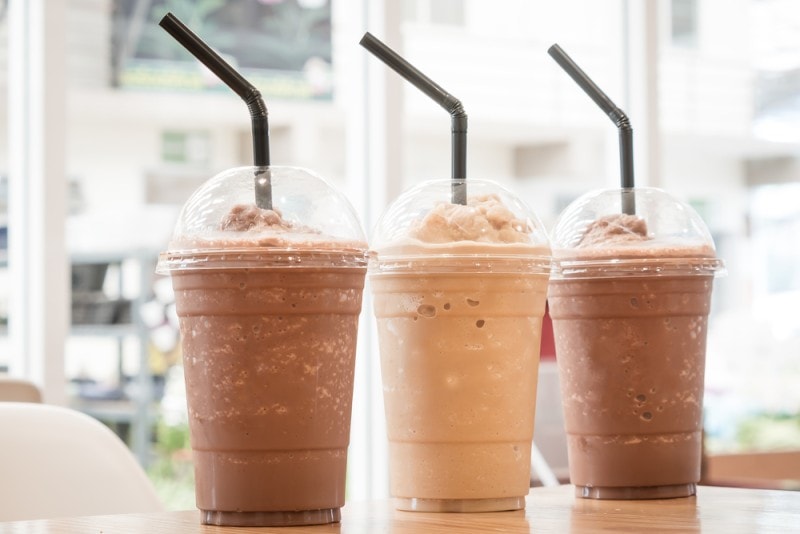 Cherry Vanilla Frappuccino
Nothing is more classic than a cherry vanilla concoction. To turn your vanilla bean frappuccino into this fruity drink, we suggest using the above recipe and simply adding in a handful of fresh cherries. Just remember, you will have to cut and remove the seeds.
Caramel Delight
This is another favorite of ours, but this one we like with the added coffee. There are a few ways to add caramel. You can use caramel syrup or sauce, but melting down caramel candy (chewy) gives you the best taste. If you want to add some swank to the frappuccino, add toffee instead of caramel.
Almond Vanilla
If you are craving something sweet but want to stay healthy, this is a great option. First, swap out the milk for almond milk. You can also add a few drops of almond extract to the mix. The almond milk cuts the fat and calories while giving you a great taste. Low-fat ice cream and whipped cream are other ways to stay on track.
Creamsicle Frappuccino
There is nothing more nostalgic or delicious in the summer than a creamsicle. Not only is it so good, but it's simple to make with the above recipe. All you have to do to turn your vanilla bean into orange vanilla is by using one part milk and one part orange. This is a great option for kids, as well.
Vanilla & Honey
If you want a homey feel, try the vanilla and honey version of this drink. All you have to do is add two tablespoons of honey to the mix. Keep in mind, we suggest you start with two tablespoons and continue to add as you see fit.

Conclusion
We hope this article has been the answer to your vanilla bean frappuccino questions. If you weren't sure you could make it at home, follow the simple recipes above, and you will find that you can make it as close to your favorite variation as you like. While you are at it, give one of the other recipes a shot. You never know which flavor combo is your next favorite!
RELATED READS:
---
Featured Image: Eduard Zhukov, Shutterstock