Our Final Verdict
We give Coffee Bros. a rating of 4.4 out of 5 stars:
Flavor
Quality
Resources
Ease of Use
Price
Coffee Bros. Review At a Glance
Here at Coffee Affection, we're always on the hunt for great coffee roasters. So when we came across Coffee Bros., we couldn't resist taking a closer look. What's this company all about, and how delicious is their coffee?
We sampled many of Coffee Bros.' signature blends, including roasts from light to espresso and beans roasted just for cold brew. The verdict? They were delicious, aromatic, and fresh. The packaging is well-designed, the beans are easy to order through Amazon, and a portion of the profits goes toward planting trees.
Are there any drawbacks? For one thing, you'll need a grinder — Coffee Bros. doesn't sell pre-ground beans. And one of this company's missions is to never over-roast a coffee bean, so if you love truly dark roasts, this coffee may not be for you. Luckily, Coffee Bros. does a great job on the lighter side, delivering complex and delicate beans that have been small-batch roasted on demand.
A Quick Look at Coffee Bros.
Pros
Choice of four roast levels
Small batch roasted on demand
Conveniently available through Amazon
High-quality stay-fresh packaging
Single-origin, blends, cold brew, and decaf available
One tree planted for every five bags ordered
Delicious, fresh flavor
Cons
No pre-ground options
May be too light for dark roast lovers
Not available internationally (yet!)
The Company
As the name suggests, Coffee Bros. was started by two coffee-loving brothers. It's based in Queens, New York, and was founded on the principle that coffee beans should never be over-roasted. This is great news if you're a fan of medium and light roast coffee — you'll never have to worry about your favorite delicate flavors getting burnt to a crisp!
The company small-batch roasts coffee beans on demand, ensuring that you'll receive fresh coffee. It ships small quantities to Amazon — avoiding the potentially stale beans you sometimes get from other roasters.
To maintain the best possible coffee flavor, Coffee Bros. ships its green beans in high-quality GrainPro bags, which keep mold and moisture out of the raw coffee. Plus, the company partners with One Tree Planted to plant a tree for every five bags of coffee sold. As if we needed another reason to stock up on beans!
Coffee Bros. doesn't offer an official guarantee, but if you do encounter an issue, try reaching out! This small company offers responsive, friendly customer service. And unfortunately, they only ship to the contiguous US.
The Coffee
Now for the most important part: brewing the beans. We tested Coffee Bros.' coffee using several of our favorite brewing methods, and we were impressed. The beans are immensely aromatic and, true to the company's promise, don't arrive overly roasted.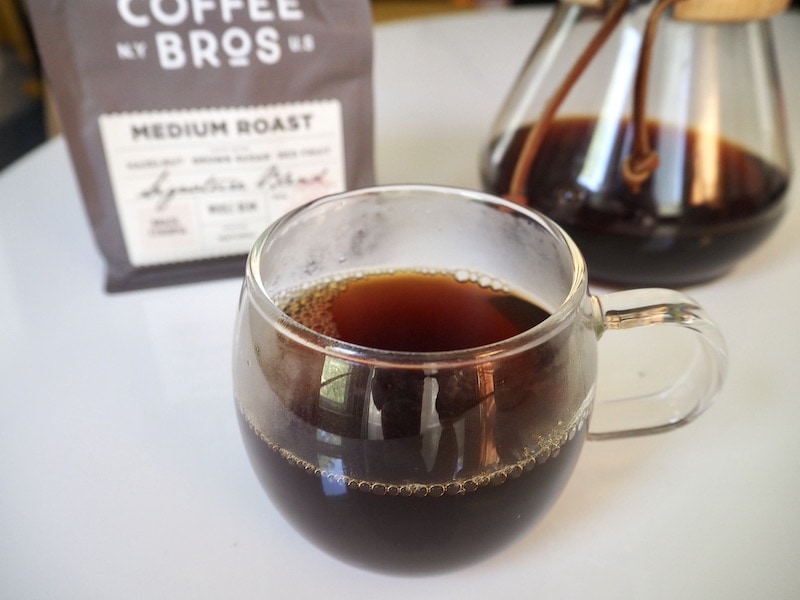 Hot Coffee
To get a good sense of Coffee Bros.' range, we sampled the Light, Medium, and Espresso Roasts. At the most complex end, the Light Roast was delicate and undeniably delicious. With tasting notes of honey, citrus, and flowers, this blend of Ethiopian and Colombian beans was just what we were looking for.
The Medium Roast, which is a blend of Ethiopian and Brazilian beans, has tasting notes of hazelnut, brown sugar, and red fruit. It had an intense, almost grape-like aroma, but when brewed, the coffee was smooth, rich, and incredibly easy to drink.
The Espresso Roast is lighter than you might expect — but keep in mind that espresso is a preparation method, not a type of bean or roast. Espresso beans are often dark, but they don't have to be. This blend is a mix of Colombian and Ethiopian coffee beans and offers interesting notes of vanilla, strawberry, and sugar cane. It was especially delicious when brewed using an AeroPress.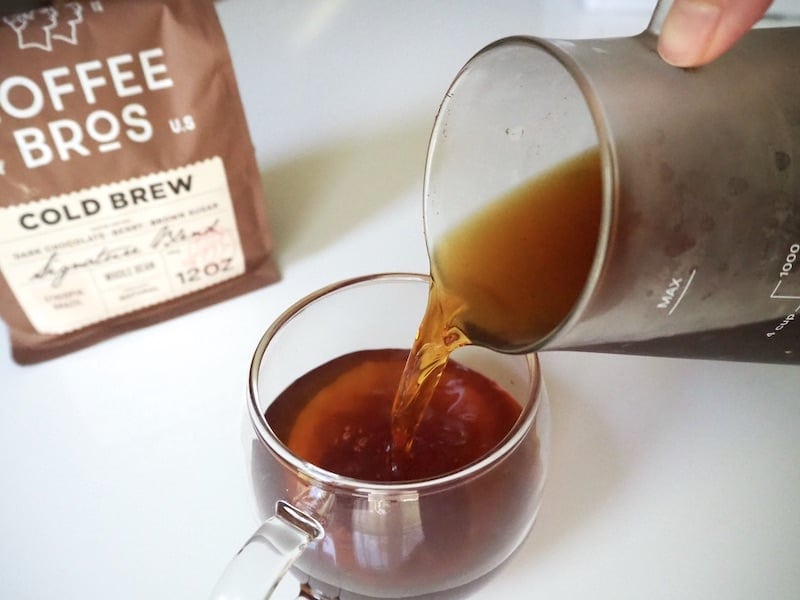 Cold Brew
This coffee is specifically roasted for the cold brew method. It has notes of dark chocolate, berries, and brown sugar and contains beans from Ethiopia and Brazil. To test it, we made cold brew in the Ovalware RJ3 Cold Brew Coffee Maker.
What was the result? Our cold brew came out smooth, strong, and deeply chocolatey, with a surprisingly bright flavor. In a word? Delicious.
The Packaging
Coffee Bros. excels at packaging, managing to offer all of the nice-to-haves we look for. The nicely designed bags are both functional and attractive, with fun patterns, tasting notes, degassing valves, and resealable tops. What does that mean for you? Keeping your beans fresh is a snap, and the coffee bags can double as kitchen decor. The bags also come with roasted dates (some hand-written!), so you can easily check how fresh your beans are.

The Verdict
So what did we think? Coffee Bros. offers a great selection of complex, tasty beans. You can choose between four roast levels, several single-origins, and even a cold brew-specific variety.
It's conveniently available through Amazon, and the company keeps a tight inventory to ensure freshness. The packaging is beautiful and practical (a rare combination), and your purchase goes toward planting trees!
You may not love Coffee Bros. if you prefer dark roasts. This company excels at complex lighter roasts but doesn't offer anything truly dark. Still, it's fairly priced, delicious, and gourmet. What's not to like?