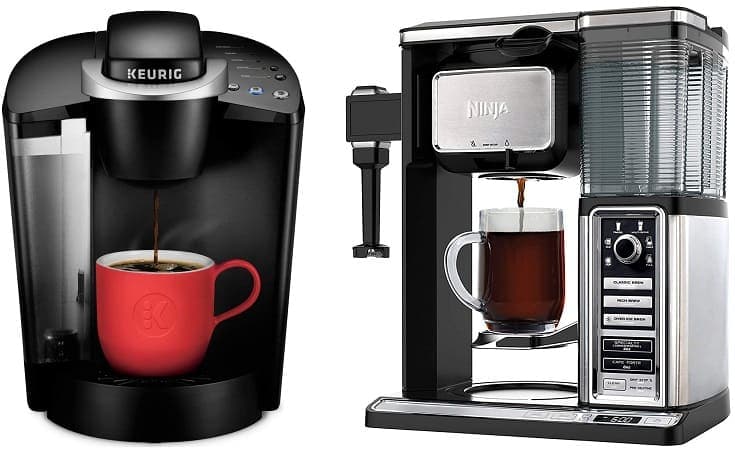 Image
Product
Details

Keurig K55

Very fast and easy
Clean-up is a breeze
A ton of premade coffee pods to choose from

Ninja Coffee Bar Auto-iQ

Many different brewing options
Convenient timer and heating settings
Built-in frother
If you're in the market for a new coffee maker, you've probably come across the Keurig and Ninja brands as they both make popular machines for at-home use. Both are more than capable of making a good cup of coffee, but there are a few key differences. So, which one is right for you?
Let's take a close look at everything you need to know in order to choose the best machine for you. We break down and compare price, features, and ease of use for each model and give you our final verdict at the end. Without further ado, let's get started!

Keurig Overview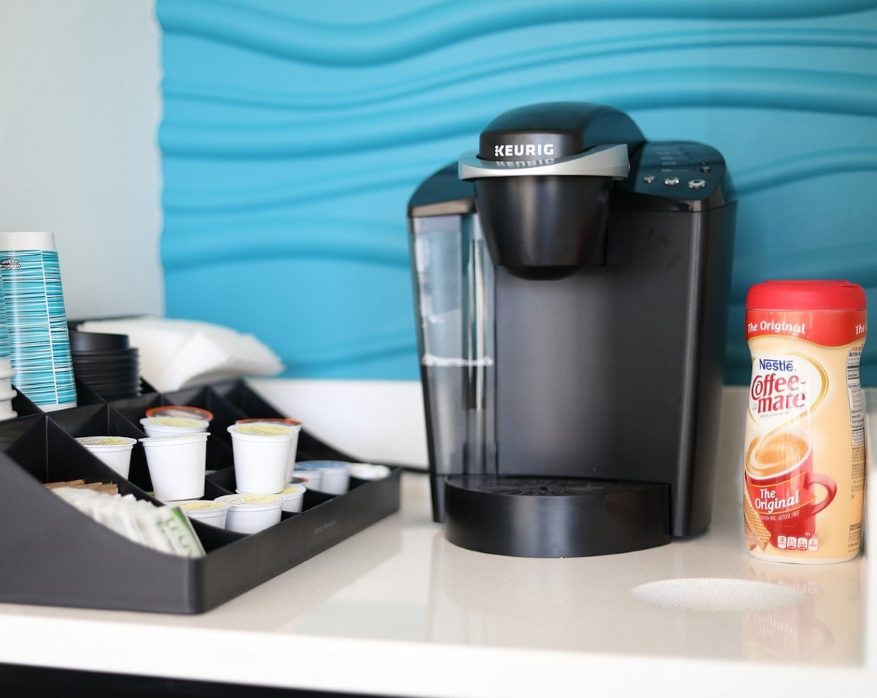 Keurig is a household name in the world of coffee. Many people choose Keurig as their go-to machine to get their morning dose of java, and if you've ever worked in an office, chances are there was a Keurig in the break room.
Keurig's popularity comes primarily from its ease of use and the wide variety of coffee compatible with the machines. Keurig uses pods, which makes preparing a cup as simple as popping in a pod and pressing a button. It doesn't get any simpler than that.
Clean-up is just as easy. Simply toss the used pod in the garbage and you're done. If you are environmentally conscious and don't want to throw away a plastic pod each morning, there are reusable pods available for purchase. Not only does this cut down on waste, but it also opens up unlimited options since any type of ground coffee is suitable for use with a pod.
Keurig is a good choice for making single cups at a time. More than one serving can be a bit of a hassle since you need to wait for the first cup to finish before you can start making the next.
A nice feature is a Keurig can be used to boil single servings of water quickly. This makes it perfect for making a quick cup of tea or another hot beverage.
Choose from our 8 favorite Keurig coffee makers!
Pros
Very fast and easy
Clean-up is a breeze
A ton of premade coffee pods to choose from
Great for making single cups
Doubles as a handy water boiler
Cons
Multiple cups take a long time to make
Only suitable for filter style coffee
Plastic pods are wasteful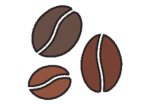 Ninja Coffee Bar Overview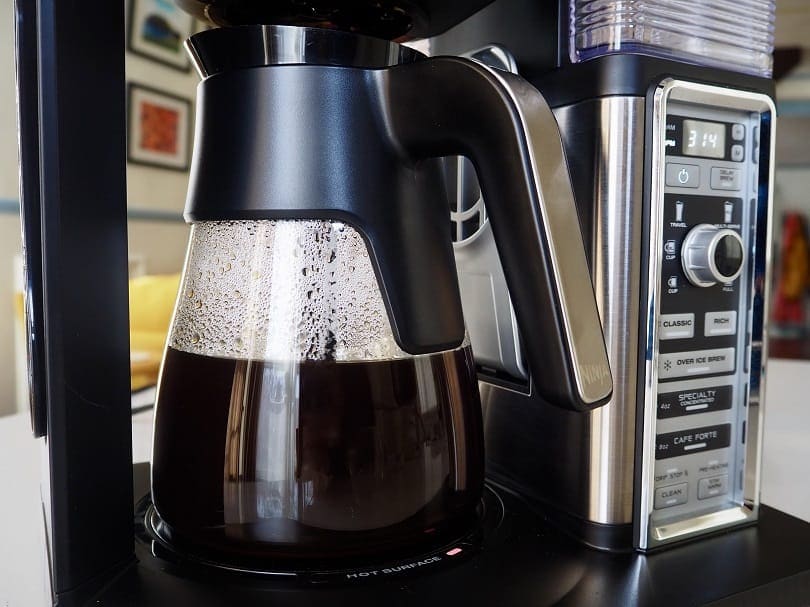 The Ninja Coffee Bar takes a different approach to making coffee at home. Where Keurig is focused on a streamlined process aimed at making your morning routine quick and easy, Ninja instead focuses on offering a feature-rich machine with unbeatable versatility.
You can choose a variety of brew sizes from a single cup all the way up to a full carafe, which is perfect for making large batches when you have company.
There are also several different strength settings, a warming setting to keep large brews hot, and a delay timer for waking up to an already made cup. An especially nice feature is the built-in milk frother. If you're an espresso aficionado, it is very convenient having a frother on hand at all times.
There is a tradeoff. The increased number of settings and options comes with a higher degree of complexity. It's not that the Ninja Coffee Bar is necessarily hard to use, but there is more of a learning curve than a base Keurig model.
To fit all those great options into one machine, it does have a pretty large footprint. If counter space is tight, it might not be the best option for you. Still, if you can make room for it, you'll have a one-stop shop for all your coffee-making needs.
Read our full review of the Ninja Coffee Bar!
Pros
Many different brewing options
Convenient timer and heating settings
Built-in frother
Use with any coffee out of the box
Cons
Less intuitive
A bit on the expensive side
Large size takes up a lot of space

Keurig vs Ninja Coffee Bar: A Head-to-Head Comparison
Now we're going to look at both Keurig and the Ninja Coffee Bar side by side, one aspect at a time, to give you a sense of which is better for you overall.
Cost
Edge: Keurig
This is the most straightforward category, and the bottom line is the basic Keurig model is a budget friendlier option. However, when you compare the number of options each has, it's a much closer contest. For the money you pay, you get more bang for your buck out of the Ninja Coffee Bar. If price is the most important consideration for you, Keurig is the way to go.
RELATED: Keurig vs Drip Coffee Maker: What's the Difference?
---
Features
Edge: Ninja Coffee Bar
There really is no comparison here. The Ninja Coffee Bar blows the standard Keurig models out of the water when it comes to the number of options you have.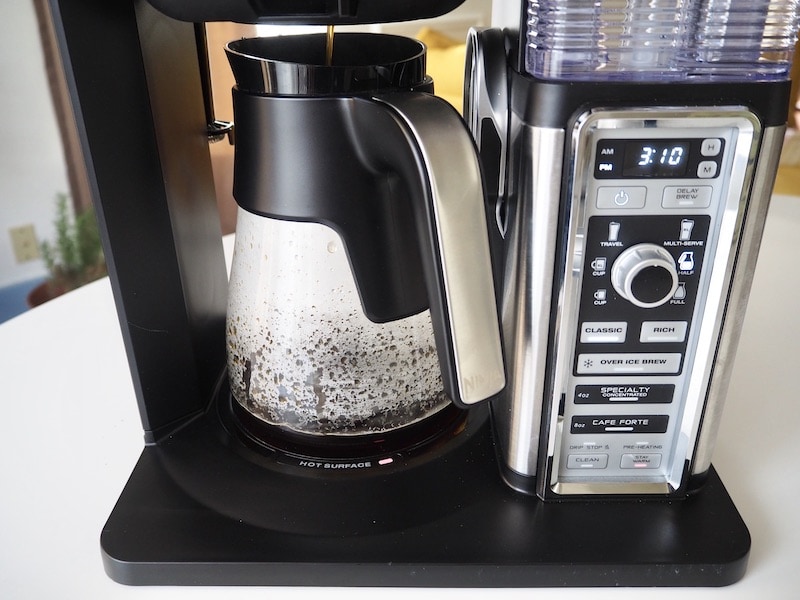 If you like a variety of different styles of coffee, regularly make different sized batches of coffee or indulge in the occasional espresso, the Ninja is the right choice. Keurig does offer higher-end models with more features, but you'll wind up paying more than you would for the Ninja. Keurig shines when the focus is on single-serve coffee.
RELATED READ: 15 Delicious Ninja Coffee Bar Recipes to Try Today!
---
Ease of Use
Edge: Keurig
Keurig reigns supreme when it comes to set it and forget it coffee making. The pods make it fast and simple to make coffee with just the push of a single button. Cleaning is just as simple since there is little to do in the way of maintenance, thanks to the pod system. The Ninja can't compete in that regard, and the menu of options can be a bit confusing to navigate until you get used to it. If you are looking to stumble out of bed and be drinking coffee less than 5 minutes later, the choice is Keurig all the way.

Which is Right for You?
If money is not a factor for you, we recommend the Ninja Coffee Bar. It's packed with brewing options, has numerous convenience features like a warming tray and brew timer, and comes with a built-in frother. On the other hand, the wide array of options necessarily increases the complexity and makes the Ninja harder to use than the Keurig. If simplicity is what you're looking for, the Keurig is the machine for you. The pod system is extremely user-friendly and makes brewing coffee and cleanup quick and painless.
So, there you have it! The Ninja Coffee Bar and Keurig coffee makers target different types of coffee drinkers, so which is best for you ultimately comes down to personal preference. Both can make great coffee, but which you prefer depends on whether you value ease of use or number of options more. We hope this sorted out any confusion you had and helps you choose the right machine for your coffee needs!
More great reads: