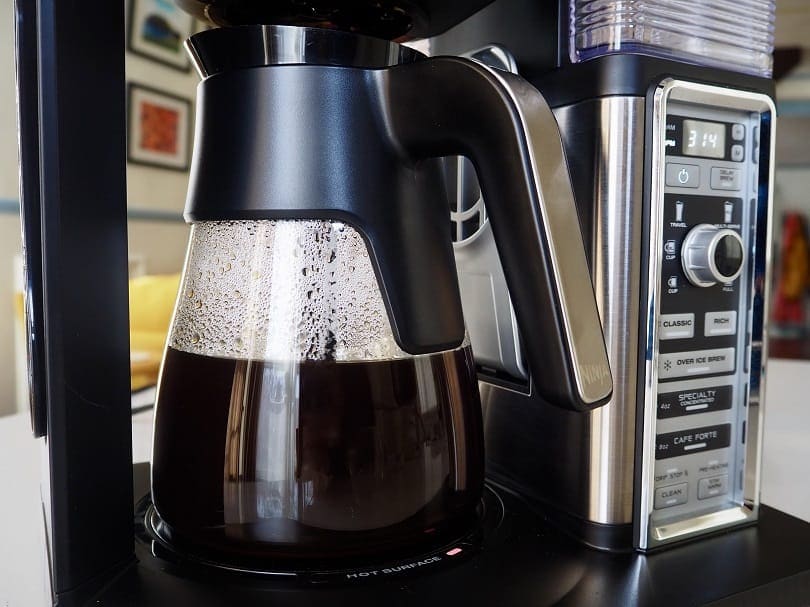 Our Final Verdict
We give the Ninja Coffee Bar a rating of 4 out of 5 stars.
Build Quality
Features
Price
Ease of Use
Cleaning
Ninja Coffee Bar — A Quick Look
If you're shopping for a feature-heavy coffee maker, the Ninja Coffee Bar deserves a look. To help you decide if it's right for you, we tested it and put together this review.
Overall, this coffee machine is nicely designed and offers many features. Though it's bulky, the various pieces fit together well, giving the machine a streamlined feel. We particularly liked the easy to read water reservoir, high-quality permanent filter, and effective drip-stop feature.
The Ninja Coffee Bar does have a few drawbacks, however. The interface is complicated and not fully intuitive, with many buttons and dials. The machine as a whole is made of plastic, which feels sturdy but not particularly high-end.
Pros
Many brew settings and features, like an automatic frother
Pieces fit together nicely, with a streamlined feel
Well-designed removable water reservoir
High-quality permanent filter and effective drip-stop
Cons
Complicated, non-intuitive interface
Plastic construction
Somewhat pricey
| | |
| --- | --- |
| Brand: | SharkNinja |
| Product Type: | Drip coffee system with a milk frother |
| Settings: | Classic, rich, over ice, Specialty, and Cafe Forte |
| Serving size options: | Cup, XL cup, travel mug, XL multi-serve, half-carafe, and full carafe |
| Water reservoir capacity: | 60 ounces |
| Color: | Black and silver |
| Product dimensions: | Height: 15″ x Width: 11.34″ x Depth: 9.21″ |
| Product weight: | 12.73 pounds |
| Dishwasher-safe parts: | Yes |

Our Ninja Coffee Bar Review:
To help you decide if the Ninja Coffee Bar is the right drip coffee system for you, we looked carefully at major features like what it looks like, how the settings work, and what comes in the box. We also tested how easy it is to clean and how sturdy it feels. What was our final verdict? Keep reading to find out! And if you still have questions, take a look at our list of frequently asked questions at the end.
---
Appearance
The Ninja Coffee Bar is a decent-looking appliance made largely of black plastic, with some metal accents. It's tall and fairly heavy, so you'll probably want to give it a designated spot on your counter.
Despite its large size, this coffee maker is impressively streamlined. The frother swings in and out and the cup platform folds up when you don't need it. The filter basket rotates as you slide it so that the handle stays conveniently positioned.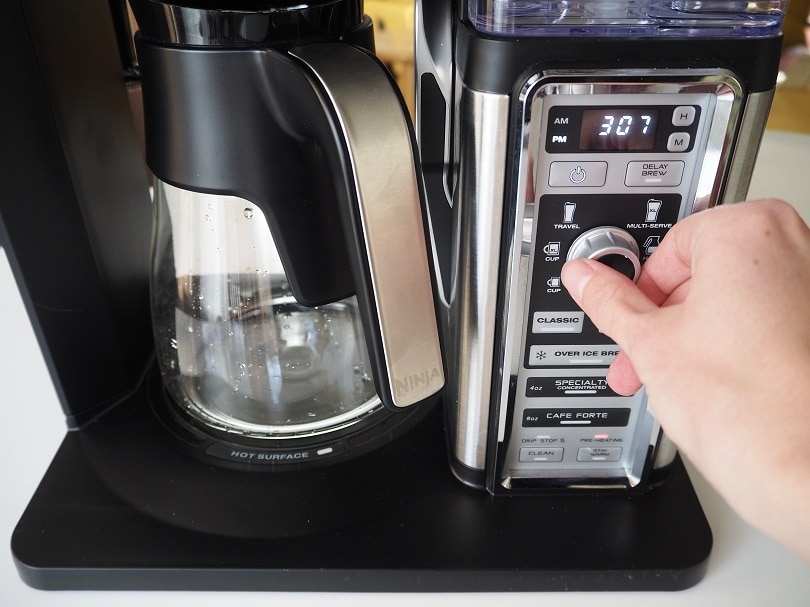 Interface and Settings
The Coffee Bar has a large, somewhat complicated interface that offers quite a few brewing options. Using a simple dial, you can choose the serving size, including cup, large cup, travel mug, large multi-serve, half-carafe, and full carafe.
For a basic brew, you can choose between Classic and Rich concentration levels. There's also an over ice option and two additional strong brew settings: Specialty (four ounces) and Cafe Forte (eight ounces). The Ninja uses a patented Auto-IQ system to determine how much water to use for each setting.
There is also a clock with a brew delay timer. If you want to keep your carafe of coffee hot, hit the Stay Warm button. As for indicators, there are automatic Clean, Drip Stop, and Pre-Heating lights.
Unfortunately, this interface doesn't include intuitive buttons to start, pause, or cancel brewing. You'll probably need to spend some time with the user guide to fully understand your Coffee Bar's features.
SEE ALSO: Ninja Coffee Bar Keeps Shutting Off? Here's the Fix!
---
Water Reservoir
The Coffee Bar's 50-ounce (10-cup) water reservoir is made of clear plastic, with convenient, easy to read measurements printed on the side. These measurements cover all of the available cup sizes, including travel mugs and half-carafes, so you won't have to do any math.
There's a flip-top lid that stays out of the way while you're filling the tank, and you can easily remove the reservoir to fill or clean it.
Carafe
The Ninja Coffee Bar we reviewed comes with a 50-ounce glass carafe. It has a screw-on lid that directs brewed coffee down to the base of the carafe. This keeps the coffee mixed as it brews, helping to ensure that it stays heated throughout.
This carafe is easy to pour and impressively dripless. The glass feels high quality, and there's a large, well-designed plastic handle with metal accents.
Below the carafe, there's an intelligent warming plate, which turns on automatically when you brew into the carafe. This smart heating plate will adjust its temperature to keep your coffee hot without burning it. Not sure if it's hot? There's a hot surface indicator to prevent burns.
WORTH READING: Should you buy a Ninja Coffee Bar or a Nespresso? We investigate.
---
Milk Frother
The Ninja system includes an automatic milk frother with a detachable whisk. To use it, you push the button on the top, holding the whisk just below the milk surface.
We found the Ninja's frother simple to use and effective. Even better, it folds into the side of the machine, which is handy when you're brewing a regular pot of coffee.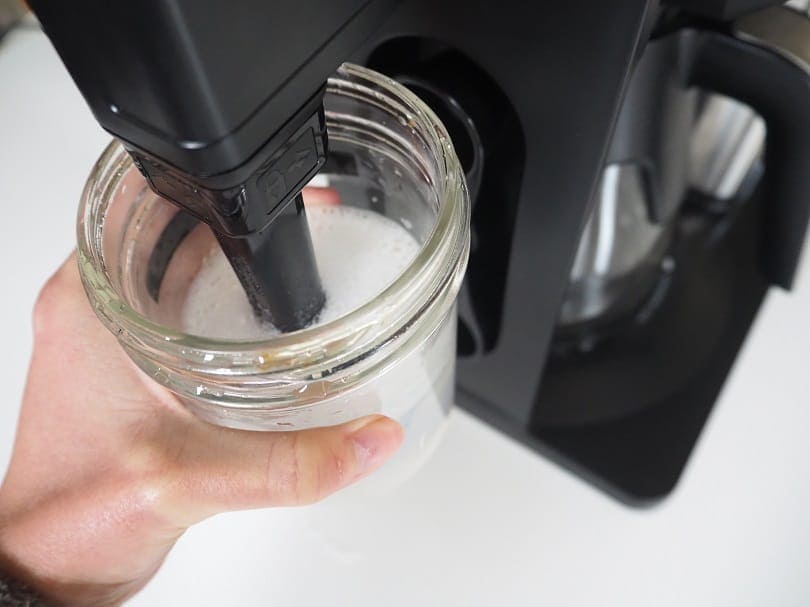 Coffee Scoop
The Ninja Coffee Bar comes with a two-sided scoop for easy measuring. The larger side is designed for carafes, half-carafes, and the concentrated settings, while the smaller side covers cups and travel mugs. To help you add the right amount of coffee grounds, the scoop is conveniently labeled with serving suggestions.
When you're not using it, the scoop hangs from the side of the Coffee Bar. This thoughtful design means you won't misplace your handy, dishwasher-safe coffee tool!
---
Cleaning
One of the best features of the Ninja system is how many pieces can be removed for cleaning. The water reservoir slides off easily, and the filter holder and permanent filter can be quickly pulled apart. The milk frother slides off for cleaning, as well.
The brew-through lid, carafe, and water reservoir are all dishwasher-safe (on the top rack). To extend the life of your Ninja Coffee Bar, you may want to hand wash, instead.
Better still, this coffee maker features a smart cleaning and descaling process, activated by a dedicated button. It takes about 60 minutes and requires a descaling solution or a mixture of white vinegar and water.
RELATED READ: How to Clean Your Ninja Coffee Bar (Fast & Easy)
---
Durability
Though the Ninja Coffee Bar seems sturdy and durable, it's a fairly complicated coffee maker, with a few pieces that may break down over time. We found some reports of the water reservoir breaking down. Plus, the Coffee Bar is largely made of plastic, which isn't as durable as stainless steel.
Luckily, Ninja offers quite a few low-cost replacement parts and accessories, including water reservoirs, coffee scoops, and carafes. This coffee maker also comes with a one-year warranty, though you may have to pay a shipping fee.

The Verdict
What's the bottom line? If you have room in your kitchen and budget, the Ninja Coffee Bar could be a great option. It offers a wide range of serving sizes and brew settings, including extra-concentrated and over ice options. There's also an automatic milk frother, a high-quality glass carafe, and a permanent filter for paperless brewing.
If you're on a tight budget or don't have a lot of room, you may want to look at more streamlined drip coffee makers. You may also not like the Ninja system if you don't want to learn a complicated interface and don't need a lot of features and settings. This coffee system is large and made mostly of plastic, and unfortunately, some of the accessories aren't especially durable.
STILL LOOKING? Read our comparison of Keurig and Ninja Coffee Bar models. You might be surprised!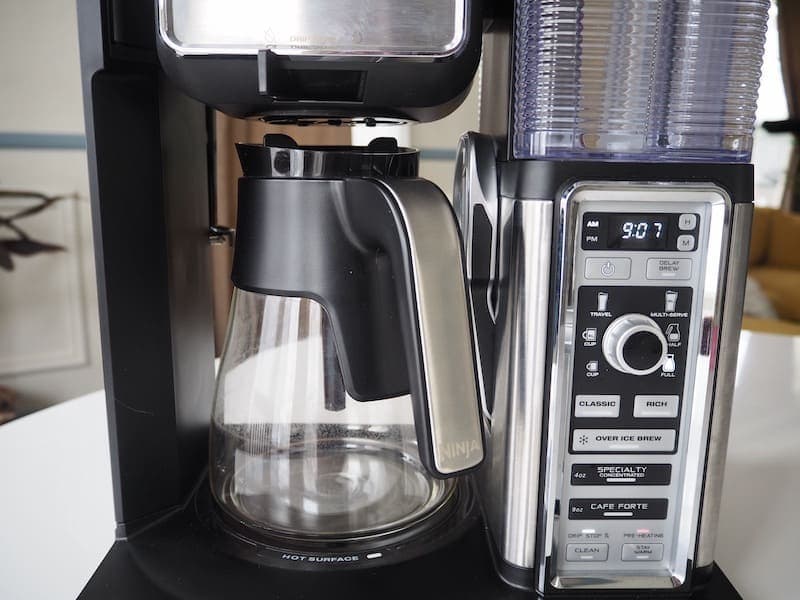 Frequently Asked Questions
1. How Long Does Brewing Take?
You can brew a full carafe in about eight minutes, while a single cup takes about four minutes.
2. What Cup Sizes Can You Brew?
The basic serving sizes are cup (9.5 ounces), XL cup (11.5 ounces), travel mug (14 ounces), XL multi-serve (18 ounces), half-carafe (28 ounces), and full carafe (43 ounces). Make sure you brew into a container slightly larger than these amounts to avoid messy overflows.
You can also brew on the Rich setting, which will produce a smaller amount of concentrated coffee, or one of the two extra-concentrated settings: Specialty Brew (4 ounces) or Cafe Forte (8 ounces).
3. Is There a Brew Delay Timer?
Yes. Using the dedicated Delay Brew button, you can set a brewing time within 24 hours. The clock will also remember the last Delay Brew time you set.
4. Can the Ninja Coffee Bar Brew Espresso?
The Ninja Coffee Bar isn't specifically designed to brew espresso, but multiple settings can help you brew strong, concentrated coffee.
The Specialty Brew setting will produce 4 ounces of concentrated coffee. This is the smallest cup of coffee you can brew using the Ninja Coffee Bar. Another concentrated option is the Cafe Forte setting, which will brew 8 ounces of strong coffee.
To brew regular strong coffee, place medium-ground dark roast beans into the permanent filter. Use more coffee grounds than usual, and select the Rich Brew setting. Brew the smallest cup size, which will use the smallest amount of water. The result will be a small, concentrated cup of coffee, similar to Moka pot coffee.
5. Can the Ninja Coffee Bar Brew Iced Coffee?
Yes. This coffee system is designed to brew strong hot coffee directly over ice. To brew iced coffee, fill a cup with ice and push the Over Ice Brew button. Your Ninja Coffee Bar will brew slightly concentrated coffee, which the ice will cool down. Stir and enjoy your refreshing drink!
6. What Size Filter Does It Use?
The Ninja Coffee Bar comes with a cone-shaped permanent filter. You can pour medium-ground coffee straight into this filter to brew. Alternatively, you can remove the permanent filter and use #4 cone-shaped paper filters.
7. What Kind of Coffee Does It Need?
The Ninja Coffee Bar works with any type of coffee, so go ahead and try a new flavor or single-origin bean. Like other drip coffee makers, it works best with medium grind size. Keep in mind that the Coffee Bar doesn't have a built-in grinder, so if you buy whole bean coffee, you'll need to invest in a separate grinder.
8. Does the Milk Frother Heat the Milk?
No. The milk frother isn't a steamer, so you'll have to heat your milk in the microwave or a pan on the stove. The frother will produce nicely foamed milk. To use it, swing the frother arm into place. Fill a cup with hot milk and hold it so the whisk is just below the surface of the liquid. Hold the frothing button for 30 to 45 seconds, until your milk has roughly doubled in size.
9. Does the Ninja Coffee Bar Turn Itself Off?
Yes. This coffee maker automatically turns itself off after two hours. This is a good safety feature, but you probably won't want to test it too often.
10. Is There a Pause Option?
Yes, but it's not automatic. To pause the Ninja Coffee Bar, you'll need to push the Drip Stop switch closed. This will completely stop the brewing so you can remove your cup or carafe and illuminate the Drip Stop light. When we tested it, we found this pause feature impressively drip-free.