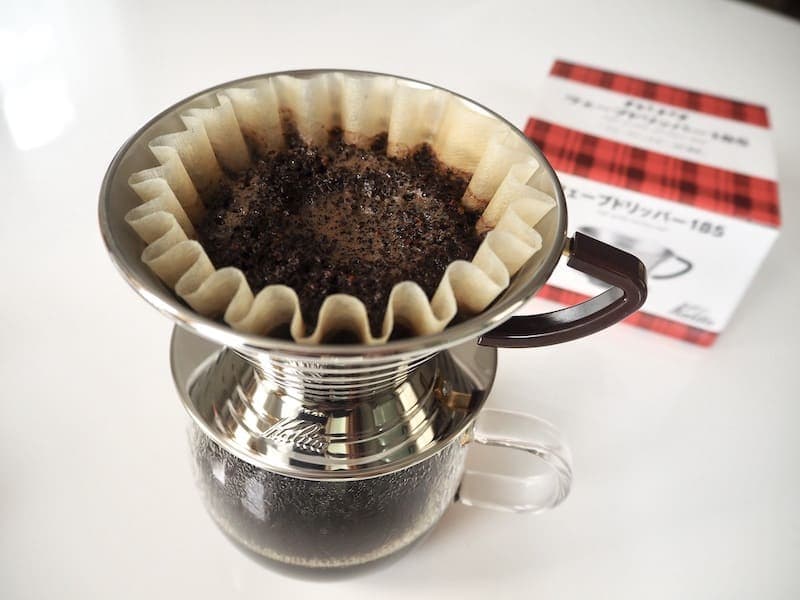 Our Final Verdict
We give the Kalita Wave a rating of 4.3 out of 5 stars.
Kalita Wave Review – At a Glance:
There are dozens of specialty pour-over coffee makers on the market, so it can be tough to decide which will suit your needs. Kalita's offering, the Kalita Wave Dripper, is a simple and lightweight model that's designed to make great pour-over coffee easy to brew.
Does it succeed? We thoroughly tested the Kalita Wave to find out. The results? This flat-bottomed pour-over is compact and easy to use. It produces complex, richly flavored coffee with all the health benefits of paper filters. Plus, it's both affordable and portable!
The Wave needs specialty paper filters, and it's not designed to brew multiple cups. We found it a little hard to hold, and the design feels a bit more utilitarian than stylish. But this is a thoughtfully designed coffee maker that will suit many types of homebrewers.

Kalita Wave Dripper Quick Look:
Pros
Lightweight and compact
Reasonably priced
Straightforward to use
Simple, smart design
Very easy to clean
Fast brewing
Cons
Must buy specialty paper filters
Can't brew multiple cups
Small handle
| | |
| --- | --- |
| Brand: | Kalita |
| Models: | 185 and 155 |
| Product Type: | Specialty pour-over dripper |
| Serving size: | 1-2 cups (155) or 2-4 cups (185) |
| Materials: | Glass, copper, ceramic, or stainless steel |
| Dishwasher-safe parts: | Yes |
| Filters: | Kalita Wave paper filters |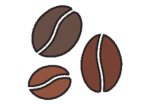 The Company
Kalita is a Japanese coffee company founded back in 1958. The company is most famous for its Wave line — its original product and the coffee maker we're reviewing today! If you're in the market for other coffee accessories, Kalita also sells gooseneck kettles, coffee pots, and a wide range of manual coffee grinders.
---
Appearance & Durability
The Kalita Wave is a distinctively-shaped pour-over. It has waves (hence the name) down the side that are designed to better move brewed coffee. The bottom is flat, but the company's specially designed paper filters don't touch the bottom, preventing flavor-ruining coffee stagnation. There are three holes in the bottom to allow the coffee to drip into your cup.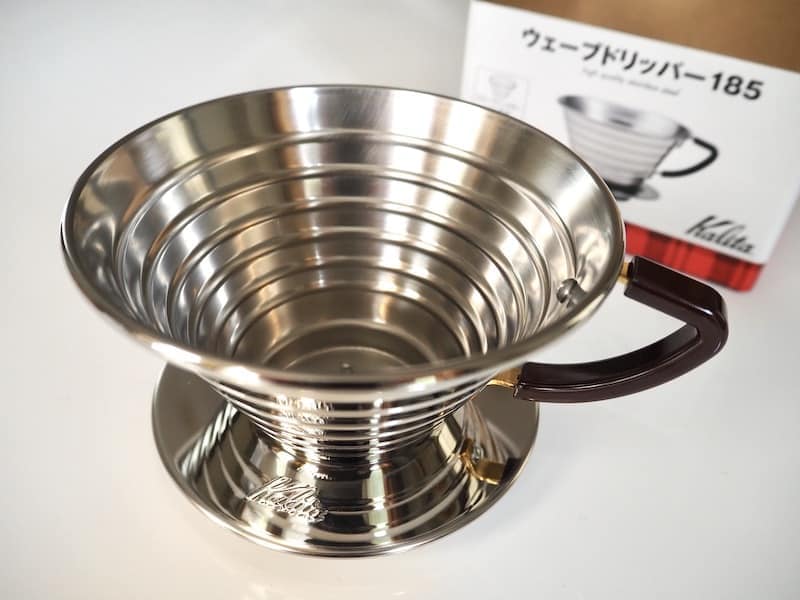 This device isn't as elegant as, say, the Chemex, but it's a smart design and it wouldn't look out of place in a high-end coffee shop or kitchen. The brewer is in one piece, making it easy to clean and throw in a suitcase or backpack.
The one thing we didn't like about the Kalita Wave's design was the handle. It's a little small and not wildly ergonomic. If you have big hands, you may find this brewer uncomfortable to pick up.
As for durability, this brewer is lightweight, but it certainly doesn't feel flimsy. The stainless steel model is solidly built and feels like it will stand up to regular use.
---
The Coffee
Time for the big test: how well does the Kalita Wave brew? Spoiler: we were impressed!
Ease of Use
For our test, we used freshly ground coffee beans and Kalita's specially designed paper filters. These filters are designed to minimize contact between the dripper walls and the filter itself, resulting in more even water spread and better flavor overall.
To brew using the Kalita Wave, you simply put the filter in, add medium-ground coffee, and pour in hot water. The dripper does the rest, funneling the coffee down through the filter and through the three small holes in the bottom into your cup.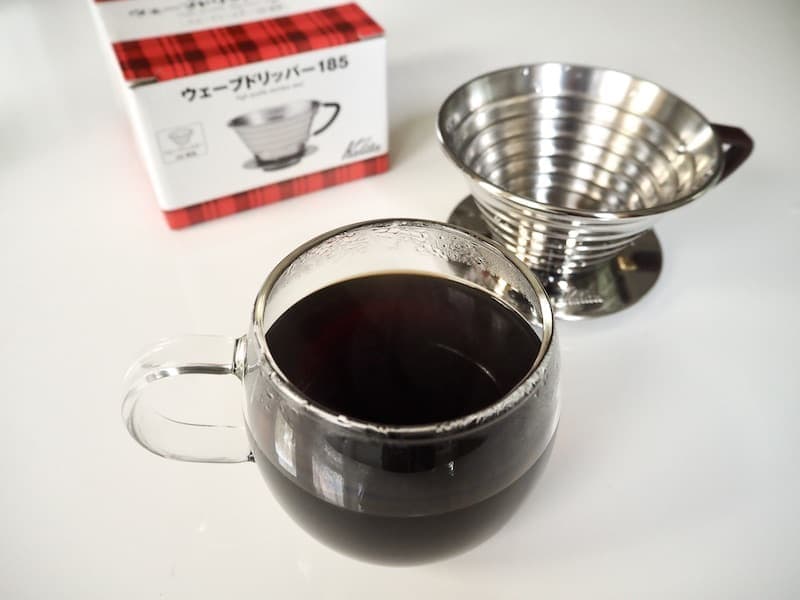 Flavor
What did our Kalita coffee taste like? It was very flavorful and smooth, with a clear body and plenty of aroma. This brewer lends itself to complex coffees — like floral light roasts and rich medium roasts — because it lets the beans shine through. Best of all, we didn't find a hint of bitterness, even when using very dark beans!
---
Cleaning
Like many other pour-overs, the Kalita Wave is dishwasher-safe. You can also quickly wash it by hand using warm water and soap. The simple design means it's easy to wipe off any coffee buildup. You will want to make sure you let the Kalita fully dry before putting it away. Let it dry on a dish towel or wipe it down before storing it and you'll have a happy, clean brewer!
The Verdict
The bottom line? We enjoyed using the Kalita Wave pour-over. It's a straightforward and compact brewer that won't put a strain on your wallet. The Kalita Wave doesn't come with brewing or cleaning instructions, which surprised us a little. But it's simple enough to use and very easy to clean.
What are the drawbacks? You'll have to buy Kalita's special paper filters to use this brewer. It's not designed to brew for a crowd, and you may find the handle too small. And if you're used to full-bodied coffee with natural oils, you may love Kalita's clear coffee less.
But overall, this coffee maker could be a great option for a wide range of coffee lovers. Whether you're a coffee pro or novice, we think this dripper will impress you. Try it out and see what you think!
Still wondering? Read our comparison of the Chemex and the Kalita Wave. You might be surprised!

FAQ
What coffee grind size does the Kalita Wave dripper use?
The Kalita Wave works best with a medium coffee grind. You can adjust the grind size slightly if you find the coffee too strong or too weak, but we found that medium worked very well.
What kind of filters does it need?
The Kalita Wave uses specially designed paper filters. Like the brewer, these filters have flat bottoms and waves along the edges. Conveniently, you can buy the filters on Amazon.
What's the coffee to water ratio for the Kalita Wave?
A good coffee to water ratio to start with is 1:16. That's 0.75 ounces (1.5 tablespoons) of coffee for every 12 ounces of water.
How do I clean my Kalita Wave?
The Kalita Wave is dishwasher-safe, but it's also easy to clean by hand. Rinse with warm water and then lightly scrub with dish soap. Let the Kalita air dry or dry it with a towel before storing it.
SEE ALSO: