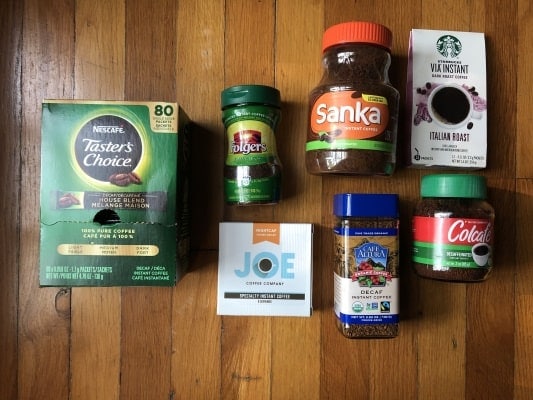 You're looking for a cup of joe that's quick, easy, and decaf. What do you grab? The most convenient option is instant decaf coffee. Instant coffee has a long history and can be a great option for busy coffee lovers.
If you're looking for the best cup of instant decaf coffee, you're in the right place. To help you save money and find a brand that suits your needs, our team has taste-tested quite a few instant decaf coffees and put together this list of our top seven picks. We've written detailed reviews of each brand and included a buyer's guide to give you an idea of what to look for. Keep reading to find your new favorite instant coffee!
---
Our Favorites (updated in 2021):
Image
Product
Details

Best Overall

NesCafé Taster's Choice Decaf

Bold flavor
Single-serve packets
Full mouthfeel
CHECK PRICE

Best Value

Starbucks Via Italian Roast

Bold flavor
Single-serve packets
Dark roast
CHECK PRICE

Folger's Classic Decaf

Bold flavor
Dark roast
Single-serve packets
CHECK PRICE

Best Organic

Café Altura Organic

Organic and fair trade
Balanced mouthfeel
Bright flavor
CHECK PRICE

JOE Coffee Nightcap House Decaf

Swiss Water processing for decaffeination
Single-origin
Single-serve packets
CHECK PRICE
The 7 Best Instant Decaf Coffees:
1. NesCafé Taster's Choice Decaf Instant Coffee – Best Overall
The NesCafé Taster's Choice Decaf House Blend is our top pick because of its bold flavor. Usually, decaf instant coffees are lacking in boldness. The decaf process is liable to strip the coffee of its flavor. When the process of freshly grinding the coffee beans before extraction is taken away, you're missing out on two of the main flavor boosters of coffee.
However, with the NesCafé Taster's Choice Decaf House Blend, the lack of freshness is masked. It produces a full-bodied mouthfeel along with a bright aftertaste. It's light to medium roasted, so the taste is more fruity than savory. This decaf blend also conveniently comes in single-serve to-go packets. Overall, it's a very balanced coffee. The only negative we've found is that it's decaf, but that's most likely not a problem for you.
In short, we think this is the best instant decaf coffee in 2021.
Pros
Bold flavor
Single-serve packets
Full mouthfeel
Low price
---
2. Starbucks Italian Roast Instant Decaf – Best Value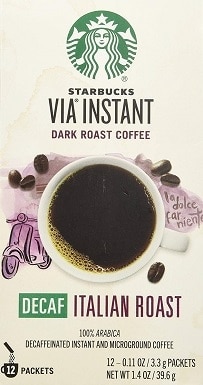 The Starbucks VIA Instant Italian Roast is the complete opposite of our top pick when it comes to flavor and roast profile. This instant coffee is bold, as well. However, its flavor and roast profile are on the darker end of the spectrum. For all the dark roast enthusiasts, this one's for you. The Italian Roast has a strong aroma that contributes to its bold taste. It's made with 100% Arabica beans, so this instant coffee stands up well to cream and sugar.
Starbucks also offers this roast as whole bean coffee, and it's available in-store. We're happy to say that the taste is fairly the same. It's hard to tell the instant coffee from the freshly brewed one. For that reason, the Starbucks VIA Instant Italian Roast is our number two pick. The only things we didn't like about this one are the slight astringent mouthfeel and the price.
Pros
Bold flavor
Single-serve packets
Dark roast
Full body
Cons
Price
Slightly astringent
---
3. Folger's Classic Decaffeinated Instant Coffee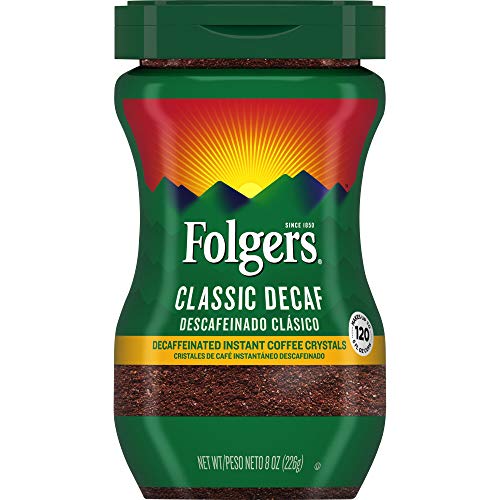 Folger's Classic Decaf Instant Coffee is just that: a classic blend that many are familiar with. It has a bold, nutty flavor like its caffeinated counterpart. It's a dark roast, so it has that signature smokiness characteristic of dark profiles. This instant decaf would not upset those looking for bold, savory flavors in their cup. It has a low acidity level, as well.
Folger's Classic Decaf also conveniently comes in single-serve packets. On those mornings when even making instant coffee takes too much time, you can easily just grab a serving to go. This coffee also stands up to cream and sugar well. The reason why it's number three on our list is the dull mouthfeel it leaves.
Pros
Bold flavor
Dark roast
Single-serve packets
---
4. Café Altura Decaf Instant-Coffee – Best Organic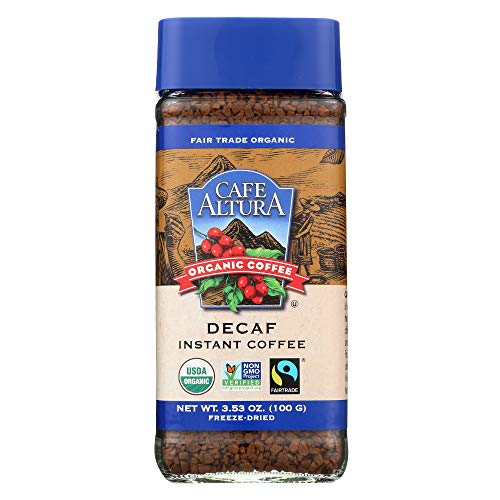 For those wanting an organic choice for instant decaf coffee, Café Altura Organic Decaf Instant is our top choice. This decaf blend is comprised of coffees from Indonesia, South America, and Central America. It has a balanced, neutral feel to it. It's light on the palate, but crisp. This is another delicious decaf that tastes virtually the same as its caffeinated counterpart.
We strongly recommend this coffee for those looking for an organic coffee and who don't mind a light-tasting coffee. We feel that just because a coffee tastes light doesn't mean it's not a great cup of coffee. Balance is key, and the Café Altura Organic Decaf Instant Coffee has exactly that.
Cons
Slightly neutral taste
A little expensive (as to be expected with organic, fair trade coffees)
---
5. JOE Coffee Nightcap House Decaf Instant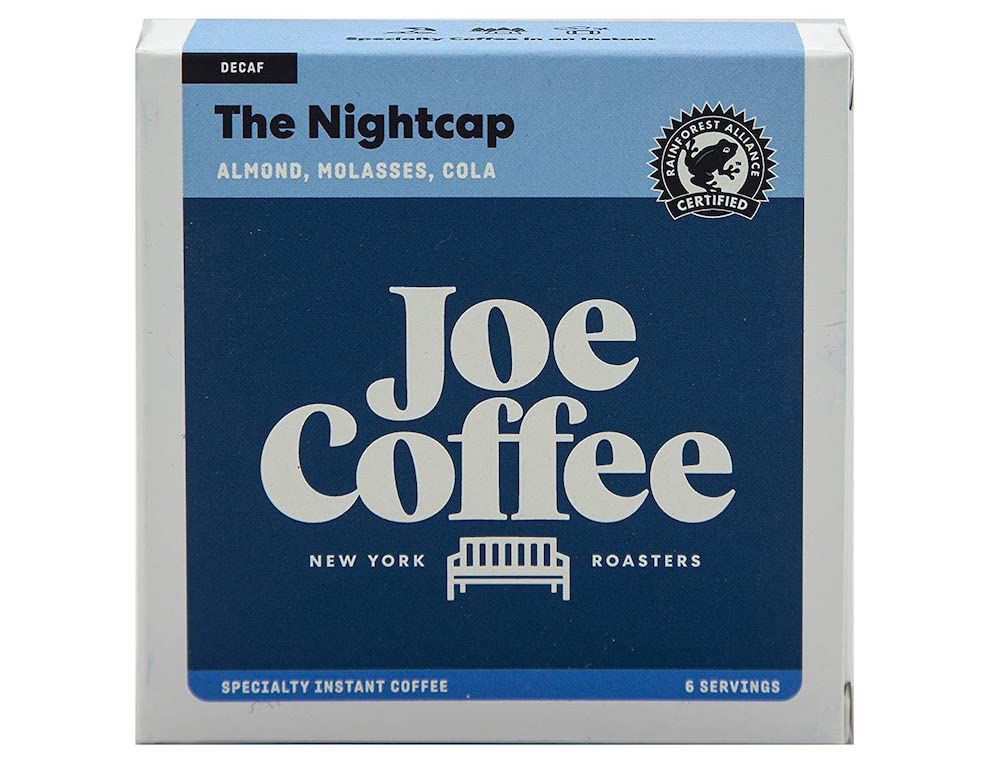 JOE Coffee Company is the newest coffee roaster on our list of instant decaf coffees. What's exciting about the Nightcap House Decaf is that it's the only coffee on our list that uses the Swiss Water process many quality third-wave coffee roasters use. The one word that best describes this brew is delicate. This coffee is a lightly roasted single origin from El Limoncello, Nicaragua. We recommend it for those who enjoy a soft, light roasted coffee that includes all the nuances of the terroir. It has a light caramel aroma with a bright, fruity taste. It also features a balanced mouthfeel.
It's evident that the coffee roaster made this coffee meticulously. The only downfall about this specialty instant coffee is the price. There are quality whole bean coffees that cost less than this brew. Therefore, we only strongly suggest this for those who really appreciate the nuanced tastes of single-origin coffee.
Pros
Swiss Water processing for decaffeination
Single-origin
Single-serve packets
Balanced mouthfeel
Bright flavor
---
6. ColCafe Instant Decaf-Coffee
ColCafe Instant Decaf Coffee is a favorite instant decaf coffee in Latin America, most likely because the beans are 100% Colombian. That's what makes this brew stand out from the rest. It has that bold taste that is characteristic of Colombian coffees. Unfortunately, however, it is easy to tell that this is an instant decaf coffee. We like it, but it is lacking in quality.
What we like about it is that it's well balanced, and has those dark smoky, roasty notes as well as the cocoa notes from the beans. It's a bold cup of coffee that stands up well to cream and sugar. We suggest this coffee for those who enjoy Colombian beans. If you can get past the poor quality and the astringent mouthfeel, ColCafe Instant Decaf will not disappoint.
Pros
100% Colombian beans
Bold flavor
Cons
Poor quality
Astringent mouthfeel
---
7. Sanka Instant Decaffeinated Coffee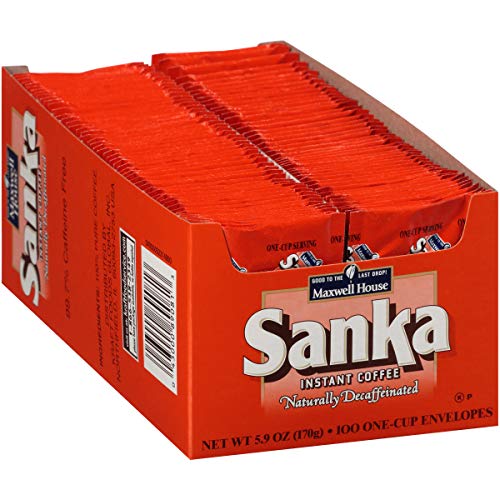 Sanka Coffee was one of the first decaf instant coffees to hit the market. It grew in popularity over the years, and it's still one of the most consumed (if not the most consumed) decaf instant coffees. Even though it's popular, it sits at the bottom of our list because of its quality and flavor. Our team had an overall consensus that Sanka Coffee just had too much going on in the flavor department. It doesn't make for a balanced cup of coffee at all.
We recommend this for those who prefer coffee with cream and sugar. Its flavor does stand up to those add-ons well, but that's about all it can do. We did notice, though, that it has a full-bodied mouthfeel, which is probably why it gained in popularity. At one time it wasn't characteristic of a decaf instant coffee to have a bold mouthfeel, but Sanka Coffee changed that, and it's one of the reasons we appreciate it.
Pros
Popular
Single-serve packets
Full body
Cons
Poor quality
Unbalanced flavors
---
Buyer's Guide
A lot of people who say that instant decaf coffee tastes bad haven't even tried it. They figure that since instant coffee lacks freshness, and decaf coffee lacks flavor, instant decaf coffee is doubly bad. Our top instant decaf pick, NesCafé Taster's Choice Decaf House Blend, alone debunks that myth. Instant decaf coffee is heavily consumed around the world, and roasters are constantly improving on flavors.
It's wise to taste the coffees for yourself, but that's not really the most economical way to go about it. With the list of our top picks, we've taken some of the guesswork out of it for you. However, we're aware that our choices aren't suited for everyone. In this next section, we'll cover some criteria to keep in mind when choosing a decaf instant coffee.
SEE ALSO: What are our favorite decaf coffee bean brands of 2020? See our findings here!
Flavor
Unfortunately, you can't tell a coffee's flavor just by looking at it. So how do you decide? You can start by reading the flavor descriptions and customer reviews. Then pick a brand and give it a try!
The words to look out for when determining flavor mainly have to do with the roast profile and origin(s) of the instant coffee. Dark roast is bold, smoky, and more on the bitter side. Medium and light roasts have balanced, subtle flavors that depend more on the coffee's country of origin.
Mouthfeel
Mouthfeel is another characteristic you can't tell just looking at the packaging. It's also talked about less in consumer reviews. But if you happen to stumble upon some information about mouthfeel, you generally want to take interest in instant coffees with full or round mouthfeels. Mouthfeel basically describes the coffee's "texture." If you taste an instant coffee that is dull or flat, you're describing its mouthfeel. Luckily, a few choices on our list have a full-bodied mouthfeel. If this is of huge interest to you, check out Folger's Classic Decaf Instant Coffee or NesCafé Taster's Choice Decaf House Blend.
RELATED READ: How does instant coffee compare to espresso powder?
Portability
If you like to drink decaf coffee on the go, single-serve packets are your best bet. These packages are particularly convenient for traveling and camping, but not all brands offer them.
Blend vs. Single Origin
This category isn't as common in the world of instant decaf coffee, but with the third wave upon us, it's only fair to mention single-origin coffee. Blends are less expensive and more prevalent in instant decaf choices. Blends tend to have a balanced, rounded flavor.
Single-origin coffee is made from coffee beans that came from one farm only. Single-origin coffees are usually lightly roasted and prized for their unique flavor notes, depending on where the coffee beans were grown. JOE Coffee Company Nightcap House Decaf is a great example of a light roasted single origin instant decaf coffee.

Final Verdict
What's the bottom line? We highly suggest our top pick, the NesCafé Taster's Choice Decaf House Blend. It's an amazing instant coffee that you may think is better than some regular coffees. For those looking for a bold dark roast, the Starbucks VIA Instant Italian Roast may be your new favorite.
The instant decaf coffee world can be daunting, so we hope that our in-depth reviews and buyer's guide have helped you find a great instant decaf coffee. You won't have to sacrifice on flavor or budget for a quick and healthy decaffeinated cup of delicious coffee.
We truly hope that our article helps you find the best decaf instant coffee for your tastebuds. Enjoy your tasty coffee!
RELATED READ: How is coffee decaffeinated?