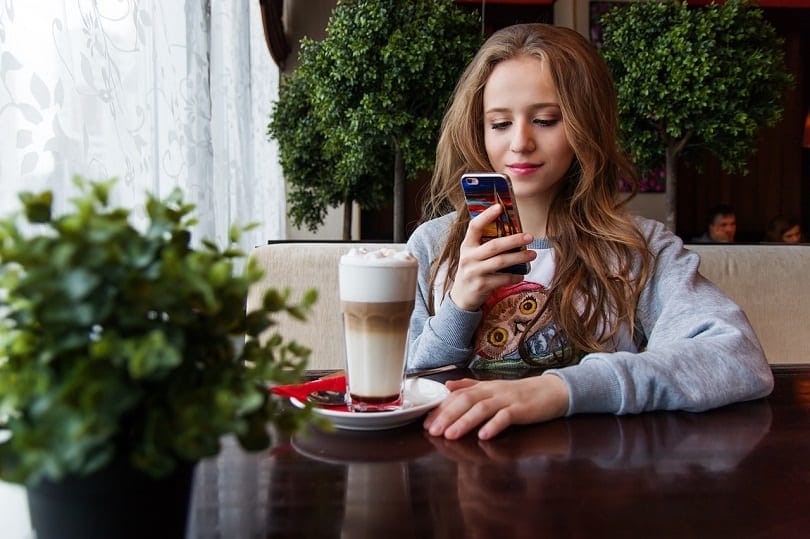 We love coffee, and as high quality as the coffee we make at home is, it's never quite the same as the coffee you get from your favorite local coffee chain. Seriously, over $1,000 for a high-tech espresso machine, and still we can't replicate that pumpkin spice latte from Starbucks…
But, heading out for coffee every morning can get expensive. That's why coffee rewards programs can be big motivators to continue going out for coffee. Not all rewards programs are made equal, and some end up saving you a lot more than others. We put together this list of eight of the best coffee rewards programs so you can find the one that will give you the most bang for your buck. Let the rewards begin!

Top 8 Amazing Coffee Rewards Programs:
1. Starbucks
As one of the leading coffee retailers in America, it should come as no surprise that the Starbucks Rewards program is pretty stellar. And we do mean "stellar," because the rewards are offered based on how many stars you collect. You get two stars for every dollar you spend, and they can be accrued and then used to get certain perks like free coffee, food, or merchandise. You also get a free birthday coffee and refills on certain drinks.
Perhaps the most enticing thing about their rewards program is that they issue challenges regularly, which requires you to purchase a specific item before the challenge ends. They make earning points a game, and it's actually pretty addicting. Almost as addicting, in fact, as getting a free $5 coffee every so often. Your points expire after 6 months, so make sure you're on top of redeeming them for free stuff!
---
2. Dunkin Donuts
If you're not a Starbucks fan, maybe you're a Dunkin kind of person. For you, there is the Dunkin Donuts Perks program. It's less robust (see what we did there?) than the Starbucks Rewards program, but it still offers a free coffee on your birthday and a chance to earn points with every purchase.
Every time you buy anything at Dunkin, you'll get five points, and you'll get a free coffee or tea once you earn 200 points. Your points expire after 90 days, which means you'll need to spend $40 every 3 months to ensure you don't miss out on your free drink. That shouldn't be a problem if you're a regular coffee drinker. Dunkin also offers chances to win bonus points via their app, so you may find yourself with a free drink every other week, depending on how often you purchase from them.
---
3. Peet's Coffee
Peet's Coffee offers Peetnik Rewards, a loyalty program designed to reward members and frequent flyers with free coffee. It's simple and easy to join, and as a Peetnik, you'll have the digital version of a punch card, the old fashioned rewards program.
With the Peet's Coffee rewards app, you simply "check-in" with your barista when purchasing coffee from one of their locations, and you'll earn one point per check-in. If you buy a bag of coffee, you'll earn three points. Once you accrue 15 points, you get a free coffee.
You'll also receive special offers and discounts for being a reward member, a free drink on your birthday, and a free coffee when you first sign up.
---
4. Krispy Kreme
Krispy Kreme Rewards has perhaps the most complicated rewards program out there, but it's relatively simple as far as coffee goes. Instead of accruing general points, you'll accrue points in one of four "tracks" for each purchase. The four tracks are single doughnuts, coffees, specialty coffees, and doughnut dozens. When you purchase something from the coffee track, for example, you earn points toward a free coffee.
You'll get a free doughnut for signing up, a free birthday reward, and access to deals and promotions reserved for rewards members only. Your rewards expire within 90 days, so make sure to keep track of when you earn a freebie!
---
5. Panera
Panera has a general rewards program called MyPanera that is similar to Krispy Kreme. So, while they don't offer coffee-only perks, there are coffee rewards you can get. For every purchase you make, you'll earn rewards points, and you'll be notified via email or the app when you have a reward waiting for you. You also get a free treat just for signing up.
Panera's rewards program is a complete and total mystery, so you won't know how many rewards points you have, when you'll get a reward, what that reward will be, or if you'll ever see free coffee from it. Panera uses a secret algorithm to personalize free items as rewards, so maybe if you only buy coffee, it'll catch on that you only want coffee? We're not sure, but honestly, it is pretty nice to get rewards so regularly, and not knowing what it'll be is just part of the thrill!
---
6. Caribou Coffee
Caribou Coffee has a rewards program called Caribou Perks Points that is similar to Peet's rewards. They simplified their perks by offering two points for every dollar spent, and a free coffee whenever you accrue 120 points. You also get a free coffee just for signing up, and a yearly free coffee on your birthday.
Caribou rewards will expire after 14 days, which is the shortest timeframe for redeeming we've seen on popular rewards programs. Redeeming your points in time and getting a free coffee shouldn't be an issue if you're a regular there, though!
---
7. Wawa
Wawa may not offer you the best cup of coffee around, but they do have a rewards program that frequently includes discounts on their already very cheap coffee. Instead of using a confusing points system, Wawa offers a choice of three rewards every time you spend $50 on your reloadable Wawa card.
That's right, you will need to get a Wawa card and put money on it to earn rewards, but if you frequent Wawa for things other than gas, tobacco products, alcohol, and milk and eggs — none of which count toward your total spent —their perks program may suit you well.
You get to choose one of three rewards they offer, and these very often include free coffee or deals on coffee and coffee combos. Your rewards expire after 30 days, so keep track of your rewards on your app and watch your inbox for alerts!
---
8. 7-Eleven
Does 7-Eleven have the best coffee in town? No. But they do have many coffee options at extremely affordable prices, and their 7Rewards program sweetens the pot even more.
As a rewards member, you earn 10 points for every dollar you spend, and you can use those points to purchase any in-store item, including coffee. They offer chances to win bonus points for particular challenges, maintaining point "streaks," and they provide specific discounts and bonuses to members every so often.
The best part about the 7Rewards program is that points never expire as long as there is some kind of activity on your account every 90 days — that can include spending, redeeming, or earning points at any 7-Eleven location.
Wrapping Up
Coffee rewards programs are really the ideal situation: get rewarded for drinking coffee? Count us in! Many coffee retailers have rewards programs, and if you frequent a particular chain for coffee, the perks program is really a no-brainer. These top eight rewards programs are pretty enticing, and they may even have you trying out a new coffee chain just for the perks! Who doesn't love free coffee?
RELATED READS:
---
Featured image credit: nastya_gepp, Pixabay