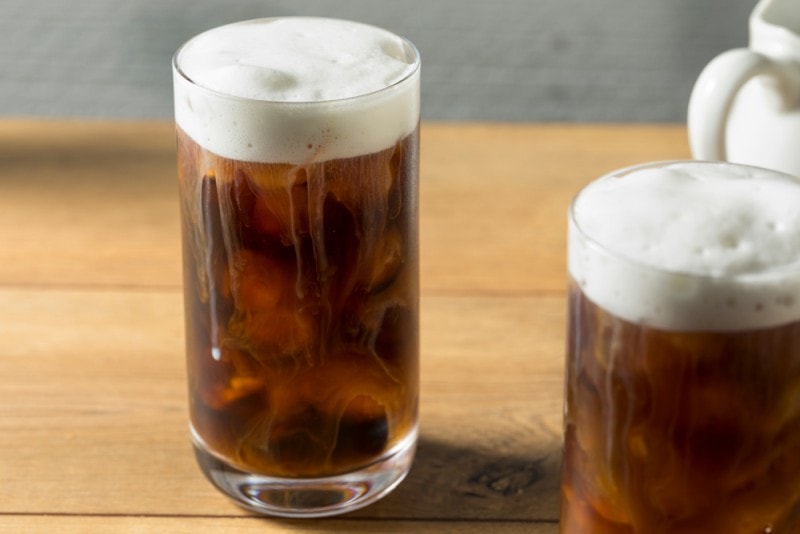 Salted caramel and cold brew are clearly a match made in heaven, and this easy recipe will prove it to you! Based on the cult favorite Starbucks drink, this salted caramel cream cold brew recipe may just become your new favorite.
Read on to find our simple recipe and brewing tips. No matter what ingredients or equipment you have on hand, we'll bet you can start enjoying this drink in no time! Let's get to it:

What Is Salted Caramel Cream Cold Brew?
At Starbucks, the Salted Caramel Cream Cold Brew is a refreshing, salty-and-sweet treat made with cold brew, salted vanilla sweet cream, and caramel sauce. If you order a 16-ounce Grande, you'll consume an impressive 230 calories, 14 grams of fat, and 23 grams of sugar. If you want to make this drink at home, you can adjust some of the ingredients to reduce those levels.
This drink is a delicious balance of caramel, vanilla, and salt. Mellow cold brew is the perfect base, and the cream adds a rich dimension. Our homemade version can use either caramel syrup or caramel sauce. To make the salty, sweet foam, whip equal parts milk and heavy cream with sugar, vanilla extract, and salt. Get ready for a uniquely tasty drink!
---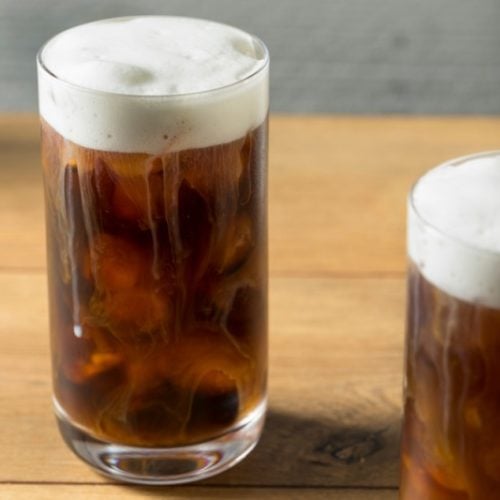 Salted Caramel Cream Cold Brew
If you're looking for a rich, complex summer treat, Salted Caramel Cream Cold Brew is a great option. This drink combines mellow cold brew with salty, sweet cream. You'll enjoy vanilla and caramel flavors!
Equipment
Small bowl

Milk frother or whisk

Tall glass
Ingredients
Cold Brew
3

cups

24 ounces filtered water

4.8

ounces

coarsely ground coffee beans
Salty Sweet Cream
½

cup

milk

½

cup

heavy cream

1

tablespoon

white sugar

1

pinch

salt

1

teaspoon

vanilla extract
Salted Caramel Cream Cold Brew
1

cup

cold brewed coffee

1

cup

ice cubes

2

tablespoons

caramel syrup or sauce

to taste

¼

cup

salty-sweet cream
Instructions
Make the cold brew.
Combine coarsely ground coffee with cold water in a cold brew maker or another container. Let your cold brew steep overnight, for at least 16 hours.

Filter out the coffee grounds using the built-in filter or a separate metal strainer. You can keep any leftover cold brew in the refrigerator for up to 2 weeks.
Make the salty-sweet cream.
In a medium bowl, combine the milk, heavy cream, vanilla extract, salt, and sugar. Froth the mixture until it has a light, foamy texture.
Put it all together.
Fill a glass with ice cubes. Then add the caramel syrup or sauce.

Pour the cold brew on top and then spoon on the salty-sweet cream. Enjoy your rich drink!
Nutrition

Brewing Tips
Are you wondering how you can adapt this recipe to your tastes? Here are a few simple suggestions:
Make It Lighter
If you prefer a lighter drink, you have quite a few options. Try using only skim milk in your salty-sweet cream, or look for a sugar-free caramel sauce. You can also use decaf coffee beans if you're cutting back on caffeine. And feel free to adjust the sugar amounts to your taste!
Make It Heavier
Is our Salted Caramel Cream Cold Brew recipe not rich enough for you? You can always drizzle extra caramel sauce on top of the foam, or use heavy whipping cream instead of the combined foam. Add extra sugar, use sweetened coffee ice cubes, or sprinkle caramel candies on top of your drink.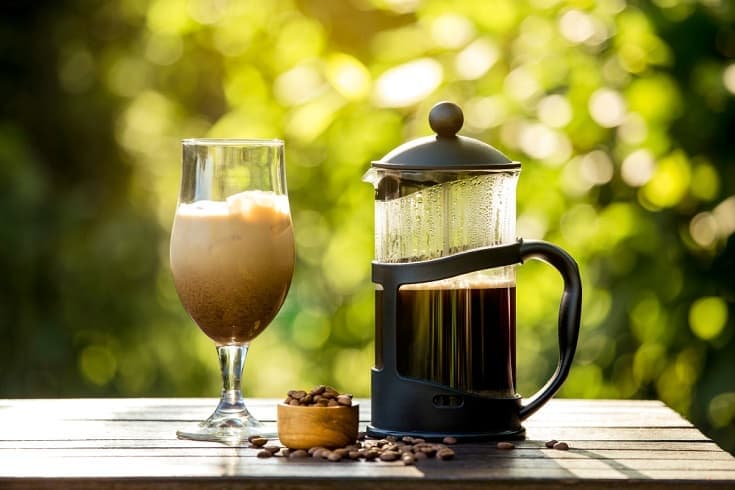 Cold Brew
Cold brew is a delicious, mellow form of coffee made by steeping coffee beans in cold water for a long time. This low acid coffee is rich and stomach-friendly, and it's easy to whip up a big batch for quick drinks all week long. Even better, you don't need any special equipment! Read our guides to making cold brew using a French press, mason jar, Aeropress, and even sous vide.
Caramel Sauce
We like to use store-bought caramel sauce or caramel coffee syrup because it's easy and delicious. But making it at home is pretty easy, too! You can make caramel sauce by cooking sugar and water on the stove until it turns a warm caramel color. If you prefer something a little lighter, you can make a caramel coffee syrup in a few simple steps!

Homemade Salted Caramel Cold Brew: Final Thoughts
There you have it: the easiest way to make a Salted Caramel Cream Cold Brew drink. We hope you enjoy this recipe as much as we do! But be warned: you may find it addictively delicious. Caramel, salt, vanilla, and cold brew is an impressive combination — just ask your taste buds.
SEE ALSO:
---
Featured image credit: Brent Hofacker, Shutterstock