Our Final Verdict
We give the Angelino's Pod Coffee subscription a rating of 4.5 out of 5 stars:
Flavor
Quality
Selection
Resources
Ease of Use
Price
Angelino's Coffee Subscription Review: At a Glance
Angelino's Coffee is a pod coffee subscription service that ships a variety of K-cup coffees to your door. You can choose between medium and dark roasts, flavored and decaf coffees, plus a range of teas, cappuccinos, and even hot cocoa.
If you're a pod coffee drinker, this subscription service can provide you with fresh, flavorful coffee that's very fairly priced. You can choose your shipping schedule and frequency, and save money by purchasing in bulk. Though you can choose the variety packs, there is no curation element, and the coffee options do not change significantly from month to month.
But there's more! Keep reading to see the rest of our Angelino's Coffee subscription box review.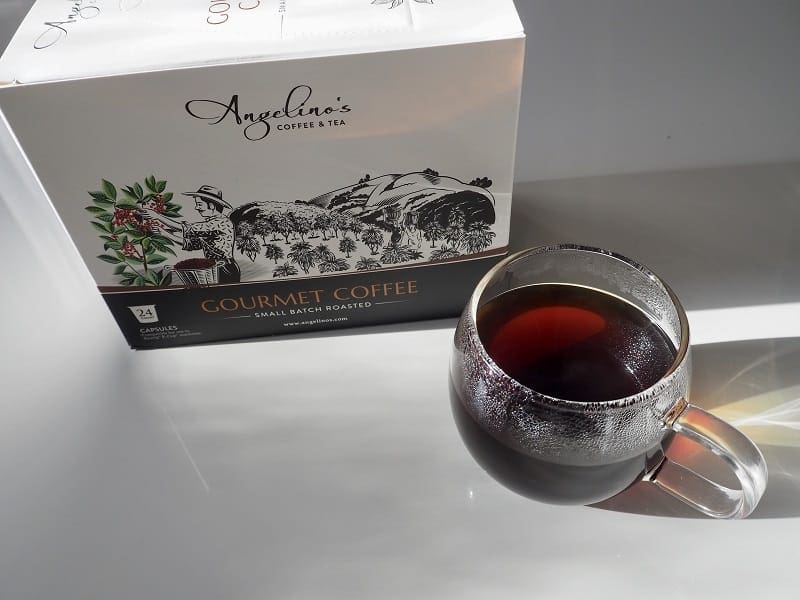 Angelino's Coffee Subscription Quick Look:
Pros
Freshly roasted and ground
Choice of many types of coffee
Decaf, tea, and hot chocolate options
Compatible with Keurig 1.0 and 2.0 brewers
Free shipping
Fairly priced
Attractive packaging with convenient storage box
Ships on your schedule
Cons
Only for pod coffee drinkers
Limited information on the coffee
No curation service
Not as stylish or fun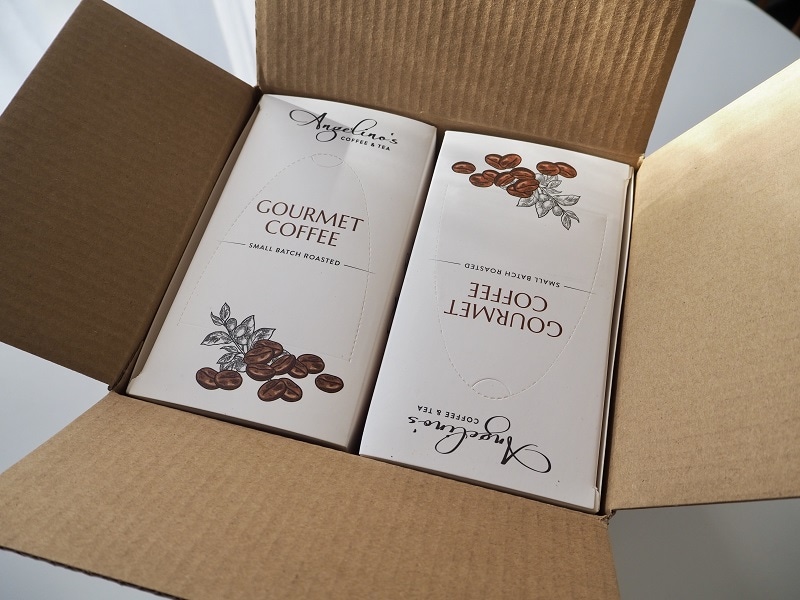 The Company
Angelino's Coffee sources, roasts, and packages all of its coffee. They guarantee that you'll receive your coffee within a few days of roasting, and they use a specially designed single-cup grinder to ensure that the coffee in your pods is well-ground.
The company's goal is to improve your pod coffee experience, providing you with coffee that hasn't been sitting around in a warehouse. Angelino's vacuum-seals your coffee shortly after roasting, so you can feel confident that it will arrive fresh and aromatic.
---
The Ordering Process
Angelino's has a simple, functional website that's not very stylish. To get started, you select your coffee quantity (48, 96, or 192 cups) and shipping frequency (every one, two, or three months). If you choose the larger amounts, you'll save more money, bringing your per-cup costs down by up to 40%.
You can choose between four variety packs, assorted, flavored, medium roast, and dark roast, or select a single variety, out of eight coffees, four decaf coffees, eleven flavored coffees, eight teas, two cappuccinos, and hot chocolate. This wide range of choices is especially convenient if you're shopping for your family or roommates with varied tastes.
You'll have quite a bit of control over the coffee you receive, and the pods are compatible with all Keurig 1.0 and 2.0 brewers.
After you order, you'll have access to a simple member portal, where you can set up one-time shipments, auto-deliveries, and gift subscriptions. You can also read more detailed tasting and origin notes for each type of coffee.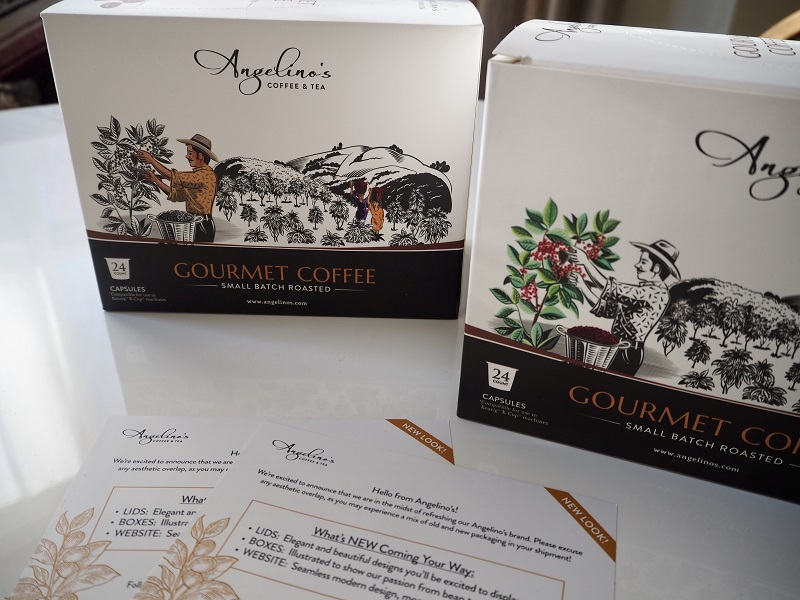 The Coffee
We received the variety pack of coffee, which consisted of two boxes of 24 pods. Each box had a mixture of 12 coffee types in medium and dark roasts, including Jamaican Me Crazy, French Vanilla, and the Donut Shop Blend. The coffee was flavorful and aromatic, tasting very fresh. We especially liked the fruity flavors of the Costa Rican Kona blend and the surprising notes of caramel and rum in the Peruvian Jamaican Me Crazy.
---
The Packaging
The coffee came in two well-designed boxes, with a note explaining that the company is working on upgrading its packaging. The boxes have convenient punch-out tops for easy storage and access to the pods. The pods themselves are lightly descriptive, with notes on roast level and flavors. There isn't a ton of included information, but you can easily read more on the Angelino's Coffee website.
---
Extras
You can purchase prepaid gift subscriptions through the member portal. You have a choice of three- or six-month subscriptions, in 48, 72, 96, or 192-cup boxes. You can choose the specific coffee varieties your coffee lover will receive, and Angelino's will include a free gift message.

Conclusion
If you have a Keurig or other pod coffee brewer and would like to enjoy fresh, small-batch coffee, Angelino's Coffee subscription service could be for you. You have plenty of control over the coffee you receive and can choose among a wide range of options, including decaf and flavored coffee, tea, and hot chocolate.
The packaging is well-designed, and gift subscriptions could be a good option. This subscription service isn't as fun, as there isn't any curation or development of a flavor profile, and the coffee options don't change from month to month. We hope you enjoyed reading this Angelino's Coffee subscription box review!
SEE ALSO: How to Find the Perfect Coffee Subscription (Tips)