Though everyone's tastes are different, there are factors we can and do use to help determine which K-cups you will love. The flavors below have been evaluated based on their boldness and aroma. We also tested the structural integrity of each K-cup's packaging, as well as the overall value of the product. The result is our list of the best Keurig coffee pods available this year.
We know that everyone looks for something different in their coffee. That's why this list is both detailed and expansive. Light roast, bold roast, and flavored brews all find themselves honored spots in the guide below.
As a lover of coffee, you'll likely try several, or all, of these cups eventually. Our hope is simply that these Keurig K-cup coffee pod reviews give you a good place to start your collection.
---
A Summary of our Favorites (Updated in 2023):
Image
Product
Details

Best Overall

Green Mountain Breakfast Blend

Bright, nutty light roast
100% Arabica beans
Reasonably-priced

Premium Choice

Atlas Coffee Club Pods

Great variety with coffee from all over the world
Amazingly fresh, rich flavor
Convenient subscription customized to your preferences

Glorybrew The Duke

Delicious medium roast
Compostable, renewable pods
Rainforest Alliance-certified

Best Dark Roast

illy Extra Dark

Rich flavor without being bitter
Great for espresso
Famous Italian coffee company

Best Decaf

Peet's Decaf House Blend

Rich, unusual taste
Sophisticated decaf process
Bold dark roast
The 10 Best Keurig Coffee Pods:
1. Green Mountain Breakfast Blend K-Cups – Best Overall
Our all-around favorite K-Cups are the delicious Green Mountain Breakfast Blend pods from Keurig. These light roast K-Cups are bright, smooth, and incredibly drinkable. If you haven't tried them, now's the time to start.
The beans are 100% high-quality Arabica, and they're certified Kosher. They have a full, slightly nutty flavor. Even better, they're reasonably priced!
If you're not a fan of light roasts, these K-Cups may not be dark enough for you. And despite these K-Cups coming from Keurig, some customers have reported incompatibility with 2.0 machines. Those caveats aside, we think you'll really enjoy these tasty coffee pods.
All in all, we think these are the best Keurig K-Cup coffee pods available this year.
Pros
Bright, nutty light roast
100% Arabica beans
Certified Kosher
Reasonably-priced
Cons
Some reports of pod failure
May be too light
---
2. Atlas Coffee Club Pods – Premium Pick
If you love gourmet, flavorful coffee and the convenience of your Keurig, Atlas' new coffee pods will be your new best friends. Atlas is famous for its world-traveling coffee club, and now you can sign up for a K-cup subscription instead of getting whole beans.
Atlas Coffee Club's pods contain amazing tasty coffee at various roast levels from all over the world. We sampled Ethiopian, Guatemalan, and Tanzanian pods, and it was hard to pick a favorite! When you sign up for a subscription, you'll receive a box of Keurig-compatible pods, a postcard, and detailed tasting notes. Plus, there's a money-back guarantee and you can cancel anytime.
This is our premium pick, so these pods might be a little pricier than some other options. But the flavor is miles better, and the ability to customize your shipments according to your preferences (roast level, amount, and schedule) is undeniably convenient. Plus, Atlas' pods are recyclable!
Pros
Great variety with coffee from all over the world
Convenient subscription customized to your preferences
Fully recyclable and Kuerig-compatible
Amazing rich flavor
Comes with postcards and tasting notes
Cons
Pricier than some options
Must sign up for a subscription
---
3. Glorybrew The Duke K-Cups
Are you interested in a full-flavored, aromatic medium roast that's compatible with all Keurig machines and environmentally friendly? If so, you'll love the Glorybrew The Duke Medium Roast K-Cups.
These fully-compostable coffee pods are made using renewable resources. They contain a balanced blend of Central and South American Arabica beans that are Rainforest Alliance-certified. You can expect a robust, chocolatey flavor and not a hint of bitterness.
Perhaps because of its "coffee with a cause" business practices, this blend is a little bit pricier than your average K-cup. However, the cost may well be worthwhile. If you appreciate the ethics of Glorybrew, or you just really like a great cup of coffee, this will be the blend for you. All in all, these are some of the best K-cups out there.
Pros
Delicious chocolatey taste
Deeply flavorful medium roast
Compostable pods made with renewable resources
Rainforest Alliance-certified
---
4. Illy Extra Dark – Best Dark Roast K-Cups
Illy is a famous Italian coffee company for a reason — its coffee is dark, rich, and deeply flavorful. As you might guess from their name, these Extra Dark K-cups are particularly powerful.
The coffee boasts a robust flavor profile but is not overly acidic the way some potent dark roasts are. You'll also note complex flavors of cocoa and dried fruit. And if you're an espresso lover, these K-cups will be particularly delicious, producing impressive crema.
Unfortunately, this brand of K-cups is a bit pricey. Plus, although it offers significant flavor, this coffee doesn't deliver a particularly strong caffeine jolt. That taken into consideration, these are some of the best dark roast K-cups available.
Pros
Rich flavor without being bitter
Great for espresso
Famous Italian coffee company
Delicious dark roast
Cons
Pricey
Not particularly high in caffeine
---
5. Peet's Coffee Decaf House Blend – Best Decaf K-Cups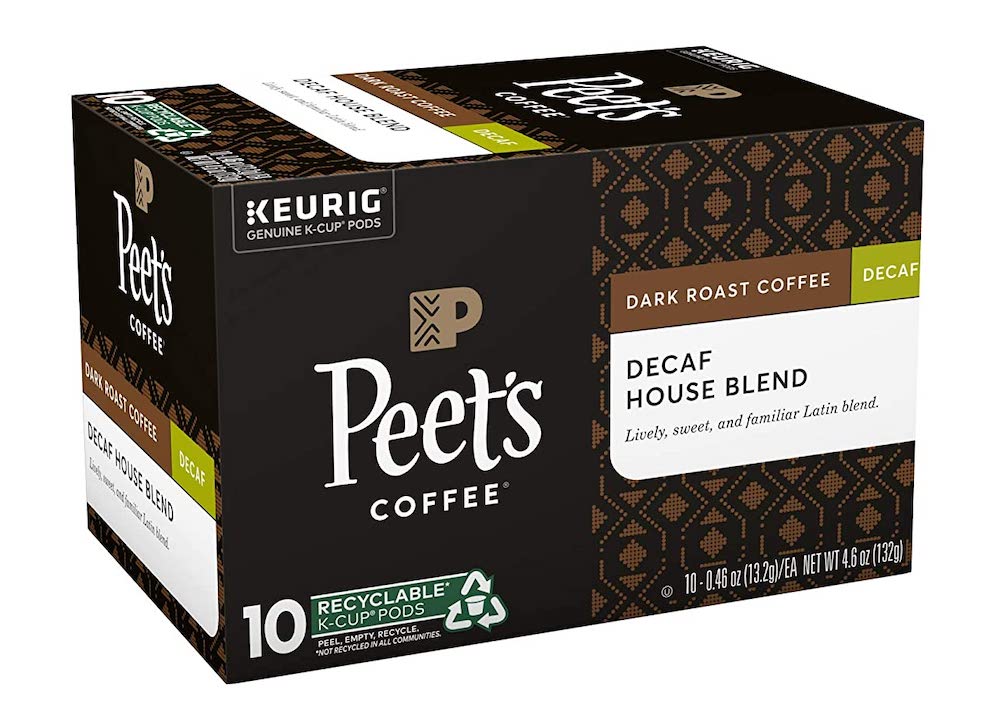 For people who love coffee but don't always want the caffeine, we have a decaf blend. The best thing about these pods is that you would never guess they were decaf based strictly on the taste. With low-quality decaf coffee, you generally experience an unimpressive watery flavor. Not so here.
Peet's Coffee Decaf House Blend is rich and flavorful, maximizing the taste of your coffee. The company extracts the caffeine using a sophisticated water system that makes good use of a high-quality charcoal filter. This is about as good a decaf blend as you can hope for.
There is a bit of a freshness issue. Some cups come across as older or stale. Granted, this isn't something you'll experience every time, but it's a problem that the company should work to address. Some of the packaging is also subpar. Cups leak grounds occasionally, which wastes money and makes a big mess.
These things said, if you want some decaf coffee, there is truly no beating Peet's House Blend.
Pros
Rich taste unlike usual decaf coffee
Sophisticated process removes caffeine while keeping flavor
Cons
Subpar packaging
Some cups don't taste fresh
---
6. Cinnabon Cinnamon Roll
It doesn't really get more classic than Cinnabon, does it? If you want to bring the taste of everyone's favorite breakfast to your home, this is the way to do it. Cinnabon Classic Cinnamon Roll K-Cup Coffee is made to taste like a cinnamon roll, as much as a cup of coffee can taste like a pastry, anyway.
This certified kosher blend is infused with brown sugar and cinnamon to give it that classic cinnamon roll taste. Additional flavoring even gives the coffee an "icing" taste. Indeed, the biggest selling point here is that you get a classic "Cinnabon" flavor that might make you feel like you're dining at one of the world's most popular breakfast franchises.
However, the cinnamon does take the driver's seat, undermining some of the nuances of the blend. In fact, you could probably produce something similar to this coffee simply by sprinkling some cinnamon into an ordinary cup. Still, if you're a big Cinnabon fan, this is a great way to start your day.
Pros
Kosher
Tastes like a cinnamon roll
Distinct taste from a popular breakfast franchise
Cons
Cinnamon flavor is a little too prominent
---
7. Starbucks 'Pike Place' Keurig K Cups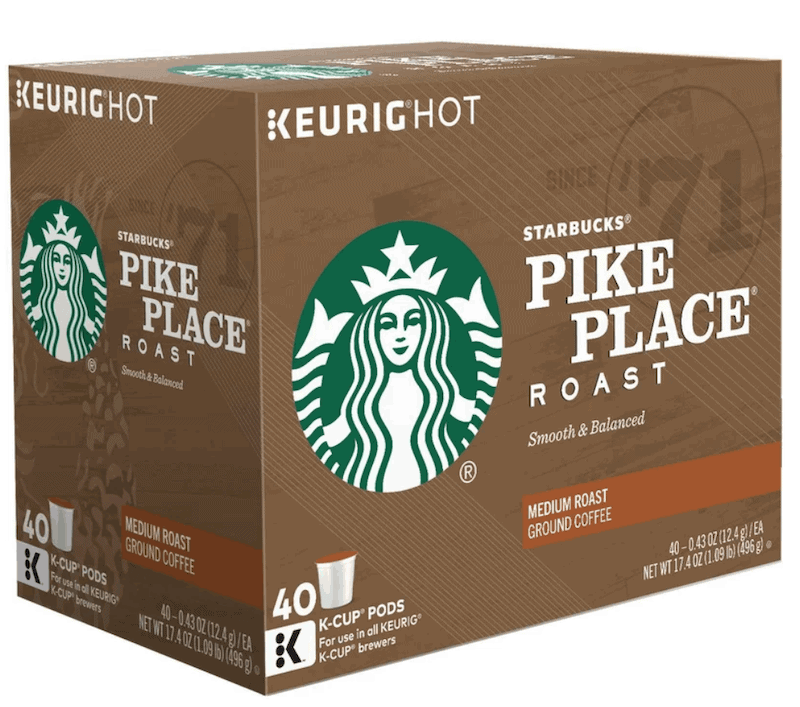 We couldn't have a list of best coffee pods without throwing in some Starbucks, right? If you're a fan of this coffee giant, you will appreciate what you find here. The Starbucks Pike Place Medium Roast is a moderate medium roast flavor with mellow "smooth mouth notes" that encourage a relaxing experience.
The blend has undertones of cocoa that enhance the taste of each cup. It's a great, classic flavor for coffee drinkers who need their java smooth but rich in flavor.
The biggest problem with this blend is that it won't taste quite like a cup of Pike Place at Starbucks. You just can't quite replicate that brewhouse flavor with an ordinary Keurig. This leaves some drinkers disappointed, but the flavor notes are still impressive.
Pros
Smooth taste
Notes of cocoa
Full-flavored roast
Cons
Doesn't quite live up to expectations for Starbucks coffee
---
8. Caribou Coffee Blend Keurig Pods
The Caribou Coffee Blend (Medium Roast) is smooth and mild—the perfect choice for coffee lovers looking for a nice mellow drink in the morning.
This is a fruit-forward blend, with sweet notes and a chocolatey aftertaste, making it a good dessert-style coffee. It's also just a good value pack. This is one of the more affordable packages on our list, making it a good budget option for people who don't want to spend a ton of money on morning coffee.
One thing to be mindful of is that the fruity chocolatey undertones also contain a hint of bitterness that some medium roast drinkers try to avoid. If you're casual about your coffee, this might not even be something you pick up on. However, true java nuts might find themselves a little disappointed.
Pros
Affordable
Nice mellow roast
Hints of chocolate
---
9. Peet's Coffee Major Dickason's Blend K Cup
Major Dickason's Blend is one of the most popular signature blends that Peet's Coffee provides. The coffee is a global mix and includes beans that are found all over the world.
The result is a bold, distinct, richly aromatic flavor that you don't often see. If you like bold dark roasted coffee, this will be hard to beat. The issues are two-fold. This is one of the pricier blends on the list, but the fresh, high-quality beans will justify the cost for buyers who love their coffee.
The other problem is that this is another coffee that's often poorly packaged. Many users report getting leaking or exploding cups that make a big mess in the Keurig.
Pros
Robust full-bodied taste
Richly aromatic
Cons
Pricey
Some cups tear or explode
---
10. Dunkin' Donuts Original Blend Keurig K Cups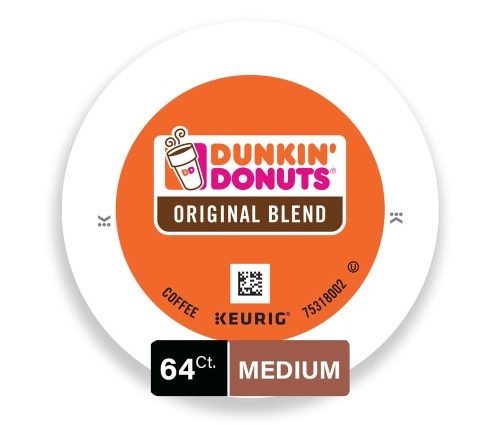 We end things with an option that comes directly from one of the most popular coffee brands in the U.S. Dunkin' Donuts Original Blend Coffee may not be as sophisticated as some of the other options on our list (no fancy flavors or rich histories), but it's classic and delicious.
The coffee is a little bitter, and we do still see the defective cup problem, but if you want something basic and affordable, this Original Blend will be a great option for you. As we all know, it also pairs well with donuts.
Cons
A little basic
Bitter aftertaste
Defective cups
---
Buyer's Guide: How to Find the Best Keurig Coffee Pods
Now we take a look at a couple of tips that will hopefully make the process of choosing a little bit easier.
The Type of Roast Counts
The type of roast you go with will have a big effect on your drinking experience. Generally speaking, darker roasts are more full-bodied and rich, but they can have a bitter aftertaste. Light roasts are a little smoother, but they can also be somewhat bland.
The medium roast is the happy middle ground. Good medium-roast coffee is going to be smooth and flavorful.
There Are Endless Flavors
Of the ten coffees listed above, there were many different types of flavors, but in the wide world of java, there are even more.
We looked at coffees that taste like cinnamon rolls, and even one that tastes like German chocolate cake. If you want to experiment, the sky is pretty much the limit. Keurig sells dozens of different flavored coffees. It's never a bad idea to stay stocked up on a few different ones in case you have company over.
Here are some other interesting flavors worth checking out:
Quantity Is Important
If you know that you love one particular K-cup, it's a good idea to buy in bulk. Not only will this ensure that you are always well-stocked, but it also helps you lock in a better rate for your purchase. For example, if you buy a sixty-count package, it will usually cost less than buying five twelve-counts.
Beware of Exploding Cups
For whatever reason, some coffees are consistently packaged poorly. No matter where you buy from, you're likely to get the occasional dud. This is especially true when you buy online and your coffee goes through the wear and tear of shipment.
However, if you ever find that many or even most of the cups you get from a certain manufacturer tear or explode, it may be time to buy from someone else. Buyers often complain that customer service isn't great about replacing defective K-cups, so it's much simpler to avoid them as much as possible.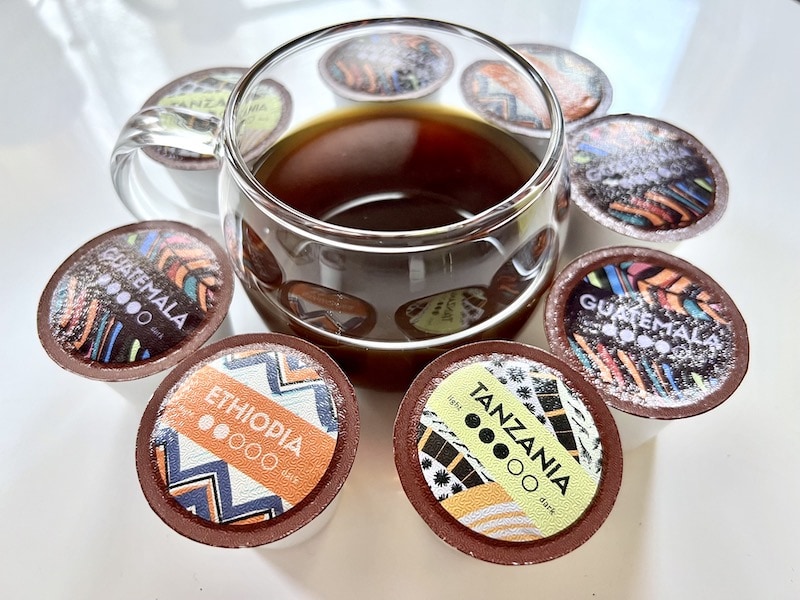 Keurig Deals With Companies That Prioritize Ethical Sourcing
If ethical sourcing is important to you, you'll be happy to know that Keurig works with manufacturers that feel the same way. Companies like Green Mountain make a point of paying their employees fairly. They also work hard to be environmentally conscious in their manufacturing process.
If you want to be sure that the company you buy from engages in these practices, it's usually as simple as reading the label on the packaging.
SEE ALSO: 6 Ways to be an Eco-Friendly Keurig Drinker (Yes, It's Possible!)

Conclusion
Our Keurig K-cup coffee pod reviews are now finished, and the time to decide has arrived. Of course, the taste is subjective, and you'll ultimately settle on the best K-cups for your taste.
However, if you feel lost, there are a couple of picks featured that should have broad appeal. For instance, if you want a light, nutty, highly-drinkable cup of coffee, you'll probably love Green Mountain's Breakfast Blend K-Cups. If you'd rather travel the world via your coffee cup (and amaze your taste buds at the same time), take a look at Atlas Coffee Club's new gourmet pods. And if you want a great dark roast, our third choice, the Illy Extra Dark K-Cups, will probably be more to your liking.
Of course, all the coffees on our list are uniquely delicious. As you continue along your journey with the Keurig, you'll likely try many different coffees. Hopefully, this list serves as a good way to start your collection of K-cups!
WORTH READING: How Much Coffee Is In a K-Cup? And do K-Cups expire?