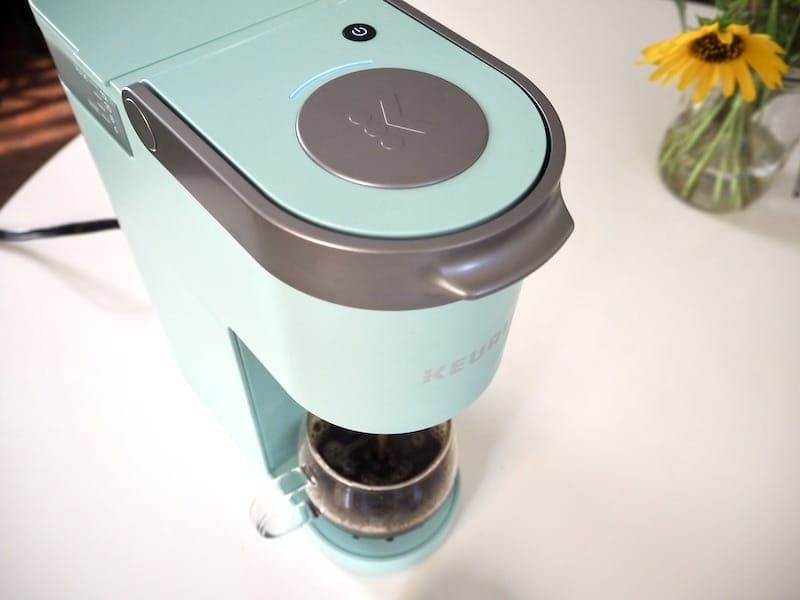 Our Final Verdict
We give the Keurig Mini a rating of 4.3 out of 5 stars.
Build Quality
Features
Price
Ease of Use
Cleaning
At a Glance:
The Keurig Mini is one of Keurig's most affordable options. It's a streamlined model that's easy to use and great at brewing simple cups of coffee. But is it worth your time and money? We decided to test it out to help you answer that question.
Our conclusion? The K-Mini is a great starter model that will fit most kitchens and budgets. It's simple to use and clean, and it's compatible with all regular K-Cups. Plus, it brews hot, tasty coffee at the touch of a button.
If you want more from your coffee maker, you may need to upgrade to a Keurig with more features. You won't be able to set a timer or fully control your brew strength, and you'll have to add water every time. This model's also a little loud. Still, it offers great value and fast brewing!
A Quick Look at the Keurig Mini:
Pros
Inexpensive and easy to use
Compact & lightweight
Compatible with all K-Cups
Available in several fun colors
Cons
Not as high-end
Somewhat loud
No timer or programming
No self-cleaning features
| | |
| --- | --- |
| Brand | Keurig |
| Product Type | Single-serve pod coffee maker |
| Compatible pods | K-Cups |
| Materials | Plastic |
| Dishwasher-safe parts | No |
| Weight | 4.6 pounds |

Appearance
The Keurig Mini is a sleek, compact machine that will fit on even the most crowded kitchen counters. It's available in four colors, including pink and green, and operates using a single silver button on the top.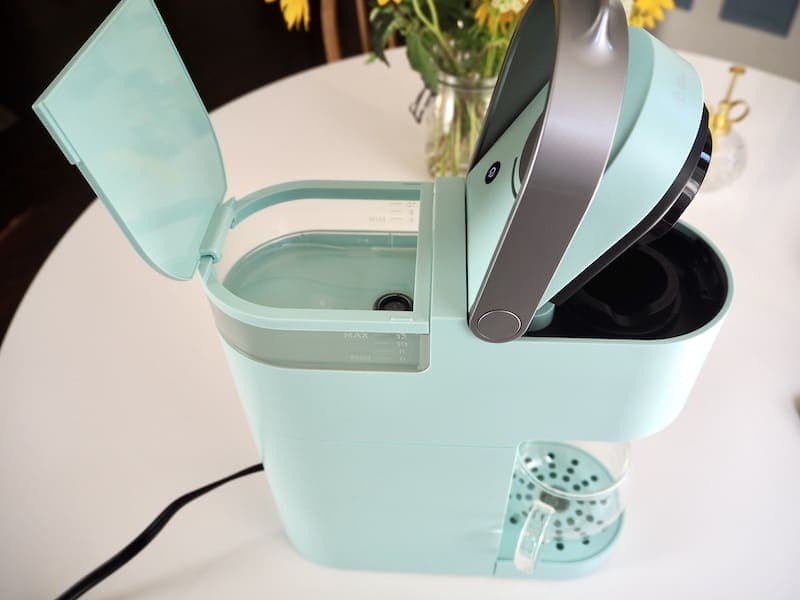 You'll find the small 12-ounce water reservoir in the back. Conveniently, it has transparent sides so that you can see how much water you've added. This can be a little hard to see from the front, however.
The power cord can be coiled into the back of the machine for easy transportation. Plus, the whole machine weighs a light 4.6 pounds.
---
Ease of Use
The bottom line is that the Keurig Mini is very simple. This is mostly a good thing, especially if you need coffee to function in the morning. There are only two buttons — a power button and a brew button — plus a curved light that blinks to tell you the machine is ready to brew.
With such a small water reservoir and no way to control cup size, you'll have to add water every time. You can add between 6-12 ounces of water, and when you hit the brew button, the machine will use all of it.
One convenient feature is the removable drip tray. You can take this off for easy cleaning or to use a taller travel mug. Without the drip tray, the Mini will accommodate mugs up to 7 inches tall.
You won't find any nice-to-haves here like timers, clocks, or brew strength adjustments. The most automated feature this machine has is the auto-off, which will turn it off 90 seconds after each brew cycle. To use this machine, you just add water, insert a K-Cup, push down the lever, and hit the brew button. After a couple of minutes, you'll have a hot cup of freshly brewed coffee.
---
Coffee Pod Compatibility
The Keurig Mini is compatible with all regularly-sized K-Cup pods. It doesn't work with K-Carafe, K-Mug, Vue, or Rivo pods. The good news is that this model isn't a Keurig 2.0, so you won't have to worry about it failing to read your K-Cups.
Do you prefer reusable K-Cups? You can also use the My K-Cup universal filter with this model.
RELATED READ: The Best K-Cups Available This Year
---
Coffee Quality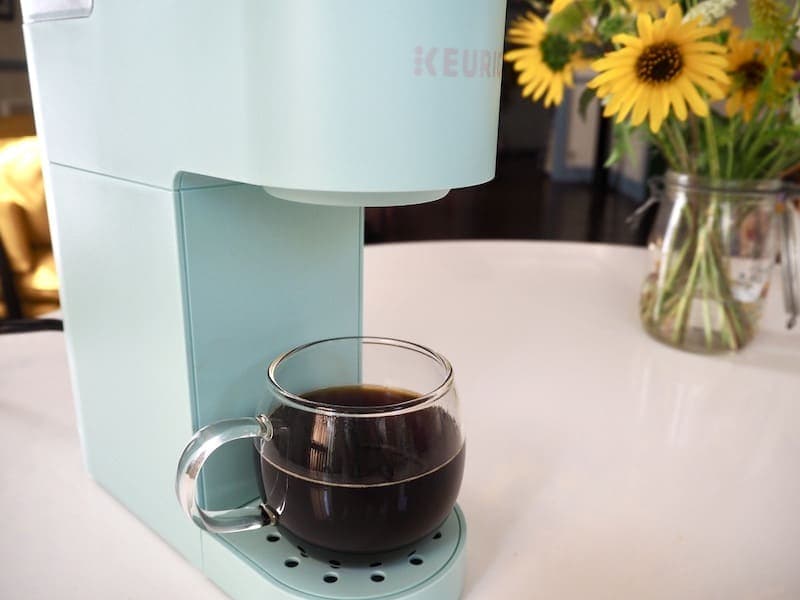 How does the Keurig Mini do on coffee quality? We found it to be comparable to other single-serve coffee makers. The coffee comes out hot, aromatic, and flavorful, just as you'd expect.
---
Ease of Cleaning
All coffee machines need regular cleaning and descaling, and the Keurig Mini is no different. The main detraction here is that there isn't a cleaning indicator or program, so you'll have to remember to run a full descaling cycle yourself.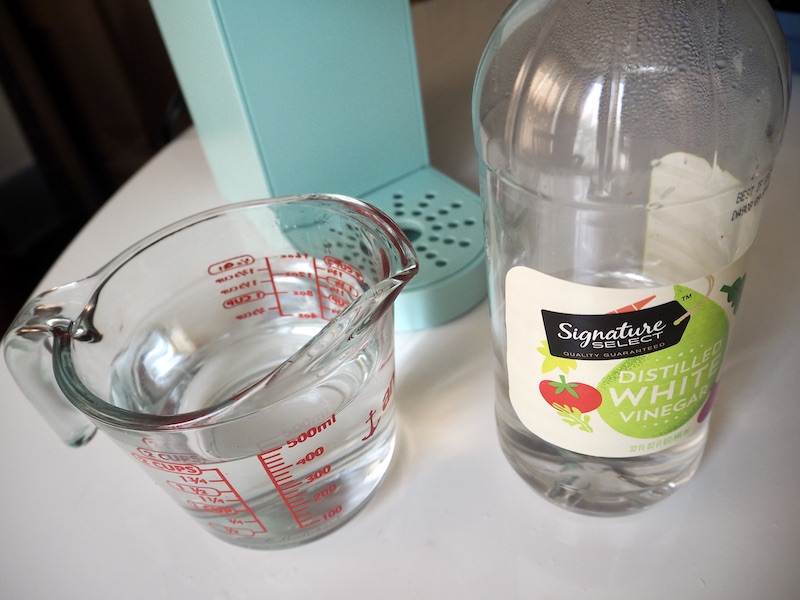 The drip tray is removable, and the machine's simple enough to clean quickly. Overall, this model's cleaning needs are very reasonable.
RELATED READ: How to Clean & Descale Your Keurig Mini
Warranty
Keurig offers a basic one-year warranty for the Mini. To get the most out of this, you'll want to register your machine when you receive it.

The Verdict
So what's our verdict? The Keurig Mini is a good single-serve coffee maker, offering great value for its very appealing price. It's easy to use, reasonably simple to clean, and produces tasty, hot coffee.
There aren't any frills on this simple model. You won't find a timer or clock, and there's no way to program sizes or brew strengths. When we tested it, we also found it to be pretty noisy, which the sleepyheads in your family may not appreciate.
But the bottom line is that the Keurig K-Mini is a simple, inexpensive single-serve coffee maker that's well worth your time and money.
STILL LOOKING? Try one of our other coffee maker reviews: