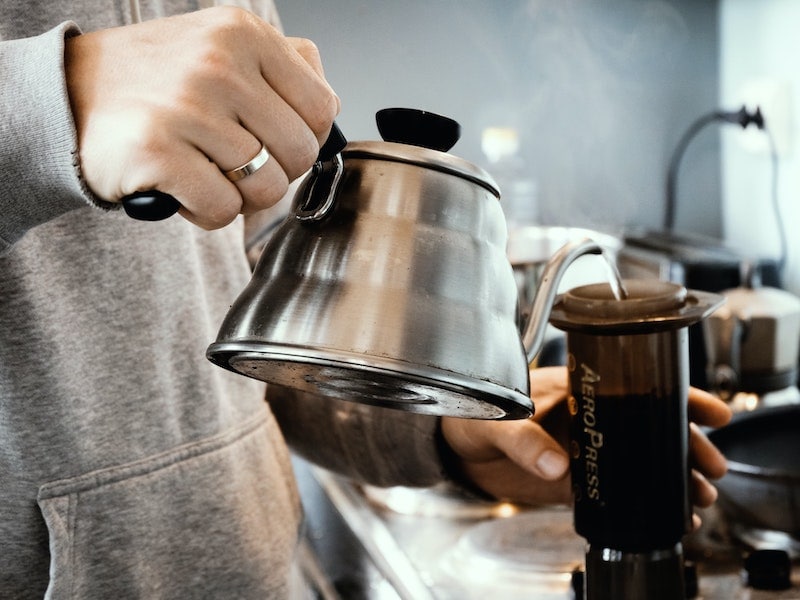 You've mastered AeroPress brewing, whipping up perfect cups of coffee every time. But if you're more in the mood for tea — maybe you just picked up an interesting loose-leaf or want to cut back on your caffeine intake. The good news is that you can brew tea using your AeroPress!
Here's how to make AeroPress tea in a few simple steps. Keep reading to learn the easy process and see our important brewing tips, too.

Easy AeroPress Tea Recipe
Ingredients
Loose tea leaves
Filtered water
Milk or sugar (optional)
1. Boil water.
Start boiling fresh, filtered water. We're using the excellent Hario Buono kettle, but you can use any kettle you have on hand.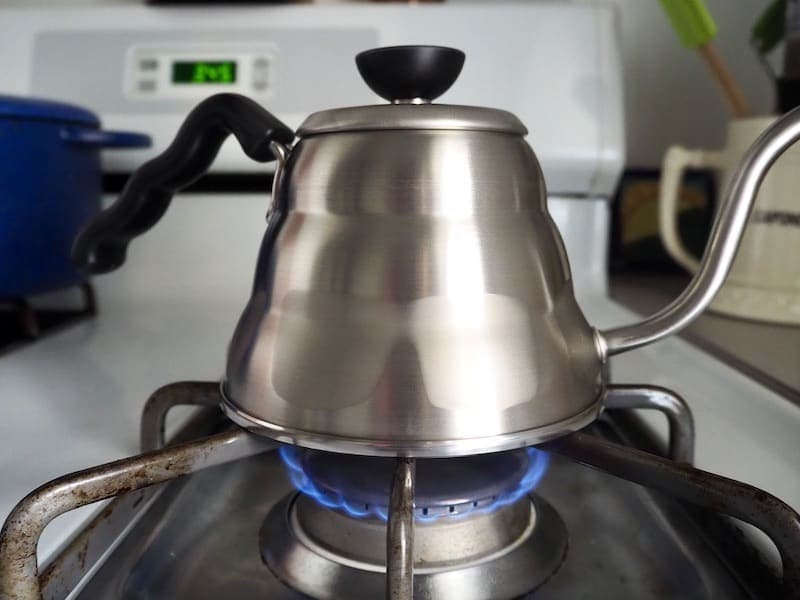 2. Set up the AeroPress.
For this recipe, you'll want to use the inverted AeroPress method. Push the plunger about an inch into the brewing chamber. Place it on the counter plunger side-down.
3. Add tea leaves.
Pour your loose leaf tea into the inverted brewer. Gently tap the sides to make sure the leaf bed is level.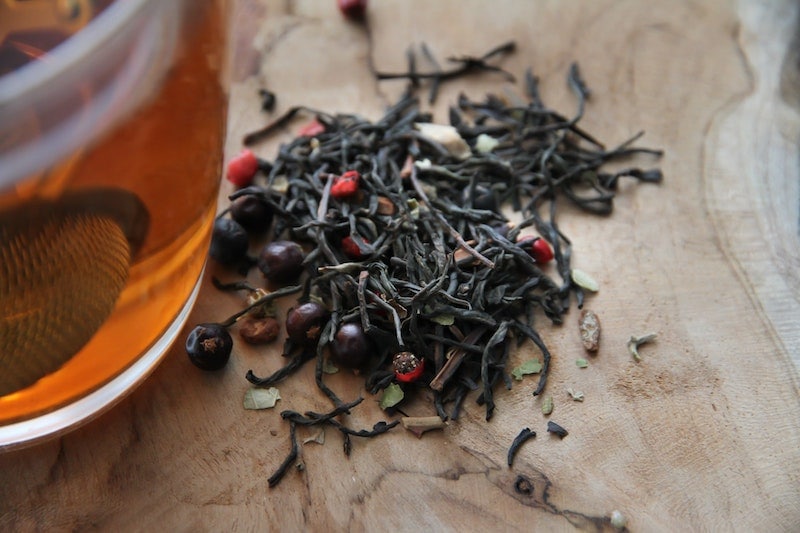 4. Pour water over the tea leaves.
Pour your boiled water over the tea leaves in small circles, making sure you spread the water evenly.
5. Let steep.
Let your tea steep on the counter for 3 to 5 minutes, depending on the type of tea and how strong you like it. Then put the filter on top and attach the filter cap.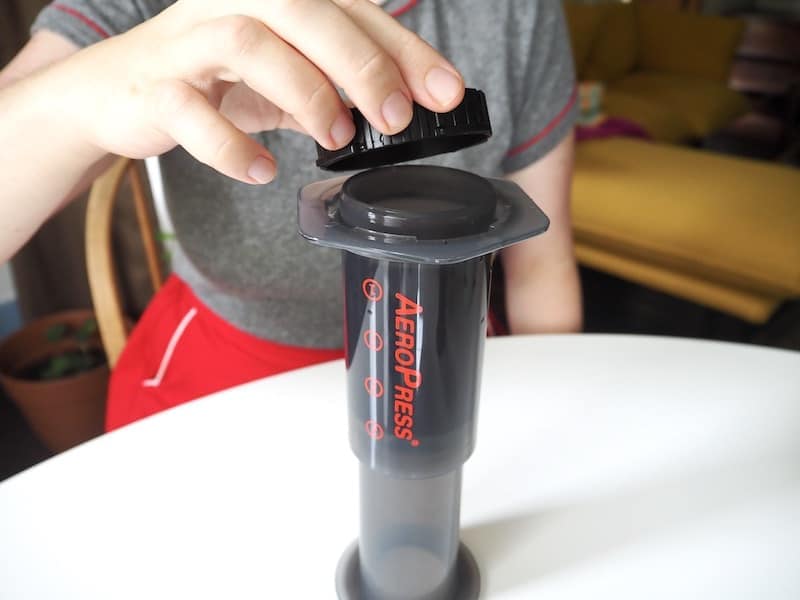 6. Turn the brewer over and press the plunger.
Flip the brewer over onto your coffee mug. Carefully press the plunger down.
7. Enjoy your cup of tea!
That's it — you've brewed a cup of AeroPress tea! Add a splash of milk or a sprinkle of sugar if you'd like. Take the filter cap off the AeroPress and discard the puck of tea leaves.

AeroPress Tea Brewing Tips:
This is a very simple process — slightly harder than regular tea brewing, but with extra flavor from the AeroPress pressure. Still, there are a few tips you'll want to keep in mind to make sure your tea comes out well.
Metal or Paper Filter?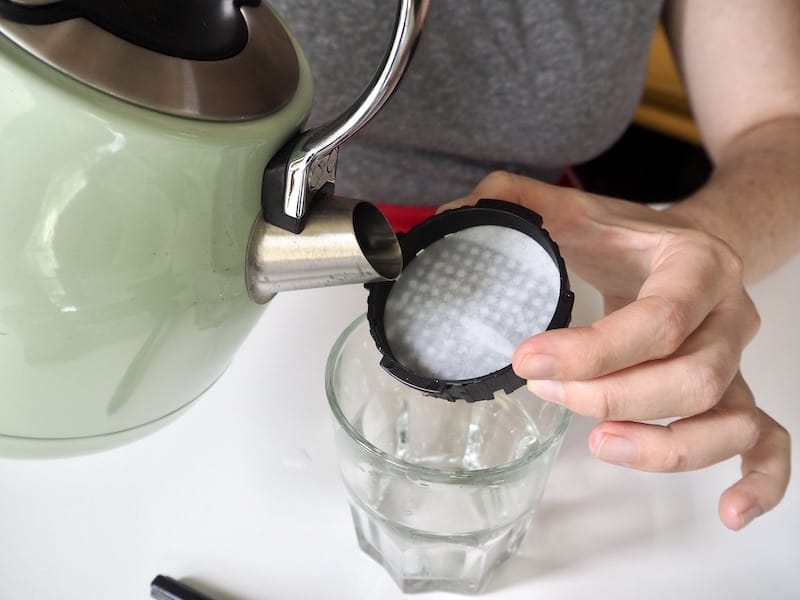 Some coffee bloggers will tell you that you can't make AeroPress tea with a paper filter. We haven't found that to be true, though using a metal filter may give you better results. Loose leaf tea is usually made using a metal strainer, so you'll probably recognize the flavor better. But the AeroPress paper filters work, too! Give it a try and see what you think.
What kind of tea will work?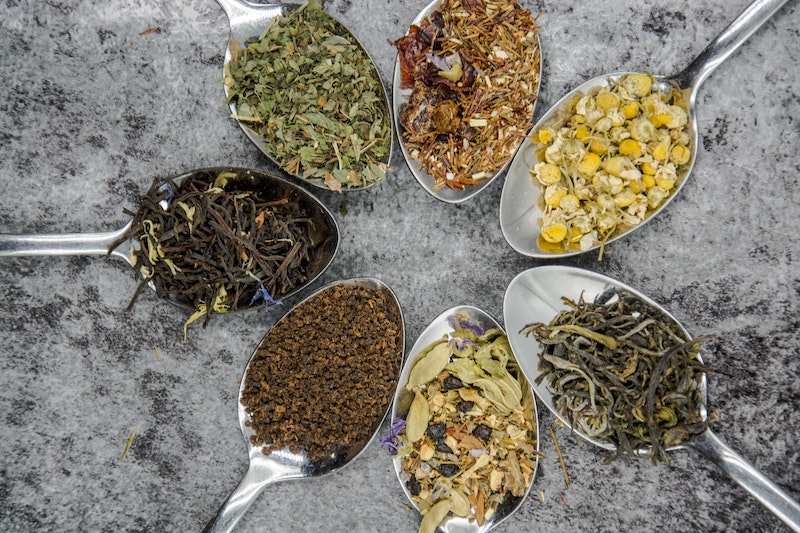 You can use any kind of tea in your AeroPress, though it will need to be loose-leaf. Green tea, black tea, herbal tea… they're all good! You may want to adjust the brewing time for different tea leaves. You can usually find recommended brewing times on the packaging.
Don't have loose-leaf tea? You can also use a tea bag — just cut it open and pour the tea leaves into the brewer.
Do you have to use the inverted AeroPress method?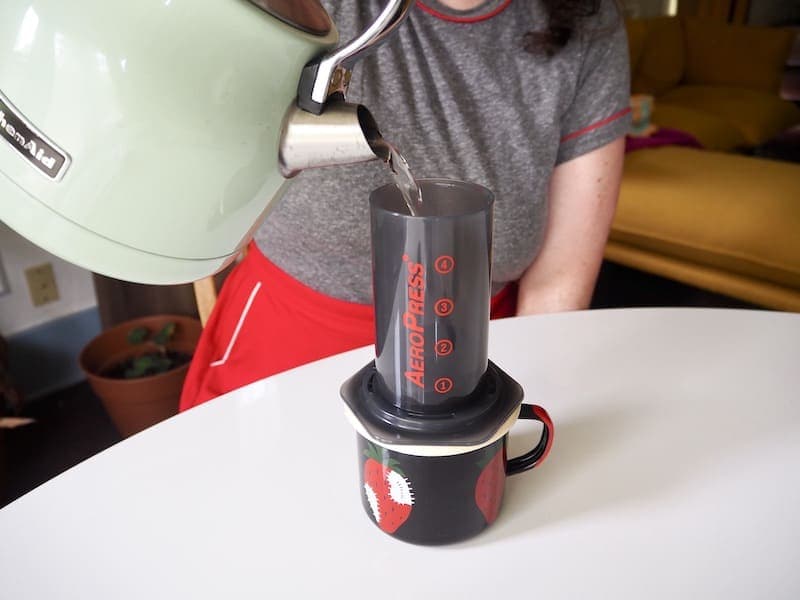 Technically, you can probably brew tea using the regular AeroPress method, with the filter end resting on your coffee mug. But your tea is likely to be pretty weak since it'll go through the filter before it's fully steeped. When in doubt, we like to follow the AeroPress company's directions — so stick with the inverted method for the best tea!

The Bottom Line
We hope you enjoy your new brewing skill. Your AeroPress doesn't only make tasty coffee — it can also brew pretty amazing cups of tea. Just make sure you use the inverted brewing method and your favorite loose-leaf tea.
RELATED READS:
---
Featured Image Credit: Alex Chernenko, Unsplash