Halloween's almost here, and that means it's time to start drinking the scariest (or coziest) coffee drinks. As you put together the perfect costume, plan out your trick or treating route, or carve a ghoulish Jack-O'-Lantern, why not enjoy a truly spooky latte?
To help you find a drink worthy of the spookiest month of the year, we've gathered our favorite Halloween coffee recipes. Whether you're throwing a Halloween party or just looking for a tasty drink for a fall morning, we have 6 delicious options. Keep reading — if you dare:
SEE ALSO: The Easiest Way to Make Halloween Coffee? Delicious Pumpkin Spice Coffee Beans!

6 Spectacularly Spooky Halloween Coffee Recipes
1. Festive & Over-the-Top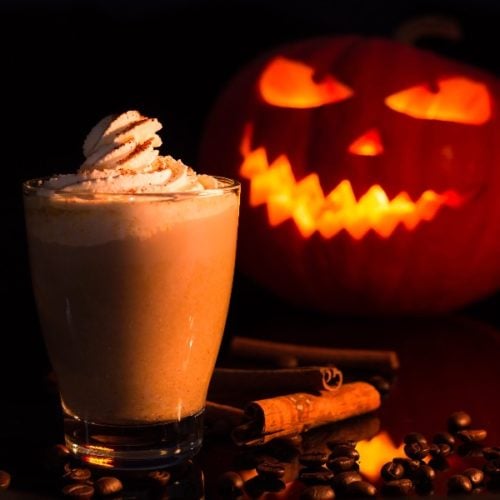 Jack-O'-Lantern Latte
What could be more festive than a Jack-O'-Lantern? This is a fun twist on a classic Pumpkin Spice Latte, featuring chocolate syrup and a spooky face made from your favorite candy. Enjoy a cozy latte while carving pumpkins, trick or treating, or hosting your friends!
Equipment
Espresso machine

Small saucepan

Tall latte glass
Ingredients
2

shots espresso

8

ounces

milk

1

tablespoon

pumpkin puree

1/2

teaspoon

pumpkin pie spice mix

1

tablespoon

chocolate syrup

Whipped cream

Orange food coloring

optional

Candy corn, candy pumpkins, or chocolate chips

optional
Instructions
In a small saucepan, combine your milk, pumpkin puree, and pumpkin spice mix.

Heat on low, stirring regularly, for a few minutes. Don't let the mixture boil.

Pull two shots of espresso. If you don't have an espresso machine, you can substitute 4 ounces of strong brewed coffee.

Drizzle chocolate syrup in your latte glass. Then add the espresso.

Pour the spiced pumpkin milk on top of the coffee.

Now it's time for garnishes! Take it over the top by mixing orange food coloring into your whipped cream. Spoon the orange whipped cream onto your drink. Then use candy corn, candy pumpkin, or chocolate chips to form a Jack-O'-Lantern face. Sprinkle on a little cinnamon if you'd like.

Enjoy your spooky Halloween latte!
Nutrition
---
2. Poison Apple Coffee
You may not think of apples as a coffee flavoring, but trust us: you're missing out! Whip up a caramel apple coffee drink with a sprinkle of cinnamon for a cozy treat. And if you're throwing a party, why not call it a poison apple coffee? Don't forget to wear your witch hat while serving!
Cinnamon Apple Coffee
Apple coffee is a cozy fall treat that combines all of the best seasonal flavors. Cinnamon, apple cider, caramel, and coffee: what's not to love? Here's the simple recipe!
Try this delicious recipe!
---
3. Trick or Treat Latte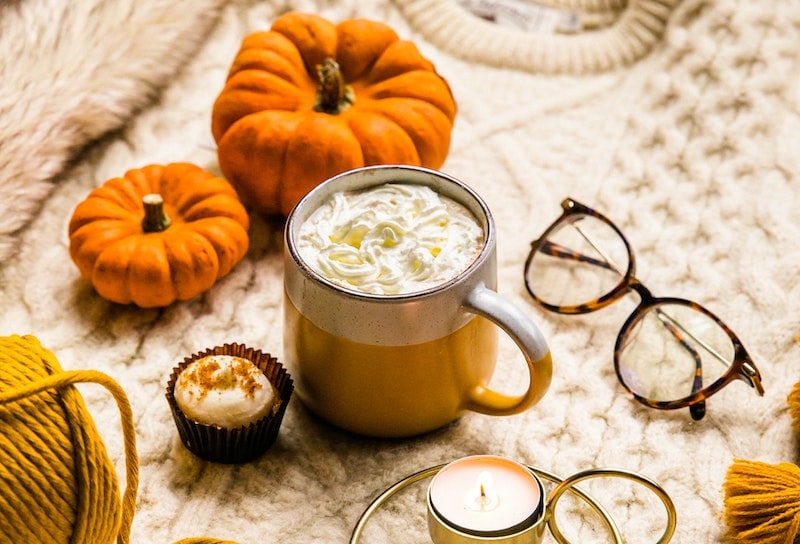 This latte is a little bit sweet and a little bit salty, just like any good trick-or-treating session! Mix maple syrup and pecans into a latte for a drink worthy of a chilly fall day.
Maple Pecan Latte
Some specialty latte recipes are complicated and require cabinets full of unusual ingredients, but this is not one of them. This recipe is fairly simple and only takes a few minutes to make. Enjoy your homemade maple pecan latte!
Try this delicious recipe!

---
4. Frightful Fire Cocktail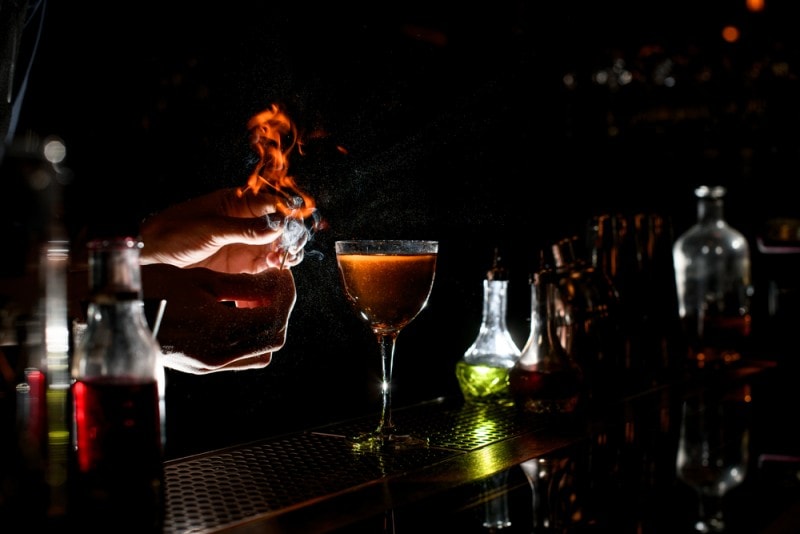 If you're looking for an adult Halloween coffee drink, this flaming Spanish cocktail will knock your socks off! Turn the lights down low, pull out the candles, and get ready to impress your guests.
Flaming Spanish Coffee Recipe
What makes the flaming Spanish coffee so special? Caramelized sugar and rum mix with coffee and coffee liqueur to make this delicious, complex coffee cocktail. And did we mention that you set it on fire? Here's the unexpectedly simple recipe.
Try this delicious recipe!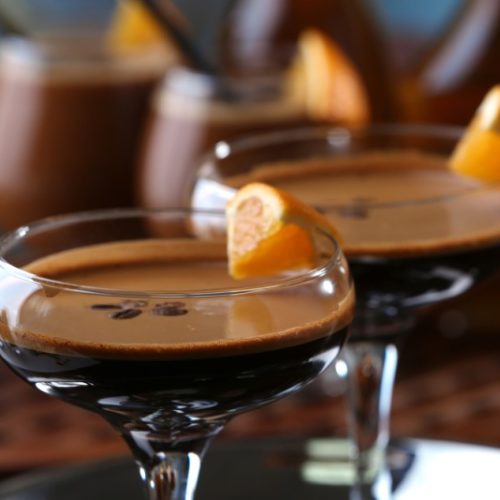 ---
5. Bloody Beet Latte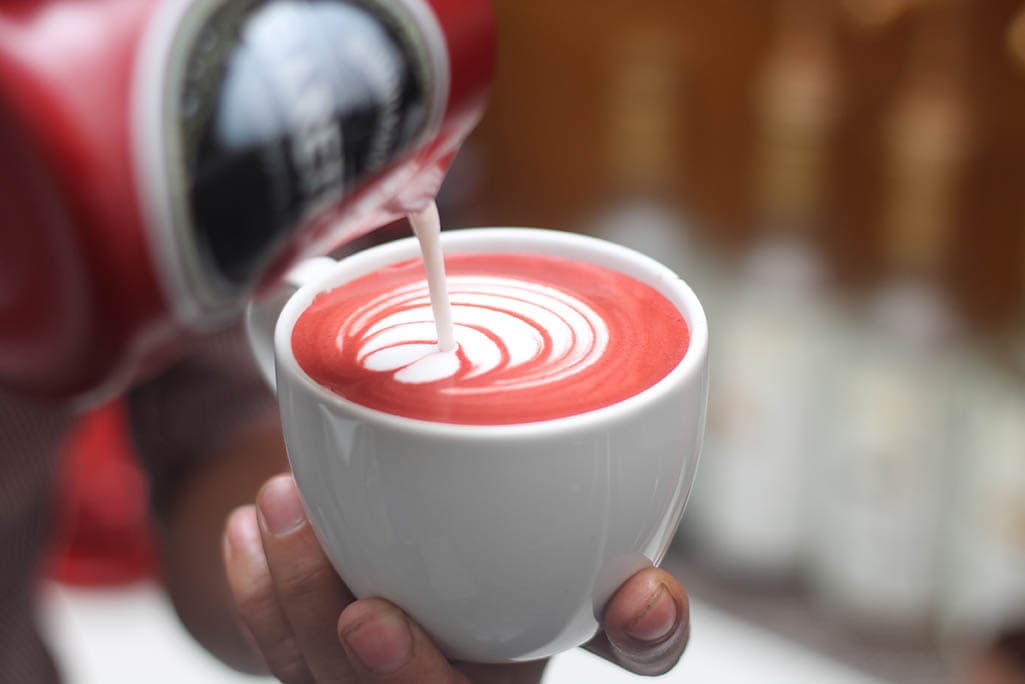 The rest of the year, our beet latte is a cheerful shade of pink. But when Halloween rolls around, we recommend adding a little extra beet powder (or red food coloring) to turn this healthy latte into something fit for your favorite vampires.
Stunning Beet Latte
This naturally flavored latte is a beautiful shade of pink -- thanks to the beets! With a dash of frothy almond milk, cinnamon, and maple syrup or honey, it's a delicious way to get caffeinated and eat a few vegetables at the same time.
Try this delicious recipe!
---
6. Ghoulish Coffee Punch
Coffee punch is an amazing drink to serve at any party. Rich, creamy, and caffeinated, this combination of coffee and ice cream is to die for. Speaking of dying, you can always dye your ice cubes red or throw in some gummy eyeballs for an extra ghoulish party drink!
Easy Coffee Punch
This simple coffee punch recipe will have your guests smiling from ear to ear! It's creamy, sweet, and lightly caffeinated -- not to mention refreshing.
Try this delicious recipe!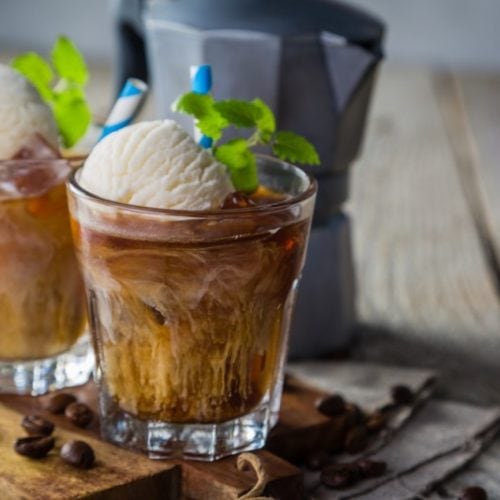 Final Thoughts
Are you ready to party? We hope you've found the perfect cozy drink to enjoy on a fall morning or serve at a Halloween party. Whether you make a spiced Jack-O'-Lantern latte or a creamy coffee punch, you'll enjoy the delicious flavors! There's nothing like a cozy coffee drink on a chilly day — especially if you've been busy trick or treating or decorating your house with spider webs. Enjoy your spooky drink!
RELATED READS:
---
Featured image credit: Unsplash