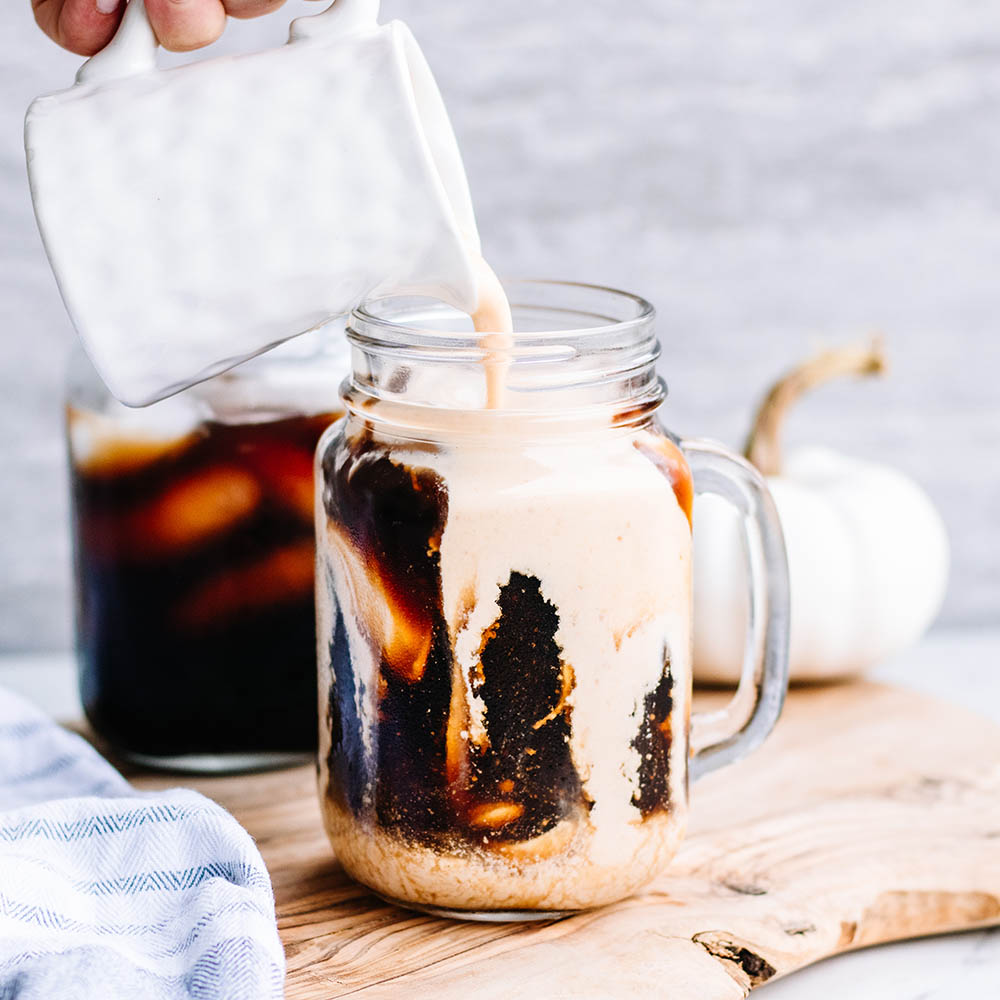 As the seasons start to change, so do the coffee flavors that coffee shops feature. When fall arrives, it's time to whip out the pumpkin spice to add richness and flavor to your coffee. Instead of running out for a Starbucks pumpkin spice cold brew, enjoy it right out of your kitchen with our handcrafted pumpkin spice cold brew iced coffee.

Homemade Starbucks Pumpkin Spice Cold Brew
Ingredients
1-2 tablespoons Pumpkin Spice syrup (store-bought or homemade)
6 oz cold brew coffee (diluted)
Ice
Milk (swap for plant-based milk)
Equipments
Coffee mug or cup
Tall Glass
Tablespoon
Microwave (optional)
Frother (optional)
1. Add Cold Brew Coffee to a Mug or Glass.
Add diluted cold brew coffee to a coffee mug.
2. Add Pumpkin Spice Syrup.
Add about ½ tablespoon of Pumpkin Spice Syrup, then stir until blended.
3. Pour Over Ice in a Tall Glass.
Drizzle syrup in a tall glass and add ice, then add the pumpkin cold brew.
4. Add Milk or Milk Foam and Garnish with Syrup.
Top off with milk or milk foam (using a frother), then garnish with the rest of the syrup.
---
The Cold Brew Experience
What is Cold Brew Coffee?
Cold brew is a fairly newer concept of 'cold' coffee drinks, quickly becoming the new favorite for many. Ground coffee beans steep in water for 12–24 hours, creating a bold, flavorful coffee concentrate. It's smooth and rich in flavor, bringing out flavor notes that only cold brewing can. If you're an iced coffee fan and you haven't tried cold brew yet, we highly recommend giving it a try.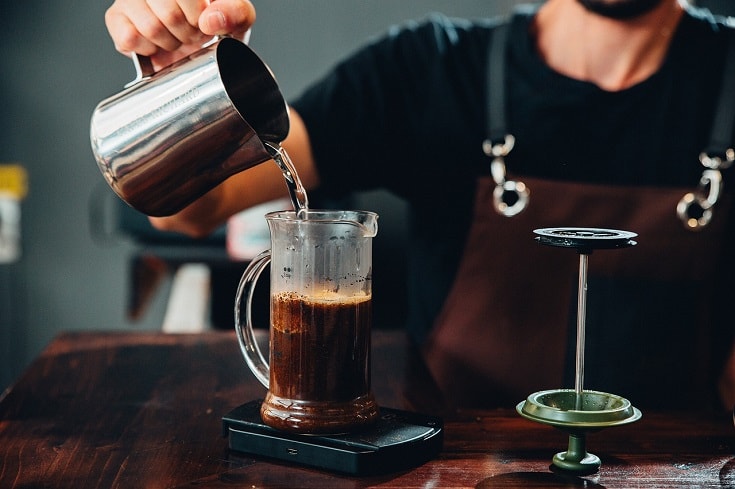 Cold Brew Coffee vs Iced Coffee
Although both are cold coffee drinks with ice, there is a big difference between cold brew and iced coffee. While cold brew steeps for hours and doesn't require a coffee maker, most iced coffee is drip-brewed hot coffee. The most noticeable difference is that iced coffee has a more acidic, bitter taste compared to the smoother, bolder cold brew. However, cold brew coffee takes 12 or more hours to make at home, so iced coffee is easier and faster to make.
---
Simple Pumpkin Spice Cold Brew Coffee Recipe
Here's our favorite way to make a flavorful pumpkin spice cold brew coffee. It's the perfect way to enjoy this seasonal favorite, without stepping foot inside a coffee shop. Add as much pumpkin spice flavor as you like and enjoy it fresh each morning!
Equipment
Tall glass

Coffee cup

Microwave (optional)

Frother (optional)
Ingredients
1-2

tbsps

Pumpkin Spice syrup

store-bought or homemade

6

oz

Cold brew coffee

diluted

Ice

Milk

swap for plant-based milk if you'd like
Instructions
Dilute cold brew concentrate in a coffee mug or glass, using your preferred ratio. We recommend starting with 5:1 water to cold brew.

Drizzle around ½ tablespoon of pumpkin spice flavor syrup, then stir until the syrup is blended. To make the syrup dissolve easier, heat in the microwave for a few seconds.

In a tall glass, line the bottom with the pumpkin spice syrup, then add ice. Pour the pumpkin spice cold brew over the ice, then stir it until mixed to your liking. Alternatively, you can also add it to a drink mixer and shake it or use a hand stirrer.

Top off with milk or milk foam (using a frother), then garnish with syrup.
---
Featured Image Credit: Laura Heineman, Shutterstock