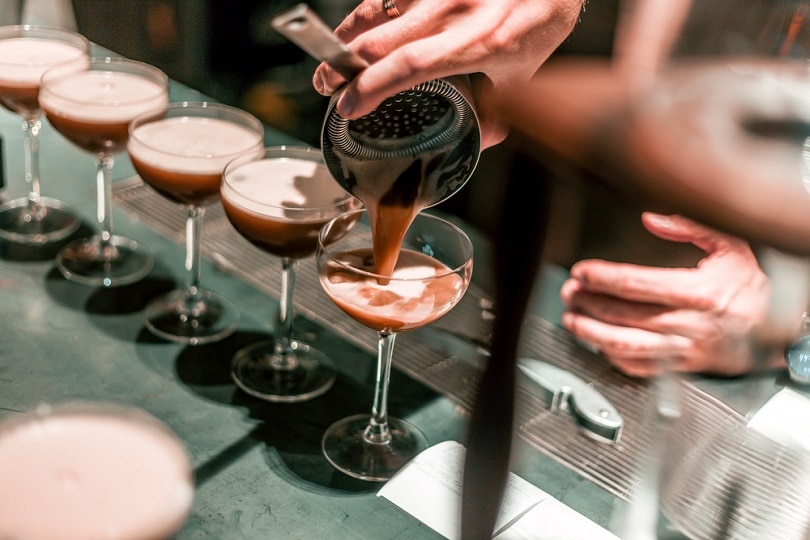 What better way to top off a delicious meal than with a coffee cocktail? Coffee is a staple of after-dinner drinks, and any self-respecting host will have a few coffee cocktail recipes up their sleeve to break out when they want to impress their guests. We put this guide together to help you build a solid repertoire of hot coffee cocktails so that you're prepared next time you entertain family and friends.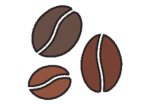 Top 9 Hot Coffee Cocktails:
1. Irish Coffee
Perhaps the most famous coffee cocktail, Irish coffee is a classic that has withstood the test of time. It only requires a few ingredients—whiskey, Irish cream, and coffee—but has a rich, smooth mouthfeel and crowd-pleasing flavor.
Irish Coffee with Baileys
Are you wondering how to make Irish coffee? This hot coffee cocktail is easy to make and perfect for cozy winter nights. Combine hot brewed coffee with Baileys and Irish whiskey for an irresistible treat.
Try this delicious recipe!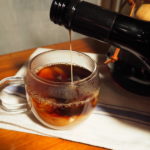 ---
2. French Connection with Coffee
The French Connection is another classic cocktail recipe, and adding coffee makes it the perfect choice after a hearty meal. Besides coffee, you only need cognac and amaretto to make a French Connection, making this a quick and easy drink to make.
Brew the coffee. Once again, brewing strong, full-bodied coffee is essential for achieving a balance of flavors. However, since this drink doesn't contain cream, you can get away with standard drip coffee without a problem.
Add equal parts cognac and amaretto to start. An ounce of each is usually the right amount. It is easy to adjust to taste after the fact. Add more amaretto for a sweeter drink if you prefer.
If you're feeling fancy, top with whipped cream and serve.
---
3. Italian Coffee Cocktail
Continuing our European-themed coffee cocktail tour, Italian coffee is the perfect choice if you're looking for something unusual. Unlike Irish coffee or a French Connection with coffee, the Italian coffee cocktail uses a unique liqueur called Strega to craft a delightful, floral cocktail unlike any other.
For this one, you can use medium or light roast coffee since Strega is a rather delicate liqueur. Choose a coffee with floral tasting notes to help highlight Strega's natural flavor.
Add ½ to 1 ounce of Strega per 5 ounces of coffee. We like using 1 ounce in a standard 8-ounce cup.
Add sugar to taste (optional).
Top with whipped cream.
---
4. Kentucky Coffee
There's only one type of alcohol Kentucky is known for—Bourbon. Like Champagne, Bourbon technically must come from Bourbon Kentucky, leading many companies to sell Bourbon-style whiskey instead. Whatever you call it, adding a splash of Bourbon to your coffee is a great way to kick off a lively night. This recipe is super simple, but that doesn't make it any less delicious.
Make the coffee; the stronger, the better.
Add 1 to 1.5 ounces of Bourbon. You can use your favorite Bourbon if you have one. We recommend Bulleit Bourbon or Knob Creek as high-quality budget-friendly options.
You can top this one with whipped cream or just enjoy the raw coffee and whiskey combination.
---
5. Hot White Russian
After the simplicity of the last recipe, we decided to be a bit more adventurous with this next one. This is the most involved recipe so far, but we think it's more than worth it. The Hot White Russian is a deceptively strong drink because it is amazingly smooth and goes down easy. Be careful with this one.
Brew 4 ounces of coffee. Any coffee will do, but we like to stick with an unassuming medium roast to give the other ingredients room to breathe.
Add 2 ounces each of Kahlua and whole milk.
Add 1 ounce of vodka.
Stir until the ingredients are well mixed.
Top with whipped cream, serve, and enjoy!
ANOTHER GREAT COFFEE COCKTAIL: Delicious Black Russian Recipe (Easy & Impressive!)
---
6. The Kitchen Sink Coffee Cocktail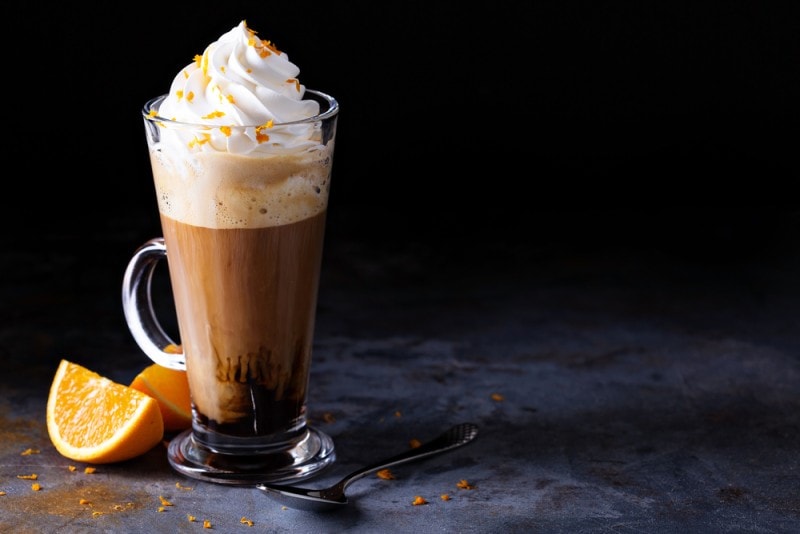 This recipe sounds like something you might be offered at the local college's dorms, but we promise, the ingredients aren't randomly thrown together. Even though the recipe reads like someone is cleaning out their liquor cabinet, the result is a smooth, nuanced drink with a unique flavor. It is quite strong so tread lightly.
Once again, any coffee will do. You might want to make a slightly stronger cup than you would normally drink, but don't go overboard.
Add 0.75 ounces each of brandy, Grand Marnier, and Kahlua.
Garnish with an orange peel and top with whipped cream. You get bonus points for whipping heavy cream by hand, but it isn't necessary.
---
7. Café Don Juan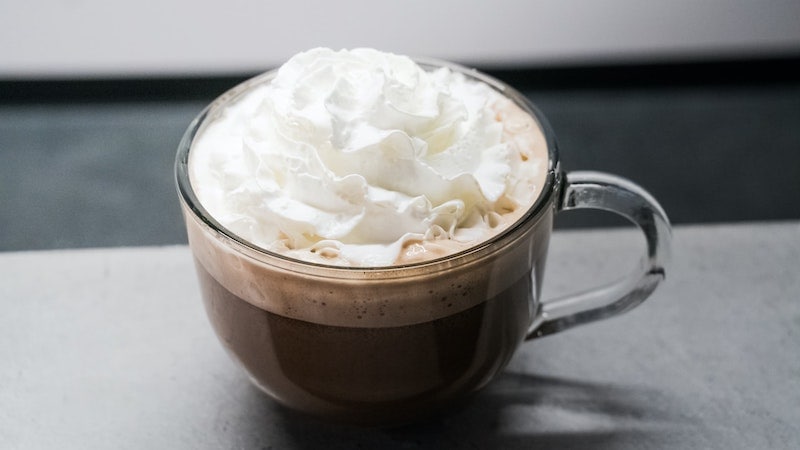 After the last few recipes, we figure it's time to return to a simpler, more straightforward cocktail. Café Don Juan is a two-spirit drink that packs a powerful coffee punch. This is one of the only hot coffee cocktails we know of that uses both coffee liqueur and brewed coffee, and we love it.
Brew 5 ounces of coffee. Regular strength coffee is perfect for this drink since you'll be adding coffee liqueur too.
Add 1 ounce of coffee liqueur.
Add ¾ to 1 ounce of dark rum. You can adjust the amount of rum to taste.
Rim the glass with lemon juice and sugar for a special touch.
Top with whipped cream.
---
8. Bavarian Coffee
Bavarian coffee is most popular during the winter thanks to its healthy helping of peppermint schnapps. However, despite the holiday-inspired flavor profile, Bavarian coffee is excellent any time of year.
Make 5 ounces of coffee. We like to use a strong dark roast to complement the potency of the peppermint schnapps.
Add ½ ounce peppermint schnapps.
Sugar is usually optional, but Bavarian coffee traditionally uses 1 teaspoon of sugar per 5 ounces of coffee.
---
9. Spanish Coffee
Spanish coffee is a unique coffee cocktail that tastes a little like an ice cream sundae, believe it or not. It uses vanilla coffee liqueur and rum to make a sweet, flavorful drink and is usually topped with whipped cream and a cherry, making it the perfect adults-only dessert.
Make 1 cup of regular coffee using your favorite brewing method. Average-strength coffee is fine.
Add ½ ounce of vanilla coffee liqueur.
Add ½ ounce of rum.
Top with whipped cream and a cherry.
SEE ALSO: The Infamous Flaming Spanish Coffee Recipe
---
Featured image credit: Aleksandrs Muiznieks, Shutterstock