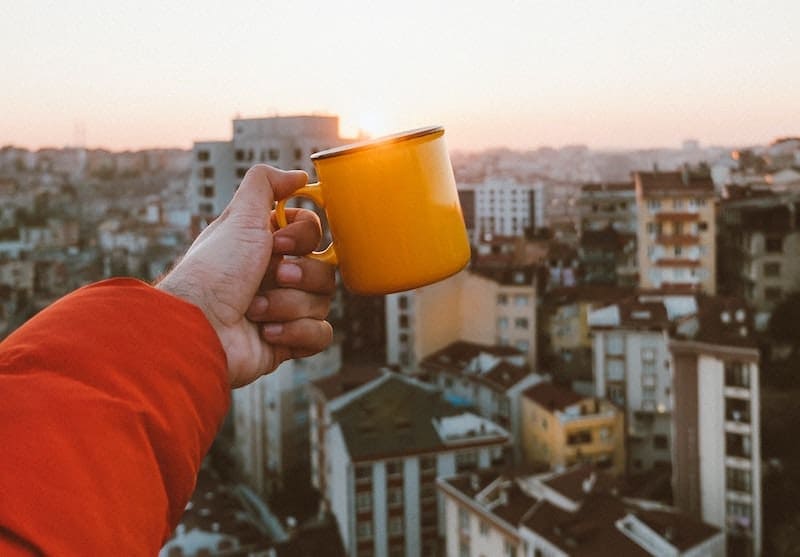 Getting up in the morning can be difficult, but luckily, coffee is there for us. Our favorite beverage isn't just delicious — it also helps us focus, boosts our moods, and possibly even makes us smarter! Add in the many health benefits of those cups of joe and we've got a pretty amazing morning drink on our hands.
So why not celebrate that with a little morning coffee fun? Here are our favorite good morning coffee GIFs to help you start your day right! Get ready to bop with a coffee-loving doughnut, get a wake-up call from the USS Coffee, and drink java straight from the coffee pot. Trust us, you won't be bored…

Top 15 Good Morning Coffee GIFs:
1. Good Morning!
---
2. Productivity
This is your morning after you drink coffee! Look at all that productivity…
---
3. Coffee & Doughnuts
Just a cute doughnut drinking coffee and wishing you a good morning!
---
4. But First
Before your morning can really start, it's time for a cup of coffee. Or two. Or three.
---
5. Coffee Time
---
6. Sipping
---
7. When the Coffee Hits
If your coffee doesn't make you feel like this, maybe it's time to upgrade your beans!
---
8. Wake Up
Why is there a ship in your coffee? Ask us after we finish our cups!
---
9. Coffee & Cream
A pretty mesmerizing way to start the day, right?
---
10. Before Coffee?
Everyone knows the morning doesn't really start until after coffee.
---
11. Good Mawning
---
12. Morning!
---
13. Morning Ritual
Is it creepy? Yes. Is it accurate? Even more yes!
---
14. Straight From the Source
Why buy a coffee cup when you're just going to drink the whole pot?
---
15. Best Wishes From Your Favorite Bean

Final Thoughts
There you have it: 15 fun good morning coffee GIFs to keep you company while you sip. People all over the world start their days with a tasty cup of coffee. So why not celebrate with a few endlessly entertaining coffee GIFs? We hope you enjoyed this roundup — and if you're a serious coffee fan, take a look at our hilarious need coffee GIFs!
LOOKING FOR MORE COFFEE FUN?
---
Featured Image Credit: Kayra Sercan, Unsplash