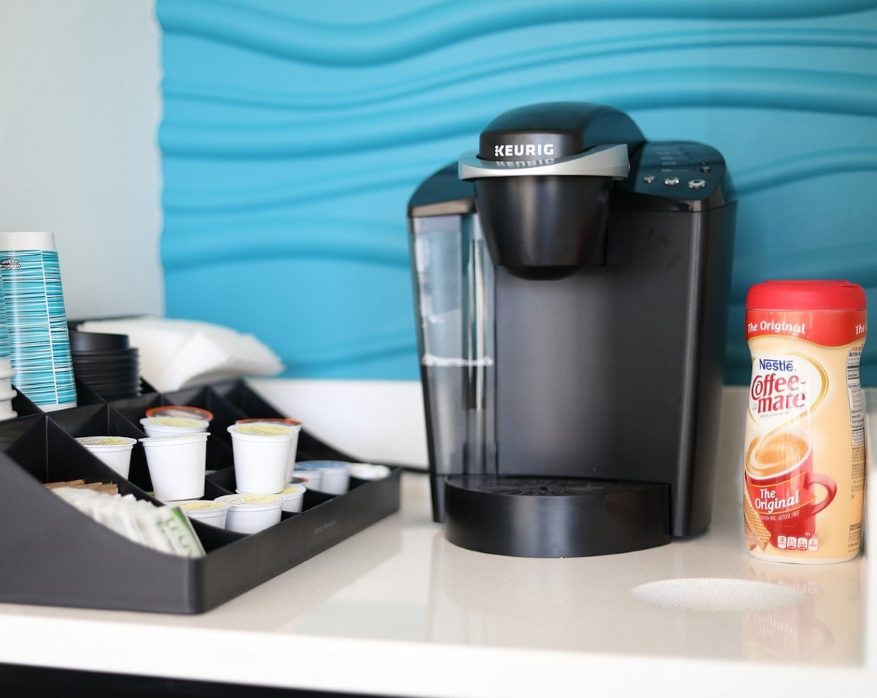 You can't beat the convenience of a single-serve coffee maker. Pop in a pod, push a button, and a minute or two later, you've got a fresh cup of coffee, brewed right into your mug of choice. The coffee practically brews itself, so it's easy to see why single-serve coffee makers are one of America's most popular brewing methods.
But with hundreds of single-cup coffee makers on the market, how do you find your perfect machine? We've done the hard work for you. Below, you'll find our in-depth reviews of this year's 10 best single-serve coffee makers, plus a few tips to help you shop. Our reviews compare price, warranty, durability, ease of use, appearance, and performance. We're also taking a close look a the best single serve pod espresso makers and the best single serve espresso machines. We're here to show you the good and the bad in each product so you can make the best choice, no matter what you're looking for.
---
A Quick Look at the Winners of 2023
Image
Product
Details

Best Overall

Keurig K-Classic

Intuitive interface
Well-priced
Works with all K-Cups

Best Value

EZBasics Coffee Machine

Great value
Lightweight and compact
Compatible with K-Cups and ground coffee

Premium Choice

Cuisinart SS-10

Lots of features
Self-cleaning button
Large water reservoir

Nespresso Vertuo

Unique technology and flavor
Easy to use
Pod recycling program

Hamilton Beach 49981A

Easy to use and clean
Low cost
Eco-friendly reusable filter
The 10 Best Single Serve Coffee Makers
1. Keurig K-Classic Single-Serve K-Cup Coffee Maker – Best Overall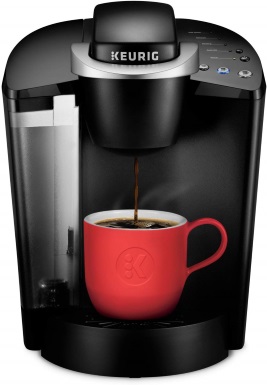 Out of all the machines we reviewed, the Keurig K55 is our top pick. It comes from the company that invented single-serve coffee machines, so it's no surprise that it's the best K-Cup coffee maker on the market. It's reasonably priced, with a large 48-ounce water reservoir and a convenient auto-off feature. This machine also has one of the fastest brewing times available, at under a minute per cup.
The K55 is designed to work with official K-Cup coffee pods but has the added flexibility of working with pods from other brands. It brews in three cup sizes, six, eight, and 10 ounces, accessible via intuitive buttons. The simple interface also has indicators for water level, descaling, and heating.
The K55 is on the larger side, weighing 10.6 pounds and standing 13.3" high. While not ideal for a small kitchen, the added size gives the machine a solid, durable feel, and makes it easier to access the water tank and clean the machine. As long as you have room on your counter, this coffee maker could be a great choice.
Though we didn't experience any in testing, we have found reports of pump failures, so you'll want to register your machine to take advantage of the one-year warranty.
All in all, we think the Keurig K55 is the best single serve coffee maker on the market!
Pros
Short brewing time
Simple, intuitive interface
Works with all standard-sized coffee pods
Well-priced
Cons
Heavy and bulky
Reports of pump failures
One-year warranty
---
2. EZ Basics Coffee Maker – Best Value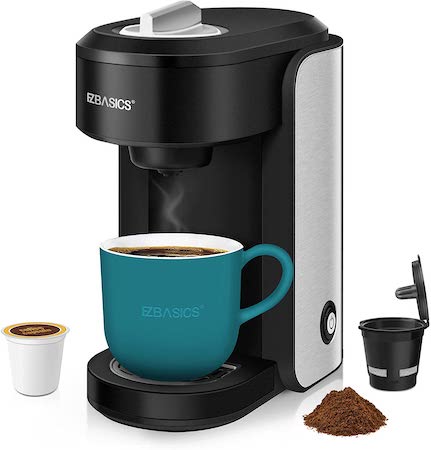 The EZBasics coffee maker is one of the best budget single-cup coffee brewers available, offering excellent value for money. If you want a good, streamlined coffee maker on a tight budget, look no further. Just don't expect all the features available on more expensive models.
This simple coffee machine brews at the touch of a single button. It offers features like auto-shutoff and easy-to-read water measurements. Though the 10-ounce water reservoir is small, it's also wide and easy to access. Conveniently, you can brew with K-Cups or fill the reusable filter basket with your choice of ground coffee. Even better, the filter basket has a lid to keep grounds from overflowing.
This brewer also has a removable drip tray so you can fit cups up to 5.3 inches tall. It only weighs 2.2 pounds and has a hidden needle designed to keep you safe. It's a basic single-serve coffee maker, but the EZBasics model offers great value for the price. Plus, it's incredibly easy to set up and use!
Pros
Great value for money
Lightweight and compact
Compatible with K-Cups and ground coffee
Removable drip tray for taller cups
Hidden needle design for added safety
Auto-off feature
Cons
Few settings or features
Small water reservoir
---
3. Cuisinart SS-10 K-Cup Coffee Machine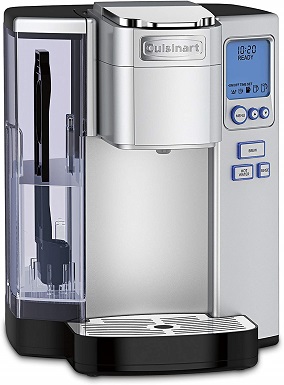 Looking for more features? Check out the Cuisinart SS-10, a highly customizable single-serve brewer compatible with K-Cups and other coffee pods. It also comes with a reusable filter cup, so you can use any coffee you like. It brews five different cup sizes (four, six, eight, 10, and 12 ounces) out of a huge 72-ounce water tank with a charcoal filter.
The SS-10 has the most customization options and the most complicated interface of all the brewers we tested. It has a digital screen complete with a clock, so you can program it to start brewing at a specific time. It also has a self-cleaning feature and a dedicated hot water button, so you can easily make tea or other beverages. You can even adjust the water temperature.
The downside? You'll have to put in more time to master this machine. With all these features, it comes as no surprise that the SS-10 weighs a hefty 9.5 pounds. Though the blue-ringed buttons have a cheaper feel, the all-silver body has a sleek, attractive look, and you'll get the peace of mind of a three-year warranty.
Pros
Lots of features and customization options
Self-cleaning button
Large water reservoir with charcoal filter
Reusable filter cup
Three-year warranty
Cons
More expensive
Heavy
More difficult to use
---
4. Nespresso Vertuo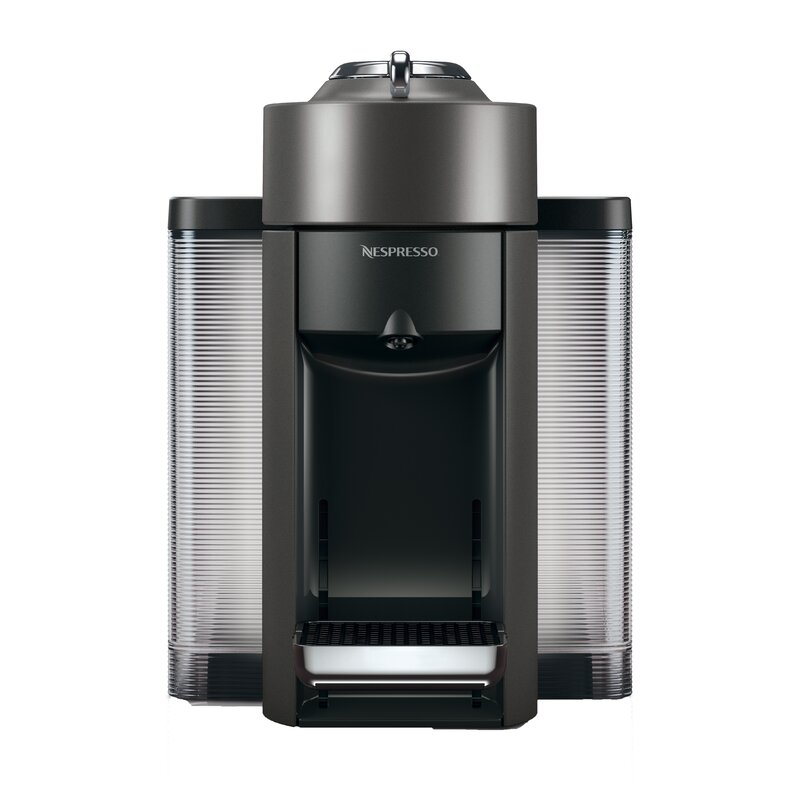 If you're a fan of the rich Nespresso crema, the Vertuo might be your pick. This brewer is both high-tech and simple to use, with an elegant, expensive feel in line with its higher price.
The Vertuo uses "centrifusion extraction" technology, spinning water through the coffee pods 7,000 times a minute. This unique technology creates a distinctive texture and flavor but means that it only works with more costly Nespresso-brand pods. The Vertuo does come with a sample set of 12 Nespresso pods, and you can subscribe to have pods delivered to you regularly. You can find our guide to the best Vertuo-compatible pods here.
The 10.85-pound machine, which brews five cup sizes ranging from 1.35 to 14 ounces, detects the best settings for each pod and automatically adjusts them, so you won't have to fiddle with settings. We did find the Vertuo to produce cooler coffee than other brewers.
As a higher-end company, Nespresso is known for its customer service, so you'll be in good hands should anything go wrong during the two-year warranty. As a bonus, Nespresso offers a recycling program for its pods.
Pros
Unique technology and flavor
Easy to use
Pod recycling program
Two-year warranty with good customer service
Cons
Expensive machine and coffee pods
Heavy
No K-Cup or other brand pod compatibility
---
5. Hamilton Beach One Cup Coffee Maker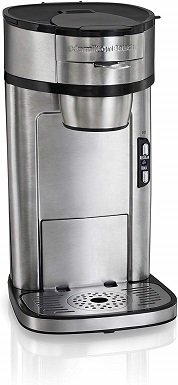 Need something simpler? The Hamilton Beach 49981A could be a good choice if you're looking for a single-serve coffee maker that operates more like a classic drip machine. It uses a mesh scoop filter that you can fill with your own ground coffee. It's a straightforward, compact machine, with only two buttons (Regular and Bold) and virtually no learning curve.
At this price point, there are some drawbacks. This machine brews more slowly: a 14-ounce cup takes 2.5 minutes. The reusable mesh filter, though eco-friendly, lets fine grounds through, so you may have to supplement it with paper filters. If you grind your own coffee, you'll have to be careful to get the texture right, or you could run into overflow and clogging issues. It also has a very small water reservoir, so you'll have to refill for every cup.
With just a one-year warranty, you'll be glad for the simple and durable design. The stainless steel construction makes it feel more expensive than its low price point.
Pros
Easy to use and clean
Low cost
Can use your own ground coffee
Eco-friendly reusable filter
Cons
Small water reservoir
Long brewing time
Imperfect mesh filter
Short one-year warranty
---
6. Mr Coffee Pod Coffee Machine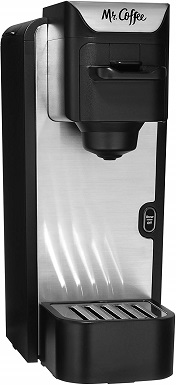 The Mr. Coffee BVMC-SC100-2 is a streamlined brewer that works with all standard-sized pods and includes a reusable filter pod. However, with no customization options or added features, the higher price point is hard to understand.
The BVMC-SC100-2 has a narrow profile, perfect for limited counter space, and a reasonably stylish black and silver body. At five pounds, it's heavier than many other simple brewers and has a tiny 10-ounce water reservoir. In testing, we found brewing to be slow, averaging around three minutes, and the 24" electric cord to be too short for some kitchen setups. It's covered by a basic one-year warranty.
Pros
Includes a reusable filter pod
Compatible with all standard-sized pods
Easy to use
Medium weight
Cons
Expensive for its limited features
One-year warranty
Small water reservoir
Slow brew time
---
7. CHULUX Coffee Maker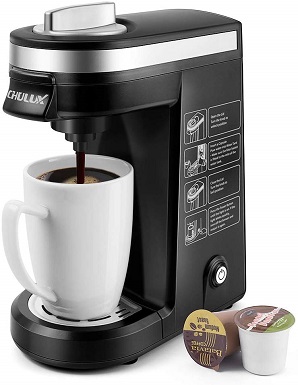 Tired of silver and black appliances? The CHULUX is a simple pod brewer that comes in five vibrant colors. At 9.4" tall and under three pounds, it's an attractive option for a small kitchen.
The CHULUX has a power button and a locking lid. If your head is fuzzy before that first cup of coffee, you'll love the directions printed on the side. With a maximum cup height of 5.3", it won't fit travel mugs, and the small 12-ounce water reservoir means you'll have to measure carefully and refill for every cup. It also has a slower brewing time, at around three minutes per cup.
If you have limited space and are looking for a fun appliance, give the CHULUX a look. However, the cheaper plastic construction, limited one-year warranty and slow brewing time may give you pause.
Pros
Fun colors
Lightweight and small
Compatible with all standard pods
Low cost
Cons
One-year warranty
Slow brewing time
Cheaper construction
Not compatible with travel mugs
Small water reservoir
---
8. AdirChefGrab N' Go Personal Coffee-Maker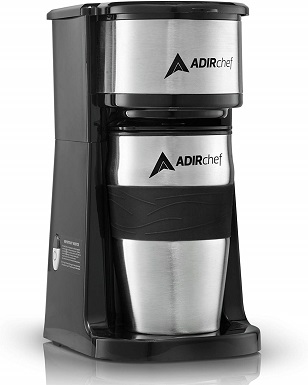 sAt only 1.3 pounds, the AdirChef Grab N' Go was the tiniest machine we tested, with a tiny price tag to match. This highly portable coffee maker, which comes in seven bright colors and includes a 15-ounce stainless steel travel mug, is small enough to be packed into a suitcase. Instead of using pods, it comes with an eco-friendly permanent mesh filter so you can brew the ground coffee of your choice.
Unfortunately, our testing found that grounds got through the mesh filter, producing a silty cup of coffee. The plastic-lined travel mug has a cheap feel, so you may want to use your own cup.
Despite its stainless steel elements, the Grab N' Go does not feel very durable, so you'll want to keep an eye on the one-year warranty. If you don't travel often, you may want to consider a more durable machine.
Pros
Very small and travel-friendly
Low price
Comes with a travel mug
Easy to use
Cons
Not very durable
Not compatible with K-Cups or other pods
One-year warranty
Imperfect mesh filter
---
9. BLACK+DECKER Coffee Maker
The BLACK+DECKER CM618 has a permanent mesh filter, compatible with loose ground coffee or soft, teabag-style coffee pods. It's barely larger than the included 16-ounce travel mug, lightweight, and simple to operate.
However, it's light on features and durability. There are reports of overflow and leaking when using loose grounds, so this coffee maker may work better with soft pods. The machine is very compact, making the small 16-ounce water reservoir difficult to fill. When we tested it, we found that the CM618 can't be turned off or paused once it's started brewing, and the mesh filter lets grounds through. BLACK+DECKER does offer a generous two-year warranty.
Pros
Two-year warranty
Lightweight and small
Comes with a 16-ounce travel mug
Cons
Not very durable
Reports of overflow and leaking
No "off" button
Not compatible with K-Cups or other pods
Imperfect mesh filter
---
10. Chefman InstaBrew Coffee Brewer for K-Cup Pods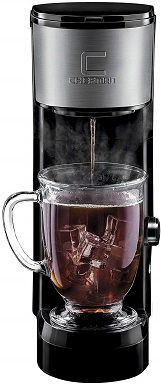 The Chefman InstaBrew was our least favorite coffee maker, for its flimsy construction, higher price, and lack of features. It's more expensive than other machines with comparable features. Without an auto-off feature, it has to be unplugged between uses, which is inconvenient for an on-the-go coffee drinker.
The InstaBrew does offer you the choice of brewing with K-Cups, other pods, or your favorite ground coffee, via an included K-Cup holder and reusable mesh filter. As a narrow coffee maker, it won't take up much counter space, but we did find it more difficult to clean. It's covered by a basic one-year warranty.
Pros
Compatible with K-Cups, other pods, and ground coffee
Includes mesh filter and K-Cup holder
Narrow and lightweight
Cons
One-year warranty
High price for limited features
No auto-off feature
Cheaper construction
Difficult to clean
---
Buyer's Guide: How to Find the Best Single Serve Coffee Maker
Now that you've decided to purchase a single-serve coffee maker, and read our reviews on our favorites, the time has come to decide which one is best suited for your individual needs. This may not be as easy as you think. Here are a few tips to help you choose the perfect machine and enjoy that amazing cup of coffee whenever you want.
Features
When it comes to products we buy, most of us love cool features. If you're the type of person who loves gadgets, and what they can do, you'll find that many of the single-serve coffee makers on our list will excite you. Let's take a look at a few of the features you'll love.
Cup Sizes
One of the most important features to keep in mind is varying cup sizes. Sure, you're choosing a single-serve machine, but who says that cup needs to be small? A machine that offers you a choice when it comes to your cup of coffee could be a dream come true. If you wake up early in the morning and have the urge for a large, steaming cup of joe, simply choose that option. If a smaller pick-me-up is required you can adjust accordingly. Certain machines even offer options for people on the go by offering travel mug options to make life easier for you.
Water Reservoirs
If you use your single-serve coffee machine often, constantly refilling the reservoir can become tedious. It can also be difficult to maneuver well enough on those early mornings to get your first cup going. For true coffee enthusiasts, the size of your reservoir is important. The more water your machine can hold, the more coffee you can enjoy. On the flip side, if you aren't a coffee aficionado, smaller reservoirs may be enough for you. This is for those daily cups of brew you may enjoy or the occasional cup you may sip when a friend stops by.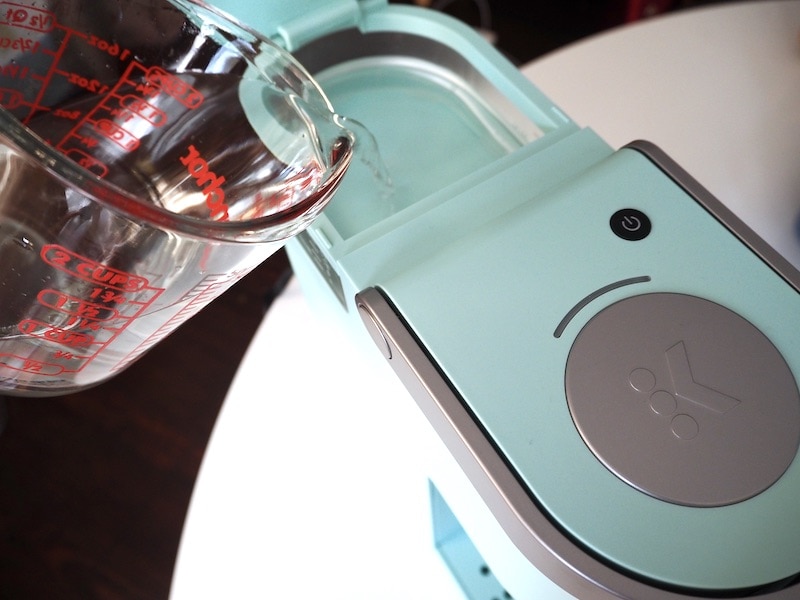 Customized Settings
Having the option to pre-set your maker to brew at a certain time each day takes away a lot of the struggle we coffee lovers experience before having our first cup of the day. With many single-serve makers now offering an automatic option, you no longer need to deal with sleepy eyes and dark kitchens to get your day started. You can also adjust things like water temperature when understanding the settings your machine offers. Taking the time to thoroughly read your manual will help you get your maker customized the way you want it without too much of a hassle.
Display
For many of us, having an easy-to-read display on our coffee maker makes life easier. If you have difficulty seeing smaller words or prefer lighted displays, keep this in mind when choosing a maker for your home. Indicators help you know what size cup you're brewing, the temperature, and even the time in some situations.
Automatic Shut Off
Have you ever been halfway to work and remembered you didn't turn off your coffee maker? It happens to the best of us. Luckily, some single-serve coffee makers offer an automatic shut-off to help those of us who are somewhat forgetful. If you fall into this category, you should definitely consider ensuring this feature is offered by the maker you choose to purchase. In a set amount of time, you'll know your maker will shut off, and you won't need to make a mad dash back home and be late for your day.
Brewing Method
Not every single-serve maker on our list brews coffee the same way. In most scenarios, K-cups and pods are more commonly used. With the advancements these coffee machines have made throughout the years, however, you no longer need to rely on these two brewing methods.
Many single-serve machines are now equipped to use reusable cups. This allows you to use your preferred coffee brand, measure it the way you want, and brew a cup suitable to your tastes. You'll also find mesh filters offered in certain makers to make life easier for everyone. Keep in mind, however, when it comes to the brewing method of the machine you're interested in, mesh filters are known to have issues with grinds slipping through.
Style
No one wants to add a gadget to their kitchen that stands out in the wrong way. This is why choosing a machine that meshes with your home's design is so important. You'll find several different styles of makers on our list. Sleek chrome, black, and even a mix of the two are your options. Take a look around your kitchen then decide which maker offers everything you want in a machine plus will look good sitting on our counter or in your coffee nook
Size
Gone are the days of all single-serve coffee machines being bulky. With the advancements in these machines, sizes have begun to vary. If you have less space for your coffee maker, going with a sleeker design is a must. You can easily tuck your machine into a smaller space so you can pull it out when the urge to enjoy coffee hits you. If space isn't an issue in your home, then by all means choose a larger machine and enjoy the several cups of coffee it can offer with each filling of the reservoir. The choice is yours.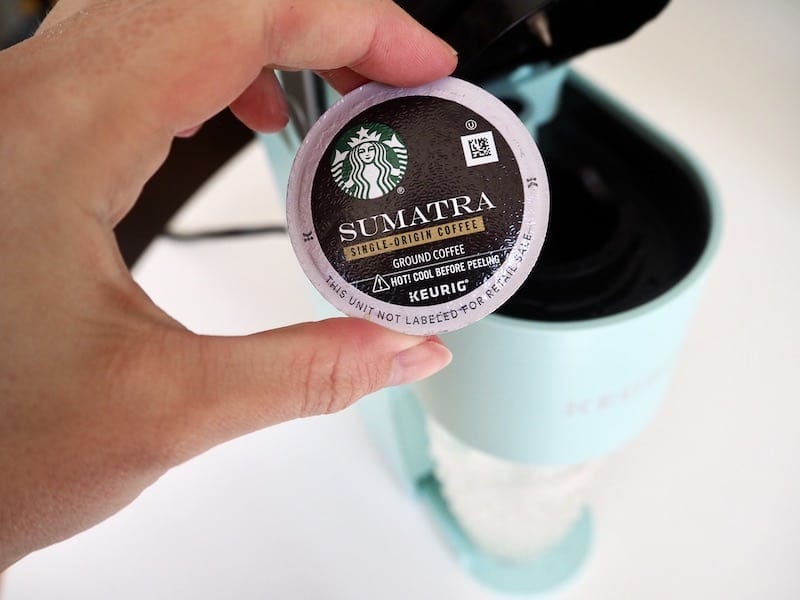 Price
While price is no issue for some coffee lovers, others are on a tight budget and need to watch their spending. Our single-serve coffee maker review has you covered on all fronts. Whether you simply want the best machine out there or one that does the job and is affordable, we have something for you. While many of our choices are in the higher price range, they offer features and customizations the more budget-friendly options do not. Keep this in mind when you make your purchase.
Warranties
Like with most machines, many single-serve coffee machines come with warranties to ease your mind about your new purchase. You'll notice, however, most machines with advanced features and customizations offer better warranties. Why is this? With complicated extras, there is more chance of malfunction. Each machine covered in this review features at least a one-year warranty. You'll find that some of the more expensive options offer up to three years. Whether you've had issues with coffee makers in the past or not, being aware of the warranty offered with your purchase is great information to have in the event problems arise.

Conclusion
The bottom line? The Keurig K55, with its impressive and intuitive range of features, competitive pricing, and broad coffee pod compatibility, is our all-around favorite single-serve coffee brewer. If your budget's a little tighter, we recommend the EZBasics coffee machine as the absolute best value for money. And if you want the most customization, take a look at the feature-packed Cuisinart SS-10, which is one of the best single-serve espresso machines on the market.
With so many single-serve coffee makers on the market, it can be difficult and time-consuming to find your ideal machine. We hope that our list of the 10 best machines, plus our guide to picking out your perfect brewer, helps you narrow the field.
Still looking? We also recently compared the most popular budget coffee makers. And we took a detailed look at the feature-heavy Keurig K-Café.