Our Final Verdict
We give the Keurig K50 a rating of 4.5 out of 5 stars:
Build Quality
Power
Features
Price
Keurig K50 Review Summary
The Keurig K50 is a versatile drink machine that is able to make coffee, tea, and hot chocolate. It accepts K-cups from more than 70 different roasters, offering more than 500 flavors of hot drinks. Your favorite brand has a new medium roast you want to try with breakfast? Pop it in. Do you want to spend the afternoon relaxing over a book with a chai? Put in that K-cup. In less than a minute, you've got yourself a hot cup of something soothing.
However, it doesn't offer much else. The K50 is a classic Keurig design, which means it was made without a lot of extra features to maximize its capabilities. Some of the push-button features from later models are missing. It's also a bit more expensive than newer Keurigs with more features. But it's a sturdy, easy-to-use Keurig brewer that may just be what you're looking for.
Keurig K50 – A Quick Look
Pros
Brews more than just coffee
Compatible with more than 70 brands to offer more than 500 flavors
Brews quickly
| | |
| --- | --- |
| Brand name: | Keurig |
| Model: | K50 |
| Dimensions: | 9.8 x 13.3 x 13 inches |
| Weight: | 7.6 lbs. |
| Input power: | 110V |
| Brew sizes: | 6, 8, 10 oz. |
| Water capacity: | Removable 48 oz. |

Variety
K-cup versatility means you can brew a massive range of different coffees. All the different roasts and flavors that can be packed into a K-cup are available to you. That doesn't just include coffee. That means different kinds of tea and hot chocolate, like the tasty Swiss Miss Hot Cocoa K-Cups. Iced drinks only require dropping a couple of cubes into your cup. That means a nearly inexhaustible variety is available.
Rapid brewing
Go to a coffee shop and order a specialty chai latte, and you might spend quite a long time waiting to hear the barista call your name. Or you could press a button on your Keurig K50 and get the same drink in less than a minute, without worrying that a moment's distraction might cause you to miss that your order is ready. The Keurig advantage is that most of the hard work went into the making of the K-cup, which leaves you just the press of a button away from coffee, tea, or hot chocolate.
Fire-and-forget brewing
You sit down in your comfy chair with a book and a morning cup of coffee, and as soon as you've settled in you realize that you didn't turn off your K50. Worry not. After 30 seconds of non-activity, the K50 will turn itself off. This means the most difficult brainwork for you is picking which K-cup to use. The coffee maker will take care of itself.
---
FAQ
Does this machine make iced coffee?
Not specifically, but you can brew hot coffee and pour it over ice.
Is it compatible with K-mug and K-carafe pods?
No.
Does it come with a timer?
No.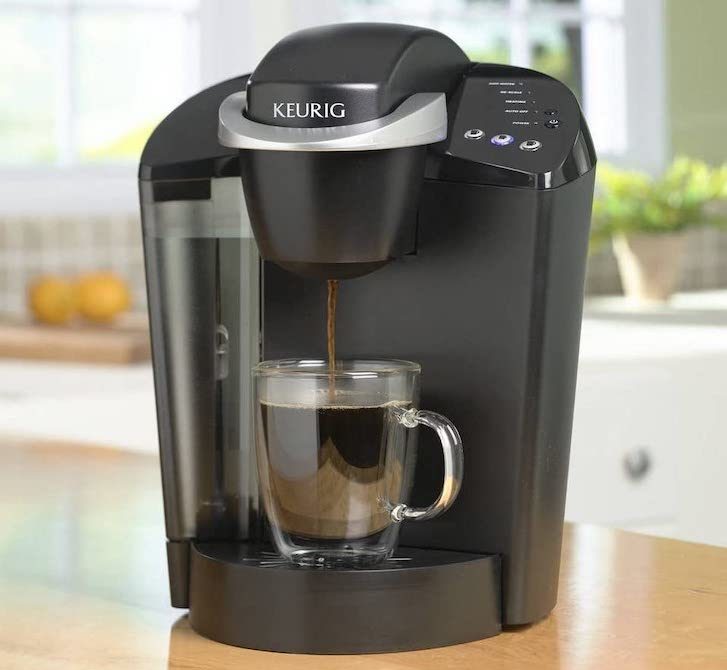 What the Users Say
You're thinking, this is all great, but what do my fellow users think? You can spend hours reading online reviews. The model is old enough and distributed widely enough that there is no end of opinions about it available online. Do you really want to read all of them? To save you time, we condensed the general consensus down for you to easily digest here.
Despite its age, the K50 remains pretty popular for basic reasons. People might say they want a lot of flashy lights and features, but most people buy a Keurig because they want to brew high-end coffee quickly. They buy it for that and not the associated gadgets.
In fact, users praised the K50 for its ease of use. The fact that operating it doesn't require a lot of brainpower was appealing to a majority of people who bought it. It's also popular because it permits people to make coffee as they want it, instead of wasting a whole pot. These same folks liked the removable 48-ounce water reservoir because it meant going longer before having to add more water.
Users who didn't like it mostly cited reliability issues. It may break down or clog up over time, and you'll need to clean and descale frequently.
Oddly enough, the lack of features wasn't really an issue in how people rated the K50. The bottom line that it was judged on was how easily and efficiently it made coffee and whether it remained reliable after continued use. The K50 is popular as a no-frills coffee maker that does the work and allows its users to settle in and enjoy their preferred beverage.

Conclusion
Keurig's K50 brews coffee and a range of other beverages quickly and easily. That's both the good and bad of it. It is compatible with the K-cups from more than 70 of the world's leading roasters and offers access to more than 500 flavors. That's an impressive variety. You can extend that by adding ice for cool summer drinks. It also brews in less than a minute. It allows users to customize the strength of brewing by choosing from 6, 8, or 10 ounces.
But, again, brewing drinks is all the K50 does. It's an older Keurig model that doesn't come with any of the added features available in newer, more up-to-date models. It's not as easy to keep it clean, and the only feature that approaches programmability is a 30-second auto-off. Plus, it's a little more expensive than newer models with more features.
We recently looked at Keurig alternatives. You can find our comparison here.