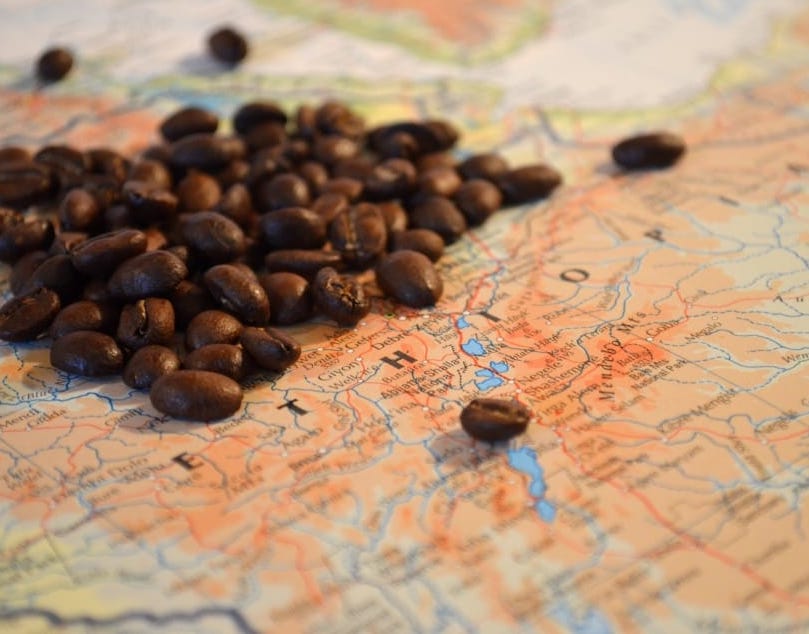 If you're looking for interesting coffee beans, you may want to look to Africa. Everyone wants these big and bright coffees with popping acidity and fruity, earthy flavors. Plus, experts believe that coffee originated in Ethiopia.
If you haven't tried Ethiopia's bright, floral beans or Tanzania's creamy, berry-flavored coffee, what are you waiting for? African coffees are generally for people with a preference for specialty coffee, but if you are a dark roast lover, don't worry, there's something for you, too.
The world of African coffee is huge but rewarding. We hope these reviews will help you find your new favorite coffee beans.
---
A Quick Glance at our Favorites for 2023:
Image
Product
Details

Best Overall

Volcanica African Kenya

Wonderful Kenyan coffee
Reliable roaster
Complex flavors

Best Decaf

Cooper's Cask Ethiopian

Awesome decaf
Small batch roasted
Interesting flavors

Fresh Roasted LLC Tanzanian Peaberry

Wonderful mixture of lemon, peach, and black tea
Nice light roast and acidity
Eco-friendly Roaster

Best Ground

Screen 18 Kenyan

Nice even cup
Wine-like
Grown above 6,600 ft.

Stone Street Ethiopian Yirgacheffe

One of the world's most recognized areas for coffee
Broad flavor profile
Spicy and fruity notes
Some of the Best African Coffee Brands:
1. Volcanica African Kenya Coffee Beans — Best Overall
Kenyan coffee is often considered to be the best by consumers and experts alike because it is able to mix complex flavors and strong flavors with a smoothness that is hard to describe. With Kenyan coffee, you will often find fruits, creams, chocolates, and even flowers. Any coffee connoisseur absolutely must try it at least once.
Volcanica Coffee Roasters does a nice job of bringing out the best in their Kenyan beans. They decided to do a medium roast to even out the flavors, which it does nicely. You will experience different flavors yet appreciate how well-rounded the drink is.
This isn't the cheapest Kenyan coffee you can buy, but it's exceptionally delicious and well worth the price. Even better, you can currently save 10% on any bag of coffee!
Pros
Wonderful Kenyan coffee
Complex flavors
Reliable roaster
Cons
Sometimes ships old coffee
---
2. Cooper's Cask Ethiopian African Coffee – Best Decaf
It was only a matter of time until Ethiopia popped up on this list! This decaf offering from Cooper's Cask offers a full bodied, wonderfully representative cup of coffee that does the Ethiopian coffee bean justice.
It's decaffeinated using the chemical-free Swiss Water Process, along with being Organic and Fair Trade. Over at CC, they make sure to roast in small batches because they want to be able to catch any imperfections.
Any criticism of this coffee has revolved around taste concerns due to it being decaf. The great thing is that Cooper's Cask will refund you for any reason. Plus, you'll enjoy the interesting flavors of lemon, orange, and black tea.
Pros
Awesome decaf
Small batch roasted
Interesting flavors
---
3. Fresh Roasted LLC Tanzanian Peaberry Coffee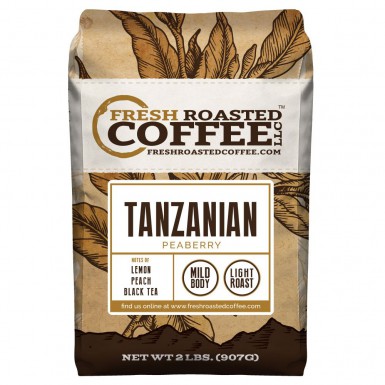 Fresh Roasted Coffee likes to roast their beans in an environmentally safe roaster, which gives them good stewards points. Coming in two-pound bags, these beans will keep you caffeinated for quite some time.
Roasted between 5,000 and 6,000 feet, the Tanzanian Peaberry has a wonderful mixture of lemon, peach, and black tea notes. The acidity is quite noticeable, as this is a light roast coffee. Production of Peaberry coffee was imported to Tanzania in the 1800s and hasn't stopped since.
There have been complaints of coffee showing up stale.
Pros
Wonderful mixture of lemon, peach, and black tea
Nice light roast and acidity
---
4. Screen 18 Kenyan Coffee – Best Ground
This coffee offered by Screen 18 is known for having wine-like qualities. It is grown above 6,600 feet, so it has plenty of time to soak up all the nutrients from the ground before going through the grueling process of getting to your cup.
Pre-ground, this coffee still does a good job of holding its flavor. It is a medium/dark roast, so it is an even cup as opposed to being a bright acidic cup.
Since it is pre-ground, it is susceptible to being delivered a bit stale.
Cons
Pre-ground coffee goes stale quickly
---
5. Stone Street Ethiopian Yirgacheffe Coffee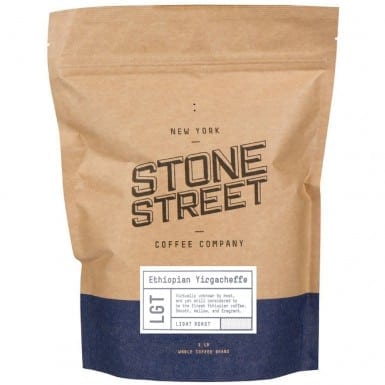 Stone Street understands that Yirgacheffe beans are consistently ranked among the world's best and decided to throw their hat into the ring. Roasted lightly for a more broad profile, this coffee has spicy notes and fruity notes, though they're not as defined as some of the other coffees on this list.
We can report that while this is categorized as a light "breakfast" roast, it comes out much darker than that.
Pros
One of the world's most recognized areas for coffee
---
Buying Guide – Picking the Best African Coffee Brand
Now that you've seen our picks for the best African coffees, it's time to start experimenting. But if you're looking for a little more information, here's a quick overview.
Why try African coffee?
You might find your favorite coffee and never switch again.
This happens to people all the time! Sometimes you just find that perfect cup and can't let go of it. (Ours happens to be African coffee!)
You love to experiment and explore.
Africa is a huge continent that provides so many flavors of coffee. Maybe you'll find your favorite single-origin and start making blends of your own! Plus, you can impress your friends with your vast knowledge of the coffee world.
You just really love coffee.
Maybe you found your perfect coffee, but you like to explore on weekends. It's the best of both worlds.
What are the major regions?
The most famous coffee-producing countries in Africa are Ethiopia, Kenya, and Tanzania.
According to legend, an Ethiopian goat herder first discovered coffee growing in the wild. Ethiopia's coffee is brightly acidic and fruit-forward, with a light body and floral notes. Kenyan coffee is known for its rich flavor and bright acidity. It typically has notes of wine and berries. Coffee from Tanzania typically has an intense, berry-like flavor and a medium to full body. Like other African coffees, it can be quite acidic.
Other regions:

Conclusion
All of the products on this list are great examples of African coffees. To recap, our top picks for the best African coffee brands are Volcanica Coffee and Cooper's Cask. There are other roasters out there that make even smaller batches with more experimental roasts, so we like to think of this list as an introduction to African coffee. Once you've gotten a sense of the flavors, feel free to experiment with other roasters!
With that being said, it's hard to know where to start. Africa is a big continent that makes a lot of coffee. We hope that these reviews help you brew a great cup of interesting, complex African coffee. Whether you choose Ethiopia, Kenya, or Tanzania, you're sure to be amazed!
Looking for specialty peaberry coffee? Here are our reviews of the 10 best brands!
Want to try an unusual African coffee? We recommend 8 delicious Rwandan coffee brands! Or learn all about Madagascar coffee.