Espresso is traditionally served in little cups, signified by the name "demitasse." In French, this literally means "half cup" – but the range of espresso cups goes far beyond simply shrunken versions of regular cups. A great espresso cup will help you enjoy your rich, crema-topped brew!
With such a bounty of options out there, we want to save you some hassle and make your decision easier. We sorted through mountains of reviews and made these top picks, so you won't have to. Scroll down to find our eight favorite espresso cups, plus a handy buyer's guide.
---
A Quick Glance at our Favorites of 2023
Image
Product
Details

Best Overall

De'Longhi 2x Thermo

Great value
Well-insulated
Elegant design

Le Creuset Petite

Super cool colors and styling
Sturdy ceramic
Naturally insulated

Aozita Italian Cups & Saucers

Look great
Stack together well
Classic espresso cup style

JoyJolt Savor Demitasse

Well-insulated
Large capacity
Works with ice

Easy Living Goods Cups & Saucers

Great to hold
A choice of pleasant colors
Microwave- and dishwasher-safe
The 8 Best Espresso Cups
1. De'Longhi 2x Thermo Espresso Cups – Best Overall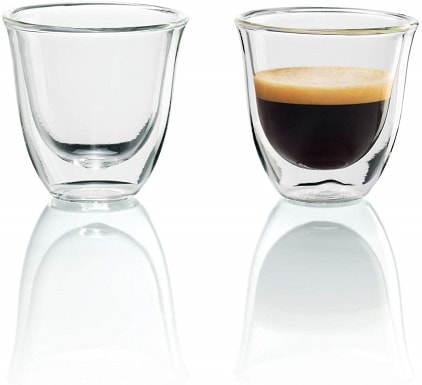 The beautiful 2 Ounce Double Walled espresso glasses from De'Longhi are classics for a reason: they just work really well. These are our top pick because they're so iconic – and because we really love the way they trap heat, and how elegant they look.
A particularly great feature – especially for the home barista – is that these glasses are dishwasher safe. You won't have to worry about letting these sit out after enjoying your espresso. Feel free to let the crema harden on the cups and then pop them in the dishwasher.
These glasses have a nice, slender profile, and they look modern while also harkening back to traditional aesthetics. We like these touches and the sturdy feel of these cups.
These are a great pick for anyone who's looking to stock up on elegant espresso glasses. They might not be the best choice for business use – some customers report that they can be a little delicate – but this shouldn't be a problem for day-to-day home use.
In short, we think these are the best espresso cups of the year.
Pros
Great value
Well-insulated
Cons
Delicate
Lack of a handle may be an issue for some
---
2. Le Creuset Petite Espresso Mug
If you're looking for something a little cool and unique, these are a great choice. Le Creuset is – of course – most known for dutch ovens. But it also really knows how to make an espresso cup.
As opposed to the De'Longhi, the Le Creuset 3.5 Ounce Petite cups are ceramic. Ceramic is a great natural insulator. This means they do not need to be double-walled. As a result, these mugs will be a little sturdier and a little more ready to be roughed up.
We also just really love the fun colors. Whether you want a couple of mugs – all of one color – or a whole variety of colors, it's worth taking a look at the options.
These mugs are slightly larger than the De'Longhi, and they stand 2.5 inches tall. This means that they will easily accommodate two shots, and even a little milk. These are a great choice for a traditional macchiato, and – depending on how your shots are pulling – they may work out for cortados.
Pros
Super cool colors and styling
Sturdy ceramic
Cons
Lack a classic café look
A bit heavy
---
3. Aozita Italian Espresso Cups & Saucers
The Aozita Italian Espresso Cups stand out with their modern and minimalist styling. We like that they stack together so well, and that they pair so well with Aozita's saucers and spoons. These are also especially sturdy mugs, making them a good option for anyone buying for a café, or for a busy family.
In addition to their sturdiness, these cups are also dishwasher safe, and that's another feature that will make life easier.
Aozita generally sells these along with saucers and spoons. This means you'll be able to coordinate a whole look, and this definitely impresses guests.
Overall, we really like these cups, and we think it's clever that they stack together. We're not ranking them higher because they mostly just cover the bases without standing out in any big way. But we do think you'll love these cups if you're looking for a no-nonsense, sturdy option.
Pros
Look great
Stack together well
Cons
Slightly smaller capacity than some other options
A little boring
---
4. JoyJolt Savor Demitasse Espresso Mugs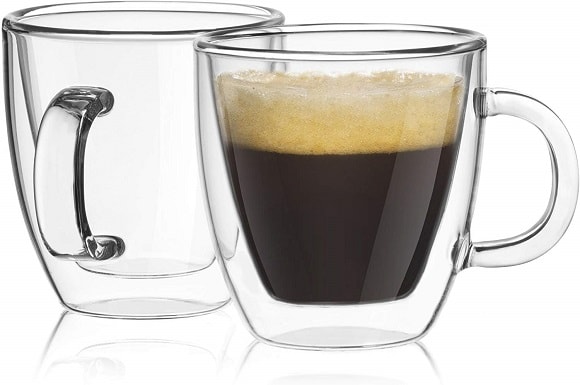 Next up is the Savor Double Wall by JoyJolt. These are very similar to the De'Longhi double-walled cups, but we think these are just another great option to throw into the mix. Thanks to the double walls, these cups will keep your shots nice and hot, and the glass finish is an elegant touch.
These cups are also a great option for anyone who's looking to enjoy small iced drinks. The insulation provided by the double walls does a great job of holding temperature, and the relatively large capacity can easily accommodate some ice cubes and a shot or two.
We're a little wary of how delicate these cups are. It's easy to accidentally break one – and it's for this reason that we're ranking these behind the similar double-walled cups.
Pros
Well-insulated
Large capacity
---
5. Easy Living Goods Espresso Cups & Saucers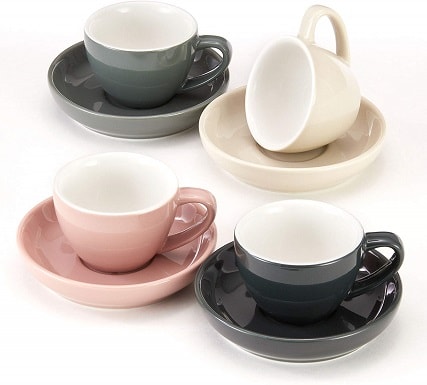 Imagine your trusty, well-loved favorite mug – and then think about just shrinking that down. That's the feeling we get from the Easy Living Goods 3 Ounce Espresso Cups & Saucers. Pick from a range of colors and enjoy the matching saucers.
These cups are made from porcelain, and this helps give them a comfortable heft and a good feel in the hand. Conveniently, they are also microwave and dishwasher safe.
These are a great option for anyone who's looking to elevate their hosting game. Guests will be very impressed when you pull out an elegant set of the Easy Living cups. These definitely are not the fanciest choice, but we think they're a great option for everyday use – and they provide a familiar comfort.
Pros
Great to hold
A choice of pleasant colors
Cons
Not super fancy
Porcelain may chip
---
6. Zenco Espresso Glass-Cups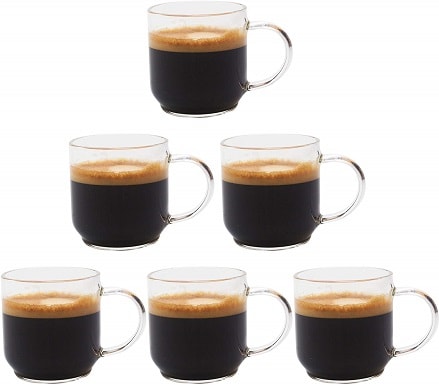 Much like the JoyJolt and De'Longhi options, the 4 Ounce Espresso Coffee Glass Cups by Zenco also present a beautiful glass look. Unfortunately, though, these cups are not insulated, and that means shots will cool relatively quickly. For that reason, we think these are a great choice for espresso purists – those who want to sip a shot quickly and not wait around allowing the espresso to cool.
Conveniently, Zenco has specially designed these to hold a lungo pulled from a Nespresso machine. This means you'll have plenty of room for any kind of longer shot, or even a triple shot pulled directly into the cup.
Another great feature is the large handle. Unlike some cups – whose handles may be mostly decorative – these handles provide a sturdy grip. This is especially nice for anyone with arthritis or similar mobility issues.
Pros
Elegant glass styling
Not too small
Cons
Not stackable
Not insulated
---
7. Gibson Espresso Expression Cups
If you're looking for something especially chic and quite decorative, the Espresso Expression cups from Gibson are a great choice. Made from stoneware, these cups are printed with words such as Espresso, Mocha, and Cappuccino. These decorations add a fun touch, and the included cup rack will certainly come in handy.
We like the playfulness of these cups, but they're not for everyone, and that's why we're not ranking them higher. However, at such a modest price, this could be a great purchase for anyone looking for something quick and easy.
These mugs are microwave and dishwasher safe, but some customers have reported issues with durability. They need to be stored carefully or else they risk chipping especially easily.
Pros
Fun styling
Included stand for cups and saucers
Cons
Delicate
Relatively small
---
8. Tombert Stainless-Steel Espresso Cups
Unlike our other picks, the 2.7 Ounce Cups from Tombert are actually made out of stainless steel. This provides a nice chic and minimalist look, and it also means these cups are durable and robust. One especially wonderful feature is that they are actually double-walled and vacuum insulated. This means your shot will stay nice and hot, and you won't have to worry about burning your fingers.
Additionally, because of the stainless steel construction, these cups are dishwasher safe (though they're not microwave-safe). They're also quite easy to clean.
We think these are a great pick for anyone looking to branch out a little, and anyone who wants a very functional and well-designed product. However, because they're not very traditional cups, they may not be for everyone.
Feel free to use these for more than just espresso. These cups will easily hold sauces on a table, or shots of whiskey.
Pros
Very durable
Double-walled insulation
Cons
Not very traditional
A little small
---
Buyer's Guide – Finding the Best Fair Trade Coffee Brand
Now that you've been able to take a look at our eight favorite options, it's time to start thinking about what matters most for you. Here are some important tips that will help you find the best espresso cups for your needs:
Insulation
Some of these options are insulated, and others are simply single-walled. If you're looking to savor your shot over a period of time, definitely consider going for some type of insulation. This will not only keep your espresso piping hot – it will also protect your fingers from grasping a hot cup.
If you're not particularly smitten by any of these double-walled options, consider a stoneware or ceramic cup (such as the Le Creuset). This heavier material will offer some protection against heat transfer.
Storage
You may as well secure a whole set of these cups – after all, espresso is better with friends. And if you're going to be juggling a handful of new mugs, it's definitely worth thinking about how you'll store them.
Some of our picks, such as the Gibson cups, can be purchased with a handy rack. This will help you to organize the cups and any included saucers. In a similar vein, the JoyJolt cups are easily stackable, and any of our cups without handles will also able to nest nicely.
SEE ALSO: How to Make Espresso with a Keurig (Recipe & Pictures)
Size
It's worth thinking carefully about what size cup you'd like. All these cups will comfortably hold two shots – but if you're looking to enjoy a lungo, a cortado, or any similar kind of concoction, consider a cup with a little more capacity.

Final Verdict
We hope that these reviews have been useful. After sifting through the chaos of options, you should be all set to find the best espresso cup that's exactly right for you.
Our top pick is the De'Longhi 2 Ounce Double Walled Thermo Espresso Glasses, and our runner-up is the Le Creuset 3.5 Ounce Petite Espresso Mugs.
Looking for something to put in those espresso cups? We recently reviewed and compared Mexican coffee brands. (In case you're looking to try something new).
SEE ALSO: Our comparison of the most popular cappuccino cups of the year
---
Featured image credit: Free-Photos, Pixabay