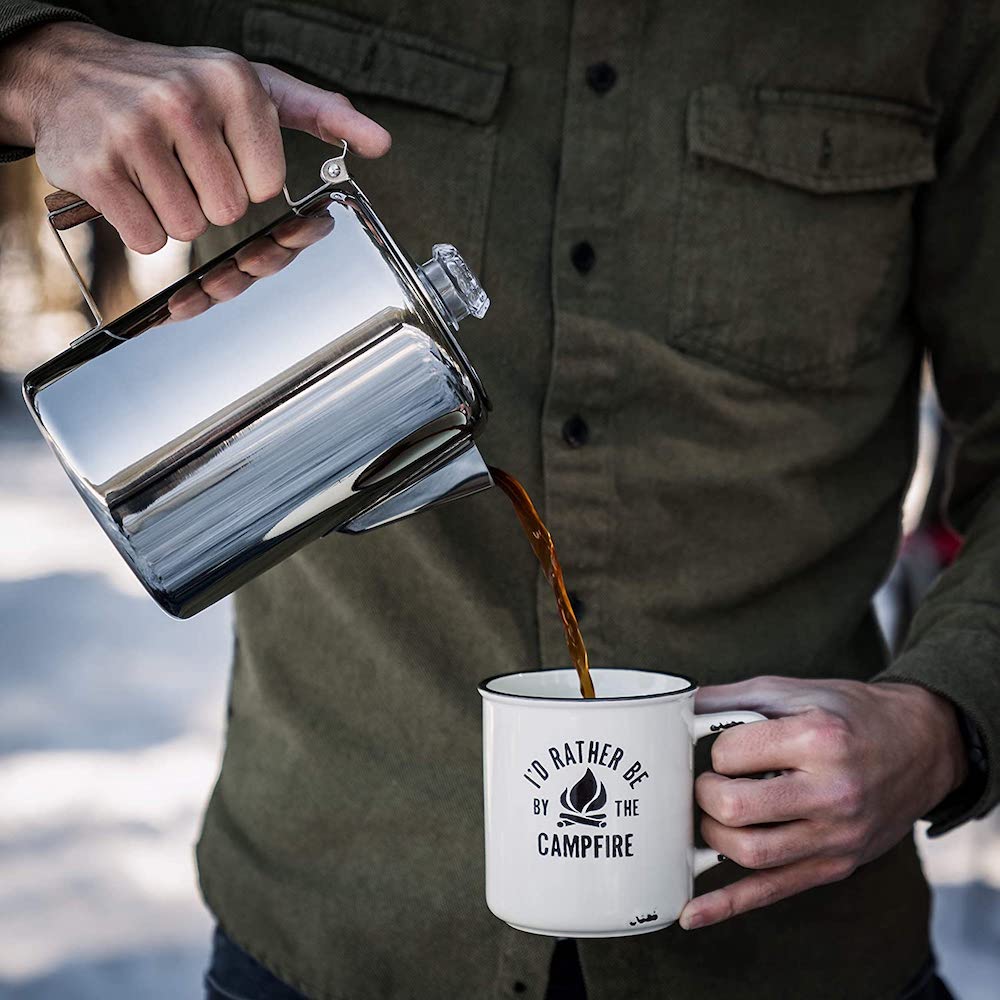 Percolators have been a staple in the coffee world for a while now. These dependable brewers were invented 200 years ago, and they spent decades as the world's most popular brewing method. More recently, drip coffee makers, pour-overs, and other methods have taken over, but there's nothing quite like the classic percolator.
The world of coffee percolators is a rather large one, and finding the right one for you can be tough, so we did a little digging to create a list of the best percolators. We hope these reviews help you find a great model! And if you're looking for help choosing between them, take a look at our handy buyer's guide.
---
A Quick Summary of the Winners in 2023
Image
Product
Details

Best Overall

Presto 6-Cup

Stays hot
Doesn't burn coffee
Brews 6 cups

Best Value

Farberware Yosemite

Brews 8 cups
Easy to clean
Classic look

Coletti "Bozeman"

9-cup brewing capacity
Easy to clean
Classic look

Farberware 2-4 Cup

Keeps the coffee hot
Power Cord Detachable
Sleek look

Eurolux

Easy to clean
Easy Instructions
9-12 cup versions
The 10 Best Coffee Percolators
1. Presto 6-Cup Coffee Percolator – Best Overall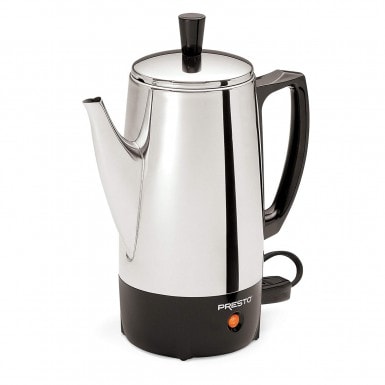 Presto has a reputation for making the best percolators in the business, and they certainly don't disappoint with this model. The 02833 6-Cup Stainless Steel Coffee Percolator comes with all the bells and whistles that one could want with a percolator. The handle has "stay cool" technology so you don't have to worry about burning yourself. This machine perfectly brews your coffee with 500 watts of power and can brew up to six (five-ounce) cups of coffee.
This model also comes with a one-year warranty, but you shouldn't need to use it, as Presto percolators are quite durable. The only thing this machine doesn't do is grind the coffee for you. There also isn't an auto shut-off. Take all these features and then look at the price point, and you can see why the Presto 02822 6-Cup Stainless Steel Coffee Percolator is our top pick for best coffee percolator.
Pros
Stays hot
Doesn't burn coffee
Brews six cups
Durable
Price point
Cons
Doesn't grind the coffee for you
No auto shut-off
---
2. Farberware Yosemite Percolator – Best Value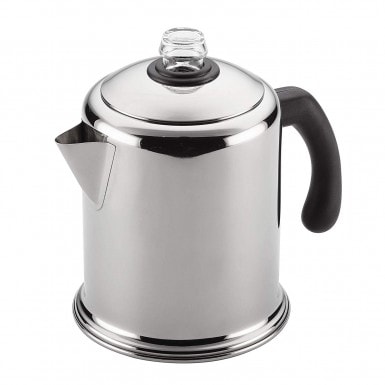 A classic design from a trusted manufacturer, the Farberware 50124 has the aesthetic prowess for display and all the functionality you could ask for. The stainless steel exterior gives this item a timeless look while the non-reactive interior keeps the coffee from absorbing any odors that might threaten to ruin your cup. You will never have to buy filters with the Farberware, as the mesh filter is permanent and keeps most of the coffee grinds out of the finished product. This product has a large reservoir, yielding up to eight cups of coffee, which makes it wonderful for at home or at the campsite. It's also a stovetop coffee maker. Clean-up is easy, as this product is dishwasher safe.
There is a little confusion over the top piece, as sometimes it is delivered as plastic and sometimes as glass. Others have had issues with the gasket not sealing well enough, but these gripes are few and far between.
Pros
Classic look
Brews eight cups
Easy to clean
---
3. Coletti "Bozeman" 9-Cup Percolator Coffee Pot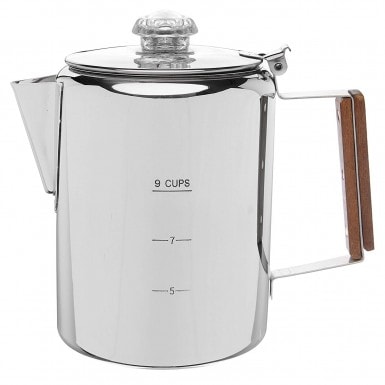 Some people prefer electric percolators, while others are fans of good old-fashioned fire. If you are among the latter, than the Coletti "Bozeman" could be ideal for you. It sports a classic look and is made of 18/8 stainless steel, while boasting no aluminum or plastic. If you like to use filters with a percolator, this one accommodates those. It also makes the most coffee of any percolator on our list so far. The wood-padded handle is what illustrates its name: "Bozeman" was named after the city of Bozeman and touts itself as rugged. Since this percolator is fire powered, it is great for home use or camping. Once you are done using this item, clean-up is easy, as it is dishwasher safe. Another added perk (no pun intended) is that this coffee maker was made by veterans and all the profits go to charity.
For the "Bozeman," you might prefer to use the filters provided. While it is understood that when using a percolator, a few grinds might slip into your drink, the "Bozeman" can be a bit more liberal with such additions. Another interesting issue is that once it gets boiling, it starts sliding around. Users have found that if you give the pot a bang or two with a mallet before use, it mitigates that problem.
Pros
Classic look
Easy to clean
Nine-cup brewing capacity
Cons
Grinds in drink
Needs to be hammered
---
4. Farberware 2-4 Cup Percolator (Stainless Steel)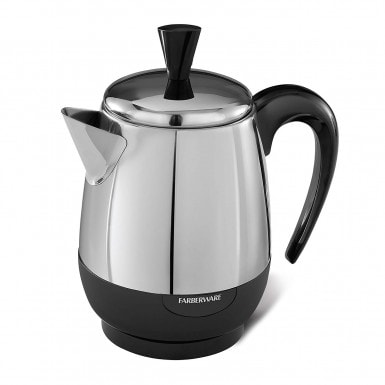 This Farberware model, as opposed to the previous one, is an electric coffee maker, which means it stays at home unless you go glamping.
Aesthetically, this is a great-looking percolator. It is curvy but not bulbous, modern without being pointed. The stainless steel is smooth and classic, almost giving you the feeling that you are brewing your coffee with a rocket ship. The functionality is sleek as well. The handle stays cool to the touch, and as long as the item is plugged in, it will keep your coffee hot. The power cord is detachable, which could be good or bad, depending on how easily you lose things. You will need to keep your eye on this device, as there is no auto shut-off. You also need to be sure to not fully submerge it in water while cleaning, as that can completely break it — this is not dishwasher safe.
While this item receives a good amount of praise, there are instances where it has overheated and burned the coffee or burned itself out from working.
Pros
Makes great hot cups of coffee
Keeps the coffee hot
Sleek look
Cons
Overheats
No auto shut-off
A bit tough to clean
---
5. Eurolux Percolator Coffee Maker Pot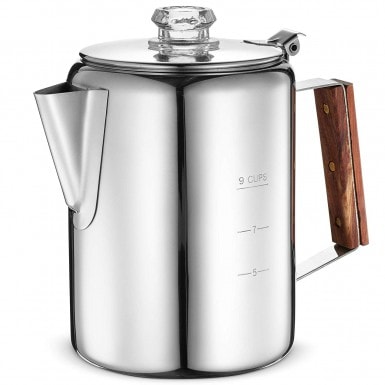 Eurolux makes things easy with this percolator coffee pot, with included instructions on how to make the best coffee possible. Once you know how to brew a great cup, you'll be rewarded with a coffee maker that is Teflon and BPA free, eliminating any chance that your coffee has that off taste. This coffee maker by Eurolux was designed to be a no-frills, no-fuss device that's perfect for home use and at camp. The design itself is classic, redolent of other great percolators. In fact, it looks similar to the Coletti "Bozeman"! There are both nine-cup and 12-cup versions of this product.
Another feature it shares with the Coletti is that to get it to work properly, you might need to bang the bottom with a hammer. Otherwise, this pot will start violently rocking and then just wander off.
Pros
Easy to clean
Easy-to-follow instructions
Nine- or 12-cup versions
Cons
Strikingly similar to other products
Use of rubber mallet required before working properly
---
6. Mixpresso Electric Coffee Percolator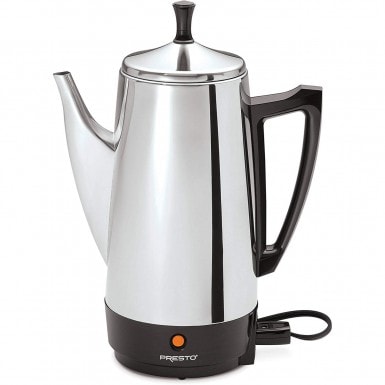 The only time this percolator will do you wrong is if you only want one cup of coffee. The Mixpresso Electric Coffee Percolator will brew anywhere from two to 10 cups of coffee. It's an electric percolator, so you won't be taking it camping, but it will look nice on your kitchen countertop. Made of stainless steel, this design is just as sleek as all the others on this list, mimicking that of a spaceship.
Durability is a concern with this product, as we've heard complaints of components breaking down rather quickly.
---
7. CAFE BREW Glass Stovetop Percolator Pot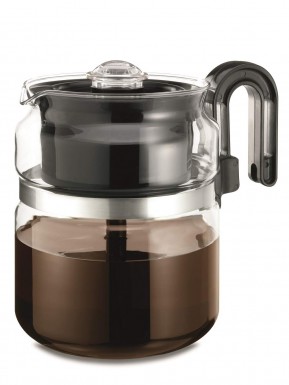 Our first option not made of stainless steel, the CAFE BREW Glass Stovetop Percolator Coffee Pot can make up to eight cups, or 40 ounces of coffee, at a time. Made out of BPA-free material, this coffee maker is dishwasher safe, so you'll have no problem when it comes time to clean. This item is also stain resistant and will keep that lovely shine for quite some time. You can use this on both a gas range and an electric range, though you'll need the metal adapter to for the latter. An added bonus with a glass percolator is that you can watch the coffee in action!
Most people have nothing but positive things to say about this product, but there are complaints that the flavor of the plastic filter can make its way into the drink, which is clearly no good, and the lid melted for some people.
Pros
Watch the coffee being made
Works on electric and gas ranges
---
8. GSI Outdoors 8 Cup Percolator for Coffee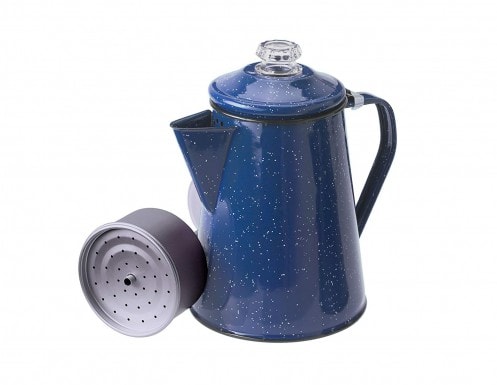 This enamel product by GSI comes with a full manufacturer's warranty. Lightweight and homely looking, this coffee maker doesn't have any bells and whistles but simply gets the job done. As is the case with most percolators, there's a see-through knob at the top to give you a glimpse of all the action happening inside.
Why is this number 8 on our list? Well, it doesn't work too great. Many people have complained that this item has a problem with actually percolating. Users have to resort to pre-heating water and then dumping it over the basket to make coffee. On the other hand, this thing is incredibly durable.
---
9. Elite Platinum Maxi-Matic 12-Cup Percolator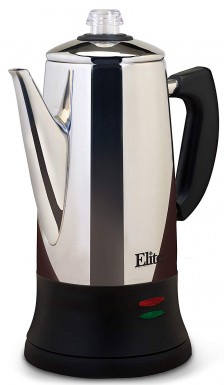 The Elite Platinum boasts quite the resume. Aside from all its neat features, this item also has a swivel base and a 12-cup brewing capacity — you can enjoy watching the brewing process from the top while spinning it around!
But there is a reason that this model is number nine on our list. While it boasts an impressive resume, it doesn't necessarily live up to it. Complaints generally center around the construction of the product and feeling overall "less than."
---
10. Coleman 9 Cup Coffee Percolator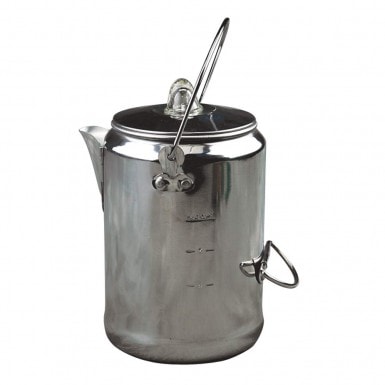 If you want a salt-of-the-earth percolator, look no further. With absolutely no bells or whistles, the Coleman 9 Cup Coffee Percolator has one goal: to percolate coffee. This coffee maker is made of rust-free material, which is advertised as its strongest feature, so it should last you a long time.
The problem is that when it comes time to receive your Coleman 9 Cup, many of the pieces could be missing.
Cons
Doesn't always arrive with all its parts
---
Buyer's Guide: Finding the Best Coffee Percolator
Buying a percolator can be tough because there are so many out there. Finding the right one for you depends on what you plan to do with it. Are you the type who likes to go camping? Or are you a homebody?
If you are the camping type …
You'll want a stovetop percolator. These can take a bit longer to heat up but are generally more durable than their electric counterparts. You should also be aware that if you have an electric stove, not all stovetop percolators will work on them. Some come with special adapters, but others don't, so when doing research, this is something you will need to check out.
Will it fit?
Camping is usually about making sacrifices about what you will and will not bring. Percolators come in all different shapes, sizes, and weights. If you are a classic bag stuffer, this is something to be aware of.
Let's say you just want to stay at home …
Electric percolators are perfect for you. You can find a perfect spot in your kitchen and designate it your coffee area, as these need to be plugged in. However, electric models are notorious for having myriad issues, ranging from lack of durability to not getting the water hot enough, so we recommend doing your due diligence here. The upside of an electric percolator is that it takes more of the work out of your hands.
And if that electric percolator does break down…
Look into the warranty of the item you are buying. Many companies go out of their way to offer wonderful customer service because they want to keep you as a customer for life. Some will have one-year warranties, while others offer full lifetime warranties with parts and labor. Companies who offer the latter are generally pretty confident in their products, so that might be another reason to consider them.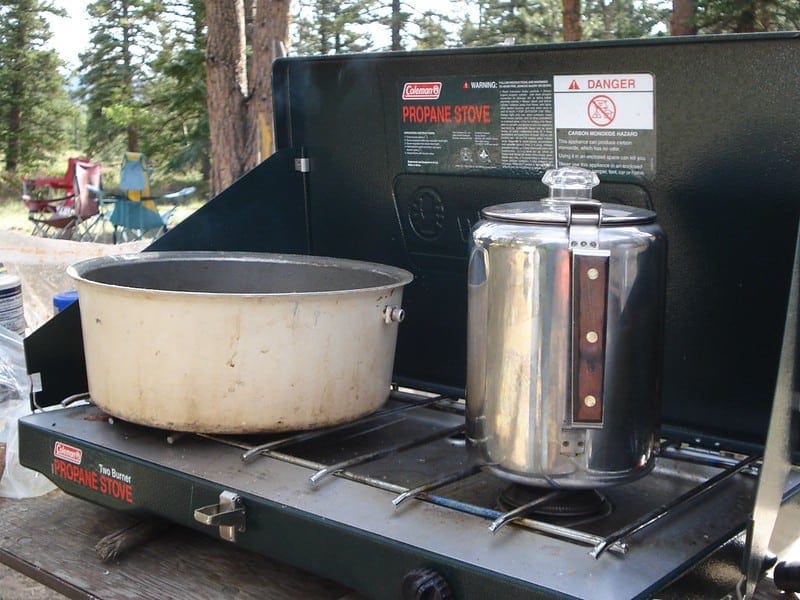 You can find percolators that make single shots of espresso or up to 12 cups of coffee. So, do you feel like sharing? This is also important because if you prefer a smaller batch, many percolators can only make large amounts of coffee, and vice versa.
Filter out what you don't want …
There are different types of filters with percolators, and most products won't be shy about whether you need to use a paper filter. A fact of life with percolators is that some of the coffee grinds will come through and into the drink, but how much will depend on the type of filter your percolator has.
If the price is right …
Now that we've taken all these considerations into account, you can shop for the percolator that is just right for you. Because there are so many on the market, you can find all sorts of different percolators at different prices.
Other percolator guides we have written:

Conclusion
The results? The Presto 02822 is top pick, with lots of useful features and excellent durability. If you're looking to save money, the Farberware 50124 may pique your interest, with great value for money.
We hope these reviews, along with the comprehensive buyer's guide, have helped you find a great percolator. If these reviews have made you shopping easier, we are thrilled that we could assist. Now, time for a cup of coffee!