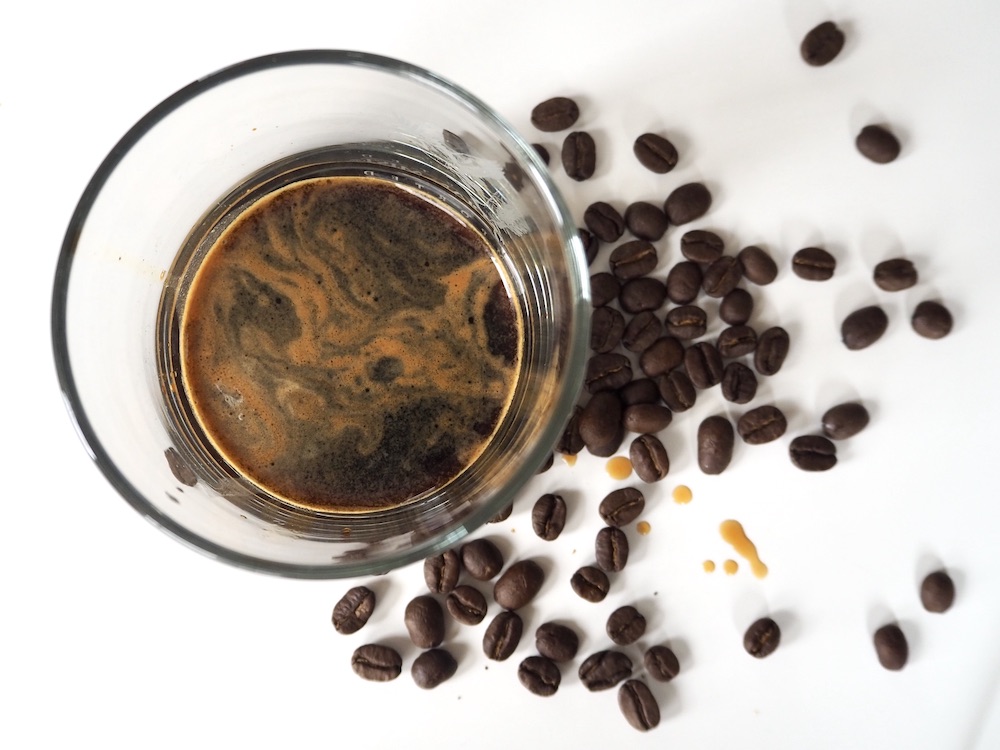 For coffee lovers, choosing a coffee bean is a sacred decision. Much thought is given, and it's not a simple task to find the best espresso beans. There are several things to consider when choosing a coffee bean, such as aroma, color, oiliness, freshness, value, and packaging. When choosing a good coffee bean for your espresso, crema quality is a big factor.
We've put together a list taking the importance of choosing to heart for our top ten picks for espresso beans. Grab your grinder and let's begin the journey into choosing the next great coffee bean for the perfect espresso!
---
A Quick List of Our Favorites (updated in 2023):
Image
Product
Details

Best Overall

Lifeboost Dark Roast

Smooth flavor
Velvet touch
Good crema

Best Ground Espresso Beans

Volcanica Espresso

Well-rounded, chocolatey flavor
Good crema
Grinds well

Best Decaf Beans

Lavazza "Dek"

Affordable
Sweet flavor
Aromatic

Death Wish

Pleasant flavor
Not acidic
Money-back guarantee

illy Intenso

Aroma
Bold flavor
Toasty notes
The 8 Best Espresso Bean Brands
1. Lifeboost Dark Roast – Best Overall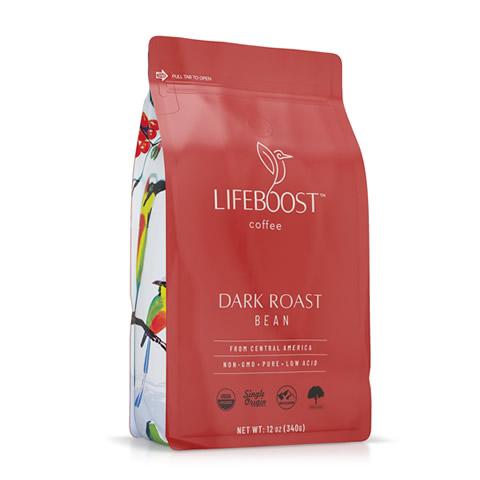 If you're searching for outstanding coffee, Lifeboost's Dark Roast is our number one choice, with a velvety touch and a rich profile. This is a very dark roast that boasts hints of chocolate and brown sugar. Its robust flavor holds up especially well in milk-based drinks. These beans come in a 12-ounce bag and are certified as both Organic and Fair Trade.
Since these need to be finely ground for an espresso machine, be aware that these are oily and have the potential to clog the grinder. However, even with the oiliness, this coffee delivers ample crema.
As our top pick, these are some of the best espresso beans available this year. Even better, you can save 50% on Lifeboost's excellent dark roast beans!
Pros
Smooth flavor
Organic/Fair Trade certified
Velvet touch
Good crema
---
2. Volcanica Espresso – Best Ground Espresso Beans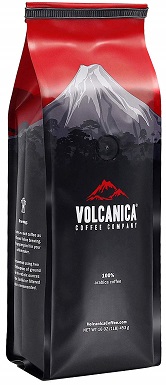 *Use code AFFECTION12 at checkout
Volcanica's Espresso is another good option — and it's especially good if you don't own a grinder. These dark, aromatic beans come in three grind sizes, including espresso, as well as whole bean. With a well-rounded flavor and hints of dark chocolate, this espresso also delivers a good crema.
Though this is a dark roast coffee, we found it to taste more like a medium roast. Don't worry, though — it's still potent without being bitter. Noted as grinding well, it's recommended as best used with an espresso machine.
Volcanica roasts your coffee on-demand, so you can be sure you'll never receive stale beans. It is a tad pricey, but probably won't break the bank. We think this is one of the best coffee beans for espresso currently on the market!
Pros
Available in espresso grind and whole bean
Well-rounded, chocolatey flavor
Good crema
Grinds well
Cons
A little pricey
More medium than dark roast
---
3. Lavazza "Dek" (Whole Bean Espresso Blend) – Best Decaf Beans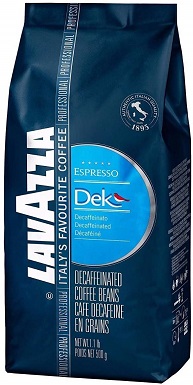 With a mild flavor and a strong crema, Lavazza "Dek" Whole Bean Espresso Blend arrives on the list as our best in decaf. This choice offers notes of caramel on the soft side of a dark roast. Using a natural process for decaffeination, the flavor comes through as a non-typical decaf coffee. It grinds well and provides a good crema, as well as having a middle-of-the-road price tag.
With its mild and creamy profile, this may be too light for some as an espresso blend. If you're a die-hard espresso snob, this won't fit the bill for you. It also doesn't come in a resealable package, so an airtight container for storage is a must to keep these beans fresh as long as possible.
Pros
Affordable
Sweet flavor
Aromatic
Good crema
Low acid
Cons
Too light as a dark roast
Can't reseal package
---
4. Death Wish Whole Bean Coffee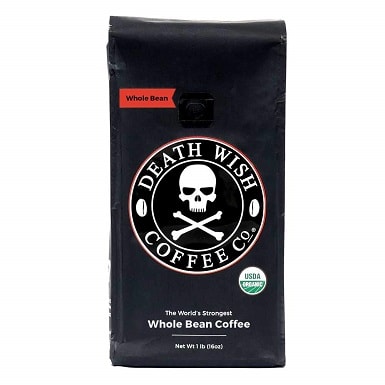 For the environmentally conscious, our next choice is Death Wish Organic USDA Certified Whole Bean Coffee. With a reputation for a caffeine kick, this bean comes through as smooth with tinges of cherry and chocolate. As a dark roast, the flavor delivers a bite without being acidic. It's also noted that while the beans are slightly oily, they don't present a clogging issue.
As one of the most expensive choices on the list, if you find you aren't on board with this dark roast, a money-back guarantee is offered. For those not accustomed to a true dark roast, this may be a bit strong for your palate, and some noted a smoky aftertaste.
Read our full review of Death Wish Coffee!
Pros
Pleasant flavor
High caffeine
Not acidic
Full-bodied
Money-back guarantee
---
5. illy Ground Espresso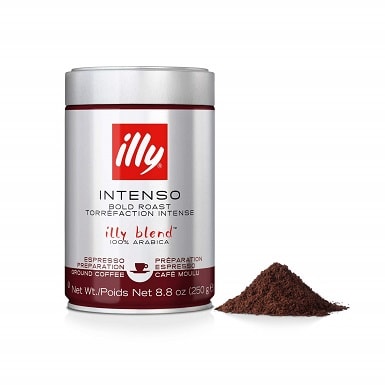 Recognized in 2019 by Ethisphere as one of the World's Most Ethical Companies, illy brings us to the number five spot on the list with illy Ground Espresso Dark Roast. If you go the route of buying pre-ground espresso, this is one of the best options. With dark chocolate notes and a consistent, bold flavor, the strong, wafting aroma is sure to bring a smile to your face. It arrives with the perfect grind for your espresso machine, as it's very finely ground.
This blend arrives packaged in a pressurized tin. Unfortunately, many have noted that upon removing the lid, it explodes off, so proceed with caution as you dive in. While for most the finely ground espresso is ideal, depending on the machine you use, it could potentially cause clogging issues because it's simply too fine. Know your machine well so you don't find out the hard way, especially since this pick is the most expensive on the list.
Pros
Aroma
Bold flavor
Rich profile
Toasty notes
Cons
Expensive
Packaging issues
Potential clogging issues
---
6. Koffee Kult Coffee Beans
Koffee Kult has a reputation for its robust coffee. The Koffee Kult Dark Roast Coffee Beans deliver chocolate and cinnamon tones through the medium side of a dark roast. It provides a rich aroma and a smooth flavor while also delivering a nicely consistent crema.
For the dark roast espresso expert, this one may deliver a bit too light. For those new to the dark side, you may note a bitter finish.
As a family-owned business, customer service is a top priority for Koffee Kult, and it's noticed. This choice is on the pricier side, but it does offer a money-back guarantee.
Pros
Smooth flavor
Rich aroma
Good crema
Money-back guarantee
Cons
Slightly pricey
Bitter follow-up
---
7. Café Don Pablo Gourmet Coffee – Classic Italian Espresso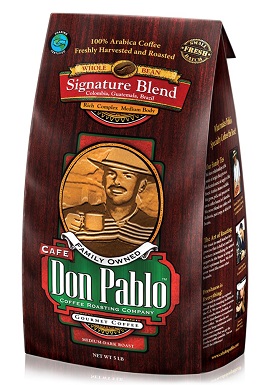 Café Don Pablo's Classic Italian Espresso is the most economical on the list, and one of the few that is food safety and organic production certified. On the lighter side of a dark roast, this bean offers a chocolate undertone with a smooth consistency.
For dark roast fans, this doesn't deliver, as it comes across weak and muted. You may have to go the extra mile playing with the grind to achieve something close to satisfaction. However, if you're new to dark roast and want to give it a try, this may be a gentle way in.
Overall, this pick is a good value for the money.
SEE ALSO: Our favorite gourmet coffee brands!
Cons
Muted flavor
Lacks aroma
Bitter finish
---
8. JO ESPRESSO
The Jo Espresso Medium Dark Roast brings in a sweetness with a heavy dark chocolate hum. It has a consistent depth with a velvety finish. It whips up a smooth, rich crema to round it out and is also noted as grinding well with little oil. Jo Espresso is USDA and fair trade certified.
This choice, although a medium–dark roast, is noted as being too sweet for those looking for a bolder flavor. It also has a slightly expensive price tag.
Pros
Rich aromatic
Lacks bitterness
Excellent crema
Cons
Expensive
Sweet for the roast
Sour afterbite
---
9. Stone Street Tanzania Peaberry Coffee
This gourmet African coffee, Stone Street Coffee Tanzania Peaberry Fresh Roast Coffee, is bringing up the rear of the list. It's a light roast with a smooth, full-bodied depth with rich flavor. It has a fruity undertone, giving it a distinguished aroma.
It doesn't deliver a bitterness, but the fruity undertone is a turnoff for many. If you desire more of an earthy, chocolate undertone, this choice won't serve you well.
The Tanzania Peaberry is truly a gourmet coffee bean grown on the slopes of Mt. Kilimanjaro. If you're looking for something a little different and brand new to you, you may like this choice.
Pros
Distinguished aroma
Clean, crisp flavor
Fresh and non-oily
Cons
Slightly pricey
Weak flavor
Mediocre body
---
10. Coffee Bean Direct Italian Roast Espresso
The Coffee Bean Direct Italian Roast Espresso delivers a big bite and a honey–toasted aroma. It has hints of chocolate and molasses with a body that's not too bold. It comes in a 2.5-pound resealable bag, and the beans are versatile for most brewing methods.
There are variations in the consistency of the roast, and they present a bitter aftertaste.
Pros
Very affordable
Rich crema
Cons
Weak
Lacks aroma
Flat taste
Bitter aftertaste
Variations in roasting
---
Buyer's Guide: How to Select the Best Espresso Beans
Below are some factors to consider when choosing a quality coffee bean.
Aroma
The aroma of coffee beans will tell your nose first if it's fresh and flavorful. It's what will entice you to want to brew it. If there is little to no aroma, you likely won't enjoy that cup of coffee.
Color
The color of beans is the real indicator of the roast and robustness. A blond color indicates a light roast. Light brown indicates a light to medium roast. Dark brown indicates a medium to dark roast. Blackish brown indicates a dark roast. If you open a bag and see a variety of colors, this means there will be a variation in flavor.
Oiliness
Coffee beans naturally contain oil. Dry coffee beans can indicate that the batch has gone stale, depending on the kind of roast. Dark, oily beans will indicate that they're strong, bold and bitter. If the beans have a shine to them without being overly oily, it's not necessarily a bad thing, as it depends on who you ask. With some experimentation and research, you'll discover exactly the kind of bean that works for you.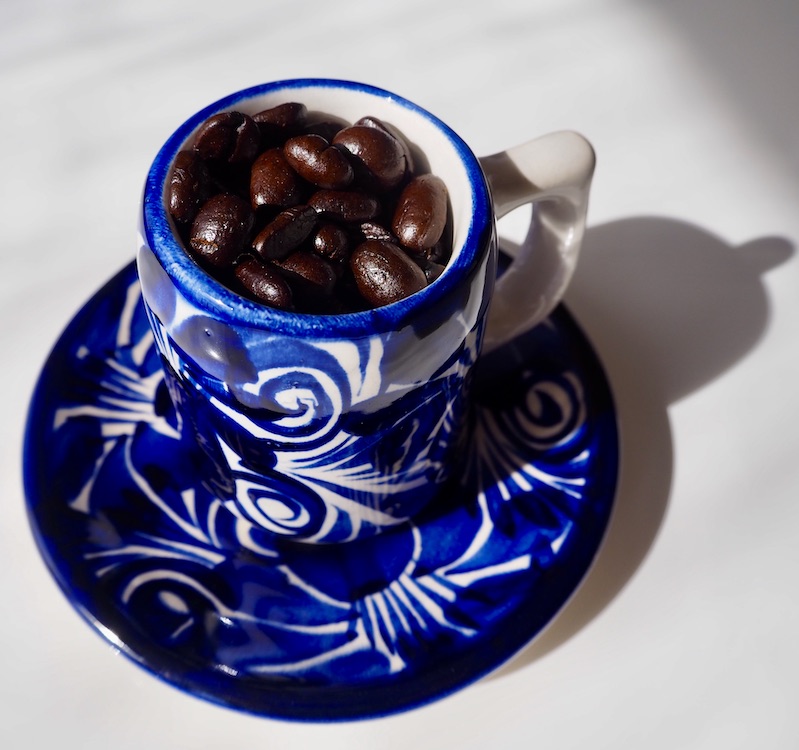 Freshness
A roasted date and an expiration date are two different things. Ideally, you want to know the roast date. Once beans are roasted, oxidation begins, and this begins the staleness process. Most often, you'll only see an expiration or "best by" date on the package. Coffee beans need to be stored properly in an airtight, non-clear container for optimal longevity. Essentially, there is a lot of guesswork involved, and a sure-fire way to know coffee isn't fresh is when it no longer tastes good.
Value
No one wants to spend an exorbitant amount of money for even the best espresso beans. We all want good value for the money spent. Do your research and comparisons. The good news is that once you discover a great coffee you'll purchase over and over, it's likely that subscribe and save is an option.
Packaging
Regardless of how coffee beans for espresso are packaged, once they arrive at your doorstep, they need to be transferred to an airtight container and stored in a cool, dark place. Use a container that isn't clear, because light encourages the oxidation process.

Conclusion
Hopefully, after reading our top ten reviews, you've identified a few beans you're interested in trying. Our number one choice, Lifeboost's Dark Roast, is an excellent bold coffee. It's a little pricey, but it's also low-acid and sustainably grown. Our second pick, Volcanica's Espresso, is a well-rounded, tasty bean that comes in a convenient espresso grind. As our best decaf pick and third on the list, Lavazza "Dek" is a better-than-average decaf blend with a sweet flavor at an affordable price.
There's something for everyone on our list. We wish you well on your quest to find the best coffee beans for espresso. Keep on brewing!
See Also: 10 Best Coffee Beans in The World – Reviews & Top Picks