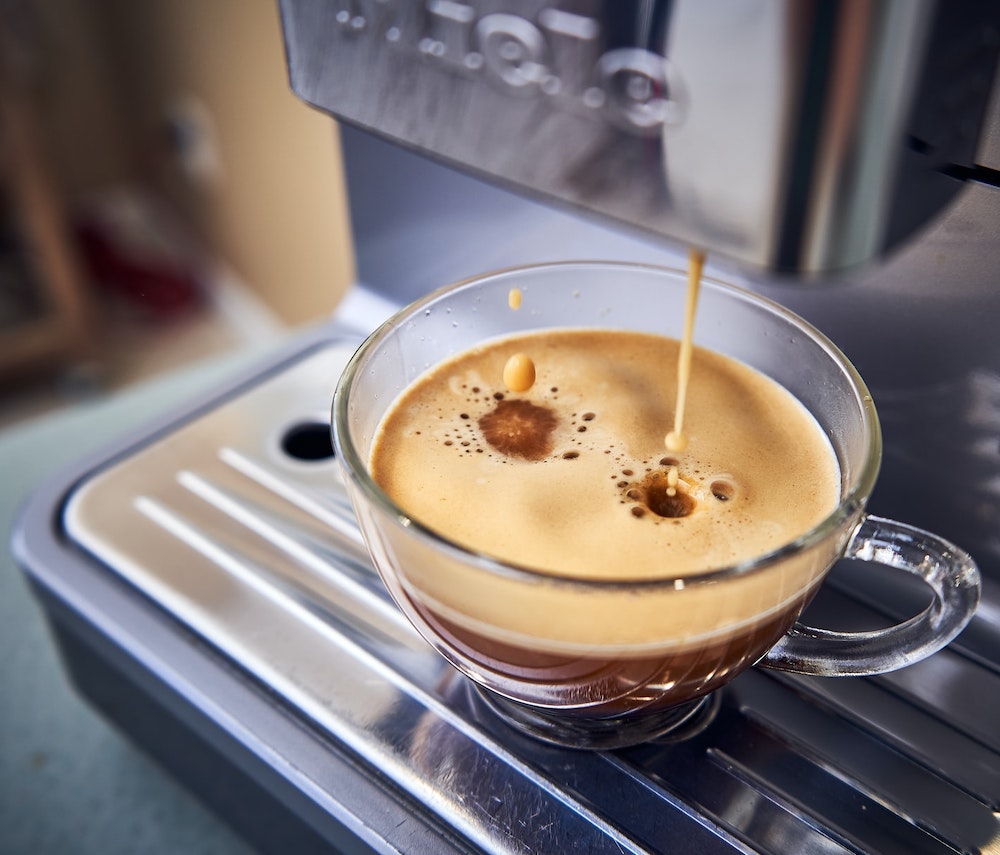 Commercial-grade espresso machines can easily cost thousands of dollars, far beyond the reach of most people who want one for home use. If you're tired of waiting in line for expensive drinks from your local barista, getting your own machine is probably the route to go.
Luckily, there are plenty of great espresso machines in the under-$300 category. We've looked through the best options, compared features, sampled espressos, and put it all together for you in a series of reviews designed to help you make the best decision.
The review of each machine includes a brief overview of its highs and lows, followed by a handy list of pros and cons that you can refer back to whenever you need it.
---
Our Favorite Picks of 2023
Image
Product
Details

Best Overall

Mr. Coffee Café Barista

One-touch controls
Very fast and accurate
Easy to clean

EspressoWorks

Heats up quickly
Good customer service
Complete package

Best Value

Hamilton Beach

Stylish appearance
Very fast machine
Lots of options

ROK Presso

Doesn't use electricity
10-year metal parts warranty
Hand-operated

Delonghi DEDICA

Sleek & functional
Aesthetically Pleasing
Manual frother
The 5 Best Espresso Machines under $300
1. Mr. Coffee Café Barista Espresso Maker – Best Overall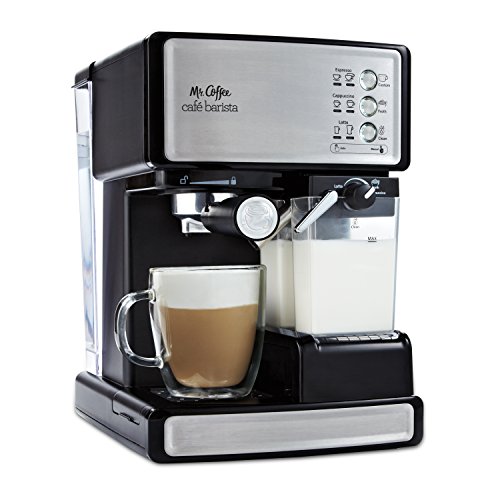 This elegant machine deserves its own spot in the kitchen. In addition to its appearance, it gives you one-touch controls that do all the work for you. Put in the milk, coffee, and water, press the button, and stand back while it does the rest. Not only is it easy, it's very fast. Your coffee will start pouring out within seconds of pressing the button.
It comes with a combination scoop/tamper and you can make espressos, cappuccinos, and lattes with the touch of a button. You can make any of them single or double. The steamer also works well, steaming just the amount of milk you need and leaving the rest unheated.
Cleaning it is just as easy as using it. It even has a setting for cleaning the steaming wand. This won't take the place of regular washing, but it does help. There are some occasional problems with the portafilter coming apart, but Mr. Coffee is very good about replacing them, so this is a minor issue.
Basically? We think this is the best espresso machine under $300 available this year.
Pros
One-touch controls
Very fast and accurate
Makes espresso, cappuccino, and latte
Easy to clean
Elegant appearance
---
2. EspressoWorks AEW1000 Espresso Machine
This machine sports clean business-like lines and heats up in less than a minute so you can make espresso and cappuccino to suit your taste.
It comes with everything you need, including a coffee grinder, cups, steamer, milk frothing cup, portafilter for single and double shots, and a combination measuring spoon/tamper. It's a complete package. And the manufacturer's customer service is top notch!
Every product has the occasional lemon, but this one has a few too many. If you get a good one you'll be more than satisfied with it. If you get one of the bad ones, it's really bad. There may be a design flaw buried deep in the guts that will surface when tolerances exceed some tiny amount.
The grinder that comes with it uses blades instead of burrs to grind the coffee beans. It's a bit cheap and you'll probably want to buy a separate grinder to replace it.
This is a good machine but the above-average number of lemons, coupled with the substandard grinder, will keep it out of the top spot on the list.
Pros
Heats up quickly
Complete package
Good customer service
Excellent results
Cons
Short lifespan
Cheap blade grinder
---
3. Hamilton Beach 40792 Espresso Machine – Best Value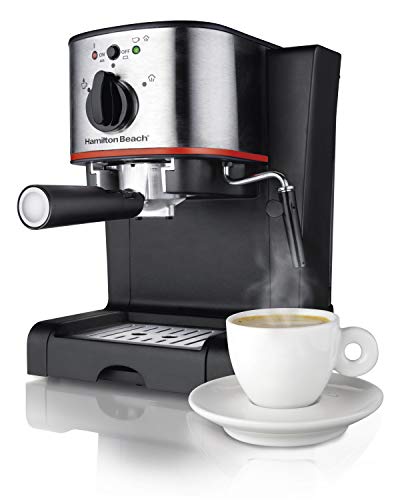 This machine from Hamilton Beach is simple and easy to use. It also has a sleek, stylish look about it that will complement any kitchen.
This espresso and cappuccino maker produces excellent drinks one at a time—or two at a time, if you have a friend over. It has some useful features, like one-touch operations that make it simple to brew your drink and then put a good froth on it. The coffee scoop/tamper combination is helpful, but since it's made of plastic it doesn't last very long.
There are a few problems, though. This machine has a relatively short lifespan. Once it begins leaking, there's no going back. Get rid of it and get another one. And the steamer is too noisy. Overall, this is a decent machine that makes good espressos and cappuccinos, but it can't compete with the big boys. For the price, it is a decent purchase.
Pros
Stylish appearance
Very fast machine
Lots of options
Cons
Steamer can be noisy
Some users reported leaking after a few months
Less durable scoop/tamper
---
4. ROK Presso Manual Espresso Maker
This polished metal espresso maker doesn't need electricity to brew. That's what the advertisements say. But since you still need to heat your water and milk, it's a bit misleading. You're doubling the number of steps you need to make a good drink, and the process isn't very intuitive.
Adjusting the grounds, tamping them down just right, and learning to exert the correct amount of pressure isn't something that comes naturally. The first few weeks of practice will deliver the inconsistent results you'd expect from something like this.
You'll probably use the ten-year warranty on metal parts because it has problems with corrosion (around the portafilter) as well as oxidation. The gasket around the plunger also has a disturbing way of refusing to seal properly. Without that seal, you'll never get the kind of pressure you need to pull a good shot.
This model works to a point, but this should mainly be considered a novelty item.
Pros
Doesn't use electricity
10-year metal parts warranty
Cons
Corrosion in the portafilter
Oxidation on the aluminum parts
Gasket won't seal
Extra steps required
---
5. Delonghi EC680M DEDICA Espresso Making Machine
The stainless steel construction looks impressive, sleek, and functional. If only that were true.
Coffee stains quickly build up inside this machine in places that are impossible to clean, even with a toothbrush. The result is a stale coffee smell which gets worse with every cup that goes through it.
The controls glitch on a regular basis, the lights flash in random patterns that don't correlate to anything in the instruction manual, and the power button has an annoying habit of getting stuck in the "on" position. Plugging and unplugging the machine to get around a stuck power button is simply unacceptable.
The steam wand is too short to be effective. It's very difficult to use without creating a mess, getting hot milk and foam all over the place. After a few weeks of use, the machine may begin to leak badly. Beyond being messy and inconvenient, this could cause electrical problems. This machine is last on the list for good reason.
Cons
Coffee stains can't be cleaned
Lights flash randomly
Power button gets stuck
Steam wand too short
Leaks badly
---
Buyer's Guide: Finding the Best Espresso Machine Under $300
Read and follow all the instructions, including the cleaning directions, before using a new espresso machine for the first time. This way you'll either eliminate any potential problems, or find them in time to quickly return a defective unit and get a replacement.  Most manufacturers and retailers have a return and replace policy for new purchases, so if you find a problem quickly enough, it works out well for all parties concerned.
Important things to consider
It's important to note that factories are not food preparation areas, so while they're clean enough for manufacturing, the machines that come out of them aren't clean enough for immediate food preparation use.  When the instructions tell you to do a thorough cleaning before trying to make your first espresso or cappuccino, they mean it.  Otherwise, your first few cups may taste bitter because of residual solvents and chemicals from the factory.
What makes a good espresso maker?
A machine that heats up quickly and brews at a steady pace is the ideal espresso maker.  It should have at least fifteen bars of pressure too.  The more stainless steel there is in the construction, the better it will be at maintaining pressure.  Ease of cleaning and maintenance will always be major considerations if you want to avoid that old, bitter taste in your espresso, cappuccino, or latte.
Accessories
Many espresso machines come with a measuring spoon or tamper or both.  Sometimes they're combined into one tool.  Unfortunately, they're usually plastic.  That may be all right for the spoon, but the tamper needs to be strong enough to exert some real pressure on the grounds when you're tamping them down and trying to get them even.
The included plastic utensils will almost certainly break before long so go ahead, spend a little extra, and get a stainless steel tamper when you make your purchase.  It'll last for a lifetime, so it's well worth it.
Most espresso makers also include a frothing cup for the milk. But some don't.  Either way, it's always nice to have a couple of spares if you're fixing different drinks for your friends and family.  When it comes to kitchen utensils, more is better.
The same logic applies to cups.  Some espresso machines come with porcelain or glass cups, but most of them don't.  If you're going to buy an espresso maker, you might as well get some espresso cups to drink out of.  Their size also ensures you'll be able to get them under the portafilter when it's in use.
Continuing this train of thought brings us to grinders and coffee storage jars.  Why bother getting an espresso and cappuccino maker unless you get a coffee bean grinder to go with it? Get a good burr grinder and some airtight glass jars to store the grounds in.  Your taste buds will thank you.

Conclusion
In our reviews, the Mr. Coffee BVMC-ECMP1000-RB is clearly the top pick.  This is an excellent model from a well-known manufacturer that delivers everything it promises.  It's fast, easy to maintain, and consistently brews good espressos, cappuccinos, and lattes with the touch of a button.  You'll enjoy this machine for years to come.
The choice for the "best for the money" goes to the Hamilton Beach 40792.  This stylish machine won't break the bank, and for the price you're paying, delivers reasonably good results during its lifespan. When it dies, you can probably afford to replace it.
Hopefully, we've helped you thread the maze of the espresso machine world with these reviews.  By the time you reach the exit, you should have a good idea of which one is best suited for you and your particular situation, which one is best for your budget, and which one will deliver the espresso you've been craving without all the waiting in line.
More espresso maker buyer's guides & top picks: