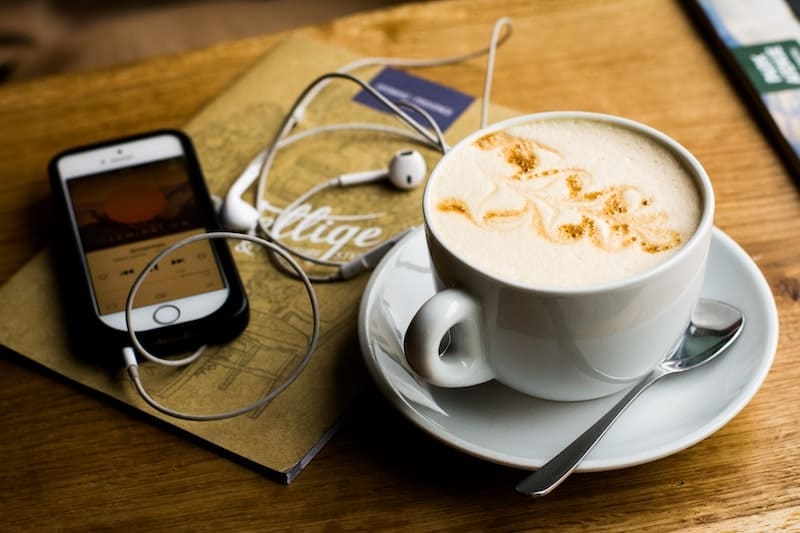 Music is a great connector, bringing people together all over the world. But we could say the same for coffee! Coffee's been around for centuries, and it's been a big deal worldwide for most of those years. So why not combine coffee and music?
Luckily, we're not the first people to have this thought. Many famous singers and songwriters have featured our favorite caffeinated drink throughout the years, from Bach to Johnny Cash. Here are our 10 favorite coffee songs!

The 10 Best Songs About Coffee Ever Made:
1.

"Coffee Song" by Frank Sinatra
The first coffee song on our list is appropriately called "Coffee Song"! It was a Top 10 hit back in 1946 and has been sung by many other singers since. The subtitle of this java-themed song by the king of crooners is "They've Got an Awful Lot of Coffee in Brazil," and the lyrics describe a mythical place where there's more coffee than water. With classic lines like "You date a girl and find out later / She smells just like a percolator," this has to be one of the best coffee songs ever written.
---
2.

"You're the Cream in My Coffee" by Nat King Cole
For something a little sweeter, try "You're the Cream in my Coffee," a charming love song by Nat King Cole. Coffee's just one of many, many metaphors in this song — which also includes the treacly line "You're the sail of my love boat" — but we think it'll still make a great Valentine's ballad for your favorite coffee lover.
---
3.

"Coffee Cantata" by Johann Sebastian Bach
Bach is better known for his more serious concertos and variations, but he also composed a little something called the "Coffee Cantata." Like many of us, the famous German composer liked to work in coffee shops, and the cantata is an ode to the beverage. Our favorite line translates to: "If three times a day I can't drink my little cup of coffee, then I would become so upset that I would be like a dried-up piece of roast goat." Who can't empathize with that?
---
4.

"Black Coffee" by Ella Fitzgerald
Ella Fitzgerald's "Black Coffee" — about a terrible breakup and the coffee getting her through it — is less of a love song and more of a heartbreak song. Originally written in 1948, this beautiful song was part of the soundtrack of a 1960 movie called "Let No Man Write My Epitaph."
---
5.

"Cup of Coffee" by Johnny Cash
In "Cup of Coffee," Johnny Cash channels a long-haul truck driver stopping for a cup of coffee and a chat. It's from his 1966 album "Everybody Loves a Nut." If you've ever had a cup of Joe at an all-night diner, you'll relate to this classic coffee song.
---
6.

"Coffee Shop" by Red Hot Chili Peppers
1996's "Coffee Shop" isn't one of the Red Hot Chili Peppers' best-known songs — their next album, "Californication," catapulted them to fame in 1999. But it does include the amazing lines "Meet me at the coffee shop / We can dance like Iggy Pop " — which we would love to see.
---
7.

"Death Bed" by Powfu
"Death Bed" was one of the biggest songs of 2020, but it's better known by its most famous lyric: "I'll make a cup of coffee for your head." Is there a better romantic gesture than serving up a coffee in bed? We'll wait.
---
8.

"Forty Cups of Coffee" by Ella Mae Morse
We can't recommend drinking forty cups of coffee in a single day (that's a recipe for death by coffee), but at least this heartbreak song has a happy ending! Ella Mae Morse famously combined jazz, blues, and country music, a unique style that helped bring rock & roll into being. Why not join her for a cup of coffee (or forty)?
---
9.

"Coffee Blues" by Mississippi John Hurt
Half advertisement for Maxwell's House coffee, half love story, "Coffee Blues" is a surprisingly good coffee song. It also inspired the 60's band "The Lovin' Spoonful," known for hits like "Do You Believe in Magic?"
---
10.

"Intergalactic" by Beastie Boys
Try something a little bit goofier with this Beastie Boys hit. Admittedly, there's not a lot of coffee in this song, which bursts with everything from stir fry to Spock. But you can expect silly lyrics like "I like my sugar with coffee and cream."

Our Favorite Coffee Songs: Final Thoughts
We hope you enjoyed this roundup of great coffee songs. Now you know what to listen to while you enjoy your morning coffee! From Frank Sinatra to the Beastie Boys, we coffee lovers are in great company.
Looking for more coffee fun?