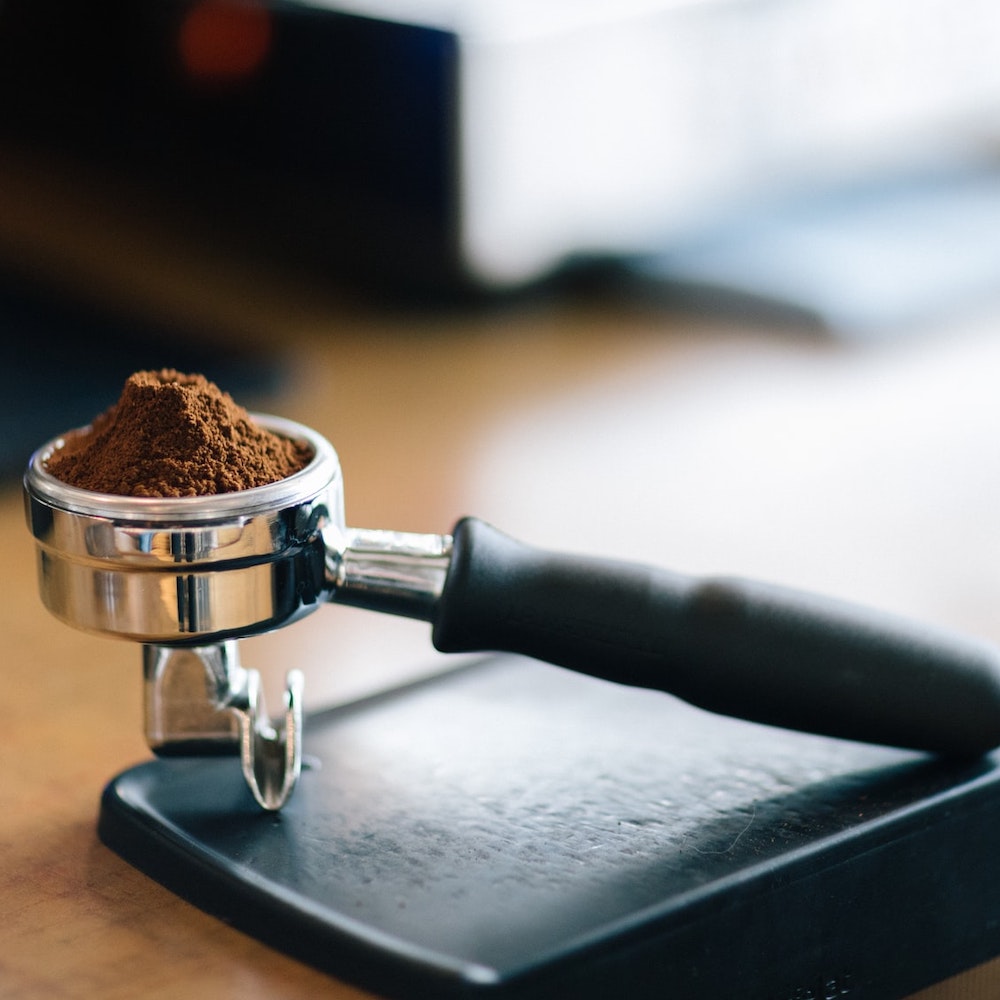 If you own a coffee shop or restaurant, you're in the business of producing the best possible coffee. Serving up the most delicious cup of coffee means tapping into the essential character of the bean and its roast. What's the best way to do that? Source excellent beans and grind them just before brewing!
To get the best flavor out of your beans and keep your customers coming back, you'll need a great commercial grinder. We tested and ranked our 10 favorite commercial coffee grinders, composing detailed reviews and a handy buyer's guide to help you navigate the choices.
Keep reading to find a great grinder!
---
A Quick Look at the Winners of 2023:
Image
Product
Details

Best Overall

Mahlkonig Twin

Twin grinders
65mm steel burrs
Stepless grinding

Best Value

Mazzer Super Jolly

Affordable
64mm steel burrs
300-gram dosing chamber

Premium Choice

Ditting Industrial

High grinding capacity
180mm grinding discs
Compact for industrial use

Budget Buy

Breville

Affordable
LCD screen
60 grind settings

Nuova Simonelli Mythos

75mm titanium burrs
Crushes clumps
Built-in tamper
The 10 Best Commercial Coffee Grinders:
1. Mahlkonig K30 Twin Espresso Coffee Grinder – Best Overall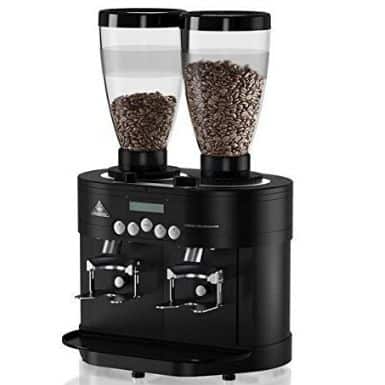 The Mahlkonig K30 Twin Espresso Coffee Grinder is a duo-in-one machine that takes up less counter space than two grinders. With two hoppers, the bean capacity is at three and a half pounds. It has a stepless grind adjustment, an 8g total grinding capacity, and 65mm steel burrs. This model is unique with an advanced cooling system that allows the machine to cool down quickly with consistent use in a busy shop. It has a lit display with software available in five languages.
The only downside to this model is the price. It's slightly expensive, though ideal for a busy coffee business. This model requires professional installation and setup and comes with a one-year warranty from date of purchase.
With the capacity and the benefit of the cooling system, this grinder is our best overall choice.
Pros
Twin grinders
Easy display
65mm steel burrs
Large hopper capacity
Stepless grinding
Smaller footprint
Integrated cooling
---
2. Mazzer Super Jolly Espresso Coffee Grinder – Best Value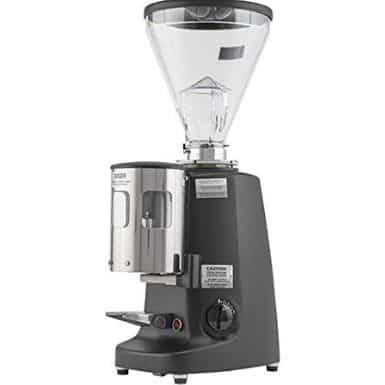 The Mazzer Super Jolly Timer Espresso Coffee Grinder is a popular option for business or home use. This heavy-duty machine weighs around 32 pounds and needs its own space. It has a built-in timer, a 300g dosing chamber, and 64mm flat steel burrs. The bean hopper holds nearly three pounds and grinds at 17g per second. With its micrometrical stepless grinding, the user has control over dosing.
When using the dosing chamber regularly, purging is required to clean out the grounds.
This model requires professional installation and setup and comes with a one-year warranty from the date of purchase. This grinder is intended for commercial use and is a hulk of a machine for the home.
Pros
Affordable
64mm steel burrs
Large hopper capacity
300-gram dosing chamber
Stepless grinding
Cons
Purging required
Bulky for home use
---
3. Ditting KF1800 Industrial Coffee Grinder – Premium Choice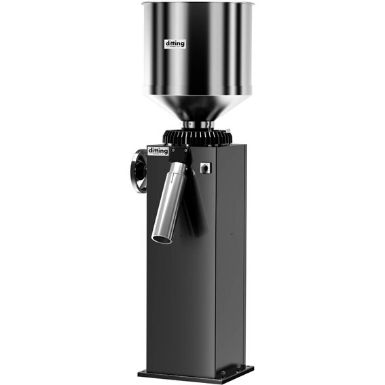 The Ditting KF1800 Industrial Coffee Grinder has a slim and compact design. However, it doesn't have a slim price, which keeps it out of our first two spots. This unit is not a model for home use, but it's ideal for small to medium-sized roasting businesses. This grinder has a small footprint, taking up minimal space while maintaining a high output, and has an adjustable outlet tube.
This grinder is an industrial model, so we'll jump into the technical details for a moment. It has a 6.25-HP motor with 19 amps. The grinding capacity is 12 to 13 pounds per minute, with a hopper capacity of 66 pounds. The grinding discs are 180 mm, and this hulk of a machine weighs over 300 pounds. This model requires professional installation and setup.
As an industrial model with industrial specifications, even the most devout coffee lover wouldn't want this on their kitchen counter, and the price is equivalent to that of a small car. On the flip side, if you're in the roasting business, this may be the right choice for your facility, and that makes it our premium choice.
Pros
Compact for industrial use
25-HP motor
180mm grinding discs
High grinding capacity
66-pound hopper capacity
---
4. Breville BCG820BSSXL Coffee-Grinder – Budget Buy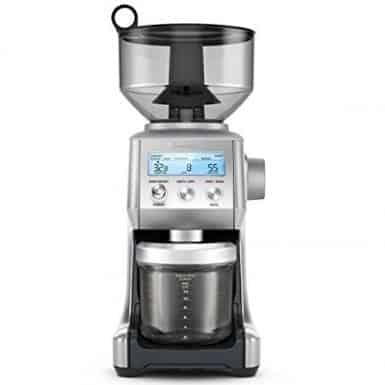 The Breville BCG820BSSXL Coffee Grinder is economically priced and ideal for home use. This grinder allows you to grind directly into a portafilter and comes with small and large cradles. Alternatively, there's an airtight grounds container. The display is an LCD screen, allowing you to see grind time, number of shots, and grind size. With 60 grind settings, perfecting your grind for any method of brewing is a snap. The digital time setting gives you the flexibility to adjust timing in 0.2-second increments.
There are four user programs, one for each grind group, which can leave users feeling frustrated with less control over the grind. While it works well with Breville portafilters, it may not accommodate portafilters of other brands. Unfortunately, the impeller is plastic and will wear out over time. Replacement parts are not available for purchase and so require a professional service call. This model does come with a one-year warranty.
Cons
Little grind control
Internal plastic parts
---
5. Nuova Simonelli Mythos One Espresso Coffee Grinder
The Nuova Simonelli Mythos One Espresso Coffee Grinder will grind with an on-demand system directly into a portafilter, so there is no waste and little time for oxidation. It also has a micrometric grind adjustment to make small grind changes depending on the coffee. The clump crusher technology ensures clump-free grinding for the best extraction. The portafilter holder allows for hands-free operation, while the built-in tamper ensures tamping consistency. The burrs are titanium coated for long-lasting durability.
This grinder is a precise and reliable machine ideal for baristas and coffee shops. The price may keep it out of the running for a home user, but if you have the budget, go for it. The portafilter hook allows for hands-free grinding, giving a barista the advantage of doing other things in a busy setting. The barista mode allows for easier dose adjustments without spending time playing with programming.
This grinder requires professional installation and setup and comes with a two-year warranty and a satisfaction guarantee.
Pros
75mm titanium burrs
Crushes clumps
Built-in tamper
Quiet
Cons
Expensive
No workspace illumination
---
6. Eureka Olympus Commercial Coffee Grinder
The Eurika Olympus KRE Commercial Coffee Grinder is a sleek model housed by polished aluminum. It has an 8-amp motor, 68mm conical steel burrs, a digital dosing system, a stepless adjustment, and a hands-free portafilter holder. The included short hopper gives this grinder an overall height of 19 inches, making it feasible for the home user, and a tall hopper is available for separate purchase. This model is compact enough for the home barista yet durable enough for a coffee shop.
This shiny model comes with a high price tag for a home user. However, having this in your kitchen would give you coffee cred among coffee snob peers.
Pros
Easy to clean
68mm steel burrs
Digital dosing
Illuminated workspace
---
7. Bunn Bulk Coffee Grinder
The Bunn 22100.0000 Bulk Coffee Grinder offers a wide range of grinds from coarse to fine powder. It will grind a pound of coffee beans in about 30 to 45 seconds, depending on the coarseness. This model is ideal for restaurants, coffee shops, and supermarkets.
The hopper holds three pounds of beans and will grind one pound in less than 30 seconds. It has nine grind settings and heavy-duty precision burrs for consistency. The cleaning lever prevents cross-contamination of flavors by removing coffee from the grind chamber. For safety, the motor won't run if a bag is removed before grinding.
It's a little large for home use at nearly 30 inches tall and weighing over 50 pounds, but for the enthusiast, it's only slightly pricey.
Pros
Affordable
Three-pound hopper capacity
Quick grinding
Cleaning lever
Bag safety lever
Cons
Slightly pricey
Loud
Tall
Heavy
---
8. Baratza Forte BG Burr Coffee Grinder
The Baratza Forte BG Burr Coffee Grinder is a commercial-grade grinder that will work well for home use due to its small footprint. It has a 10-ounce bean hopper capacity, a grounds bin, and a 54mm flat steel burr. The settings allow you to dose by time or weight. The multi-function display screen is LED-backlit and has three programmable presets with the adjustment range to fine tune the grind. This model also comes with a particular calibration tool in case recalibration is needed.
This choice is a compact model with a small footprint, only weighing about 13 pounds. It may need re-calibrating at times with a special tool, and the burrs have to be detached for cleaning. That seems like more work than most home users want to do. If you enjoy the specialness and the equivalent price, you may enjoy this grinder.
Whether you own a coffee shop or brew bar or want for home use, this model has a studious look without being obnoxious.
Pros
Compact
Dosing adjustments
Programmable presets
Cons
Slightly pricey
Small hopper capacity
Special tools required
---
9. La Pavoni Commercial Coffee Grinder
The La Pavoni ZIP-B Commercial Coffee Grinder is a dosing grinder that provides consistency at home or in business. It has a built-in tamper, and doses are adjustable between five and eight grams. The bean hopper holds over two pounds, with an output of 13 pounds per hour. It's housed in a die-cast aluminum body and may not fit under cabinets with the hopper attached. For home use, this is a robust 30-pound model requiring dedicated space. With an insulation shield around the motor, overheating isn't an issue. The flat grinding burrs are 63.5mm of tempered steel and powered by a 0.33-HP motor. The burrs are covered with a 10-year guarantee.
A one-year warranty supports the unit. However, the manufacturer doesn't recommend this grinder for home use, as it may invalidate the warranty.
Pros
Built-in tamper
Adjustable dosing
Cons
Slightly pricey
Bulky for home use
Heavy
Warranty issues with home use
---
10. Wilbur Curtis Coffee Grinder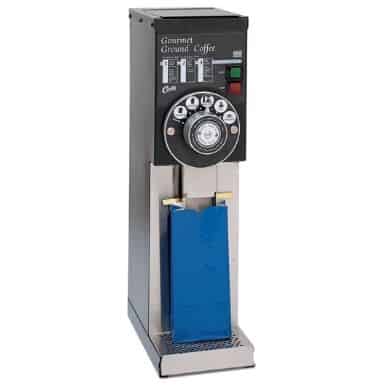 The Wilbur Curtis GSG-3BLK Coffee Grinder is designed with foodservice professionals in mind. It has a single hopper holding up to 3 pounds, with adjustable grind settings ranging from extra coarse to extra fine. The portion size is adjustable from 1 ounce to 27 ounces. The bean hopper capacity allows for 3.5 pounds of coffee beans. It's powered by a 1/2-HP motor and is equipped with a safety circuit breaker.
This model is geared toward commercial use with a height of 26 inches and weighing nearly 70 pounds. This choice would be a cumbersome model for the home user and requires industry professional installation and setup. This brand does offer a 100% satisfaction guarantee.
---
Buyer's Guide: Choosing the Best Commercial Coffee Grinder
When it comes to making a cup of coffee, a good grinder is essential to making the experience top-notch. If you have a business involving coffee as a critical component, you want to provide the best service to capture the ultimate bottom-line dollar. For the home user, a commercial coffee grinder may be a consideration when the budget allows and the desire to create the ultimate cup of coffee in your pajamas is too great to ignore.
For commercial use, there are several factors to recognize when searching for a grinder to suit your daily business demands, such as cup quantity, hopper size, overheating protection, settings, and burr thickness.
Cup Quantity
You'll need a good idea of how many cups your shop serves daily. Based on this number, you'll want to choose a grinder to suit the quantity. It should also have a hopper size to match, as well as protection against overheating and blades that will stand up to the use. If you have multiple servers or baristas, you'll want a grinder that is easy to use and automated to make the process of constant serving more efficient.
Hopper Size
Some models will hold up to a pound of coffee beans, and others will allow for more. Based on your business needs, determine what size is best suited for your shop.
Overheating Protection
You'll want to pay attention to whether a grinder is insulated or provides cooling technology to prevent any downtime during busy times of the day.
Settings
Consider the variability in the settings. Manual settings will take more time from bean to cup. Programmed settings allow more flexibility for a user.
Burr Thickness
You'll want to pay attention to the material and thickness of the burrs. The thicker the burr, the longer it will stand up to heavy service. If you're serving an exceptional number of cups a day, look for a substantial thickness.

Conclusion
With prices ranging from economical to extravagant, there's a commercial model available to suit your needs. (For at-home baristas, many options will be a sizeable investment.) We hope that our reviews have been helpful in your next grinding pursuit. In summary, our best overall choice is the Mahlkonig K30 Twin Espresso Coffee Grinder with an integrated cooling system and twin hoppers holding a total of over 3 pounds of coffee beans. The Mazzer Super Jolly Timer Espresso Coffee Grinder is our best value choice with a large hopper capacity at an affordable price. For users with a boundless budget, our premium choice is the Ditting KF1800 Industrial Coffee Grinder.