You've decided to get a burr grinder. Maybe you had an epiphany while tasting coffee made from just-ground beans. Maybe you're the only one of your friends who doesn't have one and you're caving to the peer pressure. Or maybe you've reached the point in your life that demands better than average coffee.
Whatever the reason that's brought you here, our reviews can help you navigate the world of entry-level burr grinders. You don't need to waste your time on sub-par coffee or wreck your budget. Keep reading to find our favorite coffee grinders under $50 — and start drinking fresh, delicious coffee.
---
Our Favorite Picks for 2023:
Image
Product
Details

Best Overall

KRUPS Burr

Easy to clean
Consistent grind
Not too loud

Best Value

JavaPresse Manual Grinder

More than 15 settings
Great for travel, camping, etc.
Great customer service

Secura Burr

Auto shut off for 2-12 cups
17 settings
Easy to clean

Chefman

Dishwasher-safe pieces
Consistent grind
Small footprint

Cuisinart Supreme Burr

It does grind coffee
Easy to clean
Large hopper
The 5 Best Cheap Coffee Grinders Under $50:
1. KRUPS GX5000 Burr Coffee Grinder – Best Overall
The Krups GX5000 burr grinder is a crowd favorite. You can choose from a surprisingly wide array of settings – 45 of them! – and get a consistent grind every time. You can choose how much you need, anywhere from two to twelve cups, and it will automatically stop grinding when you have enough.
The see-through bean hopper allows you to see when more beans are needed, plus it's easy to clean and looks chic on your countertop. And although all coffee grinders make a racket, this one gets high marks for not being overly loud. Some users complain about excessive static, which generates a bit of a mess, but overall this Krups grinder does the job of a much more expensive machine.
Overall, we think this is the best budget coffee grinder under $50 available this year.
Pros
Easy to clean
Consistent grind
Not too loud
Auto stop
Cons
Sometimes generates a static-y mess
Very well-priced
---
2. JavaPresse Manual Coffee Grinder – Best Value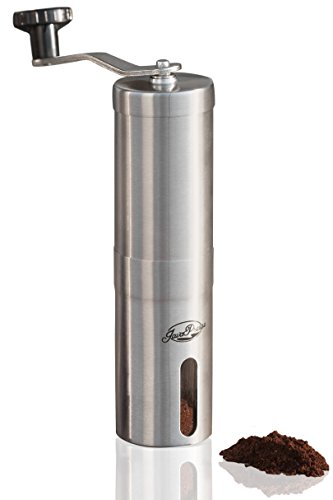 The JavaPresse Manual Coffee Grinder is an impressive gizmo. Small enough to travel with and quiet enough to use in the same room as your slumbering significant other, its ceramic burrs can be adjusted to nearly 20 grind settings. If you want a Zen-like addition to your morning coffee ritual, look no further.
On the other hand, if you are particular about grind consistency, don't want to break a sweat, or are brewing for an entire household, this is not the machine for you. The JavaPresse doesn't provide the most consistent grind, and the settings can be tricky. It is time-consuming to grind by hand, and you really can only make enough coffee for one person.
JavaPresse also offers a great coffee subscription service, plus a library of video tutorials and as a podcast. This isn't just an appliance, it's a lifestyle, and a super-affordable one to boot.
Read our full review of the JavaPresse Manual Coffee Grinder here.
Pros
Can't beat it for quiet – it's manual
More than 15 settings
Great for travel, camping, or the quiet of your office cubicle
Great customer service, including video tutorials
Cons
Not the most consistent grind
Really only suitable for one person's worth of coffee
Time-consuming
---
3. Secura SCG-903B Grinder (Burr)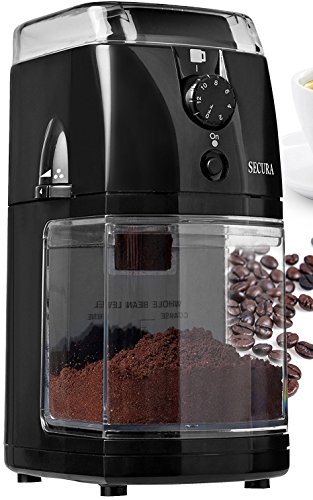 Like our more favored models, the Secura SCG-903B comes with a respectable number of settings (17) and an auto shut-off feature. But many users complain about the grind – some can't get it coarse enough, some can't get it fine enough, some can't get it uniform at all, some say it can only do one grind – leading us to be a little wary of this model. And although all grinders make a mess, this Secura seems to be messier than most.
If you have modest expectations and aren't picky about grind, this isn't a terrible choice, but overall, we were disappointed to find that a grinder that claims to have 17 settings seems to have only one during actual use.
Pros
Auto shut off for 2-12 cups
17 settings
Cons
Some grind setting issues
Messier than necessary
---
4. Chefman RJ44-A2 Coffee Grinder Machine
The Chefman RJ44-A2 is another decent option. Although it offers "only" 17 settings, it does have dishwasher-safe elements, ceramic burrs instead of metal, and a small countertop footprint. It provides a consistent, reliable grind and gets high marks for being quiet.
This model stumbles, though, by excelling only at fine or finer grinds – if you want anything coarse, like for a French press or a cold brew, you will be disappointed. It also receives criticism for being overly static-y and messy.
However, Chefman deserves a mention for across-the-board excellent customer service and outreach.  The Chefman RJ44-A2 would be a good choice for espresso-only makers or those who are fanatical about customer service.
Pros
Dishwasher-safe pieces
Consistent grind
Quiet
Small footprint
Exemplary customer service
Cons
Fewer settings
Can't provide a coarse grind
Static-y and messy
---
5. Cuisinart Supreme Burr Coffee Bean Grinder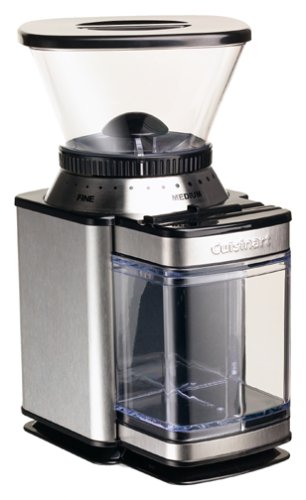 Although Cuisinart is a household name in kitchen appliances, the DBM-8FR Supreme burr grinder doesn't give its parent company much to brag about. The serious or aspiring barista will be frustrated by the unreliability of the grind and the messiness of the grounds, making this suitable only for those with little interest in experimenting with different grinds or maintaining a clean kitchen.
Anyone who doesn't live alone runs the risk of waking up their entire household, because this unit is unreasonably loud. But most worrisome is that many of these units seem to die an early death, and Cuisinart, despite its fame, doesn't seem interested in providing much in the way of customer service.
Pros
It does grind coffee
Easy to clean
Cons
Messy
Unreliable grind
Many units just die unexpectedly
Cuisinart doesn't provide very good service
Loud
---
Buyer's Guide: Finding the Best Budget Coffee Grinders Under $50
Burr grinders provide the most consistent and adjustable coffee grind, which makes them a great upgrade for your coffee brewing experience. But which budget coffee grinder under $50 should you choose? Keep reading for our quick buying tips.
Settings
First and foremost, you want to know all about your grinder's capabilities. Ideally, it will offer multiple settings, so you can use the right grind size for different brewing methods. Any grind setting you choose should produce a consistent texture – no one wants lumps floating around in their otherwise powdery grind, nor does anyone want superfine powder lurking in their rough grinds. Any grinder's settings should reliably produce an identical product every time.
RELATED READS: How fine should you grind? The Ultimate Coffee Grind Size Chart
Other Features
Of course, it'd be nice if it weren't messy, sending coffee grounds all over your kitchen every time, and it'd be nice if cleaning the machine was straightforward (or even used the dishwasher!). The noise level might be something to consider, although realistically, any electric grinder has the potential to wake the neighbors.
Many grinder users love the auto-stop feature – they tell it to grind enough for two cups and then walk away, knowing the machine will stop grinding on its own. And don't forget that this will probably be sitting out on your counter 24/7, so you want it to be at least moderately spiffy-looking without taking up half your counter space.
Conical or Burr?
When reading product descriptions, you're likely to come across mention of two varieties of burr grinders: "conical" or "flat." As you might guess, they refer to the shape of the burrs through which the beans will pass, but each does pretty much the same thing to the beans. Like with many sporting rivalries, you'll find advocates in both camps who tell you theirs is the only good choice to be made, but in reality, especially at the budget price bracket you're considering, there's not much difference. Only the truly coffee-obsessed will have strong opinions, and only the certifiable will claim to be able to tell the difference in the taste of the resulting coffee.
Electric or Manual?
A final factor to think about – electric or manual?  Although what you've been picturing in your head is probably electric – we are talking about an appliance, after all – don't overlook the manual models on the market.  If the ritualistic nature of your morning (or evening) coffee is integral to your day, the meditative opportunity offered by grinding by hand is worth exploring.
If you've avoided camping because you won't be able to get good coffee, if you travel and want to bring your ritual with you, or if you lose power more often than you'd like, a manual grinder is portable and usable wherever you might find yourself. On the other hand, if you're having people over for coffee or brewing daily for four roommates, electric may be a more efficient choice.

Conclusion
The Krups GX5000 burr grinder is our top pick. With 45 settings, this machine offers a huge array of grind possibilities and delivers all of them uniformly, consistently, and at a surprisingly low price.
Coming in at best for the money, the JavaPresse Manual Coffee Grinder is a fun little manual grinder to shepherd you into the world of freshly ground coffee. At roughly half the price of its electric counterparts, it's a meditative addition to the coffee-is-a-ritual lifestyle.
If you've never made coffee with freshly-ground beans, you'll be amazed at the rich, complex flavors and aromas. We hope these reviews help you hit the "grounds" running and find an inexpensive coffee grinder!
Other interesting reads: