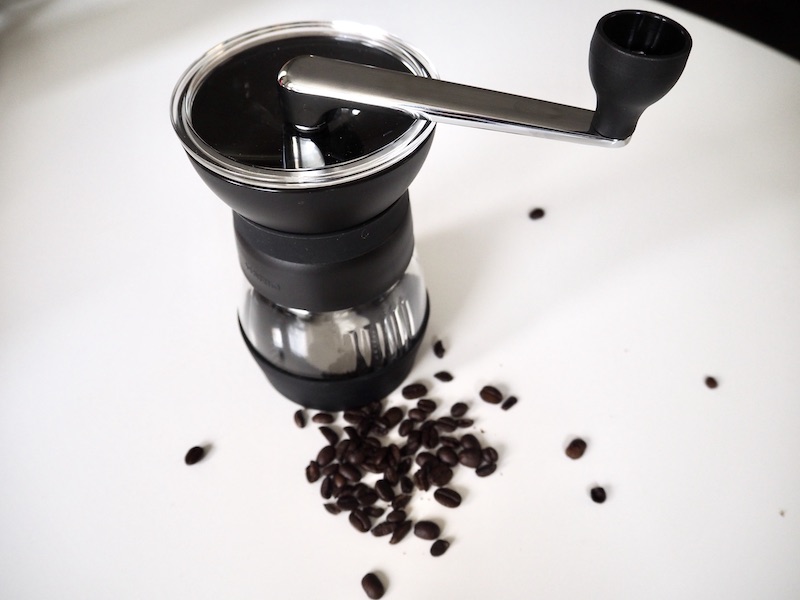 Our Final Verdict
We give the Hario Skerton Pro a rating of 4.4 out of 5 stars.
Hario Skerton Pro: At a Glance
The Hario Skerton Pro is a manual burr coffee grinder made by the same company as the V60 pour-over. Is it easy to use, and does it live up to the Hario name? We thoroughly tested this grinder to find out.
The results? We enjoyed using this manual grinder. It's nicely-designed and made of high-end materials like glass and silicone. The handle is easy to turn and the grinding is entirely mess-free. Best of all, this grinder produces very consistent coffee grounds!
There are a couple of drawbacks, like a hopper that's awkward to store and a non-intuitive grind size adjustment process. You'll have to keep track of a lot of pieces, and the grinder isn't particularly simple to clean. But the bottom line is that this is a very effective manual coffee grinder that's easy to use and elegant enough to display.
A Quick Look
Pros
Well-built and sturdy
Easy to use
High-quality ceramic burrs
Very even grinding
Streamlined design
Cons
Somewhat large
Hopper is awkward to store
Many pieces to keep track of
A little tricky to adjust the grind size
| | |
| --- | --- |
| Brand: | Hario |
| Product Type: | Manual burr grinder |
| Grounds Capacity: | 100 grams (3.5 ounces) |
| Materials: | Glass, plastic, silicone, and ceramic |
| Burr Type: | Conical ceramic |

Appearance and Overall Design
The Skerton Pro looks like a high-end spice grinder. It's on the large side for a manual coffee grinder, but it will still fit easily in almost any kitchen. It has a high-quality glass grounds container, a silicone rubber cover, and a plastic hopper and lid. The burrs are ceramic and adjustable via a nut on the bottom of the hopper. Conveniently, the grounds container has a lid to help you keep any extra coffee fresh.
---
The Test: How Easy Is It to Use?
Appearance is important, but how a grinder grinds is much more important. So how does the Hario Skerton Pro perform?
Adjusting the Burrs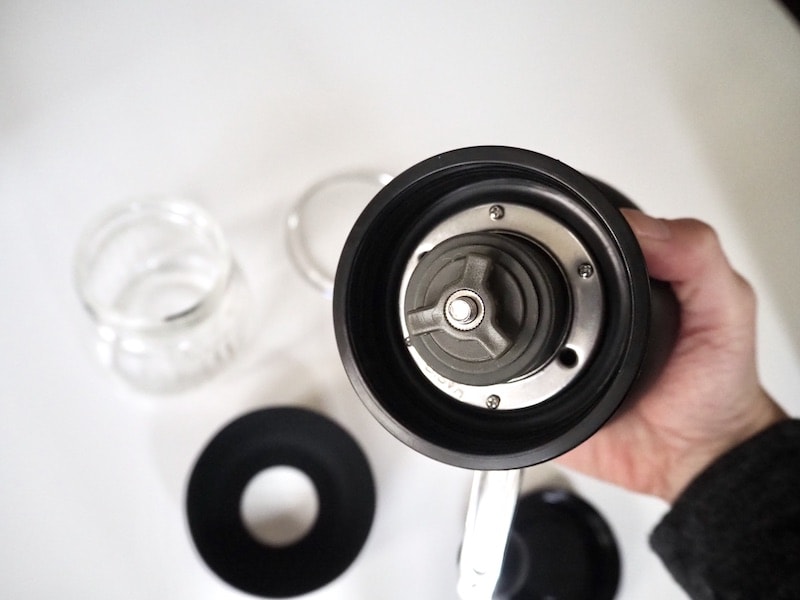 The first thing you have to do is adjust your grind settings. The Skerton Pro has good ceramic burrs buried inside the hopper. They can be a little tricky to adjust — you have to take the grinder apart and spin the adjustment nut. There aren't any markings or clicks, so you may have to try a few settings before you get your beans just right. Of course, if you only use one grind size, this is a set it and forget it process.
RELATED READ: The Ultimate Coffee Grind Size Chart (How Fine Should You Grind?)
---
The Grinding Process
Since this is a manual grinder, it does take some effort to work. With that said, we were impressed by how comfortable it was to hold while grinding. The silicone cover keeps it from sliding around on the counter, and the plastic handle is surprisingly ergonomic.
Once your beans are ground, they drop into the glass container at the bottom. We loved how mess-free this was! Rather than the static mess of an electric burr grinder, the Skerton Pro contains all of the grounds in this container. When you've ground enough beans, you can unscrew the top and pour out the perfectly ground coffee. Even better? If you grind more than you need, the Skerton comes with a lid for the grounds container. You can seal your grounds in a convenient jar!
One thing we didn't love about the grinding design: when you remove the hopper, there's nowhere to put it. By itself, the hopper doesn't sit flat on a surface — making that convenient grounds container a little less useful.
---
Grind Quality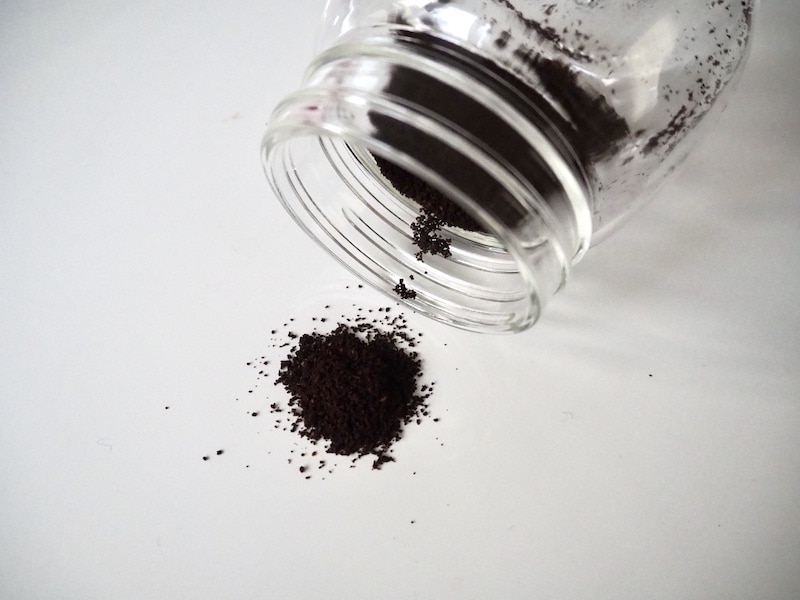 We were very impressed with the consistency of the Skerton Pro's coffee grounds. They came out very even, as you'd expect from a good burr grinder. Once we found the right grind setting, we had fresh, aromatic grounds in a few turns of the handle! We did find that the grinds were more consistent on the finer end of the scale, so this grinder will work especially well for you if you drink espresso, pour-over coffee, or drip coffee.
---
Cleaning
How easy is the Skerton Pro to clean? The entire grinder can be taken apart for a thorough cleaning job, though this isn't necessarily the simplest process. There are many pieces to take apart and keep track of. Luckily, you probably won't need to do a thorough clean very often. The grounds container is easy to rinse or wipe clean, and the hopper comes apart fairly easily.

Hario Skerton Pro Review: The Verdict
So what did we think of the Hario Skerton Pro? We enjoyed using this compact grinder. It's comfortable to hold, not too difficult to use, and attractive enough to display on a counter or table. The grinding process is entirely mess-free and the glass container is perfect for storing fresh coffee grounds. It's a great grinder overall.
This grinder has many advantages, but there were a few things we didn't like. It has a lot of pieces to keep track of, and taking the grinder apart for cleaning is a little complicated. The hopper is also awkward to store when it's not attached to the grounds container.
But all in all, the Hario Skerton Pro is an excellent burr coffee grinder, producing very consistent coffee grounds with minimal elbow grease. The silicone cover makes it easy to grind on a counter, and the high-end materials mean it will fit right in in a luxury kitchen. Why not give it a try and see what you think?
---
FAQ
1. What's included in the box?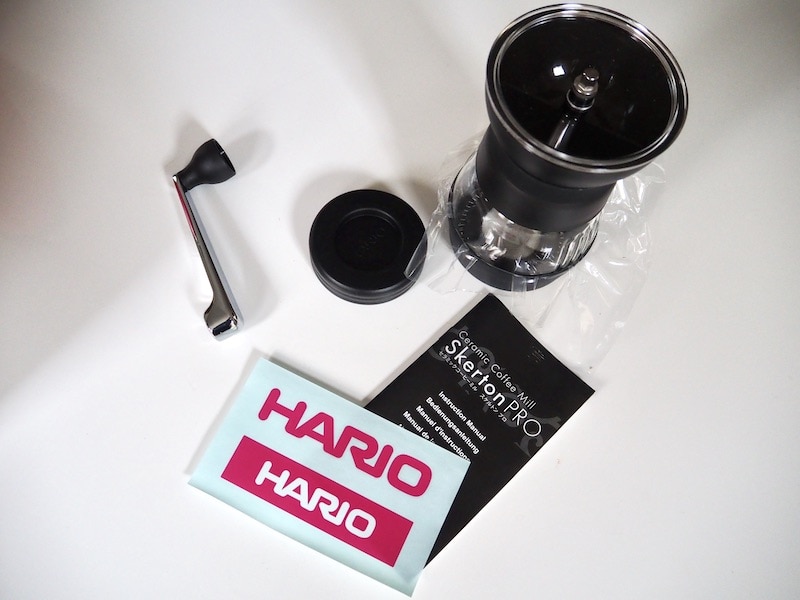 The Skerton Pro doesn't come with a lot of accessories, but the grinder itself has many pieces. In the box, you'll find:
Plastic hopper with ceramic burrs
Glass grounds container and lid
Plastic handle and hopper lid
Silicone cover
Instruction manual
Hario stickers
2. What's the coffee grounds container capacity?
The Skerton Pro can hold up to 100 grams (3.5 ounces) of ground coffee. That's enough for about 10 cups of coffee brewed using the Hario V60!
3. How many grind settings does the Hario Skerton Pro have?
The Skerton Pro doesn't have specific settings — you won't find any click adjustments — but you can turn the adjustment nut for everything from coarse to fine grinds. That means you can use this grinder for any brewing method, including cold brew, French press, and pour-over!