If you love caramel, nuts, and chocolate — and who doesn't — you'll want to know how to make a turtle latte. These rich coffee drinks are incredibly delicious and easy to make. You don't need to be a barista!
We'll show you the easiest turtle latte recipe, plus a few ways you can vary it. You'll be sipping a sweet, nutty drink before you know it!

What's a turtle latte?
Turtle candies combine caramel, chocolate, and nuts. They're typically whole pecans dipped in caramel and chocolate. This classic candy shop treat inspired the tasty turtle latte. Add a shot or two of espresso to these rich flavors for a delicious turtle latte!
---
Turtle Latte
Turtle lattes are delicious, rich drinks that combine chocolate, caramel, and nuts with bold espresso and velvety steamed milk. This over-the-top latte may just be your new favorite homemade drink!
Equipment
Espresso machine or coffee maker

Milk steamer or saucepan and whisk
Ingredients
2

shots espresso

or ½ cup strong coffee

8

ounces

milk

1

teaspoon

hazelnut extract

1

tablespoon

cocoa powder

1.5

teaspoons

caramel sauce

Whipped cream and chocolate sauce

optional toppings
Instructions
Pull two shots of espresso using your espresso machine or Moka pot. You can also use ½ cup of strong brewed coffee.

Steam your milk. Use the wand on your espresso machine or a standalone milk steamer. If you don't have a steamer, you can heat the milk in a saucepan on the stove and then whisk it until it's frothy.

In a mug, combine the espresso, steamed milk, hazelnut extract, cocoa powder, and caramel sauce. Stir well.

Top your turtle latte with whipped cream, chocolate sauce, and caramel sauce. This is optional, but it'll take your latte to the next level!
Nutrition

Turtle Latte Recipe Tips & Variations
Wondering how you can customize this sweet, rich latte? Here are a few ideas to get you started.
Coffee & Milk
The base of any latte is espresso and steamed milk. You can use any kind of coffee beans to make espresso, though we'd recommend a good quality dark roast. As for the milk, you can use just about anything, like whole milk, almond milk, or oat milk. If you want to lower the number of calories, try almond milk. If you want a richer drink, substitute two or three ounces of heavy cream.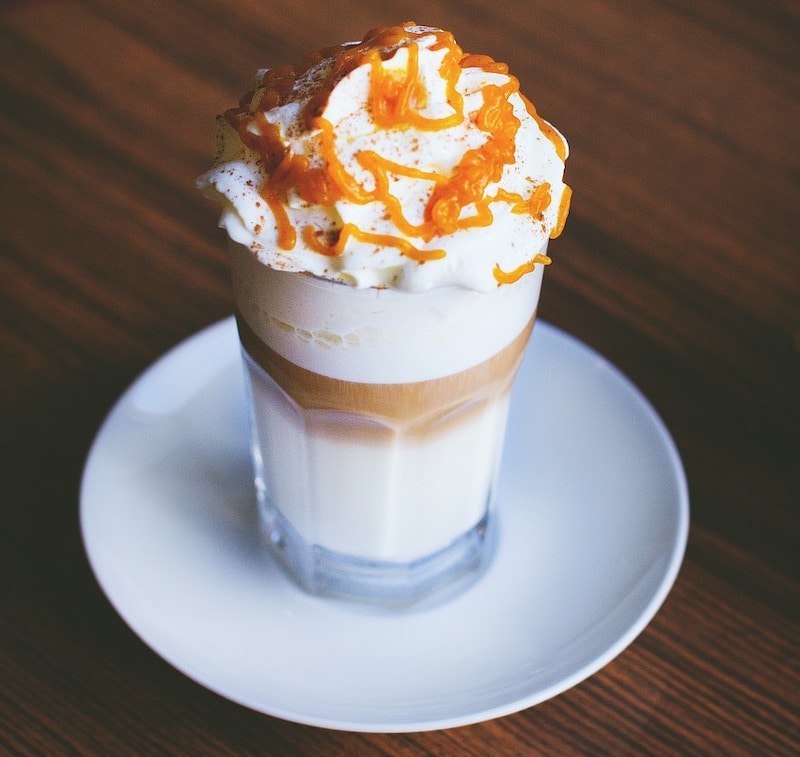 Flavorings
Since we're talking about turtle lattes, caramel, chocolate, and nuts are crucial flavorings. But that doesn't mean that you can't vary the ingredients! Make caramel sauce at home, add hot fudge or chocolate chips, or mix in finely chopped almonds or hazelnuts. And you can always add a turtle candy or two as a topping.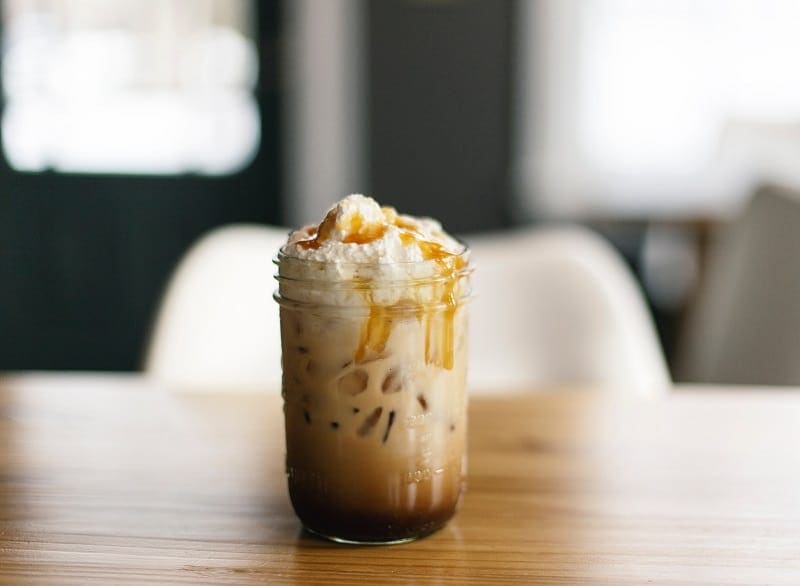 Hot vs Iced
If it's too hot for a regular latte, you can make an iced turtle latte, instead. Make the espresso and pour it over ice. Add cold milk and flavorings, stir the drink, and enjoy! Iced lattes are even easier to make than hot lattes.

Final Thoughts
Ready to start brewing? This turtle latte recipe is pretty unbeatable in terms of flavor. Mix caramel sauce, hazelnut extract, and chocolate into your homemade latte for a delicious treat!
RELATED READS:
---
Featured Image Credit: Daniela, Unsplash