Portugal is a nation of coffee lovers, so it makes sense that it offers several delicious coffee drinks. But if you can't hop on a flight today, why not bring a little of the European country home?
Here's how to make one of the most common types of Portuguese coffee, Galao. We'll also tell you all about Portugal's coffee culture, how to order Portuguese coffee, and more!

All About Portuguese Coffee
Portugal doesn't grow coffee, but the drink is still very important to the culture. Portuguese coffee typically uses a blend of Arabica and Robusta (instead of the all-Arabica preference of many other countries). The beans are roasted more slowly, producing a creamier, low-acid coffee that has a thicker mouthfeel. That "thickness" is why many people in Portugal ask for a glass of water alongside their coffee — to wash it down!
Like most of Europe, Portuguese coffee lovers largely drink espresso, not brewed coffee. That's where the Galao comes in: the Portuguese version of a latte! Often served with pastel de nata, a Portuguese custard tart, the Galao is made with espresso and steamed milk.
---
Portuguese Galao Recipe
A Portuguese Galao is something like a latte, with one part espresso and three parts hot milk. It comes together in just a few minutes and makes a tasty caffeinated treat!
Equipment
Espresso machine or Moka pot

Small saucepan

Stovetop

Coffee mug

Whisk or milk frother
Ingredients
1

ounce

coffee beans

finely ground

2

ounces

filtered water

6

ounces

milk

Sugar

to taste
Instructions
Grind your espresso beans finely.

Pull two shots of espresso. Don't have an espresso machine? You can substitute three or four ounces of strong coffee.

Heat the milk in a saucepan on the stove. Use medium-low heat and stir frequently to keep it from burning! Then froth it using a whisk or milk frother.

Pour the milk and espresso into your coffee mug. Add a little sugar or honey if you'd like. Enjoy your tasty Portuguese coffee!
Nutrition
Galao Variations
The above recipe is delicious, like a low-key latte. But you can make a few alterations if you'd like! Here are our suggestions:
You can use any kind of coffee beans for this recipe. Dark or espresso roast beans will produce the most familiar, latte-like flavor, but lighter roasts can work, too. Or try a Portugal-style blend of Arabica and Robusta beans for added authenticity!
And the milk? We like using 2% cow's milk in our galaos. It's a good balance of creaminess without too many calories. But you can substitute your favorite type of milk, including alternatives like almond milk or oat milk.
For sweeteners, you can use anything in your Portuguese coffee that you'd add to a regular latte. Try a homemade coffee syrup, white sugar, or honey. A mint leaf or a sprinkle of cinnamon can also make a tasty topping.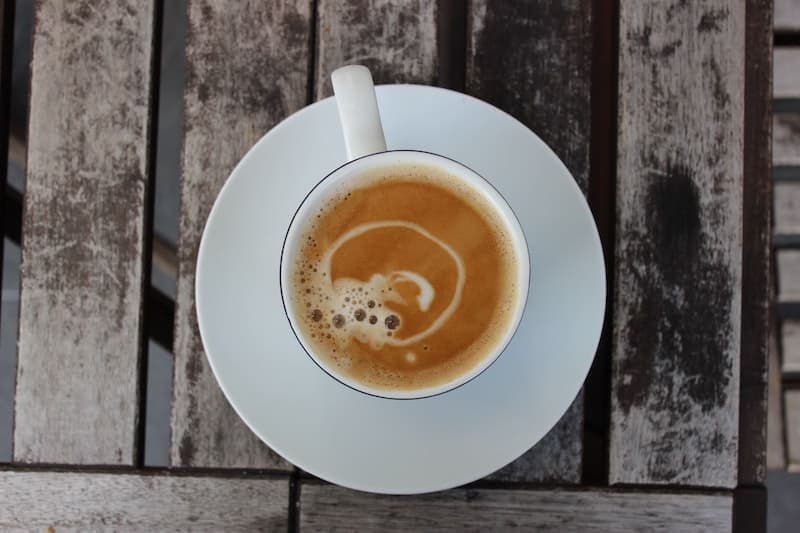 Ordering Coffee in Portugal
If you're actually in Portugal, you might need to know how to order a coffee! You can always order a Galao, or you can try an espresso drink. Order a café for a regular espresso or a cheio for a slightly larger espresso that fills an espresso cup up to the brim. Or try a curto, which is a smaller, more concentrated espresso filling half the cup. And an escaldado is served in a pre-warmed cup.

Final Thoughts
Portugal may be better known for its dessert wines, but the country drinks a lot of coffee, too! We hope this guide helps you learn about Portuguese coffee. Try your hand at a creamy Galao or order an escaldado!
RELATED READS:
---
Featured image credit: Nessa Gnatoush, Shutterstock