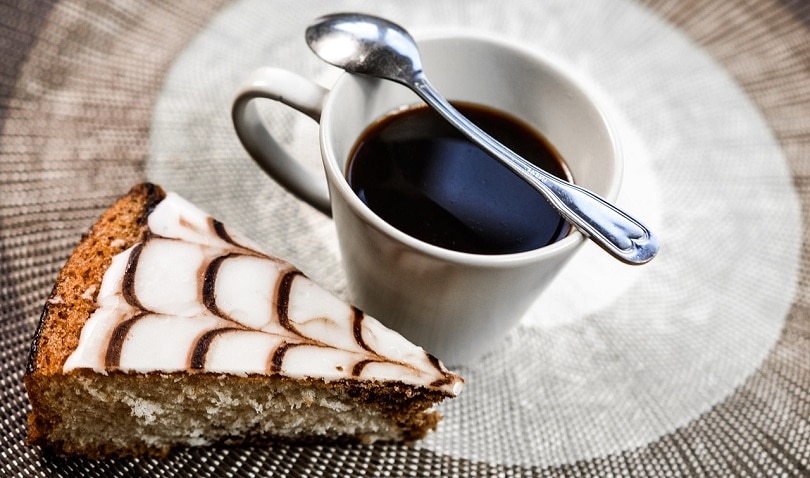 There are few pairings quite as perfect as coffee and dessert. A nice cup of coffee with a piece of cake or a cookie (or three!) is the perfect way to end a meal. We love dessert almost as much as we love coffee and we like to save some time by combining the two. Having coffee and dessert together is just efficient.
To help you increase your own coffee-dessert efficiency, we made this list of our favorite coffee desserts. From coffee cake to coffee cookies, we've got all the sweet coffee treats covered. Some just pair well with coffee and others actually include coffee in the recipe, although those go great with a cup of coffee too. No matter what your guilty dessert pleasure is, there's bound to be something here you'll love.

The 6 Best Coffee Dessert Recipes
1. Sour Cream Coffee Cake
We love coffee cake and this recipe is one of our favorites. It's easy to make and delicious with a crunchy streusel topping and moist interior. Cinnamon is the classic flavor for the filling but pumpkin pie spice works well too. See the full recipe here.
---
2. Coffee Cupcakes with Coffee Buttercream
This recipe packs a double coffee punch. Both the cupcakes themselves and the buttercream filling are coffee-flavored. They're also topped with a whipped mocha ganache that is out of this world. See the full recipe here.
---
3. Cinnamon Coffee Cookies
This is easily our favorite coffee-flavored cookie recipe. Cinnamon and coffee combine to make what is essentially an edible cappuccino. We love to have these with milk to get the full edible latte experience but they also go well with a cup of coffee. See the full recipe here.
---
4. Coffee Cookies with Chocolate Chunks
Even without the coffee, these cookies are delicious! They're crunchy on the outside, chewy in the middle, and jam-packed with coffee flavor and large chunks of chocolate. There's a whole lot to like about these cookies and they're always a crowd-pleaser. See the full recipe here.
---
5. Coffee Cake Muffins
We have trouble making decisions sometimes and that includes deciding what to have for dessert. Lucky for us – and you – that there are options like these coffee cake muffins. It's the best of both worlds! We love regular coffee cake and we like it even better in portable muffin form. There might not be any coffee in these muffins, but they're right at home alongside a nice cup of java. See the full recipe here.
---
6. Chocolate Coffee Cake
Coffee cake is great, but a lot of recipes don't include coffee. This one does. The previous coffee cake recipes on this list make delicious treats but this one actually earns the right to use coffee in its name by using creamy espresso buttercream. This is a unique twist on coffee cake that you don't want to miss. See the full recipe here.

Conclusion
There you have it: six incredibly delicious coffee desserts. We saved the most involved recipe for last, but it is more than worth the effort in our opinion. The espresso buttercream is rich and creamy and – most importantly – full of coffee flavor. All of these desserts go great with coffee and we hope you found one here that strikes your fancy. Hopefully at least one of these recipes has inspired you to empty out the pans you store in the oven, check your pantry for all the ingredients you need, and get baking!
Looking for more coffee recipes?
---
Featured image credit: monicore, Pixabay