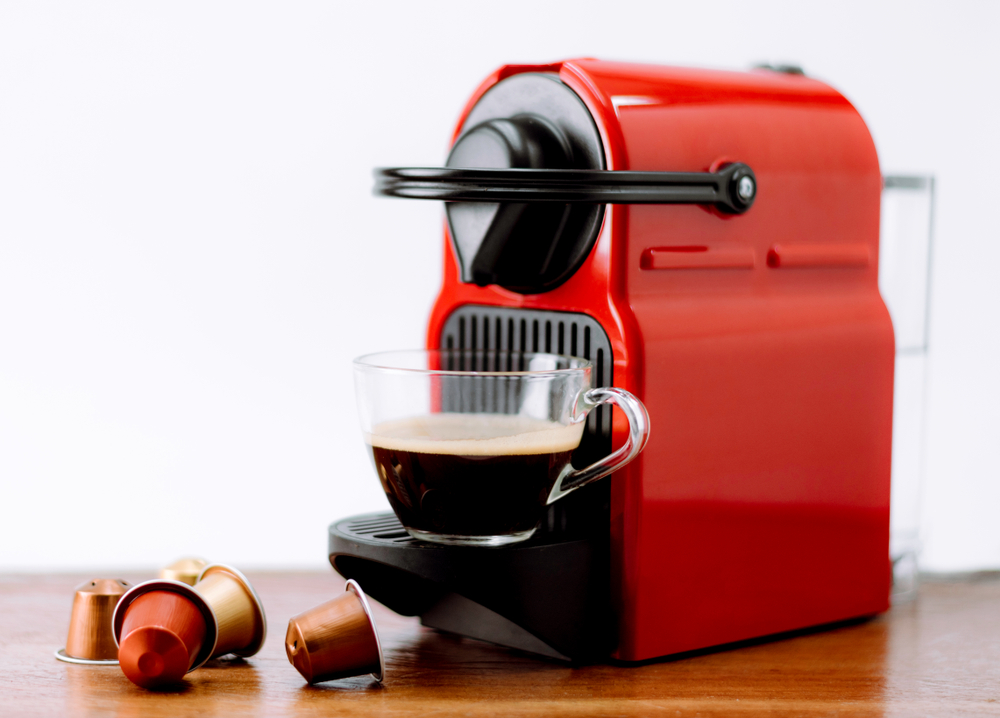 Our Final Verdict
We give the Nespresso Inissia a rating of 3.9 out of 5 stars.
Price
Design
Coffee Quality
Extra Features
Ease of Use
At a Glance
Finding a great espresso machine can be tricky. How do you balance price, ease of use, all-around design, and espresso quality? To help you find the best machine for you, we took a close look at the Nespresso Inissia. The verdict? Keep reading to find out!
The Inissia is a simple, lightweight machine that can brew regular and long shots of espresso. It can reach up to 19 bars of pressure, and there are two brew size buttons, plus an adjustable drip tray and a removable water tank. This espresso maker is easy enough to use and quite affordable. Plus, it's small enough to fit in most kitchens.
There are a few drawbacks, however. The water reservoir can be hard to access and monitor, and the machine doesn't always puncture capsules correctly. There aren't a lot of ways to control your brew, and the Inissia doesn't include milk accessories.
Nespresso Inissia — A Quick Look
Pros
Lightweight and compact
Inexpensive
Choice of espresso or lungo brew sizes
Compatible with all Nespresso Original capsules
Cons
Few indicators and settings
Can't brew larger cups of coffee
No built-in milk accessories
Somewhat loud and not as sturdy
Specifications
Weight: 5.29 pounds

Dimensions: 4.7 x 12.6 x 9 inches

Pressure: 19 bars

Settings: Espresso (1.35 ounces) and lungo (5 ounces)

Water Tank Capacity: 24 ounces

Used Capsule Capacity: 10 capsules

Power Saving: 9-minute auto-off

Heat Up Time: 25 seconds

Capsule Type: Nespresso Original

Warranty: One year
Overall Design
The Inissia is a compact model with two buttons and a simple lever. The clear water tank is in the back, where it can be hard to monitor and fill. The drip tray adjusts to accommodate different cup sizes.

It heats up quickly and is easy to use, though we did find it somewhat loud. It's also not as durable or consistent as we'd prefer. Users report issues like varying water volumes and inconsistent capsule puncturing.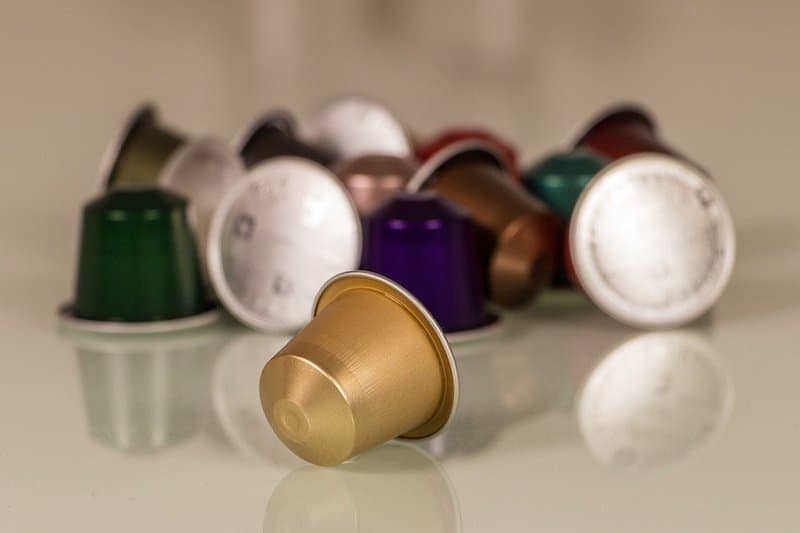 Price
This is one of Nespresso's least expensive espresso makers, so it could be a great option if your budget is limited. You won't get as many features, but you will get a high-quality espresso at the touch of a button.
Settings
Though the Inissia works using just two buttons and a lever, you do have a few customization options. Using the espresso and lungo buttons, you can brew a regular 1.35-ounce shot of espresso or pull a 5-ounce lungo. You can also pause the coffee flow or top it off by pressing the button again. Even better, you can program the Inissia to brew using your preferred water volume.

This model has limited indicators. This makes them easy to keep track of — you'll hardly need the user manual — but does require more attention from you.
Coffee Quality
As part of Nespresso's Original line, the Inissia is compatible with a wide range of pods, including our five favorites.

When we tested this model, we were impressed with the flavors. The espresso was aromatic, complex, and well-rounded, with a nice layer of Nespresso's distinctive crema on top. However, the Inissia isn't designed to brew full cups of coffee, and Nespresso's coffee capsules don't seem to fit perfectly.
Extra Features
This streamlined espresso maker doesn't offer automatic capsule ejection, so you'll need to raise and lower the lever after brewing. The capsule container is fairly large and capable of holding 10 used capsules.

Concerned about the environmental impact of all those capsules? Nespresso offers a great recycling program for its aluminum pods. Just order a free recycling bag, fill it with your used capsules, and ship it back via UPS.

There's also a power-saving mode, which will turn your Inissia off after nine minutes of inactivity. Not long enough? You can extend the auto-off program to 30 minutes.
Cleaning
Nespresso machines require frequent cleaning. Luckily, the Inissia can do most of the work for you, via an automated descaling cycle. You'll need Nespresso's descaling liquid to complete the 15-minute cycle.

Keep in mind that this model doesn't have a cleaning indicator, so you'll have to remember to clean it after 1,000 to 4,000 shots of espresso.
Warranty
The Inissia comes with a one-year warranty, which covers necessary repairs and replacement. Plus, Nespresso offers troubleshooting help for the lifetime of your machine. Register your model and you'll receive perks like a starter set of coffee pods.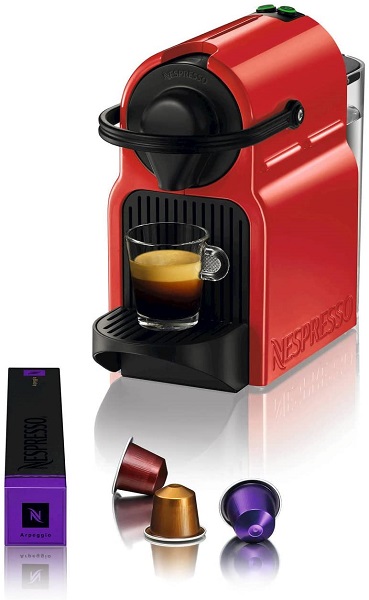 The Verdict
What's the bottom line? The Inissia is a streamlined, affordable Nespresso machine that offers plenty of functionality. If you're looking for an espresso maker that's easy to use and clean, this could be for you.

This model isn't perfectly designed — it sometimes crushes the coffee capsules or uses the wrong water volume — but it works well overall and won't blow your budget. However, if you'd like to be able to brew large cups of coffee, you may want to look at a VertuoLine model.
Frequently Asked Questions
What kind of capsules work in the Nespresso Inissia?

The Inissia works with all of Nespresso's Original coffee capsules. Take a look at our list of the five best Original capsules and start brewing!

Can you brew a full cup of coffee?
The Inissia produces long and short shots of espresso. Unlike Nespresso's VertuoLine machines, this model isn't designed to brew eight or 14-ounce cups of coffee.

However, you can approximate a cup of coffee by making an Americano. Brew a regular or lungo shot of espresso into a coffee cup. When the brewing finishes, hold the brew button down until your cup is full.

Want a more straightforward process? You may prefer the Evoluo or VertuoPlus, both of which are designed to brew up to 14 ounces.

What brew sizes are available?

The Inissia offers two automatic brew sizes: espresso (1.35 ounces) and lungo (5 ounces). You can also pause the brewing early, top it off at the end, or program your machine to brew using a different amount of water.

Who makes the Inissia?

 There are two versions of the Inissia, made by Breville and De'Longhi. The outer designs are slightly different, especially in the brew head and available colors, but the interior technology is identical. Either way, you can expect quick, tasty shots of espresso!

Can you make a latte using the Inissia?

The Inissia doesn't have any built-in milk frothing or steaming accessories, but you can purchase a separate device or bundle in Nespresso's Aeroccino3 milk steamer. Use the Inissia to produce a shot or two of espresso and pour frothed milk on top.

Would you rather have an automatic latte machine? You may want to consider the Lattissima or the Creatista.

RELATED READS: