Our Final Verdict
We give the Nespresso Prodigio a rating of 4 out of 5 stars.
Price
Design
Coffee Quality
Extra Features
Ease of Use
At a Glance
If you're shopping for a home espresso maker, you may be interested in Nespresso's Prodigio. But is it the best model for you? Keep reading to find our in-depth review, covering everything from design to warranty.
The Prodigio is Nespresso's first Bluetooth-connected espresso maker. Using an app on your smartphone, you can order coffee capsules, schedule or start a brew cycle, and monitor alerts and indicators. There are three brew buttons, dedicated maintenance lights, and adjustable pieces like the water tank and cup holder.
It's not a low-cost option, and you'll find the features limited if you skip the app. The Bluetooth connection can also be inconsistent. Overall, though — this could be a great option for a technologically savvy coffee lover.
Nespresso Prodigio — A Quick Look
Pros
Can be controlled via the Nespresso app
Includes water hardness test sticks
Three programmable brew sizes
Rotating water reservoir and cable
Cons
Somewhat costly
Bluetooth doesn't always work
Fewer features if you don't use the app
Can't brew full-sized cups of coffee
| | |
| --- | --- |
| Weight: | 6.5 pounds |
| Dimensions: | 4.7 x 10.1 x 14.7 inches |
| Pressure: | 19 bars |
| Settings: | Ristretto, espresso, and lungo, plus controls through the app |
| Water Tank Capacity: | 27 ounces |
| Used Capsule Capacity: | 19 capsules |
| Power Saving: | 9-minute auto-off |
| Heat Up Time: | 25 seconds |
| Capsule Type: | Nespresso Original |
Overall Design
Overall, the Prodigio feels surprisingly trim while still offering plenty of useful features. It's sleek and simple, with a reasonable weight of 6.5 pounds. The interface is fairly straightforward, with three brew buttons, a capsule slider, and two indicators. The used capsule compartment is particularly spacious and easy to remove.
Our favorite part? The 27-ounce water reservoir rotates so you can customize the machine to your counter space. This also means it's always accessible and easy to monitor. Even better, you can store any excess cable under the Prodigio, helping you keep your counters clear.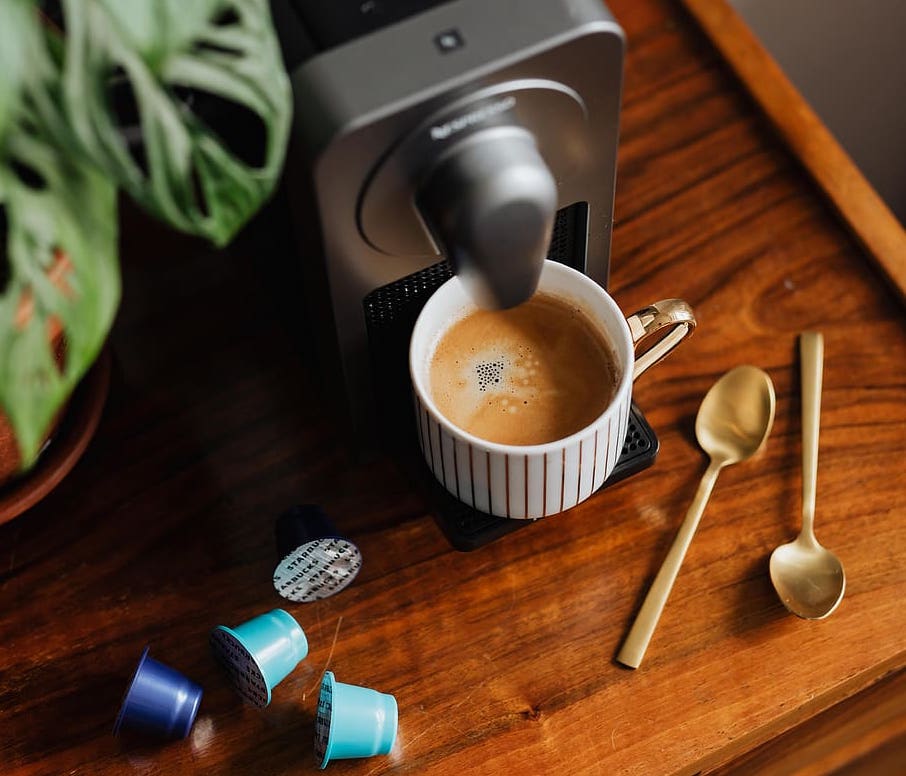 Price
This model is on the pricier end, though the cost is justified by quite a few advanced features. You can also upgrade to the Prodigio & Milk bundle for a bit more, which includes Nespresso's Aeroccino3 standalone milk frother.
Settings
Because it can connect to the Nespresso app, the Prodigio offers an impressive range of settings and alerts. Through the app, you can order coffee capsules, schedule or start a brew, and stay on top of machine maintenance. The app will notify you if the capsule container is full, it's time for descaling, or the water tank is empty.
Not into apps? You can also brew using the three brew buttons on the top. You do have to manually insert each capsule, opening and closing the slider, and the machine can't determine the correct brew size for you. When the brew finishes, your Prodigio will automatically eject used capsules into a large container.
You can brew a ristretto (0.85 ounces), an espresso (1.35 ounces), or a lungo (3.7 ounces). You can also pause the coffee flow or top it up after the brew finishes. Prefer a different water volume? You can program each of the three brew buttons to your preferences.
Coffee Quality
Now for the biggest question: does the Prodigio produce delicious espresso? When we tested it, the answer was yes. The Prodigio can brew any Nespresso Original capsule, and it produces strong, complex shots topped with Nespresso's signature crema.
Extra Features
Bluetooth capability is this espresso machine's biggest feature. Being able to monitor alerts and error messages on the app is very helpful, keeping you from having to reread the user manual. However, staying connected can be tricky, and the Bluetooth features won't be useful if you don't have a compatible smartphone.
There's also an auto-off program that will turn the machine off after nine minutes of inactivity. Not enough? You can easily switch it to 30 minutes. And Nespresso offers a free recycling program for its aluminum coffee capsules. Order a recycling bag online, fill it with used capsules, and send it back to Nespresso via UPS.
Cleaning
Cleaning the Prodigio is very easy since you don't have to keep track of the schedule yourself. You can test your water hardness using the included test strips. Then enter the information into your app and it will calculate when you need to descale. You'll get a convenient, customized alert when it's time to start cleaning! Depending on your water hardness, this will be after 1,000 to 4,000 regular shots of espresso.
You will need to stock up on Nespresso's descaling solution — the company doesn't recommend using vinegar or other brands. This model does have an automatic descaling mode, which you can enter by pressing all three brew buttons.
Warranty
Nespresso offers a one-year warranty for this model, covering necessary repairs and replacement. You may even receive a loaner espresso machine while yours is being repaired! Even better? Register your Prodigio when you receive it and Nespresso will send you perks like free coffee capsules.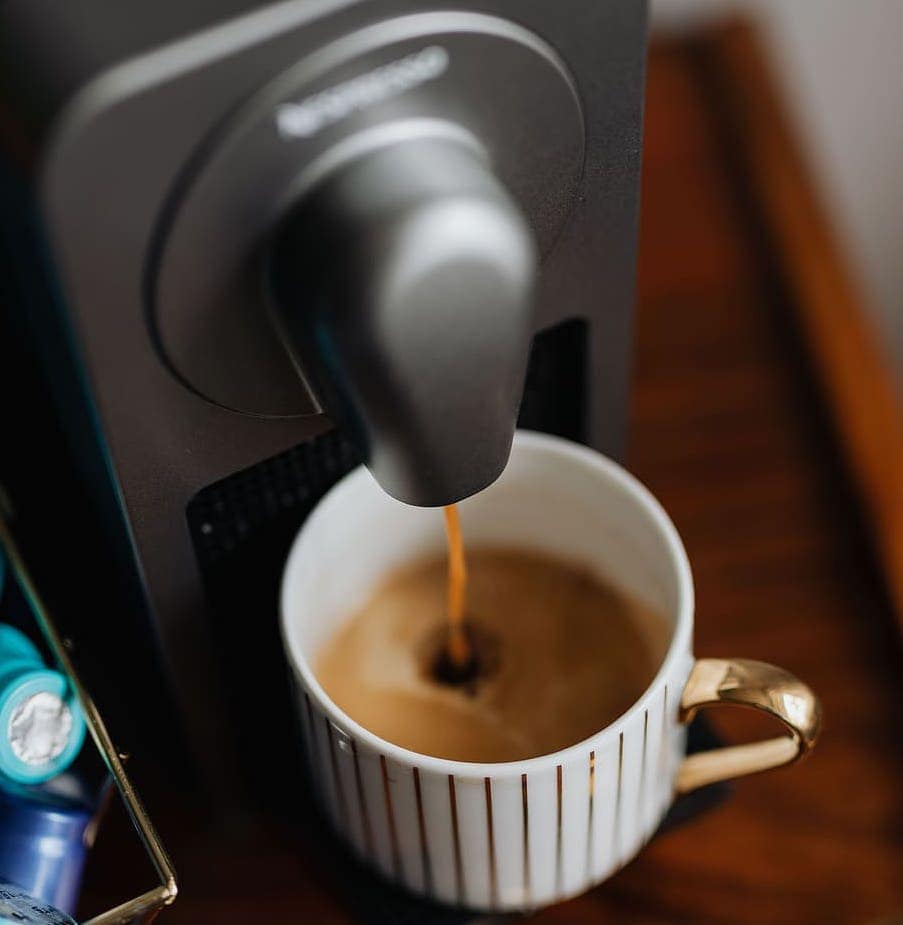 Nespresso Prodigio: The Verdict
Have you ever wanted to control your espresso maker from your phone? The Prodigio could be for you! This Bluetooth-connected machine offers a great range of features and useful indicators. The footprint can be customized to your kitchen, and the used capsule container (with automatic ejection) is generously-sized.
On the other hand, this is a fairly pricey model that may not fit your budget. Plus, if you don't have a smartphone or don't want to use one, you won't be able to access all of the features. This model also can't brew full-sized cups of coffee.
Frequently Asked Questions
What kind of capsules are compatible?
This espresso maker works with Nespresso's Original coffee capsules. Take a look at our five favorite varieties!
Can you make a latte with the Prodigio?
Kind of! You can pull a shot (or two) of espresso using the Prodigio. To make the steamed milk, you'll need a separate device. Choose from our favorite milk steamers or bundle in Nespresso's Aeroccino3.
What espresso sizes can you make?
The Prodigio can pull short ristretto shots (0.85 ounces), regular espresso shots (1.35 ounces), and long lungo shots (3.7 ounces). Not quite right? You can program your machine to brew using a different water volume, or you can pause the brew partway through.
Does the Prodigio work with full-sized coffee cups?
The Prodigio works best with small espresso cups, but you can fold up the cup support to fit larger cups. Keep in mind that this model isn't designed to brew full cups of coffee.
What's in the box?
The Prodigio package includes the machine, Nespresso welcome brochure and user manual, a tasting box of 16 Nespresso Grand Cru coffee capsules, and two water hardness test sticks.
How do you connect to the app?
You'll need to download the Nespresso app. You can find the iPhone-compatible version on the App Store and the Android-compatible version on the Google Play Store. Then open the app and synchronize it with your espresso machine. You can find more details in the Prodigio's user manual.
RELATED READ: Nespresso vs Keurig: Which Should You Choose?